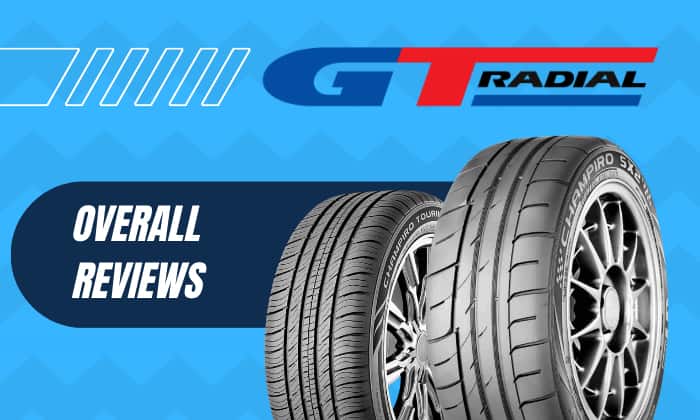 GT Radial is claimed to be another exceptional tire brand in the industry, competing with top-tier companies within the same product ranges. Is that even true?
So for today, let's check this statement thoroughly by discussing everything about GT Radial, the overview of its company and products including: performance quality, design, specifications, pricing, and the overall advantages and disadvantages.
Are GT Radial tires good? Let's have a comprehensive review of this brand and their general products.
Short Overview of GT Radial Tires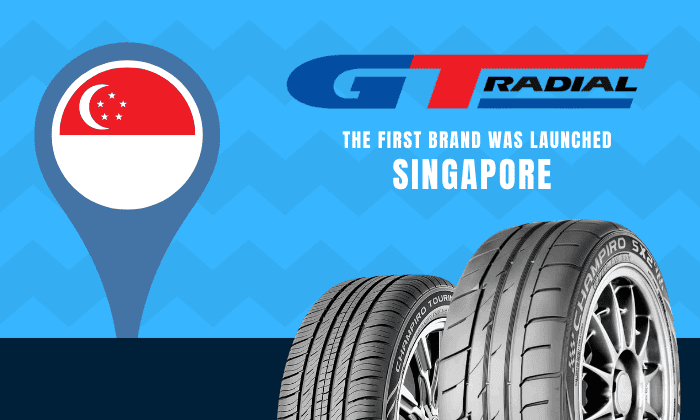 Founded in 1951, GT Radial is a tire brand that was first launched in Singapore. Giti is the company who makes GT Radial tires and is consistently dedicated to manufacturing top-quality wheels which leads to the tire brand's current global success.
GT Radial owns eight production facilities and nearly 130 dealer networks worldwide, primarily manufacturing tires in China and Indonesia.
The brand has received recognition and awards from General Motors, including the "Supplier of the Year" from 2005 to 2007 and in 2009.
GT Radial offers impressive tire options for various vehicles, including crossovers, coupes, sedans, SUVs, minivans, and pickup trucks.
Notable Features of GT Radial Tires
You might be left hanging with bad impressions after knowing that GT Radial is a Chinese tire brand. Worry no more, for this section will provide information that will definitely prove that this tire brand is far different from your typical flop Chinese products out there.
1. Performance and Design
GT Radial tires are known to provide us with a smooth ride with minimal road noise levels, this is pretty impressive especially with the touring tire products. These tires can actually compete with other tire models from famous tire brands out there for their performance:
These tires deliver responsive steering, superior handling, and exceptional grip for wet and dry road conditions, and these features are most recognizable on its all-season tires.
Its winter tires are pretty remarkable too when driven on snow. In fact, GT Radial offers a wide array of good winter tires with decent winter performance.
Short braking distance is not a problem too, for most of its tires are equipped to withstand different road surfaces, besides, most GT Radial tires have optimal cornering properties too.
All of the GT Radial tires mainly come with fuel-economic technology, and they all have been engineered with reduced rolling resistance capabilities.
In fact, all of these ideal features are all thanks to its innovative tread pattern that is made up of rigid silicone materials.
GT Radial tires have a pretty decent warranty policy and durability too, since most GT Radial tires are covered by warranty on materials and workmanship for up to 5 years. Generally, GT Radial products have a tread life mileage expectancy from 45,000 to 70,000 miles.
2. Tire Patterns
GT Radial manufactured tires with different patterns for different driving needs. This can be divided into three categories namely: directional, symmetric, and asymmetric tread designs.
1, Directional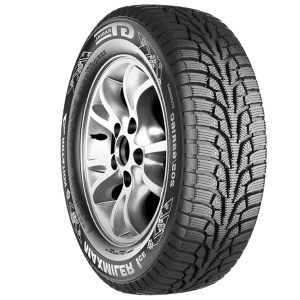 Tires with directional patterns feature lateral grooves that imitate a V-shaped design.
GT Radial tires with this pattern are proven to have enhanced wet and dry road handling, braking, steering, and a high maximum speed rating.
2, Symmetric (Non-Directional)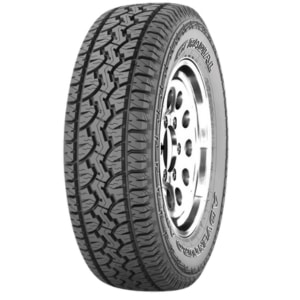 Usually tires with similar blocks like waves found on both the interior and outer tread.
Tires with symmetric patterns deliver water evacuation properties, ride comfort, and low noise levels.
3, Asymmetric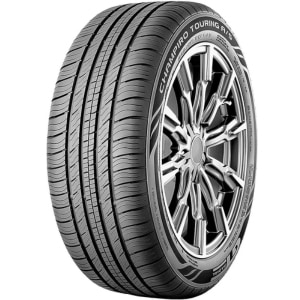 Asymmetric tire design comes with distinct patterns like small and large grooves for the purpose of improved wet handling performance and road traction.
This tread pattern is suitable for those looking for superb high-speed cornering and wet and dry handling skills.
3. Specifications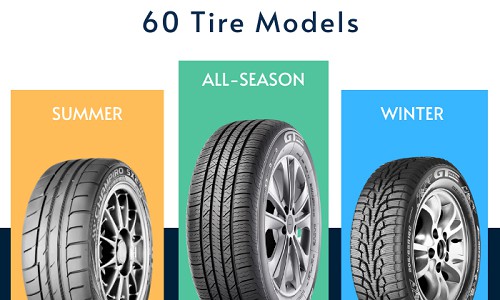 As of now, GT Radial sells a total of 60 tire models in different categories namely: summer, all-season, and winter tires. But do these tires fit your vehicle? Let's see.
Generally, GT Radial offers tires with a section width of around 125-318 inches, about 35-85 inches of aspect ratio, rim measurement ranges from 13-20 inches, and a rim size of between 12-20 inches.
Furthermore, GT Radial tires have a speed rating from J-Y.
4. Pricing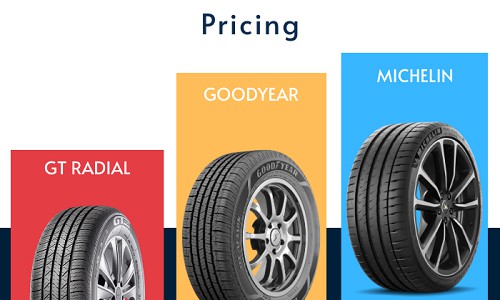 By comparing GT Radial vs Goodyear, or GT Radial vs Michelin in terms of the price category, GT Radial offers tires that are around half the cost of these two tire brand giants.
Its low price entry does not compromise its tire performance as GT Radial tires possess almost similar features as Goodyear and Michelin tires.
To be more specific, the pricing point of the GT Radial products ranges approximately between $100-$150. That just really shows how really pocket-friendly GT Radial tires are.
5. Pros and Cons
Pros
Affordable price in comparison with other tire brands in the market
Comfortable ride quality with minimal road noise levels
Superior handling, cornering, responsiveness, and traction, especially for dry and wet road conditions
Innovative tread pattern and tough silicone compounds that make the tire durable enough
Fuel-efficient with low rolling resistance
Decent winter tire options
Good braking distance on different road surfaces
Decent warranty policy and tread life mileage longevity
Cons
Might be unavailable in certain areas
Is GT Radial Tire Worth It?
To summarize all the points stated above, GT Radial tires are all worth your penny. Sure, there are some drawbacks but its numerous ideal key features are more than enough to compensate for these stuff.
GT Radial tires are generally affordable mid-range wheels made from durable compounds and come with fuel-efficient and low rolling resistance technologies.
Their low price tags are unexpected since their performance never disappoints. They pretty much have impressive smooth ride quality, slightly bearable road noise, and a decent warranty policy.
The versatility of GT Radial tires speaks volume of their worth, especially their all-season tires that allow optimal handling, responsiveness, traction, and cornering, especially for dry and wet road conditions, plus good braking distance on different road surfaces.
Conclusion
So, are GT Radial tires good? The answer is a resounding YES!
By simply looking at the outstanding key features they have, we can conclude that this tire is very different from your standard cheap Chinese brands out there. GT Radial tires definitely deserve the hype it gets lately from consumers.
Hope you enjoy our concise GT Radial tires review in this post. Have a nice day as always!