The right all-terrain tire is essential for a safe off-road journey. This article will help you choose the Goodyear Wrangler All-Terrain Adventure with Kevlar vs. BFG KO2 for your vehicle's tire.
Goodyear is a renowned brand that manufactures a wide range of tires. Their Wrangler All-Terrain Adventure provides reliable off-road and on-road performances and decent tread life. On the other hand, BFGoodrich's KO2 is designed for aggressive gravel traction and superior strength.
Below is a comparison chart between the two tires to give you a quick look at their performance:
| | | |
| --- | --- | --- |
| Factors | Wrangler All-Terrain Adventure with Kevlar | KO2 |
| Brand | Goodyear | BFGoodrich |
| Load Rating | SL, XL, C, & E | C, D, & E |
| Speed Rating | R, S, T, & H | R, S, & Q |
| On-Road Performance | Above Average | Superior |
| Off-Road Performance | Superior | Average |
| Wet Performance | Superior | Above Average |
| Comfort | Superior | Below Average |
| Noise | Superior | Below Average |
About Wrangler All-terrain Adventure With Kevlar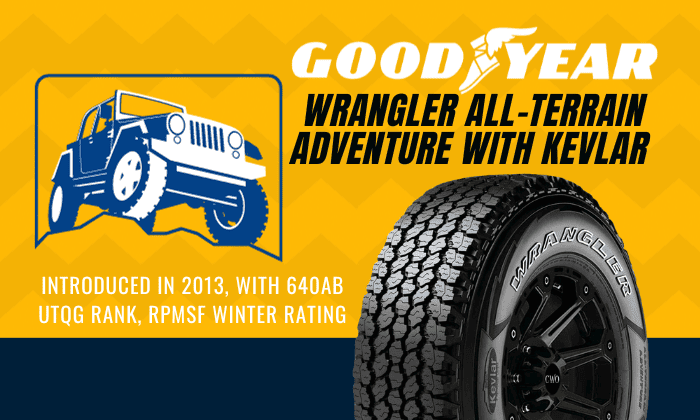 The Goodyear Wrangler All-Terrain Adventure with Kevlar, introduced in 2013, is designed for both on-road and off-road conditions, including dirt, gravel, sand, and mud terrain. It has a UTQG of 640AB and a winter rating of RPMSF.
What makes the tire stand out from other products within the Wrangler line is how its twin high-tensile steel belts are spirally wrapped by the brand's trademark DuPont Kevlar for superior strength.
About BFGoodRich KO2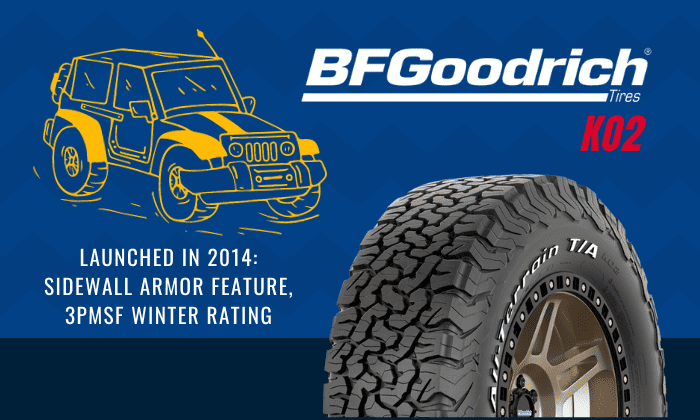 BFGoodrich is famous for building off-road tires that can handle highly demanding surfaces. The brand's T/A KO2 is a highly versatile on-road/off-road tire with incredible durability thanks to its Sidewall Armor feature. The KO2's tread design also allows aggressive traction on highly loose grounds such as sand and gravel surfaces.
This tire was launched in 2014 for light trucks. The BF Goodrich tire has a 3PMSF rating for winter conditions despite not being designed as a snow tire.
Differences between BF Goodrich KO2 vs. Goodyear Wrangler Kevlar
1. Traction and off-road performance
As they're both off-road tires, the Goodyear Wrangler All-Terrain Adventure with Kevlar and the BFGoodrich KO2 can all eject debris and pebbles from their treads. Plus, both can offer excellent traction on rugged surfaces.
However, compared to Goodyear's products, BFGoodrich KO2 boasts a more aggressive tread pattern, larger voids between the ribs, and a staggered design. As such, it's more efficient at removing debris. And as the KO2 has sharper biters, its traction is also superior.
In short, the KO2 has the advantage of off-road performance over the Wrangler tire, particularly on sand, mud, and gravel.
2. On-road dry performance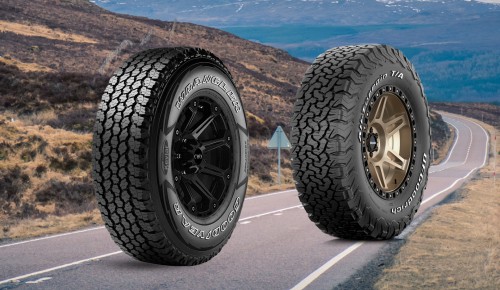 The All-Terrain Adventure's central ribs and block arrangement provide a reliable directional and longitudinal grip on the pavement.
In contrast, the KO2's voided shoulders and irregular slanted notches result in a longer braking distance and a somewhat disappointing steering response. That said, its traction and handling are still decent—they're just not as good as the Goodyear Wrangler.
3. Wet performance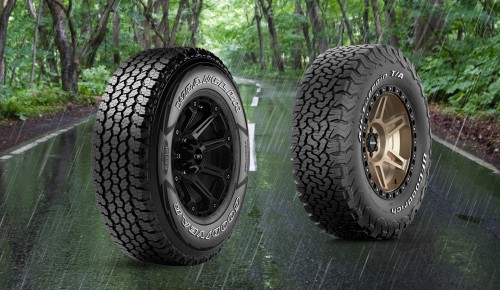 Sipes flexibility determines how well a tire can eject water, which the A/T/ Adventure with Kevlar is fully capable of. The Wrangler's efficient vacuum of its tread void and water removal gives the tire a good grip and braking distance on the wet road.
The KO2 tire also has flexible sipes for better wet performance, but the treads are not as flexible as the Adventure. Based on the capacity of the tires to take in and remove water, the Goodyear tire has the best wet performance between the BFG & Wrangler lines.
4. Comfort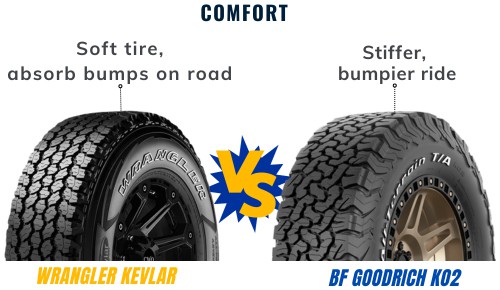 A tire's vibration suppressor depends on how well it can damper the impact on the road. The Wrangler tire's treads are soft enough to absorb any bumps on the road. Meanwhile, the BFGoodrich tires are stiffer, resulting in a bumpier ride.
Based on the tread compound between the BF Goodrich vs. Goodyear tire, the Wrangler AT Adventure with Kevlar is the clear winner for road comfort. And if you compare the Wrangler UltraTerrain AT vs. KO2, the former will still emerge as the winner.
5. Noise
With its closed tread groove preventing air from entering and creating noise, the Wrangler All-Terrain Adventure with Kevlar is the quieter between Goodyear vs. BF Goodrich.
6. Pros and Cons
1. Goodyear Wrangler A/T Adventure with Kevlar
Here are the advantages and disadvantages of the Wrangler tire.
Pros
Good on-road and off-road performance
Superior wet performance
Better road comfort and low noise
More affordable
Cons
Below-average gravel traction
2. BFG KO2
Pros
Reliable on-road performance
Better off-road performance due to its aggressive traction on loose surfaces
Good dry traction
Cons
Somewhat loud and not as comfortable
More expensive
7. Cost
The Wrangler All-Terrain Adventure with Kevlar costs around $149.09 to $409.99 at popular retail stores. Meanwhile, the KO2 costs $191.03 to $673.99.
Which is Better?
The BFGoodrich KO2 pulls ahead of the competition for its off-road capabilities. Its aggressive tread design consisting of hook-shaped central treads and high-void channel allows the KO2 to grip rocky surfaces better.
You can see in our Goodyear Wrangler All-Terrain Adventure with Kevlar review the tire gets an edge for its wet surface performance with its flexible sipes. In addition, the soft treads and strict grooves ensure a smooth and quiet ride.
5 Helpful Tips for Finding the Right All-Terrain Tire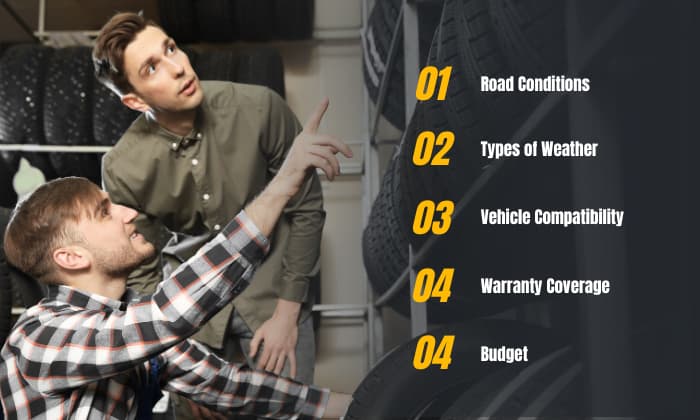 To ensure you get your money's worth, here are five valuable tips to consider when choosing between the Wrangler All-Terrain Adventure With Kevlar vs. BFGoodrich KO2
The main factor of an all-terrain tire for your vehicle is its suitability for the road you drive. Tires such as the KO2 should be considered if you are going through areas where the surface is mostly gravel or dirt.
Nearly any tire will do for dry roads. When you need the same reliability during heavy rains or light-flooded areas, you want tires with good wet performance, such as the Wrangler All-Terrain Adventure.
Tire size availability determines whether the Wrangler Adventure or KO2 is compatible with your vehicle. You can see the proper tire size for your vehicle on your manual or the sidewall of your current tires.
Major tire brands have a tread life and warranty coverage for their products. Yet, it pays to know how much you are covered and if you qualify for a replacement should anything happen to your tire.
Thus, check the warranty policy of both Goodyear and BFGoodrich to see if you are satisfied with either protection.
A tire's value is its price and the qualities you can get out of it. The Wrangler Adventure is slightly cheaper than the KO2 in most retail stores.
Frequently Asked Questions
What mileage can I expect from Goodyear Wrangler Adventure with Kevlar and BFG KO2 tires?
The Wrangler Adventure has an expected mileage or mileage warranty of up to 60,000 miles. On the other hand, the BFG KO2 has a warranty coverage of 50,000 miles.
Does Goodyear Wrangler All-Terrain Adventure with Kevlar or BFG KO2 tires require specific maintenance?
Both all-terrain tires do not require any specific maintenance. However, you can expand their tread and service life by going through basics such as keeping the tire pressure at the required level. In addition, regularly rotating your tires ensures even wear distribution.
Are Goodyear Wrangler and BFG KO2 tires compatible with various vehicle types, including trucks and SUVs?
The Goodyear Wrangler and BFG KO2 are designed for light trucks, jeeps, pickup trucks, sports utility vehicles, and heavy-duty vehicles.
Conclusion
When you compare the Goodyear Wrangler All-Terrain Adventure With Kevlar vs. BFG KO2, the former is a better tire for on-road comfort and wet conditions. Meanwhile, the latter should be the go-to option should you frequently travel off-road.
We hope our guide has helped you determine the proper tire set for your car. If you have any questions, feel free to let us know. We'll get back to you as soon as possible.