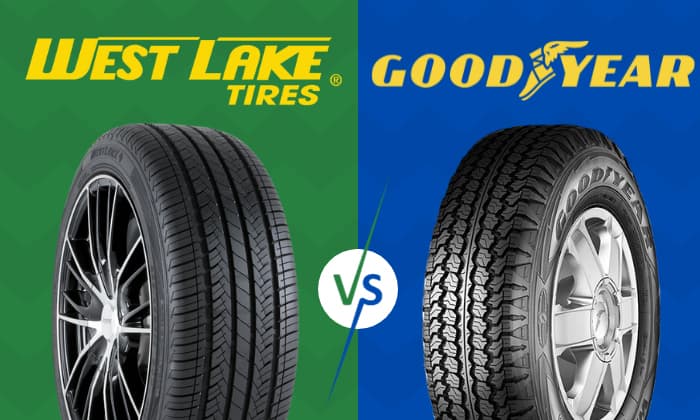 There are a lot of things that you need to consider when picking your tires. The choices are vast and varied, and they impact your vehicle's performance, safety, and overall driving experience.
And when it comes to reliable tire brands, Westlake and Goodyear both stand out. While Goodyear tires are premium products, Westlake provides users with lower-end yet quality and minimalist tires. In this article, we will compare Westlake tires vs. Goodyear tires, helping you decide on your vehicle's needs.
First, let's take a look at these factors that can help you decide your ideal tire set.
| | | |
| --- | --- | --- |
| Factor | Westlake Tires | Goodyear Tires |
| Performance | Moderate | High |
| Design | Mostly minimalist designs | Various specialized models |
| Durability and Longevity | Fair | Excellent |
| Tread | V-shaped, super-deep, non-directional, etc | Symmetrical, directional, asymmetrical, and combination. |
| Tire Types and Specialization | Limited | Wide Range |
| Price and Value | Budget-Friendly | Premium |
| Warranty and Support | 40k-50k miles / Limited | 60k – 80k miles/ Extensive |
Overview of Westlake Tires vs. Goodyear Tires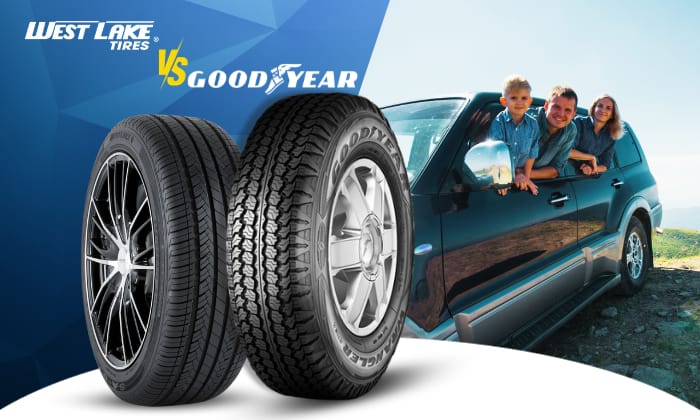 In this detailed comparison, we will review the key aspects like performance, durability, longevity, price, value, tire types, specialization, warranty, and support, as well as the pros and cons of each brand.
1. Performance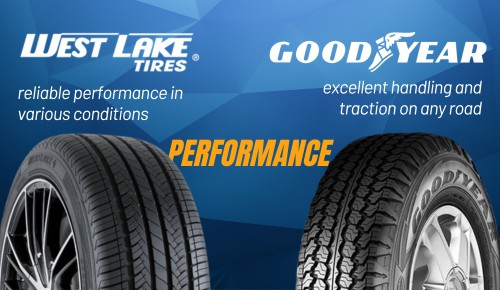 Westlake Tires: Westlake tires are generally known for their reliable performance in various conditions. The Westlake Super ST trailer tires, in particular, are highly regarded for their stability and grip, making them suitable for towing heavy loads.
Goodyear Tires: Goodyear tires have a strong reputation for performance across different categories. The Goodyear Endurance line is praised for its excellent handling and traction on any road.
2. Handling: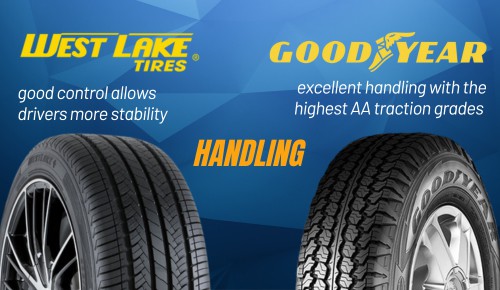 West Lake Tires: Most Westlake tire reviews recommend these products for good control due to their crossbars and shoulder blocks. Those sturdy and solid features of these tires allow drivers more stability than most tires in the same price range.
Goodyear Tires: Indeed, many tire models they have feature excellent handling that resembles NASCAR racing standards. Their tire grades on traction can be graded on the scale of AA as the best, following by A, B, and C.
3. Durability:
Westlake Tires: Westlake tires are known for their durability and ability to withstand tough conditions. Many users report that Westlake tires hold up well over time, even under heavy usage.
Goodyear Tires: Goodyear is synonymous with durability. Their Endurance tires are built to last and are a preferred choice for long-distance driving due to their robust construction.
3. Tire range:
Westlake Tires: The most widely used lines of Westlake tires would be their touring models. Therefore, the brand is popular among crossover, SUV, and light truck owners. Westlake tire ratings are the highest for their Super ST trailer tire models.
Goodyear Tires: Goodyear has a wide selection of tire types and specializes in everything from passenger car tires to high-performance tires, making them a versatile choice for consumers with diverse requirements.
4. Price
Westlake Tires: Westlake tires tend to be more budget-friendly ranging approximately $55 to $140 per tire, making them an attractive choice for cost-conscious consumers.
Goodyear Tires: Goodyear tires are usually priced higher than Westlake tires due to their premium quality and brand reputation, it ranges from $80 to $300 per tire.
5. Warranty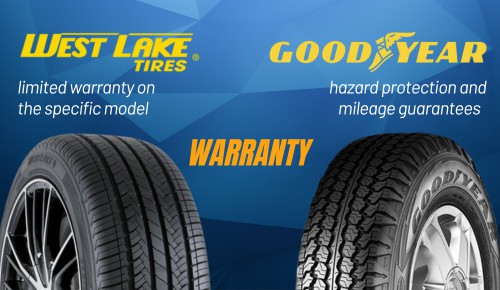 Westlake Tire: Westlake typically offers a limited warranty on their tires, which varies depending on the specific model. It's essential to check the warranty details for the specific tire you're interested in.
Goodyear Tires: Goodyear provides a robust warranty for their tires, often including road hazard protection and mileage guarantees, adding extra peace of mind for buyers.
6. Pros and Cons
1. Westlake tires
Pros
Offer great value for budget-conscious consumers.
Provide a comfortable and reliable driving experience and decent performance for it's price.
Ideal for various vehicle types: crossovers, SUVs, and light trucks.
Simple design for better durability than most cheap tires
Good fuel economy
Cons
Not the best rolling resistance and grip
Not the best choice for high-performance vehicles
2. Goodyear tires
Pros
Deliver top-notch performance in various conditions.
Built to last, making them a smart long-term investment.
Offers a wide range of options for all types of vehicles.
Excellent traction on different road conditions
excellent fuel economy
Cons
The quality of Goodyear tires comes with a higher cost.
Which Tire is Better?
The choice between Westlake and Goodyear tires ultimately depends on your specific needs and budget.
If you're looking for an affordable option that delivers decent performance for everyday driving, Westlake tires are a solid choice.
However, if you prioritize top-tier performance durability, and don't mind investing a bit more, Goodyear tires should be your go-to option.
Notable Tires of Each Brand
1. Westlake
Type: All-Season Passenger Car Tire
The Westlake RP18 is a highly regarded all-season passenger car tire known for exceptional performance in various weather conditions.
It provides reliable traction on wet and dry roads with a noise-reducing tread pattern, making it a top choice for budget-conscious drivers.
It's for minivans, small and mid-size dedans, and other small-sized cars.
Type: Ultra-High Performance Summer Tire
The Westlake SA07 is an ultra-high-performance summer tire designed for sporty cars.
It offers superior traction on dry roads, precise steering response, and maximum road contact for an exhilarating driving experience.
However, it's best suited for warm, dry weather and sporty driving, less so for wet or cold conditions.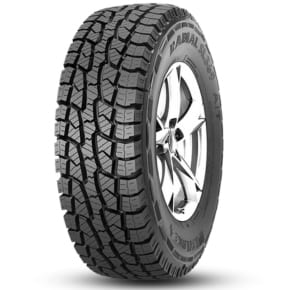 Type: All-Terrain Light Truck and SUV Tire
The Westlake SL369 is an all-terrain tire for light trucks and SUVs, delivering versatility for diverse road conditions.
Its rugged tread pattern with aggressive shoulder blocks ensures traction on gravel, dirt, and tough terrains.
Despite off-road capabilities, it maintains on-road comfort and performs well in wet and snowy conditions, making it practical for various driving environments.
2. Goodyear
Goodyear Assurance WeatherReady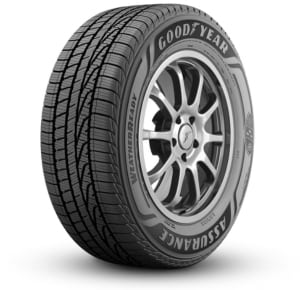 Type: All-Season Passenger Car Tire
The Goodyear Assurance WeatherReady is an outstanding all-season passenger car and crossover vehicle tire.
It excels in providing excellent traction and handling in diverse weather conditions, including wet, dry, and snowy roads.
It's Evolving Traction Grooves enhance grip on slippery surfaces, ensuring a comfortable and quiet year-round driving experience.
Related: Goodyear Assurance Weatherready vs Michelin Defender
Goodyear Eagle F1 Asymmetric 5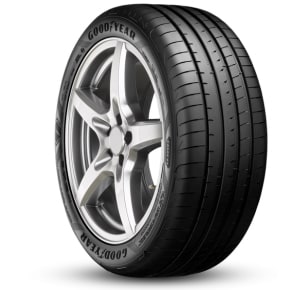 Type: Ultra-High Performance Summer Tire
The Goodyear Eagle F1 Asymmetric 5 is an ultra-high-performance summer tire designed for sports and high-performance vehicles.
It offers precise steering response, exceptional dry road grip, and enhanced handling.
However, its performance may not be as strong in wet or cold weather, making it an ideal choice for sporty driving enthusiasts.
Goodyear Wrangler DuraTrac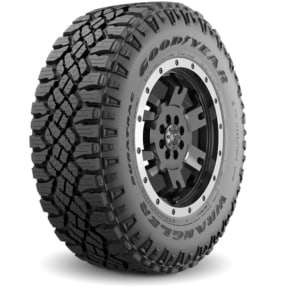 Type: All-Terrain Light Truck and SUV Tire
The Goodyear Wrangler DuraTrac is a versatile all-terrain tire for light trucks and SUVs, ideal for off-road adventures and on-road driving.
Its rugged tread and sidewall features provide excellent traction and protection, ensuring top performance in various conditions.
It's perfect for off-road enthusiasts without compromising on-road comfort.
Tire Selection
Budget: Consider your budget carefully when choosing tires. High-quality tires may cost more upfront but can save money in the long run by lasting longer and improving fuel efficiency.
Type of Vehicle: Ensure the tires you select match your vehicle's size and usage requirements. Consult your vehicle's owner's manual for manufacturer-recommended tire sizes and types.
Driving Habits and Conditions: Evaluate your driving habits and local conditions. Choose tires that suit your typical driving environment, whether it's city, highway, off-road, or extreme weather conditions.
Long-Term Goals: Define your tire goals, whether it's maximum performance, extended tread life, or a balance of both. Be mindful of treadwear warranties to estimate the tire's lifespan and research reviews for real-world performance insights.
Conclusion
In the Westlake Tires vs. Goodyear Tires battle, both brands have their strengths and weaknesses. Westlake offers affordability and decent performance, making it a practical choice for budget-conscious consumers. On the other hand, Goodyear excels in performance and durability, but it costs a higher price.
Remember that investing in quality tires is an investment in your safety and driving experience.