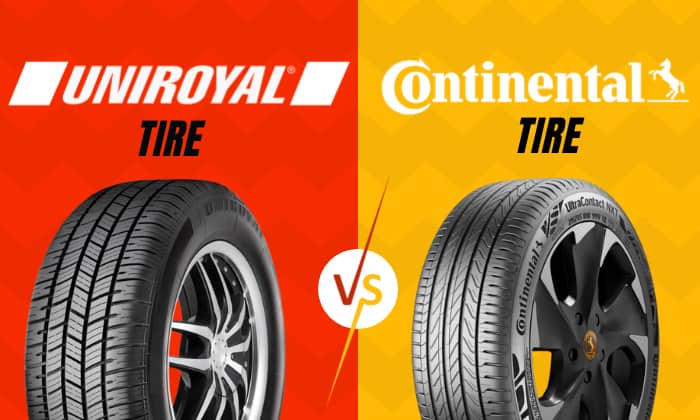 The tire industry has many companies that all promise to produce competitive and ideal tires for their consumers' vehicles. Two of these well-known manufacturers are Uniroyal and Continental.
Today, we will focus on these companies to narrow down our scope of tire choices. This article will be tackling a detailed comparison between Uniroyal vs Continental tires.
Are Uniroyal tires good? Can Uniroyal tires beat the popular Continental models?
Hang up there, for we will assess their overall tire performance, price range, and warranty.
Here is an overview of their differences to give you a glimpse of the comparison between Uniroyal tires vs Continental tires.
| | | |
| --- | --- | --- |
| Characteristics | Uniroyal | Continental |
| Year Started | 1868 | 1871 |
| Country of Origin | Belgium | Germany |
| Parent Company | Michelin and Continental | Schaeffler Group |
| Price | Cheaper | More expensive |
| Max Treadlife Warranty | 75,000 miles | 70,000 miles |
| Tire Variety | Passenger cars, CUVs, minivans, SUVs, and pickup trucks | Passenger cars, bicycles, motorcycles, vans, trucks, buses, port vehicles, agricultural and construction vehicles |
About the Uniroyal Company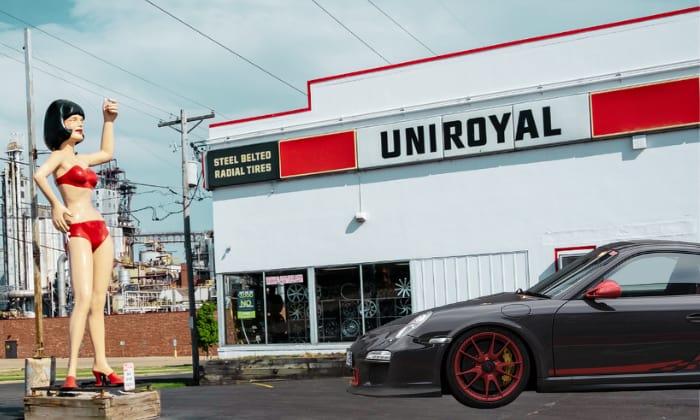 Uniroyal's first appearance dates back to 1868, when Oscar Englebert started a rubber shop business in Liège, Belgium. His son, Oscar Englebert Jr., continued the shop operations by adding water-resistant products such as raincoats, gloves, and aprons.
The company's experience with these materials led to the production of bicycle and horse-drawn vehicle tires.
Fortunately, their success allowed the business to venture into the automobile tire industry. Its growth can be traced from creating motorsports tires to incorporating zig-zag tread designs.
Uniroyal was the first tire company in the Benelux region. The brand was formed by merging Englebert Tyres and US Rubber in the late 1950s.
Uniroyal's specialty is rain tires, thanks to its Shark Skin Technology that reinforces the tire to withstand wet weather conditions.
About the Continental Company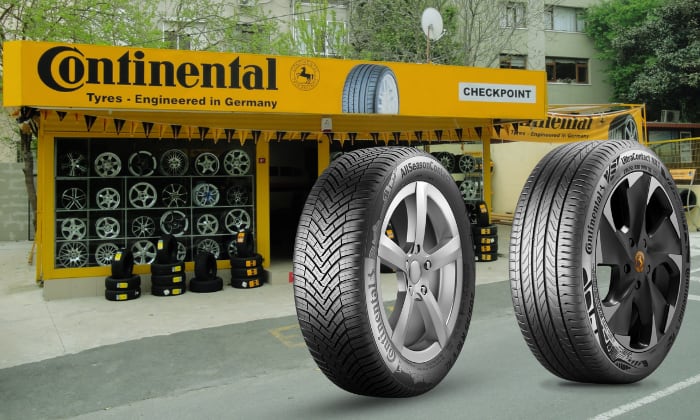 Continental Caoutchouc & Gutta-Percha Company, currently known as Continental, started its business on October 8, 1871. The company first offered tires for bicycles and carriages in Hanover, Germany.
Later on, it upgraded to pneumatic bicycle tires in 1892. Continental was the very first company to produce these in Germany, so this milestone contributed to the company's popularity.
Moreover, its pneumatic tires were discovered by Mercedes, a famous automobile brand, which also boosted the business's name among the public in 1901.
From manufacturing detachable rims, the first ever cord tire in the German market, Europe's first agricultural pneumatic tires, to incorporating carbon black into its designs for additional durability, Continental made history in the early 1900s in the tire industry.
The company continues its work of innovation by engineering modern technologies that promote mobility, safety, sustainability, convenience, and affordability to compete with the rising brands today.
Comparing Uniroyal vs Continental
1. Dry performance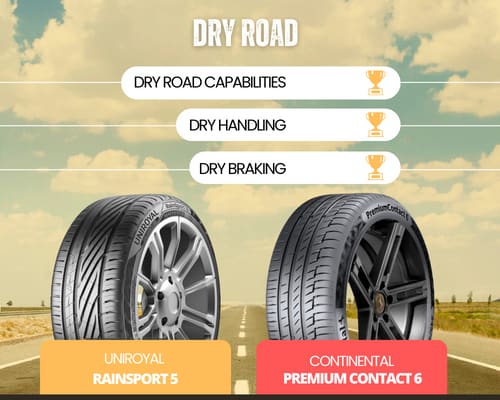 To compare the dry performance of these brands, we will examine their latest summer tires: Uniroyal Rainsport 5 vs Continental Premium Contact 6.
Generally speaking, Continental Premium Contact 6 offers better dry road capabilities than the Uniroyal Rainsport 5. In fact, its dry braking and handling abilities are noticeably greater, thanks to its Safety Silica Compound and macroblock design.
2. Wet performance
In the wet category, Continental actually has less impressive performance than Uniroyal. Let's consider a comparison between their newest all-season tire models, Continental AllSeasonContact and Uniroyal AllSeasonExpert 2, as our example.
The Continental model's broad shoulders promote efficient aquaplaning resistance, and its stiff tread design ensures stability when driving on wet roads and puddles.
However, this tire takes longer to stop than Uniroyal's AllSeason Expert 2, which has special geometry and shoulder grooves to evacuate water.
3. Winter performance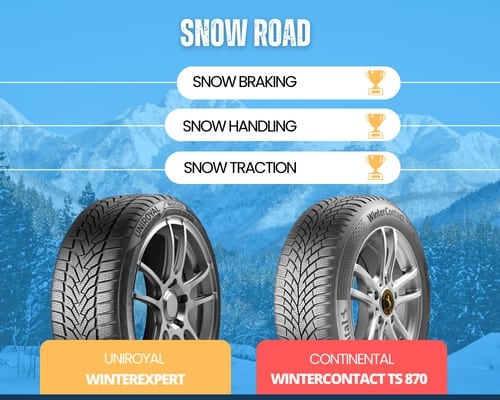 Now, let's check out Continental WinterContact TS 870 vs. Uniroyal WinterExpert to analyze which brand is ideal for wintertime use.
Based on tire tests, Continental continues to beat Uniroyal in terms of snow braking, snow handling, and traction. This is all thanks to Continental's Triple Sipe Concept, which ensures quick braking without compromising safety on ice and snow terrains.
4. Noise and comfort
The majority of Uniroyal tires are slightly quieter and more comfortable to use than their Continental counterparts. Let's use Uniroyal Rainsport 5 vs Continental Premium Contact 6 once again as our example.
Based on tire tests, Uniroyal's subjective comfort score is slightly higher, and its internal noise output in dB is slightly lower than Continental's.
5. Price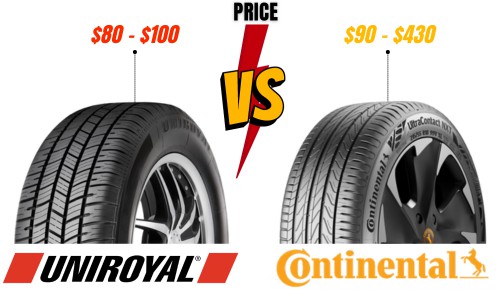 In the comparison between Continental vs Uniroyal tires regarding their price points, Uniroyal obviously wins the crown with the affordable costs of its products.
Generally speaking, Continental tires are known to be expensive. To be more specific, Continental tires start at $90 and can reach up to $430.
Uniroyal, on the other hand, offers a cost of $80 to $100.
6. Warranty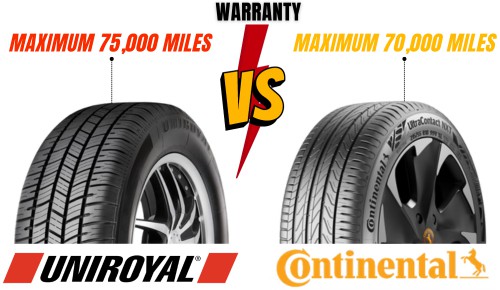 Uniroyal's longest warranted mileage can be found in its one and only Uniroyal Tiger Paw Touring A/S, which comes with 75,000 miles of coverage.
However, Continental's maximum mileage support is slightly shorter than Uniroyal's offer, which is only up 70,000 miles. This warranty can be seen in some Continental tires, such as the CrossContact™ LX20.
7. Pros and Cons
Listed below are the advantages and disadvantages of these two brands to help you pick the better option for your needs.
1. Uniroyal
Pros
Better in ride comfort and noise
More affordable price range
Slightly longer warranted mileage coverage
Cons
Weaker dry and snow performance
2. Continental
Pros
Better overall dry performance
Better overall winter performance
Good wet performance
Cons
More expensive price range
Which Tire Brand is Right for You: Uniroyal or Continental?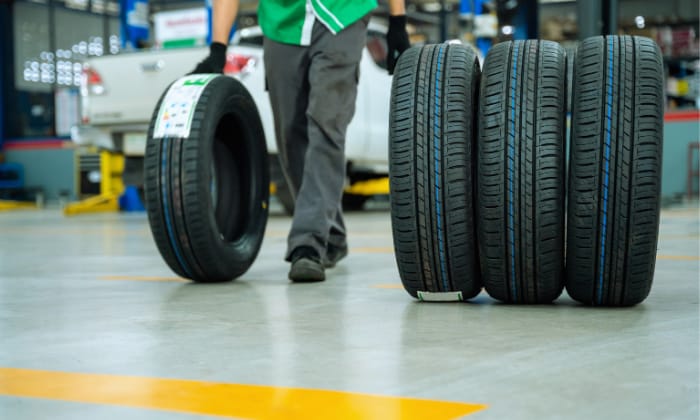 Performance-wise, Continental is the better choice. Generally speaking, its tires excel in more road conditions, such as dry and winter terrains. However, take note that Continental tires are indeed pricey.
If budget is your concern at this time, then Uniroyal is here to surely provide affordable options. Uniroyal tires are smoother and quieter overall with impressive wet performance.
Regardless of which brand you will be choosing, rest assured they are both good picks, since the competition between these two is tough and almost close.
Conclusion
Choosing between Uniroyal vs Continental tires is not an easy decision to make, since these two brands are excellent in their own ways. We hope this breakdown of their performance helps you decide which tire brand suits your driving needs better in the long run.
Thank you for reading this entire post. We are so excited to share more tire-related posts in the coming days for you to read. Have a safe and nice trip!