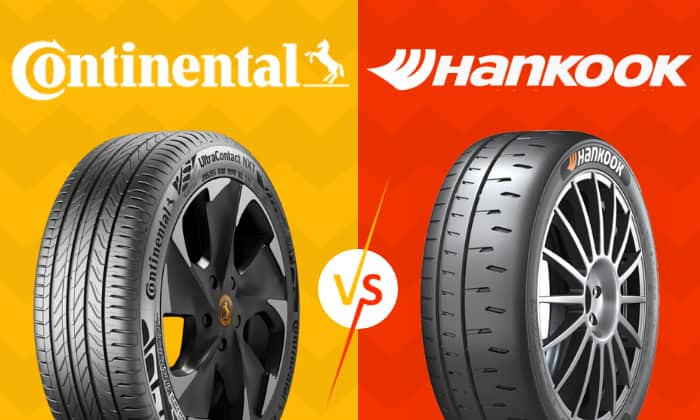 Consumers often find themselves at a crossroads when choosing between Continental vs Hankook tires. Continental, a stalwart of German engineering, is synonymous with precise and long-lasting performance. On the other hand, Hankook, South Korea's pride, stands out for its perfect blend of affordability and reliable quality.
Both have their distinct offerings, but which one suits your needs best? Here is a short summary to give you a quick look at their strengths.
| | | |
| --- | --- | --- |
| Factors | Continental | Hankook |
| Performance | Superior | Above Average |
| Price | Above Average | Average |
| Variety | Superior | Average |
| Durability | Above Average | Superior |
Below is a comprehensive comparison between Hankook vs Continental to give you more insights into both brands.
Overview of Continental
Originating from Hannover, Germany, in 1871, Continental's journey began not with tires but with rubberized fabrics and soft rubber products. It took over two decades for the brand to venture into automobile tire manufacturing, introducing pioneering features like cord fiber fabric inside the tread area.
By 1987, Continental marked its prominence in the US market, acquiring General Tire and subsequently becoming a household name for premium tire offerings.
Tire Families of Continental
Ultra-High Performance – Continental's Ultra-High Performance tires are engineered for the thrill-seeker in all of us, delivering uncompromised handling, speed, and safety. Experience the next level of road performance with the ContiSportContact™ and ExtremeContact series, a testament to ultimate driving precision.
Touring – Journey confidently with Continental's Touring tire line, crafted for long-lasting comfort, fuel efficiency, and smooth handling. The PureContact™ LS exemplifies what every road trip deserves – a quiet, comfortable ride combined with enduring performance.
All-Terrain – Unleash your adventurous side with Continental's All-Terrain tires, designed to conquer city streets and rugged trails with superior traction and durability. Dive into diverse terrains confidently with the TerrainContact™ A/T and CrossContact ATR, bridging the gap between smooth highways and challenging off-road.
Aside from this categorization, you can also group Continental's lineups into Summer, All-season, and Winter tires.
Overview of Hankook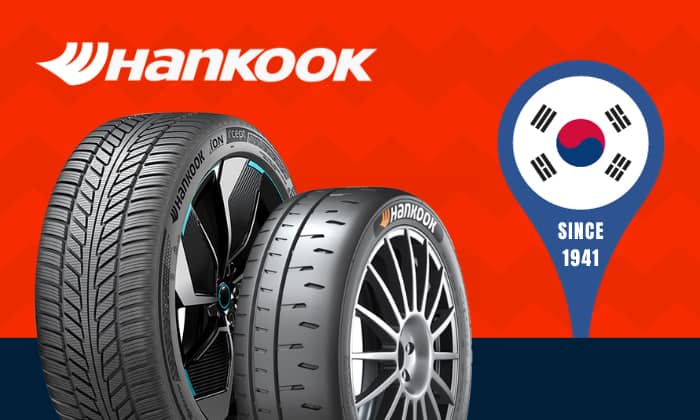 Established in 1941, Hankook emerged as South Korea's response to the global tire industry. Even amidst the upheavals of World War 2, the brand remained undeterred, focusing on innovation and quality.
Hankook's collaborations with premium automobile brands, like Audi, further bolstered its credibility. Their market strategy is clear: deliver high-quality tires without making customers break the bank.
Tire Families of Hankook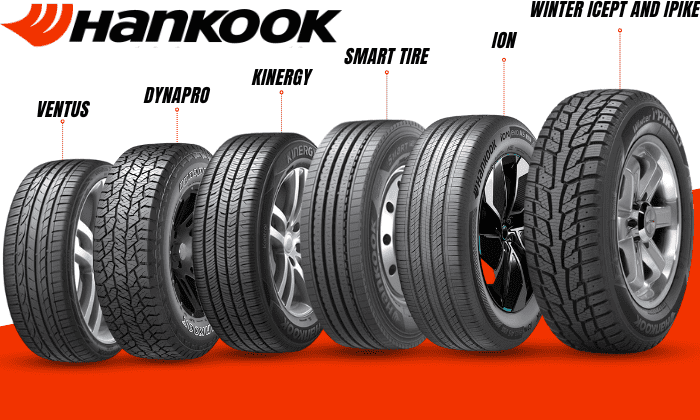 Ventus – When you are looking for high-speed and stable tires, the Ventus line is worth considering. Ventus tires are engineered for performance on the highway or professional race track. These Hankook tires are used for luxury and sports cars.
Dynapro – Off-road adventures require tough performance tires, which the Dynapro provides. It is designed to provide comfort and stability on loose gravel and dry pavement. Hancock's Dynapro is explicitly made for SUVs.
Kinergy – Hankook's famous all-season tire line focusing on stability and traction for different road conditions. Kinergy is ISCC PLUS certified, meaning the brand uses sustainable resources to manufacture this tire. There are Kinergy tires for most vehicles, such as sedans and SUVs.
SMART Tire – The SMART line is an abbreviation for Safety, Mileage, Anti Chip-Cut, Retreadability, and Traction, which depicts the longevity and reliability of these Hankook tires. The SMART line is primarily made for commercial trucks and buses.
iON – Exclusively for electrical vehicles, iON tires have variations for summer, all-season, and winter performance.
Winter iCept and iPike – Speaking of winter performance, we can't leave out Hankook's line specifically made for snow and ice. Winter iCept and iPike tires are tested in the cold climate of Finland and have been chosen for premium vehicles from BMW, Audi, and other brands.
Differences Between Continental and Hankook Tires
1. Performance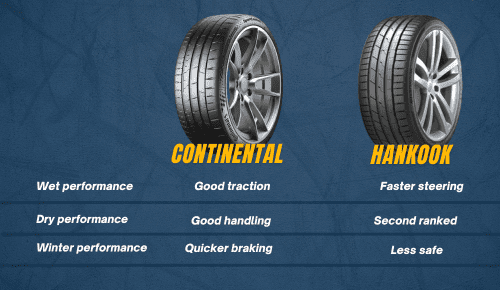 Continental is the clear winner in regards to performance against Hankook tires. The former's tires have advanced designs and features, making them superior in various categories.
You can see it when you compare both brands' high-performance tires: the SportContact7 vs. Ventus S1 Evo3 for wet and dry performance and the Continental Wintercontact vs. Hankook Winter iCept RS3 for winter conditions.
Tests conducted on the SportContact 7 show its traction was better than Hankook's Ventus S1 in wet and dry environments. Continental's tire also possesses better dry handling, though its wet steering is a bit slow compared to Hankook.
In winter performance, though, Continental had much quicker braking, making it the safer choice in turbulent weather.
2. Prices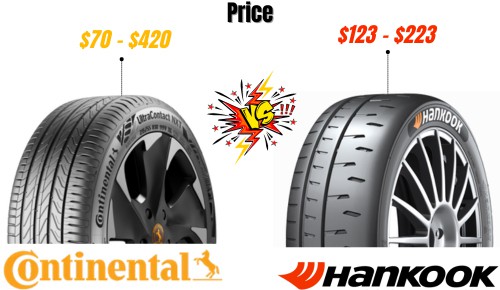 Hankook takes the lead in affordability, which you can see when we compare its prices with Continental's. Hankook has a price range of $123 to $223 on most retailers. On the other hand, a Continental tire has a cost of around $70 to $420.
3. Tire variety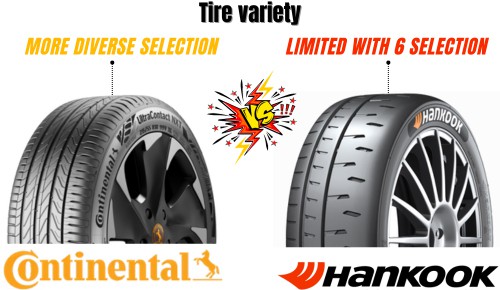 Continental tires have a more diverse selection than Hankook. Whether it's tires for cars, vans, trucks, or even motorcycles, Continental can accommodate more vehicles than Hankook.
Hankook's tire line is limited to the Ventus, Kinergy, Dynapro, Smart, Vantra, Winter, and iOn. The brand cannot match Continental's extensive selection of products.
4. Durability and tread Life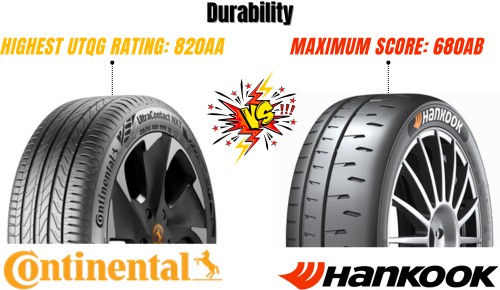 Hankook takes the lead regarding tire durability based on the highest UTQG rating of its products. Uniform quality grading is a standard for tire traction, treadwear, and temperature resistance.
The Dynapro HP2 215/60R17v has an incredibly high rating of 820AA, while its Dynapro HT has a rating of 700AB for most sizes.
Continental's CrossContact LX has 680 AB as its maximum score, the highest UTQG rating for the brand.
5. Pros and Cons
1. Continental
Pros
Superior traction in dry and wet conditions
Wide range of tire line
Better traction on snow
Cons
Pricier than other brands
2. Hankook
Pros
The economic choice of the two
Tire lines with high UTQG ratings
Commendable noise rating
Cons
Lacking in variety
Performs less well than the competition
Which Tire Brand is Better?
Continental is a superior brand to Hankook due to its performance. Continental also has a wider selection of tires than Hankook.
Hankook still has an edge over Continental regarding overall longevity, though. The brand's tires are also noticeably more affordable than Continental's.
Conclusion
In conclusion, the comparison between Continental vs Hankook Tires reveals Continental as the clear winner when you look at their performance on dry and wet roads.
Still, Hankook is a valid choice when you are looking for durable and affordable tires. It's best to consider what you need and make a decision accordingly.