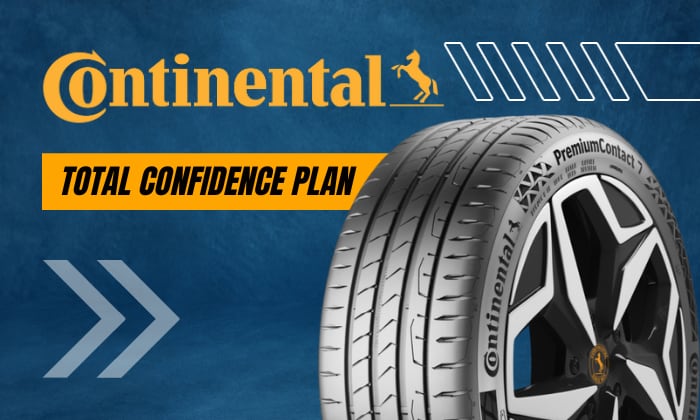 Aside from technological features, your warranty is an added layer of tire protection for your rubbers. And Continental has you covered with their Continental Total Confidence Plan, a warranty package offering comprehensive coverage and peace of mind.
Whether you're driving in the city or on rural roads, this plan ensures you're protected against various tire-related issues. However, like many warranty plans, the whole thing can be incredibly confusing, especially for average drivers.
We're here to help you out and make tire replacement a little easier.
What is the Continental Total Confidence Plan?
Right off the bat, the Continental Total Confidence Plan is a comprehensive bundle of accessible warranties and services provided by Continental for drivers who buy new passenger and light truck tires.
To be eligible, the tires must be brand-new replacements with the Continental name and DOT number. They should be on the same vehicle they were first put on and have never been repaired or improperly maintained (e.g. overinflating, not rotating, or driving the tire recklessly).
This means that if you put your purchase on new cars, your claim is effectively ineligible. And, of course, your tires must have also been bought from an official Continental dealer.
It's vital to note that tires used for competitions or in jobs like taxi services, police, or emergency vehicles won't be covered by the warranty mileage. Also, models used outside the United States and Canada are ineligible for warranty claims.
That being said, the Continental Total Confidence Plan offers warranty coverage that's excellent for average drivers and commuters, making this plan a worthy investment for those who fall under this category.
So, what does Continental Tire Warranty cover? Find out below.
Benefits of the Continental Total Confidence Plan
1. Limited Warranty – If your tires don't last for a year, Continental will replace them with new ones, no strings attached.
2. Mileage Warranty – Continental will shoulder replacement costs on most of their passenger tires, for up to 80,000 miles.
3. Customer Satisfaction Trial – If you're unsatisfied with your recently purchased tires, Continental will replace them with the same model or a different one for the first 60 days.
Refunds and additional costs apply, depending on whether the replacement is cheaper or more expensive than the original tire.
4. Road Hazard Warranty (12 months from purchase or during the first 2/32 inch of tread) – If your tires get cuts, snags, punctures, bruises, or impact damage from road hazards, Continental would replace them with new ones free-of-charge.
5. Flat Tire Roadside Assistance (3 events and three years limits) – Receive a complimentary flat tire change and spare installation (or towing if necessary) for distances of up to 150 miles 24/7.
6. Emergency Trip Interruption Coverage – For pre-registered users, Continental would help shoulder some expenses (up to $500 per year for three years) if your vehicle breaks down on the road.
These expenses must be food purchases, transportation and vehicle rental costs, or lodging.
How Does the Continental Total Confidence Plan Work?
Continental warranty is an absolutely fantastic deal, especially for average drivers. But how does it exactly work? Well, for starters, you must fit the eligibility criteria mentioned above and pre-register your tires.
Thankfully, Continental has made the process a lot easier by embracing digital technology.
Download the Total Confidence Plan mobile app, follow the registration instructions, and register your vehicle and Continental tire.
Head to register.roadsideprotect.com/continental/continental_en.php and fill out a form if you don't have a phone.
If the above methods aren't doable, call 888-990-6125 to sign up for the program via phone.
After that, you'll receive a warranty offer and period.
If your tires get damaged, stop by your nearest authorized Continental tire dealer to file a warranty claim. And be sure to bring your original sales receipt and proof of purchase.
You may also request coverage through the app to make things more seamless. Open your app, then file a case through your preferred Continental tire dealer. After some time, you'll receive a QR code, which you'll need to show to the dealer you've chosen.
It's also worth noting that although the replacement tires are free, you'll be the one paying for all the applicable taxes. After filing your claim, the brand will contact you after the people from the Continental tire warranty reviews it.
When registration is complete, Continental will mail you your Roadside Assistance Card and the terms and conditions (digitally for online buyers and physically for phone users).
What is Not Covered by the Confidence Plan?
Aside from the limits we mentioned above, here are the issues Continental's warranty will not cover.
1. Any vibration problems after the initial 2/32nds of an inch of treadwear or 12 months of service
2. Improper Use and Maintenance
Incorrect load practices
Skipping recommended tire alignments
Damage through:

rim irregularities
snow chains
vehicle mechanical issues
extreme temperatures and improper storage
automotive accidents
chemical corrosion
fire
improper stud size or installation

Improper Mounting or Dismounting
Alterations to the tire
Weather checking/cracking after 48 months
Conclusion
The Continental Total Confidence Plan is a godsend, especially in emergencies. It's also a great way to save money, since the warranty is comprehensive enough that you won't need an extended warranty from a third-party dealer. Just be sure to register your purchase and maintain the eligibility criteria to ensure long-term tire protection. Moreover, always be mindful of the instances where your tires aren't covered by the plan to save yourself the hassle.