It is natural for us consumers to be in search of good quality tires for our vehicles. Many drivers do not limit themselves to big names in the industry. Instead, they give other underrated companies a try, like General tires.
Today, we will be comparing General vs Continental tires. Let's see how these brands differ in terms of their road performance, warranty, price point, and strengths and weaknesses.
But first, here's an overview of them.
| | | |
| --- | --- | --- |
| Characteristics | General | Continental |
| Year Started | 1915 | 1871 |
| Country of Origin | US | Germany |
| Price | More expensive | Cheaper |
| Max Treadlife Warranty | 75,000 miles | 70,000 miles |
| Tire Variety | Passenger cars, light trucks, SUVs, commercial, and crossover vehicles | Passenger cars, bicycles, vans, trucks, bus, motorcycles, port vehicles, and agricultural vehicles |
| Performance Strength | Durability and winter performance | Wet performance and dry handling |
About the Companies
1. General tire
It all began in 1915 when the General Tire and Rubber Company was established by William O'Neil and Winfred Fouse in Ohio, US. The company became known for its invention of blow-out-proof balloon tires and truck rubber flaps, which revolutionized the industry.
As of now, the famous Continental AG is its parent company. The acquisition allows General Tire to keep up with lots of other competing brands.
2. Continental
Continental first appeared in 1871, starting as a company based inHanover, Germany that specialized in rubberized products.
From producing bicycle and carriage tires to coming up with the very first winter tire in Europe in 1952, this company has a rich history of creating outstanding tires in the market.
Thanks to its hard work in manufacturing sustainable and innovative tires, Continental ranks second in the top tire brand list internationally.
Comparing General vs Continental
This is the most exciting part of this page as we are going to see which tire manufacturer outperforms the other per category. We selected the popular tire models of each brand to represent the overall tire performance levels.
1. Dry performance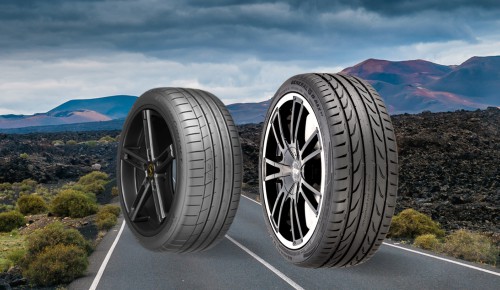 For dry performance, we will compare the General Tire G-MAX RS vs Continental ExtremeContact Sport.
General's G-MAX RS is equipped with SmartGrip technology that promotes a stable driving experience, great handling, and superb road contact.
Similarly, Continental ExtremeContact Sport allows for ultimate grip and excels in steering and handling capabilities. It also offers short dry braking distances and a comfortable ride.
When comparing the two models, General's tire offers slightly better longevity while Continental provides more responsive steering.
2. Wet performance
For this category, we have two all-season tire models that each company is proud of when used on wet road conditions. These are the Continental ExtremeContact DWS 06 PLUS & General G Max AS 05.
General G Max AS 05: Excellent in eliminating water thanks to its built-in grooves, with superb grip on slippery surfaces
Continental ExtremeContact DWS 06 PLUS: One of the recent Continental tires for wet performance, the DWS 06 features sipes and grooves to ensure improved water evacuation and resistance to hydroplaning.
Though the difference is slight, Continental comes with a shorter wet braking distance and better wet handling capabilities than General's offering.
3. Winter performance
We will compare the General Altimax Arctic vs. Continental ExtremeWinterContact to see how these two tires behave in wintertime.
General's Altimax Arctic has enhanced grip and stability on snow and ice while delivering a smooth ride.
Similarly, Continental ExtremeWinterContact can traverse both deep and light snow with ease while offering outstanding cornering and braking.
Generally speaking, General and Continental are equally impressive in ice braking performance, but General delivers slightly better snow traction.
4. Price
The price of the tire is an additional crucial factor. Look at the price range difference between the offerings of these two brands.
For General, the price range of its products comes at $96.37 to $575.99.
On the other hand, Continental tires can be purchased for $90 to $430.
Therefore, Continental tires are generally more cost-efficient than General's offerings.
5. Warranty
When it comes to the maximum warranted mileage these two brands offer, General Tire provides warranty mileage support of up to 75,000 miles, while for Continental, it is up to 70,000 miles.
This slight difference does mean that General offers slightly better coverage than Continental. But keep in mind that warranty differs per tire model.
6. Pros and Cons
Listed below are the general good and bad side of these two brands.
1. General
Pros
Offers slightly better warranted mileage
Comfortable and stable rides on wet and dry roads
Impressive traction on snow
Better durability
Cons
Comes at a higher price range
2. Continental
Pros
Better steering on dry roads
Better wet handling and braking
Above-average snow and ice traction
Comes at a lower price range
Cons
Comes with slightly shorter warranted mileage
Which is Better? Continental vs General Tires?
For sure, many consumers will see Continental tires as the better ones, since they are more popular and have a more established reputation than their competitor. On top of that, Continental tires generally have a lower price point and shorter braking distance.
I would pick Continental for these reasons, but General's warranty terms and tire longevity make it a top choice for many drivers as well.
The decision all depends on what you ultimately want in a tire.
Conclusion
That's the end of our discussion about General vs Continental tires. We hope you learned a lot about their differences on this page.
Both are excellent on their own terms. Therefore, you are the one who will decide which brand better suits your preference.
Good luck, and have a nice day!