The proper tire for your RV can provide a comfortable and optimized driving experience. We will help you select the best for your requirements: the Sailun S637 vs Goodyear G614.
Sailun's tire is designed for reliable traction in wet and dry conditions. Meanwhile, the G614 is designed for steady road performance while carrying heavy loads. Here is a quick comparison of their tire specs.
| | | |
| --- | --- | --- |
| Factors | S637 | G614 RST |
| Brand | Sailun Tire | Goodyear |
| Vehicle Types | Trucks and Trailers | Trucks and Trailers |
| Tire Size | ST235/80R16 | LT235/85R16 |
| Tread Depth | 10/32 in. | 12/32 in. |
| Load Capacity | 4080 lbs | 3750 lbs |
| Tire Speed Rating | L | R |
| Max Air Pressure | 110 PSI | 110 PSI |
| Tread Life | Above Average | Above Average |
| On Road | Average | Above Average |
| Off Road | Above Average | Average |
| Wet performance | Above Average | Above Average |
| Comfort | Above Average | Above Average |
Below is a detailed comparison of the two tires to help you determine if Sailun or Goodyear is the right choice.
Overview of Sailun S637 and Goodyear G614
About Sailun S637
The S637 is an all-position tire that is specially designed for pickup trucks, regional trucks, line-haul trucks, plus regional and low-platform trailers. Its tread design aims to provide reliable performance in various road conditions.
In addition, the ST S647 sizes consider specialty trailer tires requirements with the steel construction of their interiors.
About Goodyear G614
The G614 RST is an all-season tire built for truck applications. Its ribbed treads allow the G614 to provide a reliable grip in various road conditions and off-road surfaces, such as dirt patches. Goodyear also has ST versions of the tire for special trailer applications.
Rating
Sailun S637 – According to verified reviews for the Sailun S637, the tire can meet driver expectations. Customers purchased the Sailun tire as a replacement and are satisfied with the value they got for their money.
Goodyear G614 – According to Amazon Reviews, the G614 is praised for its durability and long service life. As customers stated in their review, Goodyear's reliability and performance make the tire worth its price.
Differences
1. On-Road Performance
The Sailun RV tire treads have wide grooves that can improve its traction on pavements. Its design allows for a steady grip on the road at normal speed.
Goodyear G614 tires can achieve better on-road performance thanks to the rounded shoulder ribs. This design allows the tread to have better contact on the pavement for optimized traction and handling.
Goodyear has better on-road performance than the Sailun RV tires due to its tread design. The G614 improves safety while driving on highways or urban roads.
2. Off-Road Performance
Much like its on-road performance, the G614 has great off-road capability with its enhanced casing. You can drive the Goodyear tire on rough terrain and re-groove it if there's wear and tear.
Like Goodyear's offering, the S637 is not designed for off-road surfaces, but its deep tread depth gives the Sailun tire traction in gravel. Drivers have reported going for years or 25,000 to 30,000 miles on the Sailun before needing a replacement.
Overall, the tougher tread of Sailun's tire makes it better in rough conditions than Goodyear. Remember that both the Sailun S637 and Goodyear G614 should not be used for extremely demanding terrains.
3. Tread Life
The Sailun S637 and Goodyear G614 share similar tread designs for long life expectancy. Sailun's tire has a mirrored tread pattern for even distribution of road contact. Meanwhile, the Goodyear G614 has a shallow tread void and broad shoulders for equal pressure distribution.
What makes the two different is the S637 multi-sipe design that quickly cools the tire to prevent heat from wearing the threads. Sailun has the better tread life of the two models.
4. Wet Performance
The wet performance of the S637 comes from the multi-sipes feature that creates an optimal suction to its groove. The sipes' vacuum prevents hydroplaning and keeps the tire in contact with the road under the rain.
Goodyear's tire has a ribbed tread pattern and circumferential void to draw water from the road out of the groove when it rains. These two features of the G614 allow for better wet traction and hydroplaning resistance.
While both have nearly the same performance, Goodyear's ribbed tread design makes it the winning choice against Sailun.
5. Comfort
A smooth ride is determined by the tire's ability to prevent vibrations at any speed. Sailun's S637 achieves stability with its extra-wide tread ribs, ensuring constant contact with the road.
Goodyear's G614 RST achieves solid driving stability with its shoulder ribs. Thanks to the reinforced sidewall, the tire provides a smooth ride without bumps or discomfort.
Goodyear beats the Sailun in ride comfort due to the solid shoulder walls. But I would say both are fairly quiet, and the difference is minimal.
6. Pros and Cons
Here are the advantages and disadvantages of the S637:
Sailun S637
Extensive tread life
Good off-road performance
Good wet traction
On-road performance and comfort could be better.
Below are the pros and cons of the G614.
Goodyear G614
Good on-road traction
Better road comfort
Better resistance to hydroplaning
Not the best for off-roading
7. Cost and Value for Money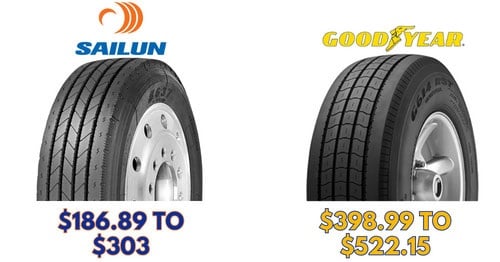 Goodyear's G614 has a price range of around $398.99 to $522.15 among popular tire sellers. Meanwhile, the Sailun S637 is only $186.89 to $303 at major retail stores. The most expensive Sailun tires are a set of S637 ST235/80R16. The cost difference between the two comes from the brand or manufacturer.
Which is Better?
The Goodyear G614 is the clear winner of the two RV tires as it offers better road comfort and on-road traction. The Sailun S637 is the clear choice for low budgets, however, as it is more affordable than Goodyear G614's prices.
Problems With the Tires
Sailun tire problems are its manufacturer, which does not have the same reputation as Goodyear. There are few reviews or customer feedback on the lifespan and reliability of the S637.
Is Sailun a good tires manufacturer you can trust compared to Goodyear? This is a major question to consider.
As for Goodyear, its G614 sizes have smaller diameters compared to Sailun, so big trucks may have no choice but to look elsewhere for their tires.
3 Tips When Buying Sailun or Goodyear Tires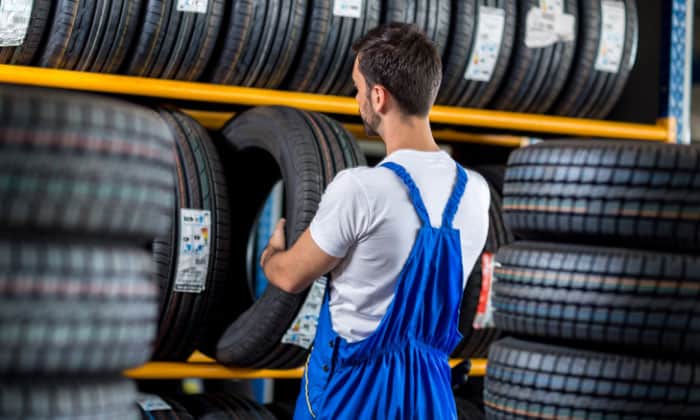 Follow our tips below to select tires for your RV, camper, truck, or trailer.
Application – Are you taking your vehicle for a recreational or commercial drive? General tires tend to fit nearly any driving condition. However, you will need an ST tire when buying the S637 or G614 if you use a specialty trailer.
Vehicle Size – It pays to check your vehicle manual to know which Sailun S637 or Goodyear G614 tires are the correct sizes. You can also check the sidewall of your wheels to know what size is compatible with your vehicle.
Budget – The money you can use to buy a replacement or new tire will be a significant factor in choosing between the S637 or G614. In terms of affordability, the S637 is the more affordable tire in the market. If you can afford Goodyear G614 prices, this is a better investment than a Sailun tire.
Frequently Asked Questions
Are Sailun tires made by Cooper?
No. Sailun is a Chinese tire manufacturer owned by Mesnac Co. Ltd. The company was established in 2002 with their headquarters in Qingdao, China.
Explore the history of Cooper Tire through this article!
Are the Sailun S637 tires suitable for off-road driving?
The S637 is built explicitly for highway usage. Sailun RV tires can provide traction on light off-road surfaces such as campgrounds, but they are unsuitable for demanding sand or mud areas.
Can the Goodyear G614 tires handle heavy loads and towing?
The G614 is designed to handle demanding trailer requirements, such as carrying heavy loads or pulling heavy objects. The tires are made of a tough casing and have a durable mold shape to help retain their shape under intense pressure.
Recommended maintenance tips for prolonging the lifespan?
The G614 and S637 require essential tire maintenance to expand their lifespan, such as inflating them to the proper pressure level. Rotating the tires can also spread the wear to make them last longer.
Where are Sailun Tires Made?
Sailun's manufacturing plants are found across China, specifically the Qingdao, Dongying, and Shenyang regions, as well as Vietnam. Their sales office and logistic centers are found across the globe in North America, Europe, and more.
Conclusion
To conclude the comparison between the Sailun S637 vs Goodyear G614, the latter is the better choice, since it comes from a reputable manufacturer. The G614's tread design and sidewall make drives more comfortable than the Sailun tire. However, the S637's advantage is its price and its slightly better off-road performance.