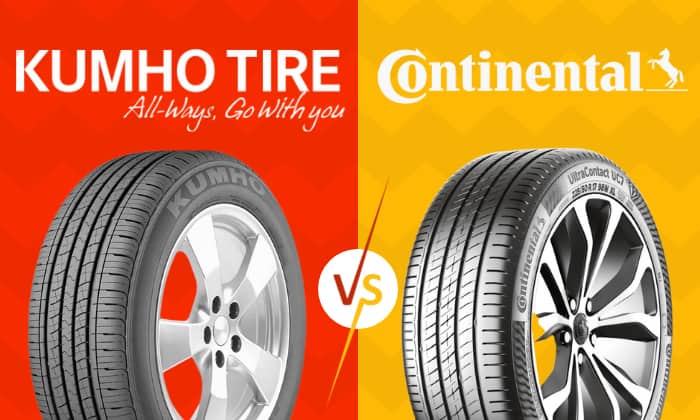 The discussion between Kumho vs. Continental Tires is an interesting one, considering that both brands have their own advantages and weaknesses. Kumho tires are renowned for their tread life, traction, and steering response. Meanwhile, Continental offers tires with exceptional wet and snow performance.
Below is a tire brand comparison to show you the strengths of both brands.
| | | |
| --- | --- | --- |
| | Kumho | Continental Tires |
| Dry Performance | Average | Superior |
| Wet Performance | Above Average | Superior |
| Snow Performance | Above Average | Above Average |
| Durability | Above Average | Superior |
| Comfort | Average | Superior |
Continue reading our Continental vs. Kumho Tires comparison article to know which brand suits your vehicle.
Overview of Kumho Tires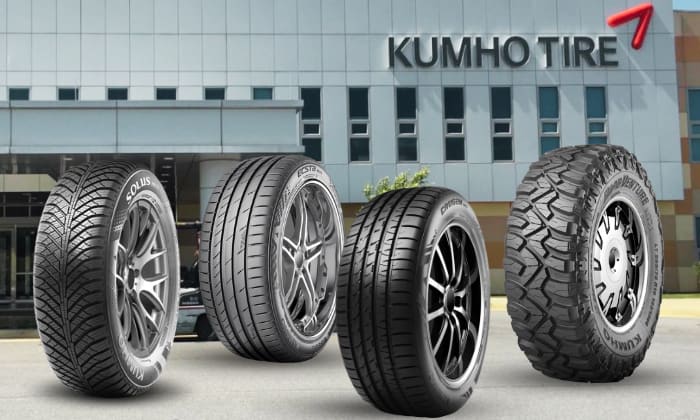 Established in 1960, Kumho Tire Co., Inc. is a Korean brand that has grown to become a leading global tire manufacturer. The company offers a comprehensive range of tires, including those for passenger cars.
Tire Line of Kumho
Solus – The Solus line from Kumho is designed with everyday drivers in mind. It offers a balance of comfort, durability, and all-season performance. Solus tires are also known for their low noise factor.
Ecsta – This performance-oriented line delivers exceptional grip and handling for spirited drivers, ensuring high-speed stability and responsiveness. Ecsta is suited for most passenger vehicles.
Crugen – With Crugen, SUV and crossover owners can relish robust performance, safety, and luxury explicitly tailored for these larger vehicles. This Kumho tire line is designed for comfort and safety for all seasons.
Road Venture – The Road Venture line stands out as Kumho's answer for off-road enthusiasts and adventurers, providing ruggedness for challenging terrains while maintaining on-road comfort and reliability.
Pros & Cons
Pros
Rich selection of all-season and high-performance tires
Economical prices
Extensive warranties
Cons
Lacking in off-road tires
Overview of Continental Tires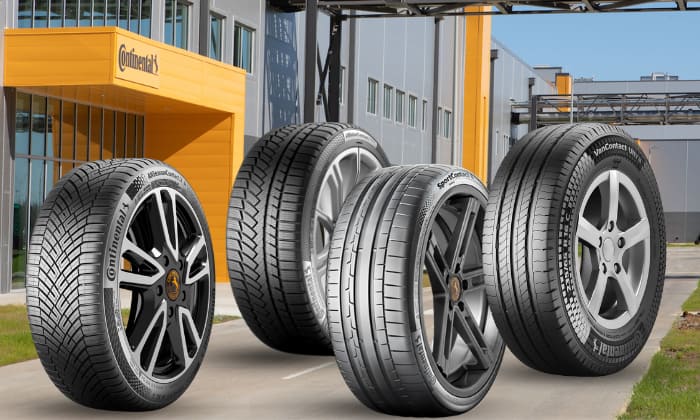 Continental AG is one of the oldest tire companies, with its roots traced back to 1871 in Hanover, Germany. Continental produces a vast array of tire types for passenger cars, trucks, and buses. They are ranked among the ten global tire companies.
Tire Line of Continental Tires
AllSeasonContact 2 – A testament to the company's commitment to year-round reliability, this line merges summer and winter tire capabilities into a singular design that ensures optimal grip and safety regardless of the season.
WinterContact TS – This tire line is Continental's specialized solution for cold conditions, offering superior traction on snow and ice, guaranteeing reduced braking distances in winter's harshest environments.
SportContact 6 – For those seeking high-performance responsiveness and precision, the SportContact 6 is Continental's answer. It's tailored for sports cars and performance sedans to deliver unparalleled handling at high speeds.
VanContact Ultra – Catering to the commercial sector, the VanContact Ultra is designed with durability and efficiency. It ensures robustness and long service life even under heavy loads.
Pros & Cons
Pros
Extensive selection of various tire models
Decades of tire innovations and advancement
Superior dry and wet performance
Which Tire is Better: Kumho or Continental?
How do the two brands fare when pitted against each other based on specific factors? Let's delve into a comprehensive comparison between Kumho Tires vs. Continental.
1. Dry performance
While Kumho offers commendable dry handling, Continental takes the edge with its more consistent and precise performance across various models.
With its German engineering pedigree, Continental has often been applauded for its impeccable dry-handling capabilities. For example, the SportContact series has been renowned for its grip and precise steering response on dry roads.
On the other hand, certain models of Kumho tires, such as the Solus 4S HA31, have noticeably long braking distances and slower handling speeds.
That said, the brand still provides a balanced grip and decent feedback, ensuring drives enjoy a good road feel during the dry seasons.
2. Wet performance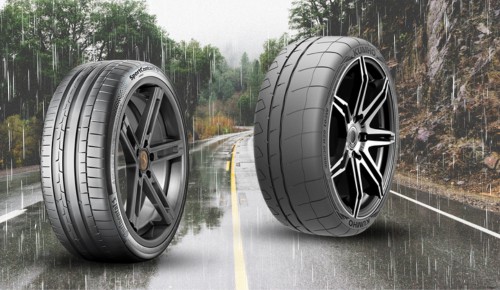 Both brands perform admirably in wet conditions, but Continental's advanced engineering ensures all of its tires have the edge in this category.
Continental's expertise in wet handling is evident in models like the SportContact 6. With a unique tread pattern and groove design, these tires efficiently repel water, reducing the risk of hydroplaning. Their wet grip and stability are stunning as well.
Kumho impresses with its advanced hydrophilic coating that enhances wet grip. Tires like the Kumho v730 are designed to handle wet terrains efficiently, with good braking capabilities and resistance to aquaplaning.
However, Kumho tires pose the risk of sudden breakaway when cornering on wet roads.
3. Winter performance
Surprisingly, it's a tie when it comes to winter performance, considering that both brands are stellar in this regard.
Thanks to their advanced tread compound and structured siping, Continental tires boast superior snow braking and handling.
Although their snow braking and handling are marginally inferior, Kumho tires outperform Continental in terms of snow traction.
4. Durability
Continental's consistency across models gives it a slight advantage. While Kumho offers some tires with impressive UTQG, Continental's models tend to outlast them.
Durability is one of Continental's strong suits. The brand's tires are built to withstand various terrains and last long. Their tread designs and rubber compounds ensure minimal wear and tear, even under rigorous driving conditions.
Kumho tires, particularly those with a higher UTQG rating, are known for their longevity. The brand has invested in technology that reduces uneven wear, thus prolonging tire life.
However, Kumho tires' durability will decrease by 10-20% if you drive at a fast speed or brake regularly.
5. Treadlife
Most products from Kumho have a treadlife of 60,000 to 80,000 miles. As for Continental, their average tire mileage is around 20,000 to 80,000 miles.
6. Comfort
While Kumho offers a comfortable ride in its premium range, Continental stands out with its holistic approach to enhancing driving comfort.
Continental tires are designed to minimize road noise and absorb shocks, ensuring a comfortable ride. Their focus on optimizing tire structure and tread pattern reduces vibrations, enhancing overall driving comfort.
Kumho tires offer a smooth ride with reduced road noise, especially in their premium range.
However, some users have noted that specific models, such as the Kumho Ecsta PS71 and Road Adventure AT51, might be stiffer, impacting ride comfort.
7. Cost
As mentioned above, Kumho tires are more budget-friendly—they cost around $61 to $550 apiece if bought from most retailers. Meanwhile, on average, Continental tires will set you back $81 to $614.
Conclusion
As commendable as the Korean company can try to be, there is only one clear winner between Kumho vs. Continental Tires. Despite having a premium price, Continental excels in most aspects, such as dry traction and comfort. Kumho comes in a close second, with its edge being the affordable price of its tires.