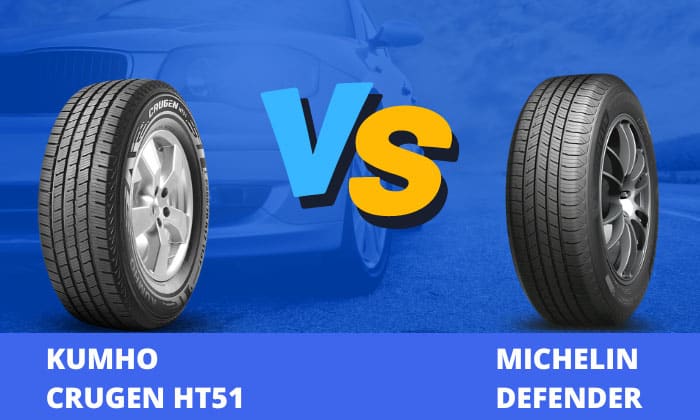 Most tire shoppers compare Kumho tires vs Michelin based on price points and quality. That is why we decided to closely examine the Kumho Crugen HT51 vs Michelin Defender and list down the features that make these tires truly attractive.
Michelin Defender LTX MS is a more dependable tire in wet, dry and mild winter conditions. However, the difference in performance, comfort and noise is relatively small that the affordable pricing of Kumho Crugen HT51 makes it an impressive tire option.
| | | |
| --- | --- | --- |
| Factors | | |
| Dry | Above average | Winner |
| Wet | Above average | Winner |
| Snow and Ice | Winner | Decent |
| Comfort/ Ride Quality | Stable | Winner |
| Noise | Moderate Noise | Winner |
| Price | Winner, cheaper by $50 | Expensive |
| Mileage Warranty | Equal | Equal |
What Are They?
1. Kumho Crugen HT51
Kumho Crugen HT51 is an all-season highway tire for light-duty vans, crossovers, and SUVs. It was introduced in 2016.
This tire has a five-rib asymmetric tread design that provides straight-line stability, increased dry grip, and durability.
It is also stylized with four wide circumferential zigzag grooves and 3D zigzag sipes for a better grip on water and snow.
2. Michelin Defender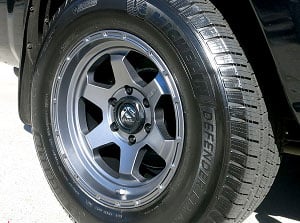 The Michelin Defender line comprises two standard touring tires (Michelin Defender 2 and Defender T +H) and an all-season highway tire called Michelin Defender LTX MS.
Since the Kumho Crugen HT51 is a highway tire, we will compare it with the Michelin Defender LTX MS.
Defender LTX MS replaced Michelin's LTX M/S2 in 2015. It features a symmetric tread design molded with a more advanced compound called Evertread and high-density Active Sipes. This combination provides durability and traction in tough weather conditions all year round.
The tire's profile is equipped with Michelin's MaxTouch construction, which provides a sufficient contact patch that enables smooth acceleration, braking, and cornering control.
Similarities and Differences: Michelin Defender vs Kumho Crugen HT51
Let's go into detail on how these two tires differ in features, performance, and cost.
1. Specifications
Michelin's Defender LTX M/S is 2 pounds heavier than the Crugen HT51, but it can accommodate a bigger load.
UTQG ratings show that the Defender LTX M/S has a slower wear rate since its treadwear rating (800) is higher than the Kumho tire (720). Their traction and temperature grades are similar (AA).
| | | |
| --- | --- | --- |
| Specifications | Kumho Crugen HT51 | Michelin Defender LTX M/S |
| Brand | Kumho | Michelin |
| Tire Size Inspected | 235/70R16 | 235/70R16 |
| UTQG | 720 A A | 800 A A |
| Max Load | 2094 pounds | 2271 pounds |
| Max PSI | 51 psi | 50 psi |
| Tread Depth | 12.5/32 in. | 12/32 in |
| Tire Weight | 31 pounds | 33 pounds |
| Mileage Warranty | 70,000 miles | 70,000 miles |
2. Warranties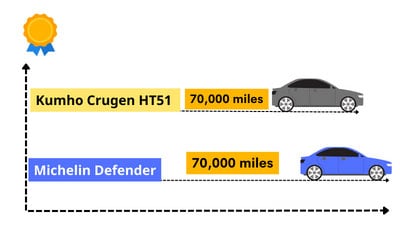 Though both tires share the same mileage support of 70,000 miles, the Crugen HT51 does not offer a special warranty aside from free tire replacement on the first year or first 2/32 in. of wear.
On the other hand, the Defender tire provides a 60-day trial and 3 years worth of roadside assistance.
3. Performance reviews
Based on consumer feedback, Michelin's Defender LTX M/S takes the lead in all-season versatility and off-roading capability with a high level of comfort and longer wear life.
4. Wet
Puddles of water won't slow down this Kumho tire because it has effective groove channels and zigzag sipes to wick water away. However, when driving in rainy conditions, you need to be careful in oversteering and braking because the response lacks the precision and speed similar to a premium tire.
In contrast, the Defender tire has an excellent wet grip, so driving under heavy rain is not a problem. It remains stable even when pushed through corners or during hard acceleration.
5. Dry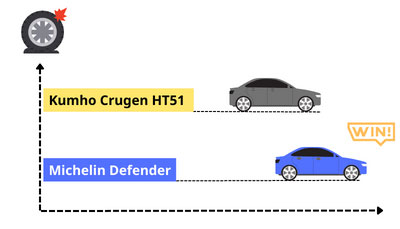 To enjoy highway stability, the Crugen HT51 must be driven at higher speeds. Forcing it to run at moderate speeds will cause the tire to twitch to hold its grip.
In comparison, the Defender LTX M/S has stronger steering control that can evenly distribute pressure across its contact patch for the needed acceleration and braking power. It has plenty of dry grips because the tread blocks are stiff.
6. Noise/Comfort/Ride quality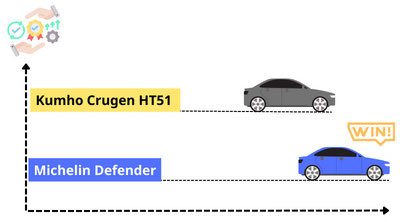 The Crugen HT51 delivers a stable ride even with heavy loads or a trailer attached to it. It has a sufficient grip on corners.
However, it produces an audible tread growl on rough roads. The road feedback is high when you hit bumps and potholes, and it takes a while to go back to fine handling.
On the other hand, the Defender LTX M/S is not only firm on pothole-filled roads but also great in crossing riverbeds, sandy hills, and mud at slow speeds. It delivers a quiet and smooth riding experience. Some drivers revealed that it has low road noise on the highway.
7. Snow and ice
Kumho Crugen HT51 tires that were manufactured in 2017 carried the snowflake symbol, which meant that they could handle harsh winter conditions.
Crugen HT51 tires produced before that are not snow-rated, but they perform decently on icy roads and snow-laden areas.
Meanwhile, the Defender LTX MS is not snow-certified, so it is not usable in severe snow conditions. However, this tire has good grip and braking ability in light snow. It can pass through slush and ice.
8. Cost
Kumho Crugen HT51 is cheaper by almost $50 than Michelin's Defender LTX M/S. For example, Kumho, with a tire size of 235/70R16, costs around $161, while the same Defender tire size is sold at $220.99.
Pros and Cons
Kumho Crugen HT51
Cheaper
Comparable treadlife
Above-average wet and dry performance
Steering and braking ability could use some refining
Michelin Defender LTX MS
Superior wet and dry performance
Usable in light snow
Quiet, comfortable and stable ride
FAQs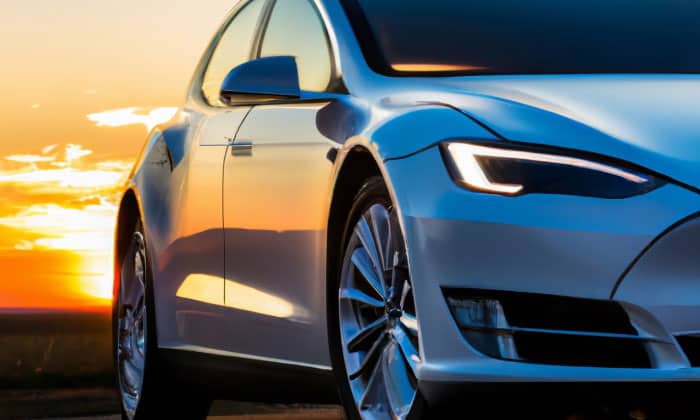 Is Kumho Crugen HT51 a good tire?
Yes, Kumho Crugen HT51 is a good tire. It is a low-cost choice that can deliver highway stability, all-season traction, and durability that is close to what premium tires can offer.
How long does a Kumho Crugen HT51 tire last?
Kumho's Crugen HT51 has a mileage warranty of 70,000 miles or a wear life promise of up to 6 years. For light truck sizes, the treadwear warranty covers 45,000 miles.
Which is better, Kumho Crugen HT51 vs KL33?
The Crugen HT51 defeats the summer touring tire, KL33, in wet and dry performance. It has superior cornering stability and a more responsive steering control.
Conclusion
This comparison of Kumho Crugen HT51 vs Michelin Defender is only an example of why Kumho tires are at the top of the list for a cost-effective but truly functional alternative to premium tires.
The Kumho brand delivers its promise without breaking the bank. Certainly, this result would spark further interest in Michelin vs Kumho tires matchup. You might be curious about other models like Kumho Crugen HT55 or Kumho Crugen HP71.
Don't worry. We'll try to keep you updated with more Kumho Crugen tires review, so stay tuned.