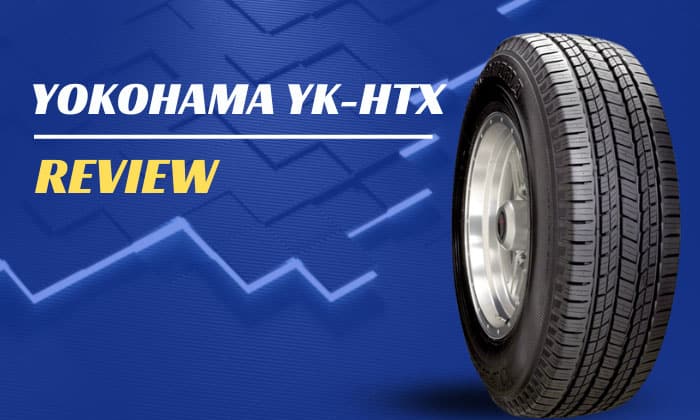 Yokohama has been at the forefront of the tire industry since its inception in 1917, developing excellent tires for drivers around the world. For this review, we'll set our sights on its highway terrain tire, the Yokohama YK-HTX.
Equipped with cutting-edge technology, offering light truck, SUV, and crossover drivers with excellent traction, comfort, and excellent snow performance—the YK-HTX is a tire to be reckoned with.
Here's a quick rundown of the Yokohama YK HTX ratings across all boards. Read below and find out more about this product in this Yokohama YK-HTX review.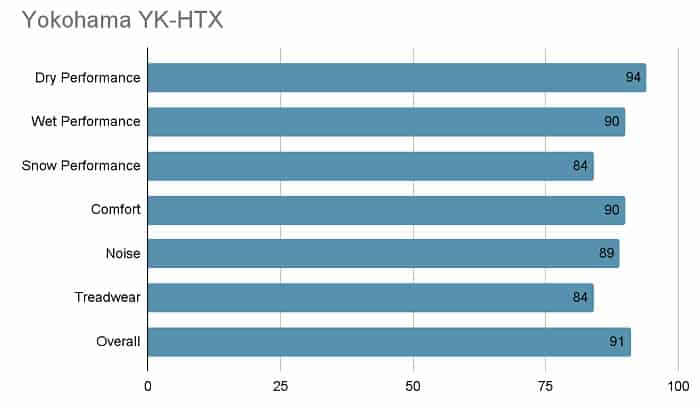 What is the Yokohama YK-HTX Tire?
So, is it an all-terrain tire or a highway tire? The answer is actually both. With its gritty design and ability to traverse through heavy snow like its cousin, the Yokohama G015, it's easy to mistake the Yokohama YK-HTX for an all-terrain tire when in fact, it's an all-season touring tire.
This all-season touring tire is specifically built for light trucks, SUVs, and crossovers, and comes in seven sizes from 15 to 20 inches plus 22 inches, with diameters ranging from 27.9 to 33 inches.
The Yokohama YK HTX price varies but usually starts at a fairly decent $110 per tire. And like its size, your mileage warranty may vary as well, depending on your vehicle's speed rating.
For instance, a Yokohama YK-HTX 265/70r17 (LT) sized tire has a tread life warranty of 50,000 miles, while a smaller Yokohama YK-HTX 245/60r18 has much more extended brand support at 70,000 miles.
Regardless, a mileage warranty of 50,000 or 70,000 miles is fairly decent. But it's not exceptional, especially when comparing the Yokohama YK-HTX vs Michelin Defender 2, with the Defender 2's warranty at 80,000 miles across all tire sizes.
Now, onto the Yokohama YK-HTX's features.
Related: A Quick comparison between Michelin vs Yokohama tires
Features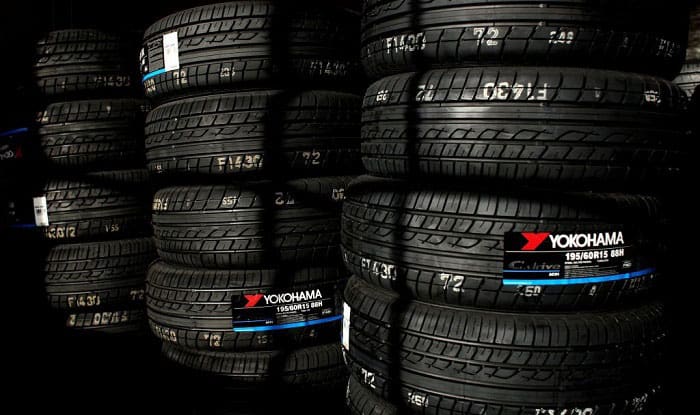 1. Triple 3D sipes
Armed with 3D sipes and numerous biting edges, this gives the Yokohama YK-HTX tremendous grip and braking ability on wet and snowy surfaces. And, as an added bonus, it significantly enhances the tire's maneuverability as well.
2. Optimized Contact Patch
The better the contact patch, the better grip the tire has on the road's surface, essentially enhancing the tire's maneuverability and steering sensitivity. The YK-HTX gives your vehicle that extra degree of safety when driving through any weather.
3. Optimized Side Walls
Aside from its contact patch, the Yokohama YK-HTX also has a reinforced sidewall, which gives the tire superb durability. In fact, even as the tires wear, numerous shoulder blocks would rise, ensuring safety and comfort, which mitigates the need for an early replacement.
4. Orange Oil and Silica
The Yokohama YK-HTX tire's composition is orange oil and silica. The natural oil keeps it from drying out and improves durability, while the silica offers weather resistance and enhanced fuel efficiency.
Test Drive
We can talk about features all day or sift through Reddit forums to get a lowdown on how the Yokohama YK-HTX performs, but when it comes down to it, nothing beats an old test drive.
For our test, we'll be figuring out how the tire performs on multiple road surfaces like dry, wet, or snow, as well as looking at the level of comfort it brings.
1. Dry
Right off the bat, the Yokohama YK-HTX has tremendous dry road performance. The steering response and handling that this tire gives are apparent. The optimized contact patch and combined orange oil and silica are definitely doing their job.
2. Wet
Like its dry performance, the Yokohama YK-HTX's wet performance is also excellent. Wet traction was very noticeable, attributed to its triple 3D sipes, which gave me quite the confidence when driving through rain. Its braking and cornering were also impressive.
3. Snow
For our snow review, the Yokohama YK-HTX is not a winter tire. So, we gave it a go on light snow only. We've been told that it could handle up to 2 inches of snow.
True enough, as I drove through light snow, I was in awe of how the tires superbly gripped the road's surface. I had no trouble braking and maneuvering my vehicle at all and was completely sold on its biting edges' ability to handle slush.
4. Comfort
As expected from a touring tire, the Yokohama gave a fairly decent and comfortable ride. The vibrations from bumps and potholes were slightly noticeable but effectively mitigated.
As for noise, I expected a noisy ride due to the tire's aggressive design. Instead, I was shocked at how fairly quiet the wheels were throughout my drive, even at 80 mph. However, it still made a quick rumble here and there, but not enough to ruin my experience.
Pros and Cons
Excellent dry, wet, and snow performance
Comfortable
Not as expensive as other premium tire brands
Decent mileage warranty
Noise reduction has room for improvement
Mileage warranty for LT tire sizes can be better
Frequently Asked Questions (FAQs)
Yokohama YK-CTX vs YK-HTX, which tire is better?
It actually depends on what you're looking for in a tire. Since both are all-season models, expect excellent performance in most weather conditions. However, the YK-HTX has more tire sizes at seven, while the YK-CTX only comes in at four.
Still, the YK-CTX has better water performance as it is fitted with pass-through and 4 wide circumferential grooves that effectively resist aquaplaning, which the YK-HTX doesn't have.
Is the Michelin Defender 2 a good tire?
The Defender 2 is an excellent tire. In fact, it's one of the most popular all-season models on Tire rack, garnering excellent reviews across all boards, from all-weather traction to comfort and tread life.
Conclusion
Hopefully, this Yokohama YK-HTX review helped you with your tire purchase.
If you want excellent wet and dry performance without sacrificing comfort, this option is worth considering. On the other hand, buyers who seek a winter tire may be better off looking elsewhere.