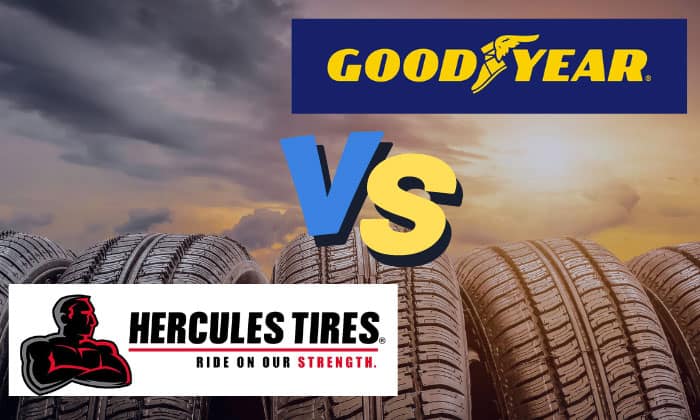 Premium tires such as Goodyear have a long history of providing excellent tires dating back to a hundred years ago, but how will a fairly newer company like Hercules hold up against it?
We've done some digging ourselves and came up with this comparison, so you can see the difference between the two American brands and their products, and how Hercules can stand side-by-side with the industry giant Goodyear.
Here is a short table comparing Hercules vs Goodyear tires:
| | | |
| --- | --- | --- |
| | Hercules | Goodyear |
| Country of Origin | United States of America | United States of America |
| Established year | 1952 | 1898 |
| Performance | Responsive and consistent | Has specific technologies in place for better handling |
| Warranty | Up to 85,000 miles on select tires | Treadlife coverage of up to 85,000 miles |
| Durability | Hercules tires rating is above the market average of 300 – 500 (measuring up to 680) | Goodyear Treadwear rating could reach up to 820 |
History of Hercules Tires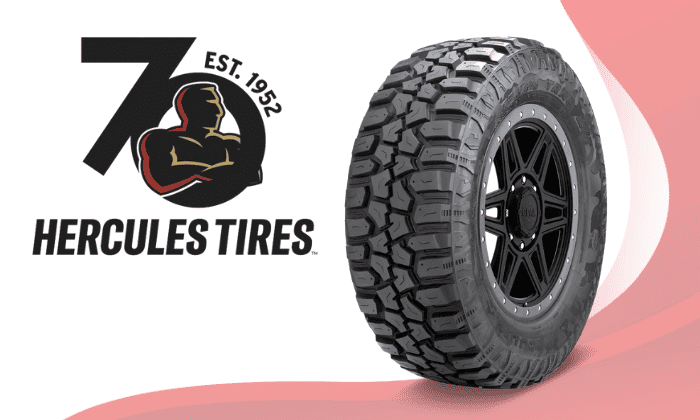 Established in 1952 as Hercules Tire and Rubber Co. in Northeast America, Hercules soon made a partnership with Cooper Tire and Rubber Company in 1960.
Together with Cooper Tire's experience and skill, they have been able to constantly improve their products, and the company continues to grow today.
It focuses on tires for cars, SUVs, and trucks, with some models for lawn and UTV use.
History of Goodyear Tires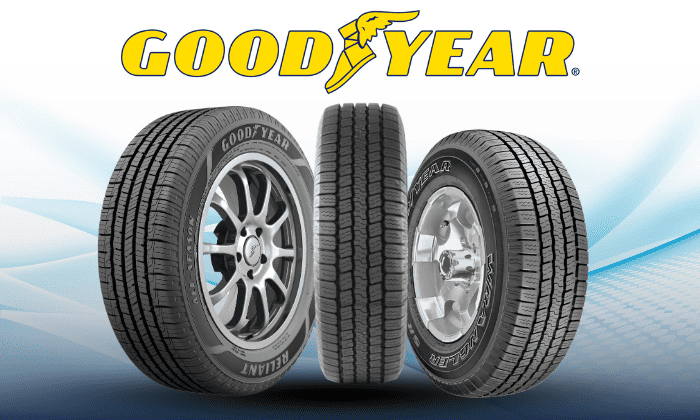 The company was founded in 1898 in Akron, Ohio and has received massive customer support due to its innovative products. An example of this is the brand's invention of the first tubeless tire that revolutionized the tire industry.
In today's world, Goodyear operates in more than 200 countries. With over $20 billion in annual sales, it is one of the world's largest tire manufacturers. The company is a leader in the development of new tire technologies.
Differences Between Hercules and Goodyear Tires
Both are American brands, but Goodyear was established 54 years earlier than Hercules, giving them more time to innovate and design their tires for optimal performance. In terms of quality, Goodyear is better for overall consistency and handling.
1. Warranty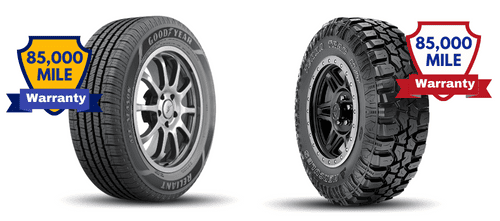 For the price that Hercules offers, their warranty options are solid enough to rival other brands. They offer road hazard protection that could replace tires within two years of purchase, provided that the tires are within 50% of their tread life.
Hercules also has a 45 day trial period in case you feel unsatisfied with your purchase. The brand would replace your tires for a comparable set of Hercules products. It also goes without saying that they would replace your tires should there be any defects that make the tires unserviceable for the first 50% of their tread life.
Meanwhile, Goodyear offers warranty options up to 85,000 miles of tread life and manufacturer defects are covered within the first 6 years of purchase, granting ample time for customers to replace their tires.
2. Durability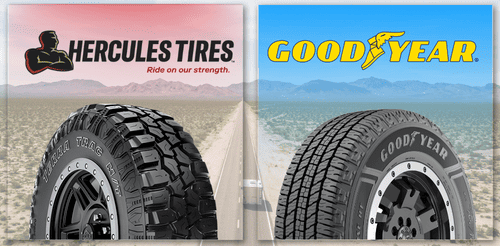 Hercules boasts heavy and rigid sidewalls to improve traction and longevity. These tires are very durable and considering their price, they are solid options to those looking for a long-lasting and cheap tire.
The Hercules 14 ply trailer tires are a great example of the company's commitment to durability. Hercules trailer tire in particular are heavy duty, durable tires, capable of carrying large hauls, and them being 14 ply means that the rubber can carry up to 3,000 pounds of weight.
Meanwhile, Goodyear has specific technological innovations placed into their tires that significantly improve longevity, namely its Durawall technology that makes the sidewalls durable and less prone to cuts and punctures.
3. Noise
In terms of noise on the road, Hercules tires are slightly noisier because of their hard side walls, while Goodyear has QuietTred and SilentArmor technologies in place to minimize noise produced on the road.
4. Dry and Wet Performance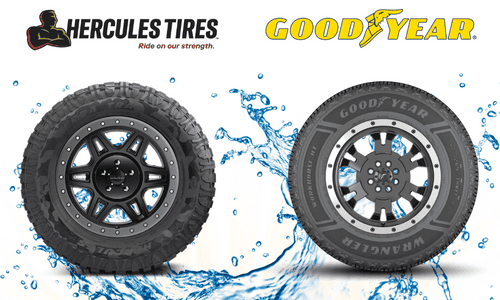 Tires from Hercules, like the Hercules 235/80r16 14 ply, have excellent tread designs to improve handling and provide excellent grip on slippery and dry roads. It has an advanced tread compound to improve overall driving performance, resulting in an average traction rating of A.
Goodyear employs its ActiveBraking and HydroGrip technologies to significantly improve its tire's performance by providing shorter braking distances and more overall grip on wet and dry roads.
With this brand, you can find varying traction capabilities depending on the product. For example, Eagle F1 Asymmetric tires have an AA rating (the highest a tire can get), while Wrangler models can have a grip score of A or B.
5. Tire Variety
Goodyear generally offers a wider size range of 14 to 22-inch tires, while Hercules has slightly less variety at 14 to 20 inches in diameter.
6. Pros and Cons
Hercules
Specially-made tires for heavy-duty work
Cheap
High warranties on tread life
Goodyear
Excellent handling in wet and dry roads
Responsive in mud and snow
Quiet road performance
7. Pricing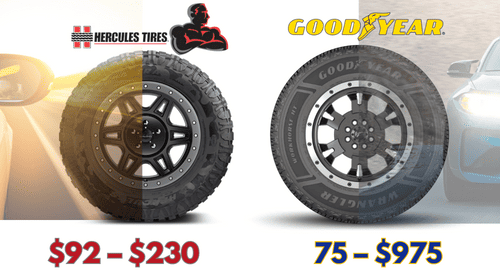 The price range is also a huge factor to consider when talking about the two brands, with Hercules being significantly cheaper when you compare Goodyear tires to it.
The common price range is between $92 – $230 for Hercules, while Goodyear is the more expensive alternative at around $75 – $975 per tire. Both provide great value for money, so it all comes down to your budget.
Related: Hercules vs Michelin Tire
Notable Tires of Both Brands
Based on consumer reports, here are both companies' most notable tires.
Hercules
Raptis R-T5 – Best all-season performance tire
Terra Trac T/G Max – Best SUV/Light Truck Tire
H-901 ST – Best trailer tire
Goodyear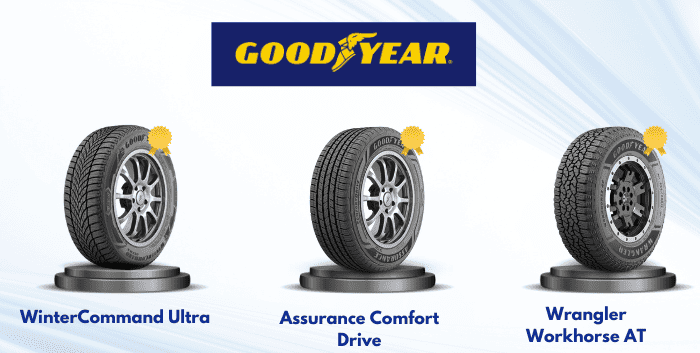 Goodyear WinterCommand Ultra- Best for Winter Driving
Goodyear Assurance Comfort Drive – Best overall tire
Goodyear Wrangler Workhorse AT – Best for off-road driving
Which is Better?
Based on performance, Goodyear is a solid choice. Their tires are highly innovative to accommodate different road conditions, and their warranty policies are just as attractive as Hercules.
Considerations for Tire Selection
Again, this all boils down to what your driving needs are. If you need a durable tire capable of hauling large cargo, then Hercules would be a suitable choice. If you need a high-performing tire for everyday use, Goodyear is a great solution.
Both brands have excellent quality, but they are also differentiated by their pricing. Goodyear is an excellent tire maker, but they are significantly more expensive compared to tires purchased from Hercules.
FAQs
Are Hercules tires any Good?
Yes, Hercules is a great budget-friendly option while still being durable and excellent in road performance. It may not be the best snow or off-road tire, but the brand doesn't disappoint in these areas, either.
Is Goodyear a good company?
Yes, their long history and achievements give them a solid reputation for customer service and quality. It's hard to find a top tire brand list that doesn't mention Goodyear.
Conclusion
The choice between Hercules vs Goodyear tires mainly boils down to the type of car you have and your budget. If you're on a tight budget and using heavy-duty vehicles for agriculture, cargo, or for industrial machinery, then Hercules is a good choice.
On the other hand, Goodyear is an excellent option based on its stellar reputation and steady performance. Besides this, there are a lot of factors to consider when choosing between the two brands such as warranty, comfort, and price.