In the comparison between Firestone vs Continental Tires, which brand stands out? Firestone tires are known for their reliability and affordability. Meanwhile, Continental tires have the edge in all-season performance at a steeper price.
Below is a chart comparison of the two brands to give you a quick look at what they offer. Read our full tire brand comparison below.
| | | |
| --- | --- | --- |
| Factors | Firestone Tires | Continental Tires |
| Performance | Above Average | Superior |
| Price | Average | Above Average |
| Variety | Average | Above Average |
| Warranty | Up to 70,000 miles | Up to 80,000 miles |
Overview and History
1. Firestone Tires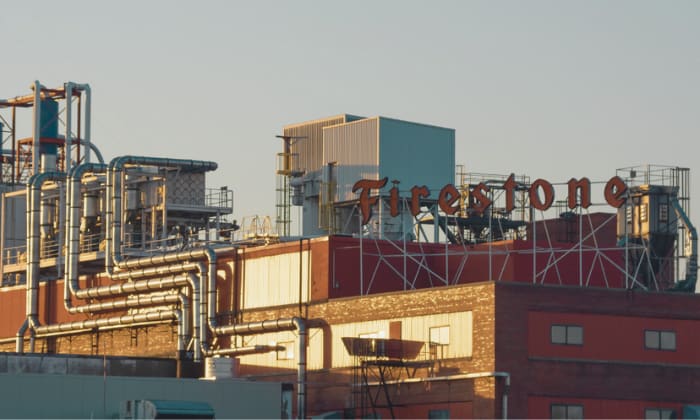 Established by Harvey Firestone, Firestone has been a prominent name among motorists in the U.S. and worldwide since the early 1900s. The brand has adeptly positioned itself in the passenger vehicle sector, ensuring it remains a first choice for many.
In 2017, Firestone moved its operational base from Akron to the musical heartland of Nashville, Tennessee. The company continues its legacy of providing top-notch replacement tires for many vehicles, from sedans and SUVs to trucks.
In its earlier days, Firestone's prowess was so renowned that they were the primary suppliers of original equipment (OE) tires for the esteemed Ford Motor Company.
Tire Families
Firehawk – A top choice for performance enthusiasts. Designed for maximum grip, dynamic handling, and optimal traction, the Firehawk family offers models like the AS, AS V2, GT Pursuit, and the summer-favored Indy 500.
Champion – A distinctive range as it caters to the agricultural sector, Champion features models like Guide Grip and Spade Grip. The HR and Fuel Fighter are notable mentions for urban roads and passenger vehicles.
Transforce – For SUVs and light trucks. Models like the HT2 and HT are suitable for paved roads, whereas the AT2 and AT can go off the beaten path.
WeatherGrip – A recent addition to the Firestone lineup, these are all-weather tires with excellent touring capabilities. They are made for passenger cars, minivans, and CUVs.
Winterforce – A dedicated range for winter conditions, it offers flexibility regarding fitment. The Winterforce 2 is for sedans and minivans, while the Winterforce LT and CV are for trucks, and the 2 UV pairs well with SUVs and crossovers.
AllSeason – As the name suggests, these are all-season tires with responsive handling. They provide smooth, quiet rides with a decent lifespan.
2. Continental Tires
Founded in 1915, Continental calls Hanover, Germany, home. Today, it stands as the world's fourth-largest tire producer, being the first company to offer winter and pneumatic agriculture tires in Europe.
Luxury vehicle giants like Audi, Tesla, and Porsche are significant users of this tire brand, and daily drivers lean towards Continental for dependability. According to Statista data, the brand's tire division generated around $14 billion in revenue in 2022.
Tire Families
SportContact Series – The SportContact range has excellent handling and is aimed at customers who value traction at high speeds.
ExtremeContact Line – Continental's ExtremeContact series is for high performance vehicles. Since racecar drivers had a role in crafting this line, handling is prioritized over noise and comfort.
CrossContact – Dedicated to larger vehicles like SUVs and light trucks is the CrossContact family. Summer tire seekers might gravitate towards the UHP. For an all-season mix, the LX Sport fits the bill.
IceContact Series – Icecontact series is for drivers who often drive in harsh winter weather. Choices might be limited to the IceContact 3 and its predecessor, but both offer exceptional value and suit various vehicles.
Conti. eContact Range – This range is for consumers who want their electric vehicles to have high mileage and low fuel consumption. The selection might be limited, with one product for EVs and another for hybrids, but its effectiveness is indisputable.
Differences between Continental vs Firestone Tires
1. Performance
Firestone Firehawk SZ90
68
Continental Sport Contact 6
76
Firestone Firehawk SZ90
77
Continental Sport Contact 6
91
Firestone Firehawk SZ90
68
Continental Sport Contact 6
87
Firestone Firehawk SZ90
74
Continental Sport Contact 6
82
Firestone Firehawk SZ90
71
Continental Sport Contact 6
83
Firestone Firehawk SZ90
70
Continental Sport Contact 6
52
Firestone Firehawk SZ90
60
Continental Sport Contact 6
77
Firestone Firehawk SZ90
57
Continental Sport Contact 6
62
Firestone and Continental performance are marginally different, with the latter being superior in this category.
You can see this by comparing the brand's high-performance summer tires: The Firestone Firehawk SZ90 and Continental Sport Contact 6.
According to tire reviews, Firestone's Firehawk SZ90 has an excellent grip on dry pavement. Yet, it also has long braking distances on dry surfaces.
The Continental Sport Contact 6, on the other hand, has better grip and handling on pavements. There are rarely any complaints about Continental's summer tire regarding its dry performance.
The difference between the two brand's winter tires is also clear if you look close enough.
The Winterforce 2 is Firestone's popular winter tire that boasts reliable snow traction. Yet, it is not very quick when braking on wet surfaces.
The Continental Wintercontact SI has no issue with noise and comfort while providing excellent winter traction and braking.
Continental has a slight edge regarding performance between the two brands. Firestone still puts out solid summer and winter tires, but its shortcomings are noticeable.
2. Prices
Continental tires have a higher cost than Firestone products among most retailers.
If you make a price comparison between the Continental TerrainContact H/T vs. Firestone Destination LE, the Continental TerrainContact price ranges from $191.73 to $329.91, while the Firestone Destination ranges from $129.31 to $275.99.
3. Tire variety
Firestone provides a commendable selection of tires across various segments. Most notably, the brand excels in the off-road category with excellent mud traction. They boast standout models like the Destination M/T2, which eclipse Continental's lineup.
On the other hand, Continental consistently stands out for its extensive range of tire offerings. They dominate in multiple categories such as touring, winter, and performance, offering more variety than their American competitor, Firestone.
4. Durability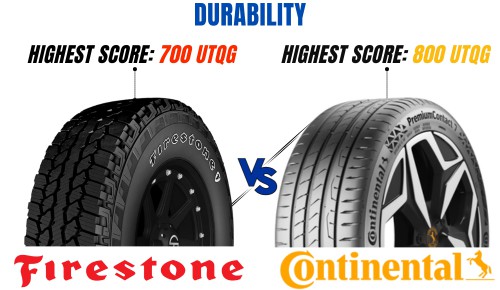 The UTQG rating of a tire can tell you how long it lasts. When you compare the UTQG of most tires between the two brands, Continental is the clear winner.
The TrueContact Tour from Continental has the brand's highest score of 800. Firestone's best tire regarding longevity is the Transforce LE3, which has a score of 700.
5. Pros and Cons
1. Continental
Pros
A rich selection of all-season tires
Superior tire performance
Higher durability
Cons
Costly option of the two tire brands
2. Firestone
Pros
Good tire variety
Better affordability
Reliable tire performance
Which Tire is Better?
Continental is the winning tire brand between the two if you consider the performance of their tire line. However, their edge against Firestone is minimal, since the competing brand has commendable off-road models and a decent selection.
Furthermore, Firestone tires are more affordable than Continental offerings.
Conclusion
To conclude the comparison between Firestone vs Continental tires, the latter has a slight edge when looking for performance tires. However, Firestone is still an attractive option for its prices and reliable off-road models. The decision boils down to what you value.