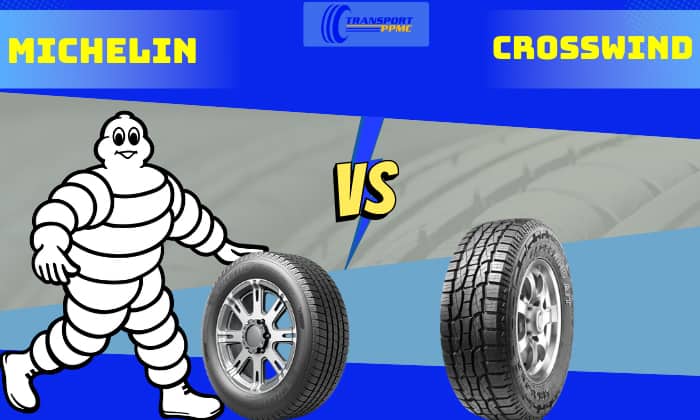 If you shop at Walmart, perhaps you've seen both Michelin and Crosswind products being available for sale.
When comparing Crosswind vs Michelin tires, Crosswind is nowhere near the quality and performance of premium brand Michelin, since it primarily competes in the cheaper tire segment.
However, for budget-conscious tire shoppers, Crosswind tires are worth their value in offering an easy drive on city, highway and mud terrains with 30,000 miles of average warranty.
What is It?
Michelin is a French tire manufacturer and has been making waves in the business for 133 years, long before Shandong Linglong Tyre Co. was founded in 1975.
The China-based tire company introduced the first Crosswind tire in 2013 when it opened its first overseas factory in Thailand. These Chinese-branded tires have been sold in over 130 countries.
Meanwhile, Michelin is a much bigger company, as its products are available in 170 countries.
Pros and Cons: Crosswind Vs. Michelin Tires
1. Cost
Michelin's main disadvantage is its high cost. If money is no object, Michelin beats nearly all tire brands in providing a safe, quiet and comfortable ride in all weather conditions.
In contrast, Linglong Crosswind aims to capture the cheaper tire segment abroad. Other low-cost brands that compete with Michelin Crosswind tires are Cooper, General, Hankook, Kumho, and Toyo.
The prices of Crosswind tires are three times lower than Michelin tires. If not, some tire models are half the price of and more affordable than Michelin's $140-$875 price range.
Take a look at the prices listed on Simple Tire for Crosswind's popular models.
| | | |
| --- | --- | --- |
| Tire Model | Description | Simple Tire Price |
| Crosswind HP010 | Coupes, CUVs, sedans | $63.97 |
| All-season UHP | Coupes, CUVs, sedans | $71.95 |
| Crosswind 4×4 Tires | Wagons and SUVs | $ 92.96 |
| Crosswind A/T | Light trucks, SUVs, Jeeps | $113.96 |
| Crosswind H/T | SUVs, light trucks, vans | $98.96 |
| Eco-Touring | Cars, minivans | $65.95 |
| Crosswind M/T | SUVs, light trucks | $136.97 |
Comparing Crosswind tires price to Michelin's is similar to pitting Hercules tires vs Michelin. Both are affordable brands that offer features of premium tires, but Michelin dominates wet traction, warranty and diversity in tire choices.
2. Diversity
Michelin operates in numerous segments which include: passenger cars, light trucks, trucks, and specialty tires. The French tire maker is a well-known OEM (original equipment) supplier. It has 54 tire models with varying options for sizes.
On the contrary, Linglong tires cannot serve large-wheeled vehicles. Crosswind tires are made for passenger cars, SUVs, light and medium-sized vehicles. It is also an OEM supplier for brands like Hyundai, Fiat, Ford, Volkswagen and more.
Customer and Industry Reviews
Michelin truck tires are known for undergoing demanding tests before launching on the market, so the reviews are largely positive.
However, some poor reviews are attributed to the tires having a Chinese label. To be clear, Michelin factories follow the same standards, regardless of the country where they're at, but if you are picky about the manufacturing location of your tire, you should ask the seller where a product is made.
This is how I find a good tire at dealerships, whether they're near me or not.
As for Crosswind, Linglong tires have received poor performance results in braking and cornering tests, so if you're planning to buy one of these, read reviews of your chosen model first.
As an illustration, Tire Deets has criticized the Crosswind HP010 because of its unimpressive traction and grip. In contrast, Worldtirereview rated the Crosswind 4 x4 safe on the highway across the seasons.
Autostires does not recommend Crosswind tires for off-roading. It says that Crosswind tires need replacement after two years or after reaching 30,000 miles.
Differences: Crosswind Vs. Michelin Tires
1. Quality
Michelin is backed by its 133 years of expertise in producing innovative tires. It has over a century of racing experience and an unrivaled track record in motorsports. Thus, it is safe to say that Crosswind tires are no match for Michelin tires quality.
On the other hand, Shandong Linglong, who makes Crosswind tires, is one of the largest tire manufacturers in China.
Its subsidiary in the U.S, Linglong Americas, was established in 2009 in Medina, Ohio (about 23 miles away from the world's rubber capital, Akron).
In the same year the subsidiary was founded, the brand's tires suffered a bad review when it was tested by Car and Driver magazine. Compared to other tires in the test, Linglong products needed an extra 22 feet to stop from 50mph.
In the 2017 Summer Tire test conducted by Finnish Test World, Linglong tires beat the wet braking distance of Goodyear, Pirelli and Maxxi. It was 1.5 meters behind the first-place Michelin.
2. Warranty
Michelin offers exceptional tread life service. For example, the Michelin Defender has up to 90,000 miles in warranty, as opposed to Crosswind at tires mileage of 40,000 to 50,000.
Crosswind tires enjoy a 5-year warranty and 1-year road hazard protection program, but these promises pale in comparison to Michelin's attractive warranty package that includes:
6-year treadwear warranty (from the date of purchase)
3-year roadside assistance
30-day satisfaction guarantee
Frequently Asked Questions
Is Crosswind tire good?
Most Crosswind tires are unexpectedly quiet on the road. It is a low-cost brand, so take into account that it might need replacement every two years because the tires wear out fast.
Reviews reveal that Crosswind mud tires serve their purpose well within 30,000 miles on average and that Crosswind A/T tires are nice on mud and dry roads. So they can be pretty good when new, but the longevity is unimpressive.
Are there any tires better than Michelin?
Other tire brands that can outperform Michelin in specific categories are Goodyear, Continental, Cooper, BF Goodrich, Bridgestone and Pirelli.
For example, as of 2022, Pirelli is arguably the best tire brand for high performance driving, BFGoodrich is excellent for off-roading, and Bridgestone for winter weather performance.
Who are Crosswind tires made by?
Crosswind tires are produced by Chinese tire manufacturer Shandong Linglong Tire Co. Ltd. Its manufacturing plant in Thailand is responsible for making high-performance radial tires, light truck tires and passenger truck tires.
How many miles do Crosswind tires last?
In general, Crosswind tires promise 40,000-50,000 mileage warranty. The tires that have a 40,000 mileage guarantee include the Crosswind HP010, All-season, and Crosswind 4 x4 tires, while Eco-touring, A/T and Crosswind HT tires last 50,000 miles.
Conclusion
After listing the strengths and weaknesses of Crosswind vs Michelin tires, one might think that Michelin tires are reasonably priced for the high level of safety and driving comfort they promise.
On the other hand, the 40,000-50,000 mileage warranty and three times cheaper cost of Crosswind tires may meet one's driving needs and budget. Tire shoppers who are looking for models for mostly city and highway driving may find these Chinese-branded tires a bang for the buck.
If you would like to know more about tires made in China, feel free to ask questions.
Related comparisons: