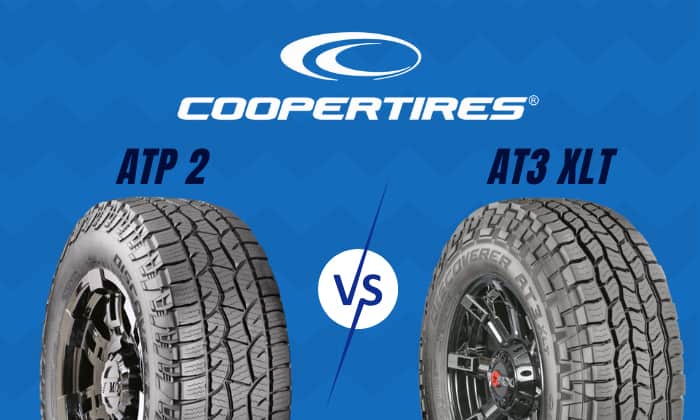 In comparing the Cooper ATP 2 vs AT3, which of the all-terrain tires offers a better value? Is it the Discoverer ATP II with its superior wet performance? Or could it be the AT3 XLT, with its better mud and snow traction?
If you're sitting on the fence about which tire you should pick, check out our complete comparison between the Cooper AT3 vs ATP 2 to help you decide.
Below is a short comparison table between the two Cooper Discoverer tires to quickly show you how the two stack up with each other.
Cooper Discoverer ATP II
Cooper Discoverer AT3 XLT
Dry Performance
Both have similar performance on dry pavement
Wet Performance
The ATP II performs better in wet conditions
Off-Road Performance
The AT3 XLT offers better off-road and snow performance
Durability
Both tires have the same durability
Comfort
Both tires have similar road drive comfort performance
Tread Life
The ATP II and AT3 XLT have 60,000 mileage coverage.
Overview
1. Cooper Discoverer ATP II
The Cooper Discoverer ATP II is an all-terrain tire introduced on June 1, 2021, and available exclusively through Discount Tire. It's designed for SUV and pickup truck drivers looking for dependable traction without sacrificing highway comfort.
2. Cooper Discoverer AT3 XLT
The Cooper Discoverer AT3 XLT was unveiled on May 29, 2018. It's part of Cooper's Discoverer AT3 family, designed for SUVs and light-duty pickup trucks. This tire aims to deliver extreme hauling and off-roading capabilities while maintaining visual appeal.
Differences
1. Dry Performance
The Cooper Discoverer ATP II features Micro-Gauge Zigzag Sipes, which provide efficient grip on dry pavements. This offers solid control and enhances tread block stability for precise handling.
The Cooper Discoverer AT3 XLT is equipped with Even Wear Arc Technology for better vehicle handling on dry pavements.
Both the Discoverer ATP II and AT3 XLT shine on dry roads, offering plenty of grip and traction. While not built for aggressive driving, both tires hold up well.
Overall, the two Cooper Discoverer tires are very similar in dry conditions, making it hard to spot any significant differences.
2. Wet Performance
In wet conditions, the ATP II's Micro-Gauge Zigzag Sipes offer excellent control as they can bite into slippery roads and maintain tread block stability. The tire also shows good aquaplaning resistance.
The Cooper Discoverer AT3 XLT also performs well on wet roads with its sufficient grip and traction. Its Even Wear Arc Technology keeps the tread wear balanced and provides solid handling.
The one with the edge here is the ATP II with its Micro-Gauge sipes, whereas there are no specific features found in the AT3 that prevent hydroplaning.
However, their wet performance overall is pretty similar, considering their handling and braking distance are all closely matched and better than the class average.
3. Off-Road and Snow Performance
The Cooper Discoverer ATP II performs well off-road, especially on soft surfaces like sand or mud. In addition, jagged edges along its grooves help trap snow, improving grip.
The AT3 XLT excels in off-road conditions thanks to its rugged traction shoulders, which give the tire added grip in mud and are particularly effective in deeper conditions. It's also 3PMSF certified, offering better snow performance.
So, both tires perform well off-road on hardpacked surfaces, but differences become apparent in snow conditions.
The AT3 XLT's 3PMSF certification makes it a better choice for snowy terrains, offering more control and stability. It also has the edge in deeper mud due to its specialized shoulder design.
4. Tread life and Durability
The Cooper Discoverer AT3 XLT is made with a shred-resistant silica compound. It also has a two-ply polyester casing with an additional single-ply nylon reinforcement to provide superior durability.
The Cooper Discoverer ATP II, on the other hand, has an all-terrain internal construction and an all-season rubber compound.
As you can see, both these Discoverer tires offer nearly identical durability. In addition, both have a 60,000-mileage warranty coverage to indicate the similar tread life expectations.
5. Comfort
The Cooper Discoverer ATP II uses flat tread blocks that are closely arranged. This design minimizes road noise and vibrations. Its flat footprint maximizes road contact, making for a quieter ride.
The Discoverer AT3 XLT features Whisper Grooves™ Technology to create a sound barrier for more peaceful rides. Like the ATP II, it also aims to reduce cabin noise, particularly at higher speeds.
While neither offers the silky-smooth comfort of a touring tire, they are better than many all-terrain options. In addition, the two Discoverer tires are above-average in noise reduction, making for a relatively quiet drive.
6. Price
The Discoverer ATP II has an average price of around $189 to $303 among dealerships. Meanwhile, the Cooper Discoverer AT3 XLT can cost around $212.99 to $482.99.
Cooper ATP Tires vs Cooper AT3 Tires – Which Is Better?
The Cooper Discoverer AT3 XLT is the better overall option if you plan to drive in various conditions.
It excels in off-road and snowy terrains thanks to its 3PMSF certification and rugged traction shoulders. It's also a strong performer on dry roads. As pointed out by u/TEXANMISFIT on Reddit, "These Coopers have amazing water mud snow traction and wear extremely even."
So, although the AT3 is pricier, this Discoverer tire's versatility and performance make it worth the extra cost.
The Cooper Discoverer ATP II is a strong runner-up, especially if budget and wet conditions are your main concerns. It's slightly cheaper and performs exceptionally well on wet roads due to its Micro-Gauge Zigzag Sipes.
While not as versatile as the AT3 XLT in off-road and snowy conditions, the ATP 2 is a reliable option for everyday driving.
Conclusion
To conclude the comparison between the Cooper ATP 2 vs AT3, the latter is the clear winner based on its off-road, wet pavement, and snow performance. The Discoverer ATP II is still a reasonable consideration since its dry pavement, off-road, and drive comfort performance are identical.