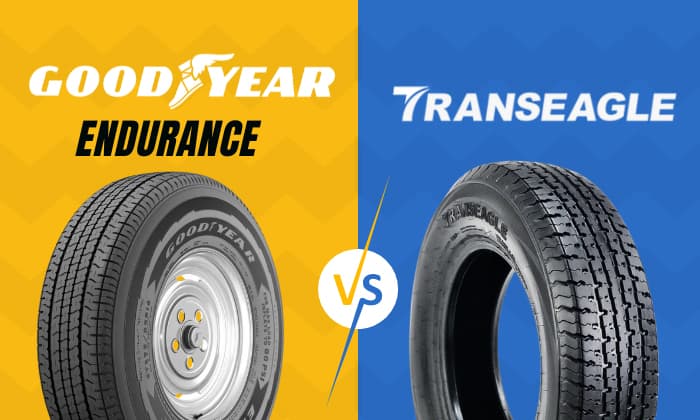 Goodyear Endurance vs. Transeagle, which tires offer better value for your money? The Goodyear Endurance is built for high-speed performance, while the Transeagle is specially designed to carry heavy loads.
Below is a comparison chart between the two tires to give you a rough idea of their differences.
| | | |
| --- | --- | --- |
| | Goodyear Endurance | Transeagle Tires |
| Weight Capacity | 2,040 lbs | 3,197 lbs |
| Speed Rating | N | L, M |
| Warranty | Highway Auto and Light Truck Tire Replacement Limited Warranty | 4-Year Manufacturer Warranty |
| Dry Conditions | Superior | Average |
| Wet Condition | Above Average | Average |
| Durability | Superior | Average |
| Control | Above Average | Above Average |
| Comfort | Below Average | Average |
Overview of Goodyear Endurance and Transegle
1. About Goodyear Endurance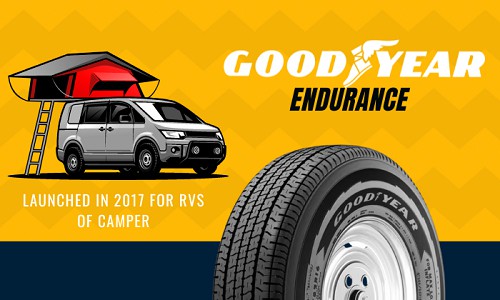 Goodyear is a globally recognized tire brand with over a century's innovations. Their Endurance model was launched in 2017 for RVs and campers. The tire inherits some of the company's most innovative technologies, including using Kevlar for its interior construction.
Related: Where are Goodyear endurance tires made?
2. About Transeagle
Transeagle is a product of the rapidly growing company Transamerica Tire Co. Ltd. The tire is known for its high-speed performance on heavy vehicles. Transeagle tires stand out with wide grooves and steel sidewalls, giving you better control regardless of the load.
Differences
1. Dry Traction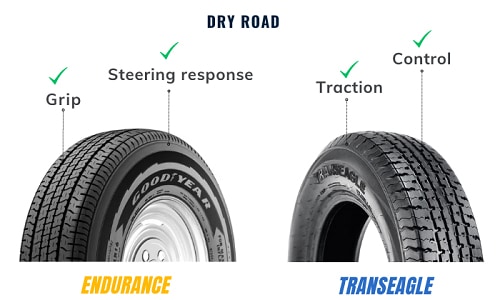 The Goodyear Endurance features a symmetric tread design and closely spaced ribs. This tread design ensures constant rubber-to-road contact for stable driving at high speed.
Transeagle ST features a wide center rib design that gives you better control of the trailer or RV while driving on the highway. Moreover, the design improves road grip for firm and stable traction on dry surfaces.
The winner of this category depends on the weight of your RV or trailer. If you carry a light load, the Endurance can offer better grip and steering response. However, the Transeagle excels at handling heavier load capacity and achieving better road traction and control than the Endurance.
2. Wet Traction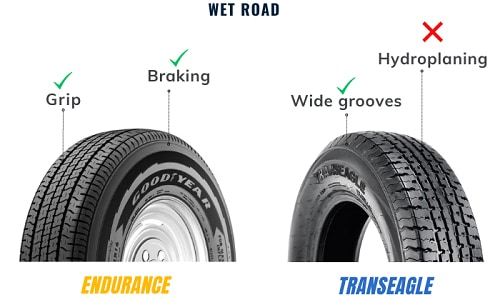 When it comes to wet traction, the Goodyear Endurance shines. Its advanced Hydro Grip technology, combined with a symmetric tread pattern and polymer compounds, reduces braking slippage and ensures better control on slippery roads. These features significantly enhance the tire's grip when it rains.
Transeagle features wide grooves and multi-sipes that improve traction on wet surfaces. Apart from those tread designs, this RV tire does not have any means of removing water from the road to prevent hydroplaning.
There is no contest between the Endurance and the Transeagle regarding wet roads. Goodyear's trailer tire utilizes multiple features to make the Endurance perform well during the rain.
3. Durability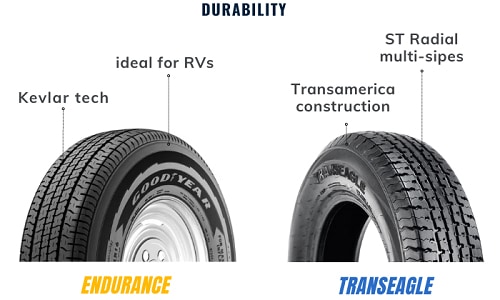 The Kevlar Technology of the Goodyear Endurance offers impressive durability and long lifespan. The material is five times stronger than steel and is incredibly lightweight. Kevlar sidewalls make the Endurance resistant to wearing and heat, letting you drive your RV extensively.
Transeagle trailer tires rely on its steel side walls and Transamerica's unique interior construction for its durability. In addition, the tire has an ST Radial multi-sipes feature that dissipates heat, which helps maintain tire integrity.
Goodyear Endurance is the clear winner in this category. Its Kevlar technology and construction make the tire highly durable. The Transeagle still has impressive durability, especially while pulling heavy loads.
4. Control
RV tires are required to give you control of the trailer your vehicle is pulling. Goodyear's Endurance incorporates a three-way interlocking system that significantly improves steering stability and reduces braking time. The interlocking system will help you keep your RV or trailer in control while driving at high speeds.
The Transeagle's wide center rib and symmetrical tread design stabilize the trailer. These features also give the tires more grip on the road, allowing reliable control of your RV.
Like their dry-road performance, the winning choice here depends on the weight of your trailer. The Goodyear Endurance ensures complete control of the trailer you are pulling as long as it is within the weight limit. The Transeagle offered a better steering response and reduced braking time than the Enduranc for heavy loads.
5. Comfort
Thanks to its symmetrical tread design for consistent road contact, the Goodyear Endurance reduces road vibration for a comfortable drive. However, it has no feature to prevent air from hitting its groove walls and creating noise.
The Transeagle also does a great job keeping the vehicle steady to smoothen the driving experience. Like the Endurance, the Transeagle lacks tread qualities to stop the noise.
Neither tire avails at canceling out the noise. Yet, Goodyear is the winner here thanks to its ability to keep the vehicle steady while driving at high speeds.
6. Cost
Popular tire retailers are selling the Goodyear Endurance at around $136.94 to $307- $1228.00. Endurance LHD is the priciest model of this Goodyear line that features enhanced internal construction. The Transeagle ST Radial II is more affordable with prices ranging from $51.56 to $116.93.
7. Pros and Cons
Goodyear Endurance
Pros
Good dry road performance
Better wet-road traction
Kevlar Technology construction
Cons
Noise at high speeds
Limited weight capacity
Transeagle Tires
Pros
Higher weight load capacity
Reliable steering and braking
Economical trailer tires
Cons
Lacking in dry and wet road traction
Not as durable as Goodyear's trailer tire
Which is Better?
Without a shadow of a doubt, Goodyear Endurance beats the Transeagle ST Radial II by a mile. Its Kevlar Technology and Hydro Grip features make the Goodyear tire perform better in most weather conditions.
On the other hand, the Transeagle is still a better choice if your trailer is heavier than what the Endurance can handle. The tire is built to give you better control over large loads. In addition, the Transeagle is much cheaper than Goodyear's offerings.
3 Tips on Choosing Either Goodyear Endurance or Transeagle RV Tires
Here are three valuable tips to help you make your decisions:
1. Trailer Weight
You will want to know how heavy your RV is, which you can see by taking it to a nearby truck stop. A platform scale can be found here, where you can check the weight of your RV. Having a clear idea of how heavy your RV is to let you know if the Goodyear Endurance or Transeagle has the proper tire load capacity.
2. Budget
Budget can be a deciding factor when it comes to picking tires. A mere $10 difference per tire can easily mount up to $40 when picking up a set of four.
Work out how much you're willing to spend. If the budget is limited, the Transeagle offers great value for its price. In case you can afford a little luxury, a set of Goodyear Endurance will not disappoint.
3. Driving Needs and Preferences
A desirable set of tires must meet the driver's needs and preferences. Consider the type of conditions you typically find yourself driving in and the things you value in a tire.
For example, Goodyear Endurance is a clear choice if you're looking for a premium and durable RV tire. For a more cost-effective option, go with the Transeagle.
Frequently Asked Questions
Are Transeagle Tires any good?
Transeagle tires are designed to handle cumbersome loads, allowing you more control over large trailers or RVs than the Goodyear Endurance.
Who manufactures Transeagle Tires?
Transamerica Tire Co. Ltd is the manufacturer of the Transeagle ST Radial II. The company is located in Memphis, Tennessee, and is a recognizable tire brand globally.
Can you use the Goodyear Endurance or Transeagle Tires in off-road areas?
Neither the Endurance nor the Transeagle has unique compounds or tread features that let them grip loose surfaces. They can be driven on flat dirt, like the ones for campgrounds and outdoor recreation areas.
Conclusion
To conclude the Goodyear Endurance vs. Transeagle comparison, the former is the winner due to its better control and durability. On the other hand, Transeagle is better suited to handle heavier loads and is cheaper than Goodyear tires.