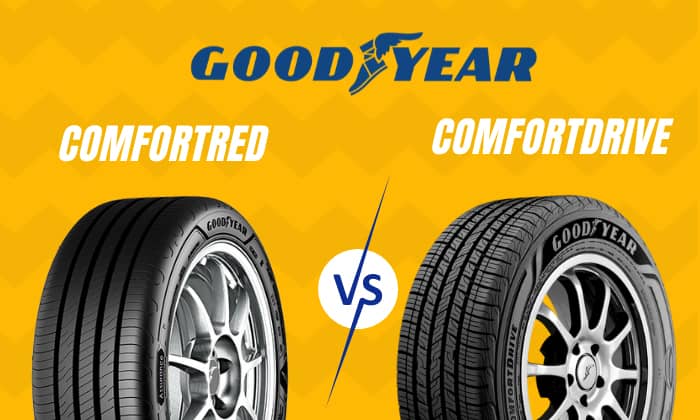 Comparing the Goodyear ComforTred vs. ComfortDrive for the most comfortable driving experience can be challenging. While the ComforTred is specifically designed to provide a smooth ride, the ComfortDrive excels at other aspects, such as wet performance.
Here is a quick comparison of the two to show you their key differences:
| | | |
| --- | --- | --- |
| Factors | Goodyear ComforTred | Goodyear ComfortDrive |
| Vehicle Types | Passenger | Passenger |
| Type | All-Season | All-Season |
| Speed Rating | V | H |
| UTQG | 640AB | 700AA |
| Dry Performance | Above Average | Above Average |
| Wet Performance | Above Average | Superior |
| Off-Road | Below Average | Below Average |
| Comfort and Noise | Superior | Superior |
| Tread Life | Average | Above Average |
Below is a detailed comparison between the two Assurance lines to help you make buying decisions.
About Goodyear Assurance ComforTred
ComforTred is recognized for its low road noise thanks to an additional rubber cushion layer. Being an Assurance tire, it features various Goodyear technology to enhance the driving experience, such as wide circumferential grooves for wet roads.
About Goodyear Assurance ComfortDrive
ComfortDrive, Goodyear's Grand Touring All-Season tire, is designed for drivers seeking a smooth ride and high-level noise comfort. This tire ensures superior handling thanks to its ComfortFlex technology for smoother transitions and impact absorption.
Differences
1. Dry Performance
Goodyear Assurance ComforTred: presents decent traction on dry surfaces, with its symmetric tread design, ensuring efficient acceleration, braking and excellent cornering stability. It delivers a secure and responsive experience when navigating turns or sudden maneuvers on dry roads.
Goodyear Assurance ComfortDrive: displays notable performance on dry pavement with its unique combination of ComfortFlex technology, Evolving Traction Grooves, and TredLock Technology. These features provide a solid grip on dry roads, consistent responsiveness and enhanced handling control on dry roads.
After considering the dry performance of both tires, the Assurance ComfortDrive holds a slight advantage. Its innovative design contributes to exceptional traction and handling control on dry roads.
With its sophisticated technology and sustainable compounds, the ComfortDrive edges out the ComforTred in dry performance, offering drivers impressive steering response and grip on dry roads.
2. Wet Performance
Goodyear Assurance ComforTred: This tire does an excellent job of giving you traction on wet roads. Its symmetric tread design enhances dry and wet traction, ensuring steady handling on wet roads.
The tire maintains a good grip even when surfaces get slick by using large sipes. These sipes improve the biting edges for grip while the absorbent rubber layer keeps the tire firmly grounded.
Goodyear Assurance ComfortDrive: This tire also boasts superior wet performance, featuring Optimized AquaChannel grooves and large lateral notches for maximum water evacuation from the contact patch. This design significantly reduces the risk of hydroplaning, ensuring enhanced wet road performance.
A head-to-head comparison of wet performance would lean toward the Assurance ComfortDrive. The AquaChannel grooves and the soybean oil and rice husk ash silica compounds give this tire an edge, efficiently dispelling water and ensuring excellent wet surface performance.
However, the Assurance ComforTred doesn't lag far behind and remains a strong competitor with its reliable wet grip and handling.
3. Off-Road
Neither the Goodyear Assurance ComforTred nor ComfortDrive is designed for off-road handling. They prioritize comfort, efficiency, and all-season performance, making them more suitable for urban and highway driving rather than rugged off-road conditions.
Off-road tire performance requires specialized construction and design, particularly for handling uneven terrains, gravel, sand, or muddy conditions. If a significant part of your driving involves traversing off-road conditions, specialized off-road or all-terrain tires would be a more fitting choice.
4. Tread Life and Durability
The Assurance ComforTred's design incorporates a sturdy polyester cord body and twin steel belts, ensuring durability, a smoother ride, and superior resistance to wear and tear.
The Assurance ComfortDrive shines in tread life, attributable to its distinctive tread compound made of soybean oil. Moreover, it's to-ply casing with twin steel belt support contributes to its durability.
It is nearly a tie for both Assurance tires regarding tread life and durability. Their tread compound and interior construction ensure both have a long service life.
We said it is nearly a tie because the ComforTred is the winner here thanks to its 70,000-80,000 miles warranty. The ComfortDrive only offers 60,0000 miles of warranty coverage.
5. Comfort
The Assurance ComforTred is known for its superior ride comfort, which is largely due to the additional rubber layer embedded into the tire by Goodyear. This absorbent rubber layer, which provides up to 20% more cushion than standard passenger tires, is a key factor in reducing road vibration and absorbing bumps.
The Assurance ComfortDrive leverages Goodyear's ComfortFlex Technology, explicitly designed to deliver smoother transitions and superior impact absorption. This technology and the tire's innovative noise-reducing tread pattern offer drivers a smooth and impressively quiet ride.
Both tires deliver impressive performance in terms of comfort, but the Assurance ComfortDrive might have a slight edge due to its advanced ComfortFlex Technology and noise-reducing tread pattern.
However, the Assurance ComforTred's additional rubber layer is a significant factor in its favor, contributing to its excellent ride comfort. With these factors in mind, it is a tie.
6. Cost and Value for Money
The Assurance ComforTred Touring costs around $125.86 to $251.59 at most auto retailers.
Meanwhile, ComfortDrive has a price range of $140.93 – $239.99.
There is barely any price difference between the two since both are Assurance tires with nearly identical qualities. Yet, it makes sense for ComforTred to have a slightly higher cost due to its warranty coverage.
7. Pros and Cons
Goodyear ComforTred
Here are the reasons to buy or skip the ComforTred
Pros
Superior comfort and noise performance
Reliable dry traction
Longer mileage warranty
Cons
Lacking in dry road performance
Not suitable for snow conditions
Goodyear ComfortDrive
Here are the advantages and disadvantages of ComfortDrive.
Pros
Better wet traction
Good dry road performance
Superior comfort and quiet driving experience
Cons
Pricier of the two Assurance line
Low mileage warranty coverage
Which is Better?
Overall, the Assurance ComfortDrive offers superior performance and versatility. It shines regarding wet performance and durability, providing superior traction and handling on dry and wet surfaces. Its ComfortFlex technology for noise reduction and high-class comfort further makes it an excellent choice for any driving requirements.
However, the Assurance ComforTred should not be dismissed, as it excels in ride comfort and performs well in both dry and wet conditions. If comfort and a serene ride rank high on a driver's list of priorities, the Assurance ComforTred may be the better choice, despite lagging behind the Assurance ComfortDrive's merits.
The choice depends on individual preferences and priorities.
Three Tips When Buying Any Goodyear Assurance Tires
Below are three helpful tips when buying the ComforTred or ComfortDrive.
Evaluate Your Driving Style
If you enjoy spirited driving and value responsive handling and firm grip, Assurance ComfortDrive, with its Evolving Traction Grooves and TreadLock Technology, would be a good fit.
Conversely, if you prefer a smooth, quiet drive, the Assurance ComforTred, with its noise-reducing tread pattern and additional rubber cushion layer, might be more suitable.
Consider Longevity and Durability
A tire's tread life is crucial, mainly if you drive long distances regularly. In this regard, the Assurance ComfortDrive and ComforTred showcase good tread life, but ComfortDrive's advanced tread compound and twin steel belts lend it a slight edge in terms of durability.
Price and Value for Money
Lastly, always compare the prices and evaluate the value for money. While the Assurance ComfortDrive might offer superior performance in certain aspects, the Assurance ComforTred also delivers strong performance at a potentially lower price point, offering good value for money.
Ensure you're not just buying the tire with the highest specifications but the one that offers the best value for your specific needs and budget.
Frequently Asked Questions
What is the Goodyear Assurance line?
The Goodyear Assurance line consists of various all-season tires designed for different types of vehicles. The ComforTred and the ComfortDrive are part of this line, suitable for passenger vehicles or for those daily commutes around the city.
Can you drive the ComforTred or ComfortDrive through the snow?
Both tires handle light snow well but aren't suitable for heavy snow conditions. For substantial snow and ice, dedicated winter/snow tires are recommended.
Do the ComforTred and ComfortDrive come with warranties?
Both tires are covered by Goodyear mileage coverage. The ComfortDrive is covered up to 60,000 miles, while the ComforTred is covered by around 70,000 to 80,000 miles.
Conclusion
The comparison of Goodyear ComforTred vs. ComfortDrive reveals two strong contenders in the tire market. Yet, ComfortDrive takes the crown due to its superior wet performance, advanced tread design, and durability. Nevertheless, the ComforTred is a strong runner-up with its exemplary ride comfort and commendable dry performance.
The ultimate choice depends on personal preferences and priorities.