American-made tires are definitely one of the most reliable tires on the market. However, choosing the best one isn't as easy since they're all excellent in their own way. So, we've tested two tires from two of the best American tire manufacturers—Firestone vs Goodyear.
In this one, we'll compare the all-season tires from the two brands, the Firestone WeatherGrip vs Goodyear WeatherReady, and see which is better. From their differences in price and performance, we're here to help you decide.
But before that, let's see how these tires compare on the surface.
| | | |
| --- | --- | --- |
| Tire | Firestone Weathergrip | Goodyear Assurance Weatherready |
| Tire Type | All-Season Grand Touring | All-Season Grand Touring |
| Tested Size | 245/45R18 | 245/45R18 |
| UTQG | 640 A A | 700 A A |
| 3PMSF | Yes | Yes |
| Tread Depth | 10/32″ | 10/32″ |
| Max Load | 1,565 lbs | 1,764 lbs |
| Diameter | 26.7″ | 26.6″ |
| Width | 9.6″ | 9.6″ |
| Rim Range | 7.5-9″ | 7.5-9″ |
| Price | $233.99 | $263.99 |
Firestone Weathergrip
The Firestone WeatherGrip is Firestone's premier all-season grand touring tire for passenger vehicles. It's an excellent tire with a multitude of technologies that help it gain impressive traction on any surface, including snow and ice.
Unlike many all-season tires on the market, the Firestone Weathergrip boasts a 3PMSF rating mainly due to its 3D full-depth sipes and proprietary Snow Traction Claw technology.
It also comes equipped with Hydro-Grip Technology Package that effectively penetrates standing water like puddles, along with open shoulder slots to improve hydroplaning resistance on wet and slippery surfaces.
Meanwhile, it has a single-ply polyester casing that supports two steel belts, while a nylon reinforcement enhances maneuverability and durability at high speeds.
Goodyear Assurance Weatherready
Like its counterpart above, the Goodyear Assurance Weatherready is an all-season grand touring tire that also has a 3PMSF rating under its belt. And it does this due to its plethora of Goodyear's proprietary technologies.
For starters, the tire features a soy-based rubber tread compound and an asymmetric tread design to combat all sorts of weather surfaces, rain or shine, and even snow. Meanwhile, Weather Reactive and 3D TredLock Technology Blades allow improved maneuverability on slippery roads.
As the tire wears, Evolving Traction Grooves offer consistent grip, while its silica mold improves traction. Additionally, Zigzag Biting Edges provide tremendous traction come winter time, while Sweeping Tread Grooves effectively redirect water away to reduce hydroplaning.
Differences
With all these superb features and capabilities from both all-season tires, which one comes on top when it comes to performance, Firestone or Goodyear? Well, we've tested both tires to find out. Here's what we discovered.
1. Wet Performance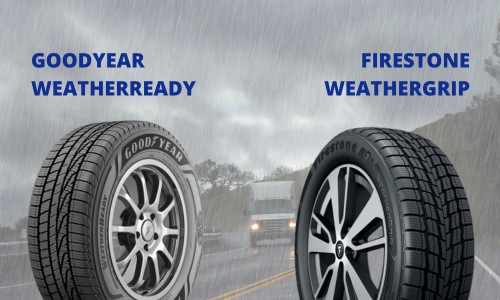 Arguably, one of the most notable features to look out for in all-season tires is wet performance. And it's safe to say that both tires did incredibly well. In fact, there was only a minute difference between the two in terms of braking and handling, which favored the Firestone Weathergrip.
So technically, the Firestone Weathergrip is the better tire in this regard, albeit very minimally, as both have excellent wet capabilities.
2. Dry Performance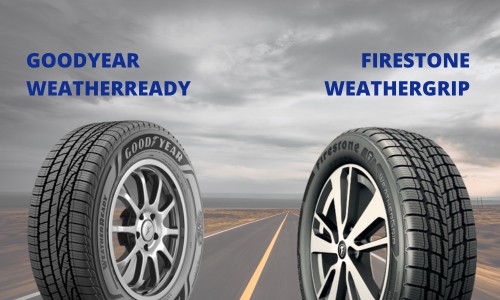 As for dry performance, things were practically the same, as both tires were great. However, both tires specialized in different regards. The Firestone Weathergrip fared better when braking, while the Goodyear Weatherready was better with handling.
As such, we've decided that it's a tie on this one, since it entirely depends on what type of dry performance you're looking for in a tire.
3. Winter Performance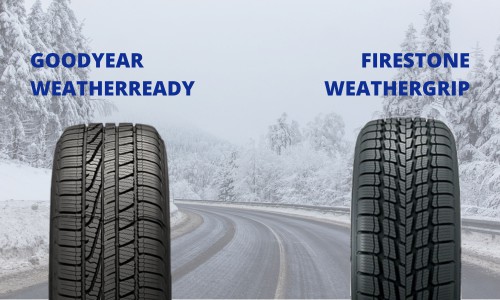 As both tires have a 3PMSF rating, expect decent performance on snow and ice as well. Although they're not exactly at par with dedicated winter tires, both tires were very capable of traversing through light snow.
Interestingly, the results were similar to dry performance; the Firestone Weathergrip had better scores when it came to braking and snow acceleration, while the Goodyear Weatherready was better at handling. However, Weatherready's advantage wasn't that substantial, in our opinion.
Moreover, the results in ice cemented the Firestone Weathergrip as the better winter tire since it crushed the Goodyear Weatherready in terms of braking and handling.
4. Durability And Lifespan
After looking at the tires' expected lifespan and UTQG ratings, we've decided that it's a tie in regard to treadwear. That's because the Firestone Weathergrip had better mileage at 65,000 miles compared to the Goodyear Weatherready's 60,000.
However, the Firestone Weathergrip had a slightly worse UTQG treadwear rating at 640, while the Goodyear Weathergrip had a higher 700.
5. Comfort
Touring tires are the kings of comfort, and both tires provide fairly smooth and peaceful driving. That said, when it came to noise, it was quite apparent that the Goodyear Weatherready had much better noise suppression capabilities.
It also fared better regarding ride quality, as vibrations in the cabin were more noticeable with the Firestone Weathergrip, which can be distracting at times.
6. Price and Value for Money
Right off the bat, the price difference between the two was quite substantial. For instance, a 245/45R18 size Firestone costs around $233.99 per tire, while the Goodyear Assurance can set you back as much as $263.99.
While this may be understandable if the Goodyear Assurance Weatherready exhibits better performance on all fronts, this simply isn't the case, as we've learned above.
7. Pros and Cons
Firestone Weathergrip
Better wet performance
Better braking on dry road
Better winter performance
Great treadwear
Cheaper
Goodyear Assurance Weatherready
Better handling on dry roads
Slightly better handling on snowy roads
More comfortable
Quiet
Worse overall wet and winter performance
Expensive
Which is Better and Why?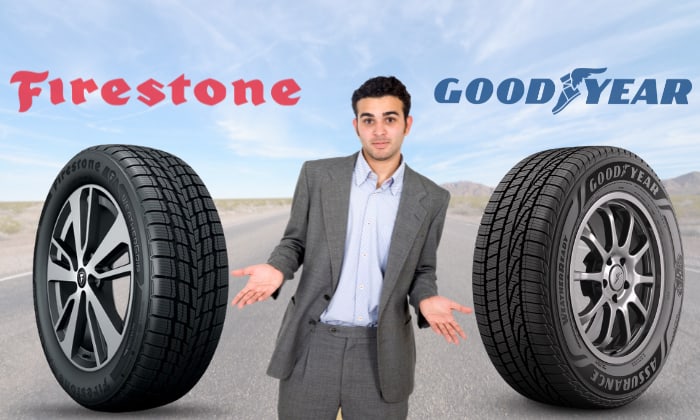 Judging from what we've learned, it's safe to say that the Firestone Weathergrip takes the cake on this tire comparison. It has better wet and snow performance and superior braking on dry roads. It's also much cheaper than its counterpart.
However, the Goodyear Assurance Weatherready is by no means a terrible choice. It's still a very capable tire, especially if you're a driver who values comfort and maneuverability more—the hallmark features of a great touring tire.
Additionally, in Goodyear Assurance Weatherready vs All-season tire variants from other premium tire brands, there's a good chance that it's at par, if not the better tire.
Consideration for Tire Selection
When selecting tires, here are a few things you need to keep in mind:
Pick a tire with the correct size for your car.
Think of what the weather is like in your region to buy tires that fit the driving conditions well. For instance, areas with heavy snow should have a designated winter tire with a 3PMSF rating.
Noise and fuel efficiency should not be overlooked, especially if comfort and saving money matter to you.
Those who love driving at higher speeds should pay attention to the speed rating as well, as this indicates the maximum speed the tire can handle.
People driving a particularly heavy vehicle should be mindful of the load capacity, which is the maximum load a tire can safely handle.
Conclusion
I hope we've shed some light on who makes the better all-season grand touring tire in this Firestone WeatherGrip vs Goodyear WeatherReady comparison.
And the Firestone Weathergrip is arguably the better choice, from performance to price. However, if you want a more consistently quiet ride, the Goodyear Weatherready is the better alternative.
If you want to learn more variants from both brands, click here for a general guide on Goodyear vs Firestone tires.