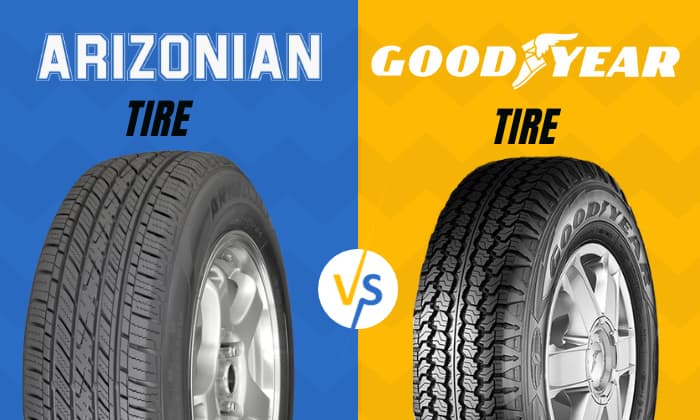 Different tire brands cater to different driving needs. Some brands focus on producing the best designs possible, while others aim to make their tires affordable.
For Arizonian Tires vs Goodyear, both offer excellent designs that you can depend on. However, these two brands have different target markets, as the former is aimed at those who want less expensive products, while the latter is intended for those who are willing to spend more for top performance.
| | | |
| --- | --- | --- |
| | Arizonian | Goodyear |
| Performance | Above average | Superior |
| Durability | Above average | Superior |
| Variety | Only has 2 designs | Wide range of designs |
| Price | Budget-friendly | Expensive |
| Warranty | 55,000-60,000 miles | Up to 80,000 miles |
Overview of Arizonian Tires
Arizonian Tires are known to have a good level of performance and durability despite being budget-friendly options. These tires are made by Cooper Tire and Rubber Company and have been around since the 1960s.
Arizonian has produced two designs, namely the Arizonian Silver Edition All-season and Silver Edition III, which are known for their dependability on dry and wet roads.
Although these designs are available in a variety of sizes, they are only on sale at Discount Tire, so you should visit the retailer's store or website if you are interested.
Overview of Goodyear Tires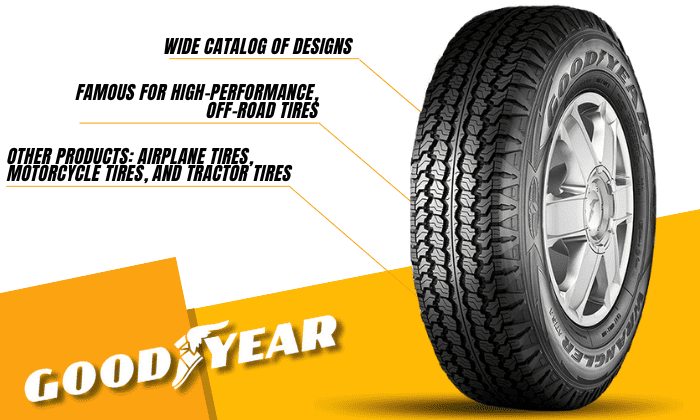 Goodyear is a trusted brand that has been in the tire manufacturing industry since 1898. They have a wide catalog of designs, including summer, all-season, and winter offerings.
Goodyear is also a well-known manufacturer of high-performance and off-road tires. For high-performance designs, they have the Goodyear Eagle tire line, and for off-roading, they have the Goodyear Wrangler line.
Aside from car tires, they also manufacture other products that are made of rubber, such as airplane tires, motorcycle tires, and tractor tires.
Major Differences Between These Two Brands
1. Performance
Both Arizonian and Goodyear tires have excellent performance on the road. However, as Goodyear has a wider range of designs, they have more options for tires that would excel in different weather and road conditions.
Since Arizonian only offers all-season models, it cannot compete with Goodyear's summer, winter and all-terrain tire offerings. That said, I will just compare the two designs of Arizonian to some of Goodyear's designs in the all-season touring category.
The Goodyear Assurance tire line features some of the most popular designs when it comes to all-season touring. The Assurance WeatherReady and Assurance Maxlife are two of Goodyear's top-rated designs and have a lot of positive consumer reviews.
In every performance metric (dry, wet, snow handling), Goodyear Assurance tires will undoubtedly outperform Arizonian tires. However, this does not imply that Arizonian tires should not be used on the road.
The performance features of Arizonian Silver Edition tires aren't as impressive as Goodyear's, but they still give a lot to work with. They will be good options for those who don't want to spend much money on their cars but still want to have adequate grip and handling on the road
2. Durability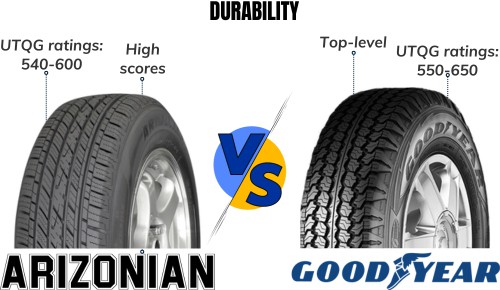 In terms of durability, Goodyear tires are top-level in the industry. As long as you maintain them regularly, you can expect these tires to last for a very long time.
Looking at their UTQG ratings, most Goodyear tires have a treadwear score of 550-650. However, there are some touring tires from the brand that have higher treadwear rating, such as the Assurance Maxlife, which scores 820.
Goodyear also has designs that have unimpressive treadwear, such as the F1 Supercar, which have ratings as low as 100 and 220. This is due to their excellent performance features, which trade off durability.
For Arizonian tires, durability is also quite impressive. The treadwear score of the Silver Edition All-season and Silver Edition III are 600 and 540, respectively. These are higher compared to usual treadwear scores of passenger cars, which range from 300-500.
All in all, both of these tire brands offer highly durable tires. Although Goodyear has better overall longevity, Arizonian Tires could last longer than many other brands, making them excellent value for money.
3. Availability
In this category, the results are a bit one-sided. As Goodyear is one of the largest companies in the industry, they have produced tons of designs for passenger cars, SUVs, crossovers, and trucks.
In contrast, Arizonian only has two tire designs at the moment. Although both the Silver Edition All-season and Silver Edition III are available in a good range of sizes, they are still far from the number of options you have with Goodyear.
4. Pricing
In terms of pricing, Arizonian tires are expected to be significantly less expensive than Goodyear's. This is due to the premium quality of Goodyear's designs, so you truly get what you pay for.
Arizonian Tires usually range from $80-$145. Some common sizes that they offer are the Arizonian Silver Edition 215 65R16 for $105, size 205/65R16 for $100, and size 225 65R17 for $145.
The price difference between Goodyear and Arizonian all-season tires may range from $50-$120. However, when considering all of their designs, Goodyear tires can cost as much as $860, which is significantly more than its competitor.
5. Pros & Cons
1. Arizonian tires
Pros
Budget-friendly
Available in a wide range of sizes
Durable
Good value for its price
Cons
Limited number of designs
Not recommended for high-performing vehicles
2. Goodyear tires
Pros
Top-quality performance
Has a wide variety of designs
Excellent for different types of vehicles
Highly durable tires
6. Notable Tires of Each Brand
1. Arizonian tires
Silver Edition All-season
Has above-average performance in different weather conditions
Expected to last six times longer than a regular tire, so you can enjoy a good amount of mileage
Available in various sizes (14 to 17 inches in diameters), so it can fit different types of vehicles
Silver Edition III
Arizonian Tires' newer design
Offers improved comfort and traction over the Silver Edition All-season
Covered by a 55,000-mile treadwear warranty
2. Goodyear tires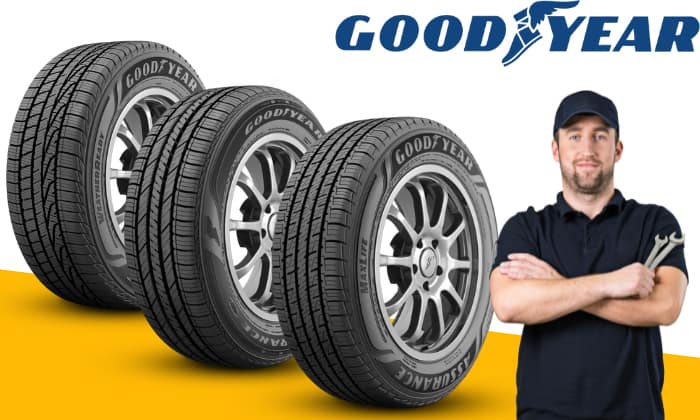 Assurance WeatherReady
Equipped with four circumferential grooves to channel out water
Has improved traction on wet surfaces
Excellent accelerating and braking on snow
Assurance Fuel Max
A low rolling resistance tire that will save you a lot of fuel
Excellent dry performance
Has an affordable price, making it a valuable investment
Assurance Maxlife
An excellent tire in dry and rainy seasons
Has impressive braking to ensure safe driving
Equipped with Goodyear Wear Gauge that indicates the tire's remaining tread depth
Which Tire Brand is Better?
Between Arizonian Tires and Goodyear, it is pretty clear that you can get better overall performance and durability with Goodyear's designs. On the other hand, Arizonian Tires still provide quality designs despite being significantly less expensive than its competitor.
Frequently Asked Questions
Who makes Arizonian Tires?
Arizonian Tires is one of the brands whose products the Cooper Tyre and Rubber Company manufactures. Their tires are only available across the USA through Discount Tire.
Where are Arizonian Tires made?
Arizonian Tires are manufactured at Cooper Tire's facilities. Furthermore, as they are only available in the United States in a limited number of designs, they are not produced abroad.
Conclusion
Having premium quality tires, such as those from Goodyear, is very beneficial. However, some car owners simply want tires that do the job without breaking the bank. That's when a company like Arizonian comes into play.
I hope this Arizonian Tires vs Goodyear review has been helpful. Feel free to share this to your family and friends, so you can help them learn about these brands as well.