The Cooper Discoverer AT3 vs. Nitto Terra Grappler G2 debate is a common one among SUV and light truck owners.
Cooper's off-road tire boasts unique tread technology, making it durable
e and long-lasting. Meanwhile, the Nitto Terra Grappler G2 achieves better traction with its reinforced coupling joints.
Below is a short comparison table to quickly show you the difference between Nitto vs. Cooper tires.
Cooper Discoverer AT3
Nitto Terra Grappler G2
Speed Rating
T (118 mph) – H (130 mph)
R (106 mph), S (112 mph), T (118 mph), W (168 mph)
Load Index (Highest)
116
125
Dry Road
The Discover performs better on dry pavements.
Wet Performance
Cooper's tire has the better sipe design and tread compound for wet pavements.
Winter
The Snow Groove Technology gives the AT3 tire an edge.
Off-Road
Both the Discoverer and Terra Grappler perform well in different off-road conditions.
Comfort
The Discover offers a smoother and quieter drive than the Terra Grappler.
Continue reading our Nitto Terra Grappler G2 vs. Cooper Discoverer AT3 XLT comparison below to know which suits your vehicle.
Overview
1. Cooper Discoverer AT3
The Discoverer AT3 launched in 2018 with three versions: the 4S, LT, and XLT.
Its 4S version with five-rib patterns and zigzag sipes gives a firm grip during everyday commutes.
Meanwhile, the LT version is designed to endure sharp gravel and rocks, and the Cooper Discoverer AT3 XLT carries the same durability design as its LT counterpart, but with added traction in most conditions.
2. Nitto Terra Grappler G2

The Terra Grappler G2 was launched in September 2014 as part of Nitto's Grappler line. According to the brand, the Grappler G2 uses a signature rubber compound that increases the tire's treadwear.
It is made for those who want a tire for the streets and off-road areas.
Which Tire is Better?
1. Dry Performance
In dry conditions, the Cooper Discoverer AT3 has solid grip with its lugs that run in pairs.
The Nitto Terra Grappler G2 also performs well in dry conditions but has some limitations. This tire has a bigger central rib and wider lateral grooves that split the tread blocks.
While this gives some advantages, it doesn't allow the tire to get much connection with the road.
This means Nitto offers less directional grip than the Cooper Discoverer AT3, especially in the crucial middle section of the tire.
2. Wet Performance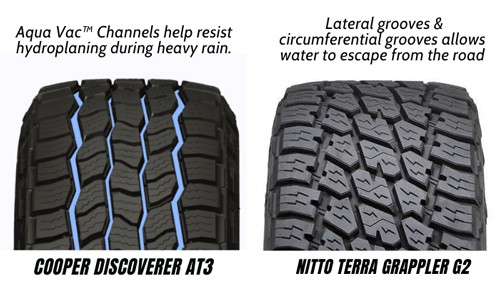 The Cooper Discoverer AT3 shines in wet conditions due to its siping and tread design. The interlocking siping and flexible tread help remove more water at a given time while resisting hydroplaning.
The Nitto Terra Grappler G2 also performs well in wet conditions with its lateral grooves and circumferential grooves. This design allows water to escape from the road, preventing slippage and allowing the Nitto tire to contact the road fully.
When comparing the two in wet conditions, the Cooper Discoverer AT3 takes the lead again.
While the Nitto Terra Grappler G2 lateral grooves help it provide traction in wet conditions, it can't match the wet grip performance of the Cooper AT3.
3. Winter
The Cooper Discoverer AT3 uses Snow Groove Technology for improved performance. This technology features saw-tooth block edges that trap snow in the tread, creating traction. Its softer rubber compound stays pliable in cold temperatures, making it less likely to freeze.
The Nitto Terra Grappler G2 also aims for winter performance with features like wide grooves and full-depth sipes. It even carries the 3PMSF (Three-Peak Mountain Snowflake) symbol for light snow traction.
Considering the features of both tires, the Cooper Discoverer AT3 has the edge in winter performance. While the Nitto Terra Grappler G2 is still a solid choice, its stiffer rubber compound doesn't help the sipes and bites flex as much in the snow.
4. Off-Road
The Cooper Discoverer AT3 comes with features like Stone ejector ledges and Rugged Traction Shoulders, which help prevent punctures and offer a strong grip on rock, mud, or loose soil.
The Nitto Terra Grappler G2 offers Coupling joints for improved block rigidity, enhancing its off-road grip. Nitto's off-road tire also has a two-ply polyester casing for durability on demanding roads.
This category is a tie between the Cooper AT3 vs. Nitto Terra Grappler. Both have their strengths on off-road surfaces due to their unique features.
The Nitto Terra Grappler has better traction with its lugs and weighted qualities in mud. The Cooper AT3, meanwhile, is superior on sand and gravel.
5. Comfort
The Cooper Discoverer AT3 features Whisper Grooves between the outboard tread blocks, which keep noise at a minimum when driving on highways and other off-road areas.
The Nitto Terra Grappler G2 has variably-pitched blocks to reduce sounds, but it has no tread features to absorb vibrations from the road.
Overall, Cooper is quieter, especially if you're driving at high speeds.
6. Pros and Cons
Cooper Discoverer AT3
Pros
Good in snow due to Snow Groove Technology
Better dry and wet performance
Whisper Grooves reduce noise for a quieter ride.
Strong grip on rock and loose soil with Rugged Traction Shoulders
Cons
Struggles in mud due to closed tread voids
Nitto Terra Grappler G2
Pros
Performs well in the mud with a heavier build and effective lugs
Coupling joints improve off-road grip and on-road stability.
Variably-pitched blocks mitigate airborne noise.
Cons
A stiff composition makes for a less comfortable ride.
---
Other comparisons from off-road class:
Conclusion
The winner of the comparison between Cooper Discoverer AT3 vs. Nitto Terra Grappler G2 is the former. The Discoverer offers better dry, wet, and winter performance due to its numerous features. However, Nitto's tire is still a good runner-up for its off-road performance and noise suppression.