Cooper vs Firestone tires —these brands have been American tire staples since their inception. With more than a century's worth of experience under their belt, these Western heavyweights are some of the best mid-range brands out there.
Who will eventually come out on top? Let's find out as we explore each company's history and see what makes these tires unique, from performance down to price. Let's get started!
Tire Brand
Cooper
Firestone
Country of Origin
United States
United States
Short Description
American tire brand owned by Goodyear. Established in 1914 in Akron, Ohio.
American brand established in 1900 and is currently owned by Bridgestone Tires.
Focus
Mid-Range Market
Mid-Range Market
Popular for
Off-road Tires
Performance and Racing Tires
Tire Compatibility

Passenger
Truck
Minivan
SUV/Crossover
Sports cars

Passenger
Racing
Light Trucks
SUV/Crossover
Minivan
Overview
1. Cooper
Formerly known as M and M Tires during its inception in 1914, Cooper Tires has been a mainstay in the American market for generations now. Surprisingly, tires weren't their main focus during those early years.
However, that all changed when Cooper acquired Giant Tire & Rubber Co. way back in 1920, which finally urged the brand to develop their very own tires. And from there, history was essentially made.
Cooper tires are known for their superb performance and reliability as a mid-range brand. And that's all thanks to its reputation as having some of the best all-season and off-road tires, period.
Cooper offers all-season and winter tires with a focus on SUVs and trucks, though the brand also serves minivans, passenger cars, and sports cars.
2. Firestone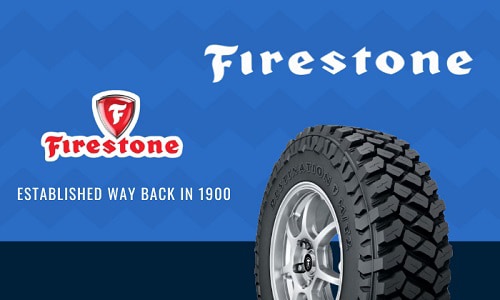 Firestone tires are a legend in the tire industry, not only because of their age, as they were established way back in 1900, but also due to their breakthrough as the first company to utilize the low-pressure balloon tire way back in 1922.
Not only that, but Firestone also cemented its legacy as one of the top brands in America as it provided tires that won Indy 500 races. In 1988, Firestone was propelled to greater heights when the Eastern tire titan Bridgestone bought the company.
Today, Firestone remains one of the most recognizable American tire brands out there, mainly due to its high-performance model, the Firehawk, which has been the world-renowned Indy 500's official tire for years.
Firestone has models in the following categories: All-season, Summer, and Winter tires.
Differences
In this Firestone vs Cooper Tires comparison, we'll go in-depth and compare what these brands have to offer in a range of categories that matter for any buyer, and that's performance and price.
1. Wet Performance
For wet performance, you won't find a better tire than grand touring all-season ones. For this one, we'll be comparing the Firestone WeatherGrip with the Cooper CS5 Ultra Touring tire. And right off the bat, it's looking like Firestone takes the cake.
Although the Cooper CS5 Ultra proved to be capable on wet surfaces, the Firestone WeatherGrip had marginally better traction and aquaplaning resistance than its counterpart due to its Hydro-Grip Technology, which lets it cut through water with ease.
2. Dry Performance
When it comes to dry performance, high-performance tires are king. Whether it's speeding through the race track or cruising down the open road, you'll need tires that give superb grip and maneuverability.
So, we'll go with the Firestone Firehawk Indy 500 and the Cooper Zeon RS3-G1. Surprisingly, the Zeon RS3-G1 was able to go toe-to-toe against the Firehawk, as both tied in terms of traction and steering response.
However, as expected, the Firehawk was better at cornering stability, but only by a really slight margin, which was actually quite negligible. So, it's a draw for us with this one.
3. Winter Performance
In regards to snow and ice, a proper set of winter tires is your best bet for battling inclement weather. For this one, we'll be comparing the Cooper Evolution Winter vs. the Firestone Winterforce 2.
And technically, we've got a draw with this one, too. The Firestone Winterforce 2 had much better traction on snow, but the Cooper Evolution Winter had more grip when it came to ice.
4. Off-Road Performance
Of course, we can't finish this tire review and comparison without mentioning what Cooper is known for, and that's off-road performance. So, for this category, we'll have a Cooper Discoverer HT3 vs Firestone Transforce HT face-off.
As expected, the Cooper Discoverer HT3 was clearly the more dominant tire. Whether it's on dirt, sand, mud, or even rock, the Discoverer HT3's traction was superb all throughout.
5. Price and Warranty
Tire price can often be the make or break factor when it comes to choosing tires, and both brands live up to their mid-range market name. However, Cooper actually has cheaper tires.
Its warranted mileage is also higher than Firestone (maxing out at 80,000 miles vs. 70,000 miles for its competitor).
Cooper also offers a 45-day satisfaction guarantee, though Firestone is more generous in this aspect (giving buyers 90 days to return or exchange their tires).
6. Pros and Cons
Cooper
Quality dry performance
Better snow performance
Better off-road performance
Cheaper
Firestone
Good dry performance
Better wet performance
Better ice performance
Which Tire Brand is Right for You?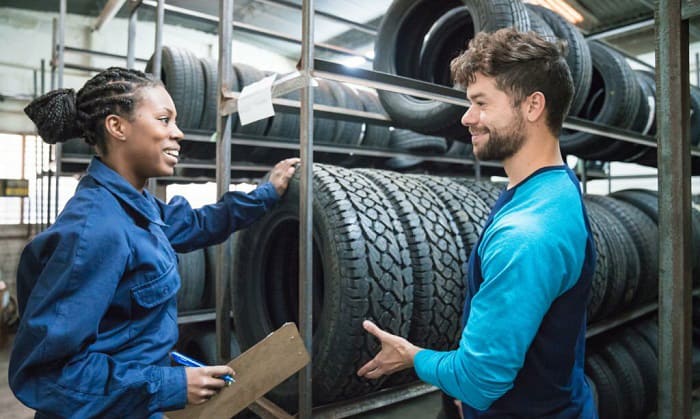 When it comes to Cooper Tires vs Firestone, like many brand comparisons, tire ratings aren't a fool-proof way of determining which brand is better. That's because it all boils down to what you prefer and what you'll be using your tires for.
If you want better wet performance, then Firestone is a no-brainer. If off-road performance is more your fancy, then going with Cooper is your best bet.
Overall, it's essentially up to you what your tire would be.
Conclusion
That concludes our Cooper vs Firestone Tires comparison, and we hope we've shed some light on your burning questions. We've got ourselves a draw with this one, since both brands excel in different aspects, which makes them unique in their own way.
Firestone has better wet performance, while Cooper has the upper hand when it comes to off-road performance. Both companies offer affordable tires with attractive warranty terms.