When talking about the best tires out there, there's a good chance that Bridgestone always comes up in the discussion. The company has been a frontrunner in the tire game for so long that it's one of the largest tire manufacturers in the world.
On the other hand, although Cooper may not have the same popularity factor as Bridgestone, the brand has been making tires longer than its Japanese counterpart. Not only that, but Cooper has a solid tire catalog to boot as well.
So, who has the better products? Let's find out in this Cooper vs Bridgestone Tires comparison.
Tire
Cooper
Bridgestone
Country of Origin
USA
Japan
Year Founded
1914
1935
Short Description
Mid-range tire brand owned by Goodyear Tires
One of the largest tire manufacturers in the world
Focus
Reliability and Affordability
Luxury and Performance premium tires
Tire Compatibility

Passenger
Truck
Minivan
SUV/Crossover
Performance

Motorcycle
Aircraft
Earthmoving
Commercial Vehicles
Passenger
SUV/Crossover
Vans
Trucks
Overview of Cooper Tire
With more than a century's worth of experience, Cooper Tires has been a solid contender in the American tire industry since its inception way back in 1914.
It's also worth noting that Cooper was bought by Goodyear in 2021, further strengthening its hold on the Western tire industry.
Cooper's tire catalog is diverse and caters to a wide array of driving needs, from highways to the great outdoors, which we'll talk more about below. They're also very affordable and are an excellent choice for drivers on a budget.
Not only that, but Cooper has one of the best warranties out there, as some of their tires are backed up with a whopping 80,000 km coverage.
The company offers products in three main categories: all-season, winter, and off-road use.
Overview of Bridgestone Tire
A fairly younger brand than Cooper by about two decades, Bridgestone has dominated the tire industry for quite some time now. They owe their success to developing one of the best tire technologies money can buy.
This also means that Bridgestone products aren't cheap, but they're definitely worth it. After all, premium features demand premium prices.
Offering a plethora of superb tires for all occasions with a vast catalog of tire families to choose from (all-season, summer, winter, and all-terrain), Bridgestone tires won't disappoint.
Differences
To truly know who'll win when it comes to Bridgestone vs Cooper tires, we'll make it a bit easier for you by carrying out a comprehensive tire comparison for both brands.
We'll choose tires from each company and assess them based on performance, comfort, and price.
1. Wet performance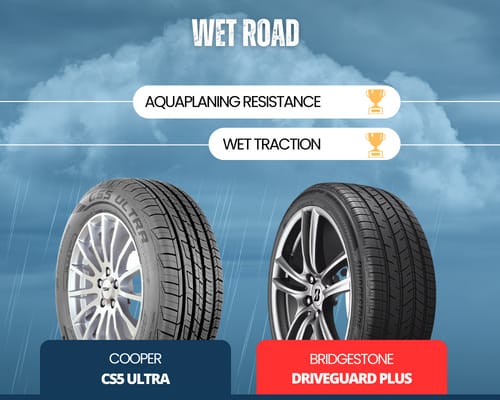 When it comes to wet performance, you can't go wrong with a set of all-season tires. So, for this one, we'll compare the Cooper CS5 Ultra against the Bridgestone DriveGuard Plus, both of which are grand touring all-season tires.
Right off the bat, the Bridgestone DriveGuard Plus definitely has the upper edge in regards to wet performance. Although the Cooper CS5 Ultra fared well, it was no match against the DriveGuard Plus's superior aquaplaning resistance and traction.
2. Dry performance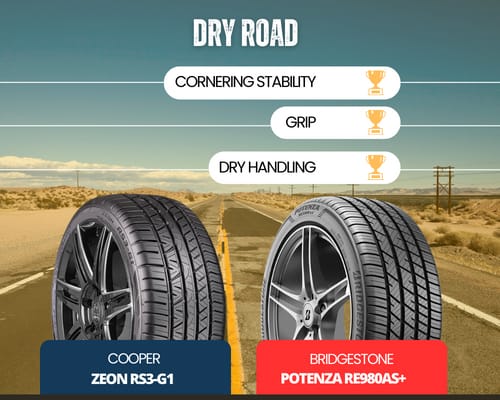 Unfortunately, Cooper doesn't have a dedicated summer tire, since they mostly focus on all-season models. So, we'll have to compare all-season tires for this one as well.
In this case, we'll be going with ultra-high-performance designs, the Cooper Zeon RS3-G1 and the Bridgestone Potenza RE980AS+.
After meticulous testing, we found that the Bridgestone tire was slightly better on all fronts, from cornering stability to grip and handling.
3. Snow performance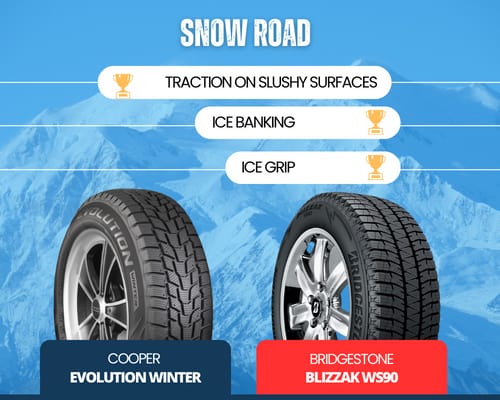 Winter performance calls for winter tires, so we'll compare the Cooper Evolution Winter vs. the Bridgestone Blizzak WS90. And surprisingly, we've found ourselves with a tie on this one.
The Cooper Winter Evolution was king when it came to snow, mainly because of its tread design with more voids, offering better traction on slushy surfaces.
However, the Bridgestone Blizzak WS90 dominated icy roads due to its formidable sipes, which gave it superior braking and grip.
4. Off-road performance
Off-road tires are a special case, since there are different terrains that all need to be considered. So, we'll go over them one by one and see which off-road tire is better, the Cooper Discoverer vs Bridgestone Dueler.
To be more specific, we've chosen the Cooper Discoverer AT3 XLT and the Bridgestone Dueler A/T Revo 3. After testing, the Dueler fared much better on sand, mud, and rock, while the Discoverer only had the upper hand on dirt.
Related: Bridgestone Dueler vs Goodyear Wrangler
5. Comfort
For day-to-day commutes, comfort plays a huge role in creating a more stress-free driving experience. And for your average daily driver, standard touring tires are a safe option for a good balance between reliability and comfort.
As such, we tested the Cooper CS5 Grand Touring against the Bridgestone Turanza EL400-02. And Cooper definitely won this round by a mile. Whether in terms of ride quality or noise, the CS5 Grand Touring was definitely the more comfortable tire.
However, when it comes to more premium options, Bridgestone actually has one of the most comfortable tires in the market—the Bridgestone Turanza Quiettrack. And if you pit it against Cooper's CS5 Ultra, the differences are substantial.
The Bridgestone Turanza offers a very smooth and serene driving experience, as noise and vibrations are practically non-existent. Although the Cooper CS5 Ultra was fairly comfortable, it didn't come close to the ride quality that the Bridgestone Turanza provided.
6. Price
It's no secret that Bridgestone has a steeper price tag—and rightly so. Bridgestone tires are filled to the brim with proprietary technologies that allow them to perform at a consistently optimal rate.
This makes Cooper the more affordable brand. The good thing is, judging by the quality of Cooper tires, as we've seen above, you can't go wrong with this brand either.
Pros and Cons
1. Cooper
Pros
Cheaper
More comfortable
Good wet performance
Great snow performance
Cons
Very limited tire choices
2. Bridgestone
Pros
Great wet performance
Great ice performance
A wider range of tire families for each tire type
Has one of the most comfortable tires around
Cons
More expensive
Comfort for standard tires needs improvement.
Which Brand is Right for You?
As we've seen from the tires comparison above, we can't really say one brand is better than the other, since both have unique strengths and weaknesses. For instance, Bridgestone makes the best premium tires, from comfort to wet performance.
However, some drivers might get turned off by their steep price tags as Cooper offers more affordable tire options. So, at the end of the day, it all comes down to budget. If you've got the money to splurge, you can't go wrong with Bridgestone.
But if money's tight, Cooper tires are still a safe bet, mainly due to their reliability and performance.
Conclusion
I hope we've shed some light on this Cooper vs Bridgestone tires comparison. Bridgestone has objectively better tires if you're willing to spend the money, as they place a heavy emphasis on their premium options. The brand also has a far wider tire catalog.
However, Cooper tires, although cheaper, aren't a bad choice by any means, as they offer reliable performance that any driver can confidently get behind.