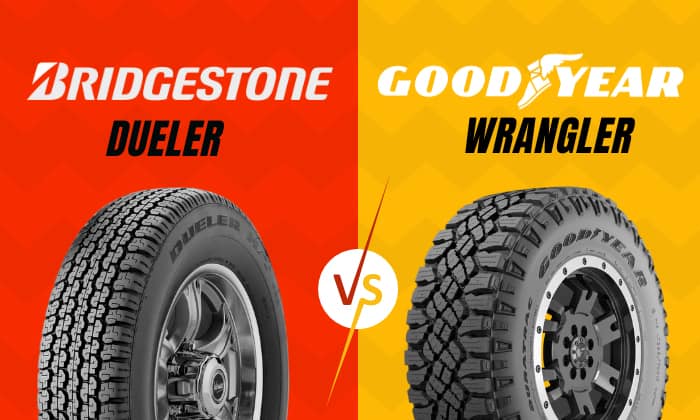 Bridgestone and Goodyear have been long-term rivals in dominating the tire industry. Both are considered premium brands because their products' quality simply excels against other budget brands.
Their tire selection also includes very versatile and high-performing off-road tires. Most notable ones are the Bridgestone Dueler and the Goodyear Wrangler. Considering both are equally great products from reputable companies, here's the big question: which is better?
In this article about Bridgestone Dueler vs Goodyear Wrangler , let's find out which one is best for your driving needs
| | | |
| --- | --- | --- |
| | Bridgestone Dueler | Goodyear Wrangler |
| Tire Type | Highway All-Season | Commercial All-Terrain |
| Tested Size | LT 225/75R16 | LT 225/75R16 |
| Max Load | 2,680 lbs | 2,680 lbs |
| Tread Depth | 15/32" | 18/32" |
| Country of Origin | Canada | United States |
| Tread Width | 6.6 | 7.2 |
| Revs per Mile | 711 | 710 |
| Available Sizes | 17-20" | 15-20" |
Overview of Bridgestone Dueler and Goodyear Wrangler
1. Bridgestone Dueler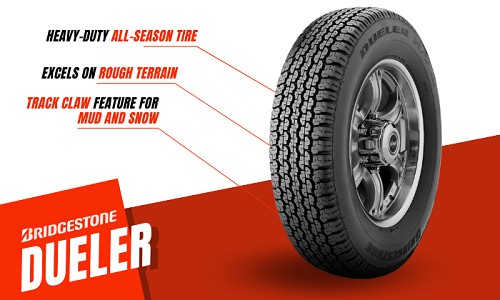 The Bridgestone Dueler is a heavy-duty all-season tire designed to handle any weather and road surface with excellent embedded technologies. It offers excellent traction and toughness in various terrains, making it ideal for confident driving pleasure.
While the tire can confidently cross wet pavement by evacuating sipes and grooves, it also excels on rough terrain, making it an absolute lifesaver for off-road driving.
The Dueler also features effective noise and vibration reduction technology for a smoother, quieter, and more comfortable ride. Additionally, the Track Claw feature allows the tire to handle mud and snow, offering great control in winter and off-road driving.
Recent versions, like the Bridgestone Dueler A/T Revo 3, have improved tread wear by strengthening tread blocks and opening shoulder slots, providing increased traction on wet roads.
Next, we'll talk about Goodyear's Wrangler.
2. Goodyear Wrangler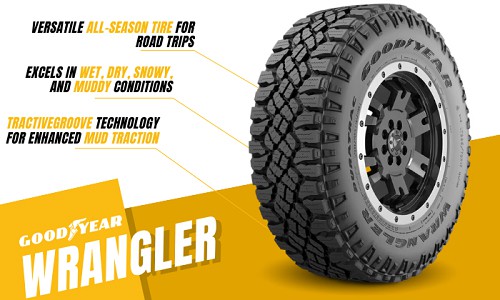 Goodyear's highly versatile all-season tire, the Wrangler, instills confidence in drivers for both long road trips and off-roading adventures. Designed for various road surfaces, including wet, dry, and snowy conditions, it excels in traversing mud and rough terrains, similar to the Dueler.
The Wrangler features self-cleaning shoulder blocks that effectively clear dirt and mud from the treads, ensuring increased traction on rough surfaces. Additionally, its TractiveGroove Technology enhances traction in deep mud.
With Highly Angled Center Tread Blocks, the tire provides enhanced traction and reduces noise and vibrations during long stretches on pavement or when navigating rough and rocky terrains.
Other models from the Wrangler line, such as the Goodyear Wrangler Adventure, boast durable sidewalls with their DuraWall Technology, preventing cuts and reinforcing the tire with layers of DuPont kevlar and steel for added strength.
Both tires are seemingly similar, so let's talk about what makes them different.
Differences and Comparison
1. Dry Performance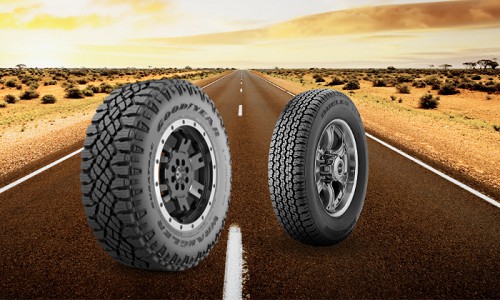 Both tires mostly perform the same when tested for dry braking and stopping power. However, the Wrangler's highly angled center tread blocks provide it with a slight advantage in dry handling traction compared to its competition.
2. Wet Performance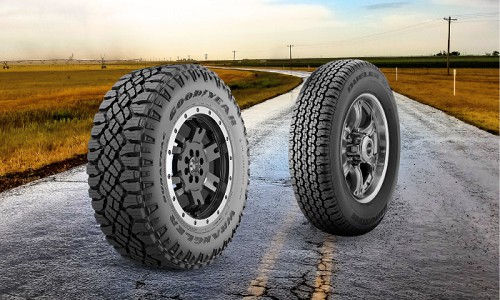 Although both tires perform exceptionally well, the Bridgestone Dueler slightly lags in wet performance as it falls short in wet braking.
On the other hand, the Goodyear Wrangler outperforms in wet braking but shows a slight drawback in wet-road handling. Considering its focus on off-road versatility and on-road comfort and control, its impressive short braking distance remains a notable feature.
3. Snow Performance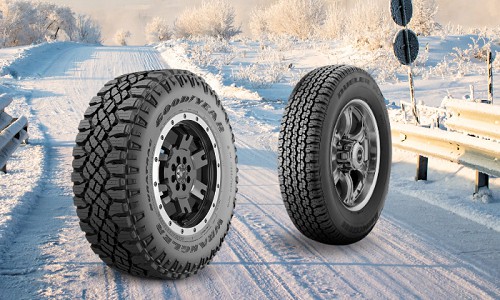 Both tires have the coveted 3 Peak Mountain Snowflake Symbol (3PMSF), indicating great control and handling on snowy roads. However, if you live in an area with harsh weather conditions, it is better to pick up some dedicated winter tires.
If you require tires that effectively trudge through deep snow or mud without the need for dedicated winter tires, the Goodyear Wrangler is a good choice, thanks to its self-cleaning shoulder blocks and TractiveGroove Technology.
4. Pricing and Value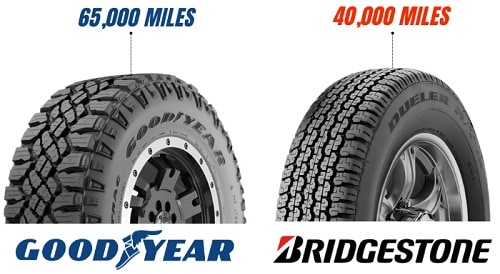 The Bridgestone Dueler is priced between $160 and $311, while the Goodyear Wrangler falls within the range of $180 – $314. Both these brands are considered premium, which justifies their higher cost since premium brands typically offer superior quality compared to budget options.
When it comes to durability, the Goodyear Wrangler stands out with a tread life warranty of 65,000 miles and its Durawall Technology, which enhances puncture resistance.
On the other hand, the Bridgestone Dueler offers a lower tread life warranty, generally around 40,000 miles for most sizes. However, it compensates with a low rolling resistance rubber compound in the sidewalls, which helps save fuel during usage.
5. Pros and Cons
Bridgestone Dueler
Pros
Better Fuel Economy
Great Wet braking
Quiet on-road experience
Excellent off-road and on-road performance
Cons
Slightly weaker wet braking
Goodyear Wrangler
Pros
Durable
Slightly better snow performance
Slightly better dry performance
High Tread life warranty
Cons
Slightly weaker wet braking
Which is Better?
Goodyear Wrangler vs Bridgestone Dueler is a hard comparison to make. Both products were designed for the same purpose – the versatility to handle off-roads and the comfort and handling of dry roads.
However, based on our research, the Goodyear Wrangler is an excellent choice to make because it has better attributes of an all-season tire, better durability, and tread life warranty, and, lastly, a great bang for your buck.
Conclusion
Bridgestone vs. Goodyear has been a long-standing argument when it comes to the top premium tire company. In this Bridgestone Dueler vs Goodyear Wrangler article, we hope we could provide some insight on which of their all-season heavy truck products suit you best.
With all that said, the Goodyear Wrangler is our choice for your off-road and daily driving needs. While the Bridgestone Dueler remains an excellent option, the Wrangler edges it out slightly in performance.