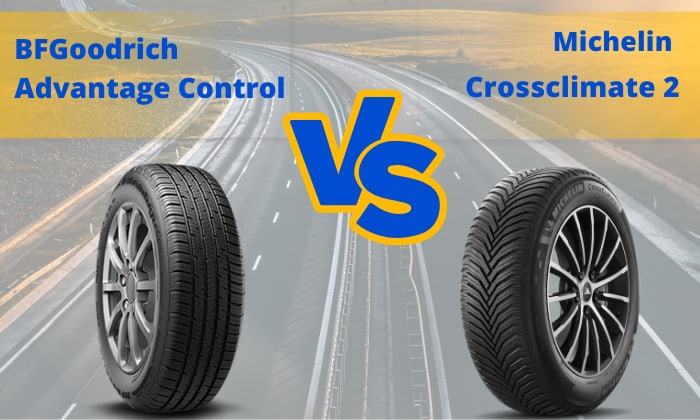 Choosing the best grand touring all season tire between BFGoodrich Advantage Control vs Michelin Crossclimate 2 sounds difficult, so we took the initiative to inspect their winning features.
BFGoodrich's Advantage Control is a longer-lasting tire that can provide excellent wet weather traction and stopping power at a more affordable cost, while Michelin's Crossclimate 2 is a premium snow tire that can deliver stable performance in wet, dry and light snow conditions with superior comfort and road silence.
| | | |
| --- | --- | --- |
| Factors | | |
| Wet | Competitive | Winner |
| Dry | Average | Winner |
| Snow and Ice | Not Certified | Winner, 3PMSF certified |
| Noise/Ride Quality | Moderate noise | Quiet and comfortable |
| UTQG Rating | Winner | Lower treadwear rating |
| Price | Cheaper by $28 | Expensive |
| Warranty | Higher | Lower |
What Are They?
1. BFGoodrich Advantage Control
BFGoodrich Advantage Control belongs to the touring tire line called Advantage. Other tire models in this tire family are :
BF Goodrich Advantage TA for coupes and sedans
BF Goodrich Advantage TA Sport for light trucks, sports utility vehicles, and crossovers
BFGoodrich Advantage Control is a grand touring tire that provides all-season traction for coupes, sedans, crossovers, and sport utility vehicles. It is available in four speed ratings (V, W, and H).
This passenger tire has a symmetric tread pattern and wide circumferential grooves that are built with the following features:
| | |
| --- | --- |
| Features | Purpose |
| Advanced tread compound with high silica content | Improve ride comfort by decreasing tread noise |
| Next generation G-Wedge Sidewall Stabilizers | Firm handling and steering |
| Aqua Flume technology | Excellent grip on wet surfaces and aquaplaning resistance |
| Full depth tread design with Active Sipe technology | For high-quality rides in winter |
2. Michelin Crossclimate 2
Michelin Crossclimate 2 is a grand touring tire designed for coupes, sedans, crossovers, and SUVs. It carries a 3PMSF symbol (Three-peak mountain snowflake), which makes it suitable for winter.
Aside from having maximum wet grip through a V-shaped directional tread design, here are other features that make this tire reliable for all-weather conditions.
| | |
| --- | --- |
| Features | Purpose |
| Thermal Adaptive tread compound | React to dry, wet, winter and snowy conditions |
| Piano Noise Reduction Tuning | Omit noise and lower tread noise as the tire gets older |
| V ramp chamfers | Increase braking ability, especially on dry surfaces |
| 3D SipeLock technology | Enhance grip in wet or cold weather |
| Grooveless pattern | Improve tread life and provide biting edges during winter |
Among the Michelin tires you can compare the Crossclimate 2 to are grand touring options like Michelin Primacy MXM4 and MXV4.
As for warranty, the Crossclimate has less support than exclusive durable tires like Michelin – X LT A/S, Costco tire Michelin X Tour A/S T + H, or standard touring tire Michelin Defender T+H.
Differences
One may instantly conclude that BFGoodrich is inferior in the BFGoodrich vs Michelin matchup, but if one knows that Michelin owns BFGoodrich and that BFG serves the tier 2 market, it would make them wonder about their differences.
The tires used in this comparison are 215/55 R16.
Factors
BFGoodrich Advantage Control
Michelin Crossclimate 2
Wet
Wet braking advantage
Stable performance under heavy rain
Dry
Average
Comparable to track tires
Noise/Comfort/ Ride Quality
Noisy, but not distracting
Quiet and comfortable
Snow and Ice
No
3PMSF
UTQG rating
700 BA
640 BA
Price
$150.99
$178.99
Warranty
65,000 miles (V and W speed ratings)

75,000 miles (H speed rating)

60,000 miles
1. Wet performance
The stopping power of BFGoodrich Advantage Control on wet pavements is 8 feet shorter than top competitors.
This was possible because the tread compound is high in silica and the tread design of the BFG tire is built with little curved sipes and Aqua Flume technology that is effective in evacuating water under the contact patch.
Additionally, the deep channels and outer tread blocks take care of wicking water away from the center.
On the other hand, Michelin's Crossclimate 2 passed the Tire rack test in heavy rain. The score was 9.5 out of 10, which means that the French tire is easy to drive in rainy or wet conditions.
The French tire's aquaplaning resistance depends on its V-formation tread design, V ramp chamfers, and 3D sipes.
Winner: Michelin Crossclimate 2
2. Dry
The only weakness of the Michelin Crossclimate 2 in dry conditions is its less than stellar cornering ability, but when it comes to lateral grip, reducing stopping distances, and responsive steering, this French tire is at the top.
You can even compare its impressive performance with Michelin's go-to all-season track tire, Michelin Pilot Sport All-Season 4.
In contrast, BFGoodrich Advantage Control performs well at high speed on dry roads because its continuous center rib provides stability. The tire's sidewall is stiff because of g-wedge sidewall stabilizers and rim protector.
Overall, the Advantage Control does an okay job on dry and warm pavements.
Winner: Michelin Crossclimate 2
3. Noise/Comfort/Ride Quality
When driven on wet and dry roads, BFGoodrich's Advantage Control is noisy compared to Michelin's Crossclimate 2. The tread noise of the BFG tire is not distracting, but loud enough to be noticeable.
Michelin's Crossclimate 2 has slightly audible noise when driven on city roads, highway, and rugged areas. Despite hearing mild road noise, it delivers a relaxing smooth ride.
Winner: Michelin Crossclimate 2
4. Snow and Ice
The Michelin Crossclimate 2 has a winter tire certification.
Thanks to its 3D Sipes and thermal adaptive compound, this French tire has the best snow performance. Tests show that its acceleration, braking, and handling are excellent in ice and snow.
On the other hand, if we review the BFG tire construction, most of its features address increasing grip and preventing aquaplaning in wet conditions. Therefore, its snow traction can get you through an inch or two of snow, but will not work on icy surfaces, since its blocks don't have the necessary grip for icy conditions.
If you want a BFG tire with the snowflake symbol, the BFGoodrich Ko2 is worth checking out. It is designed for heavy off-road use on light trucks.
Winner: Michelin CrossClimate 2
5. UTQG rating
BFGoodrich's Advantage Control has a longer tread life than Michelin's Crossclimate 2. Its treadwear rating of 700 as opposed to Michelin's 640 means that you'll need to replace it less early.
Both tires are rated B and A in traction and temperature, which means that they have the same stopping power on wet roads and heat resistance under high temperature.
As for brand support, the BFG tire has a higher mileage warranty promise. You can service it up to 65000-75,000 miles.
Winner: BF Goodrich Advantage Control
6. Cost
BF Goodrich Advantage Control tires cost $28 less than Michelin Crossclimate 2, so they're a better choice for those on a budget.
Winner: BF Goodrich Advantage Control
Pros and Cons
Pros of BF Goodrich Advantage Control
Longer lasting tread life
More budget-friendly
Excellent wet weather performance
Advantages of Michelin Crossclimate 2
Snow-certified (usable in light snow)
Capable tire all year
Quieter and more comfortable
FAQs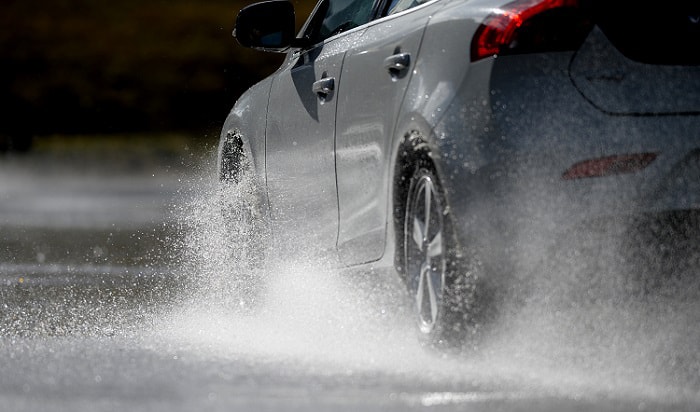 Who make BF Goodrich tires?
Essentially, Michelin makes BF Goodrich tires because the American tire brand was acquired by the French tire maker in 1990. Its corporate headquarters is located in Akron, Ohio, USA.
Are BFGoodrich Advantage Control tires quiet?
BFGoodrich Advantage Control tires don't make much noise on the road. The sound they emit is easy to ignore, so you can have conversations and listen to music without interference.
Are Michelin and BFGoodrich the same?
No. BFGoodrich is an American tire brand owned by Michelin. Though the two companies technically have the same owner, they still have different tires.
Is Michelin CrossClimate 2 good in rain?
Definitely. The Michelin Crossclimate 2 received an excellent wet performance rating when driven in heavy rain, so users don't need to switch it out for another tire when there's precipitation.
Which is better, Michelin Crossclimate 2 versus BF Goodrich Advantage T/A Sport?
BFGoodrich Advantage T/A Sport provides better traction in wet and dry conditions with higher level of comfort than Michelin Crossclimate 2. However, the Michelin tire excels in snow and ice performance.
Related Comparisons:
Conclusion
Most grand touring tires perform well on dry and wet roads with higher speed capabilities. The deal breakers are their noise level, winter or weather performance, and tread life.
In the case of BFGoodrich Advantage Control vs Michelin Crossclimate 2, one gets their money's worth in a BFG tire because it has excellent wet weather performance and tread life.
However, Michelin's Crossclimate 2 is more practical because it can provide all-weather traction with superior comfort and low road noise level.
If you want to know more about customer experiences regarding these tires, Reddit interactions are a good source of information as well.