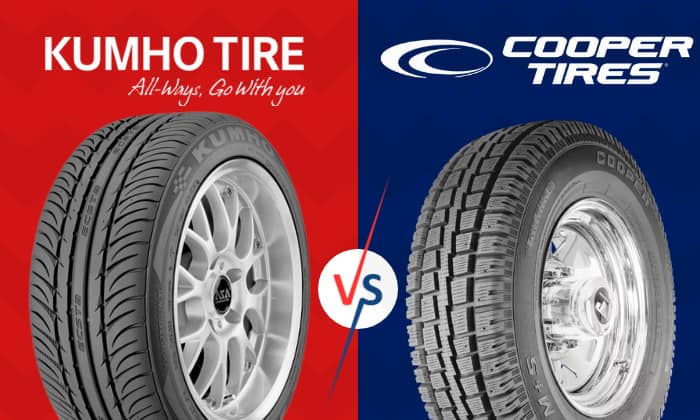 When comparing Kumho vs Cooper Tires, the two brands excel at offering affordable and reliable products. Kumho is highly regarded for its high-performance models. Meanwhile, Cooper tires have better tread life than the competing brand.
You can see the strengths and shortcomings of the two manufacturers with this short comparison table:
Kumho Tires
Cooper Tires
Performance
Neither brand completely surpasses the other.
Tire Variety
Above Average
Average
Comfort
Below Average
Average
Tread Life
Above Average
Superior
Are Kumho tires good? Is there a wide range of Cooper tires for different driving conditions? Know the answers to these questions by reading our Cooper vs Kumho tires comparison below.
About Kumho Tires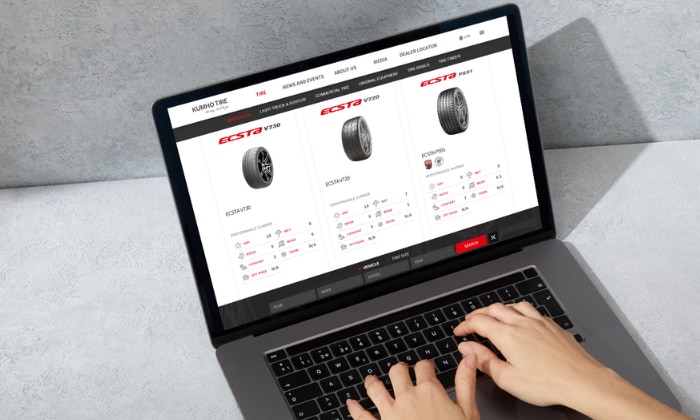 Kumho is a Korean-based tire company established in 1960 as part of the Kumho Asiana Group. Their manufacturing facilities are in South Korea, China, and Vietnam. Despite being based in South Korea, Kumho has a market reach that extends across the globe.
The Korean tire manufacturer was ranked 15th on the world's largest tire manufacturers list in 2022. This ranking is a significant improvement from their 18th position in 2021.
Kumho's reputation comes from extensive research and development of its tires as well as the use of high-grade raw materials.
About Cooper Tires
Cooper Tires have been around for a century since 1914. The company started out selling patches and repair kits for tires. In 1915, the founders bought the Giant Tire & Rubber Company to further expand on their tire line-ups.
As of 2022, Cooper Tires are 18th among the world's largest tire manufacturers in 2022. However, they were ranked 14th back in 2021. It should be noted that Cooper is a major tire maker in the US alongside Goodyear.
Differences between Kumho vs Cooper tires
1. Performance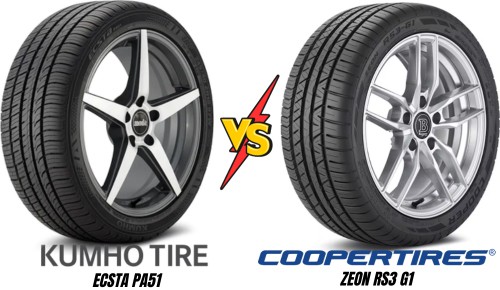 Kumho has not been lacking in delivering tires with dependable traction, grip, and brake distance. Their R&D team can incorporate various technologies that help their tire's performance, such as the all-season tread compound of the Ecsta PA51.
Cooper Tires is also highly regarded for the performance of its products. The company is a trusted OEM manufacturer for top automobile brands such as Mercedes-Benz and Ford. Their focus on performance can be seen in technologies such as the Coupled Silica compound and 3D siping for their CS5 Ultra Touring model.
Are Cooper good tires on dry and wet roads, more so than Kumho tires?
In this case, Cooper surpasses Kumho when you compare their ultra-performance tires: Kumho Ecsta PA51 vs. Cooper Zeon RS3 G1.
The Zeon RS3G1 surpasses the Ecsta PA51 in dry and wet braking distances. While the two have almost the same dry handling performance, Cooper tires do better in wet handling.
As for winter performance, we compared Cooper's Weathermaster SA2 vs. Kumho's Wintercraft WP51. Both are touring tires for passenger cars, but Kumho had much better snow traction and slightly better handling in wintry weather.
But in terms of braking distance, there's little difference between the two models.
2. Tire variety
Kumho offers an extensive range of tires for passenger cars, SUVs, light trucks, and commercial vehicles. You can find different kinds of designs for specific requirements, such as the Ecsta line for performance and the I'Zen line for winter.
Cooper also makes tires for passenger cars, trucks, and SUVs like Kumho. The brand offers 23 tire varieties covering different driving needs, such as the Discoverer AT3 4S for off-road areas and the Discoverer Snow Claw for wet and snowy terrains.
Through both brands' main pages, you can see that Kumho has more tire variety than Cooper.
3. Comfort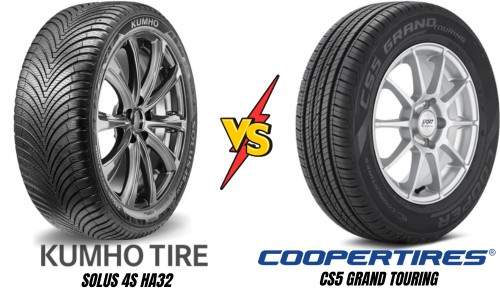 To keep the ride comfortable, tires should absorb imperfections from the road and prevent vibrations. A comfortable tire is also expected in order to prevent air from hitting the rubber walls and creating noise. We can determine which of the two brands offers a comfortable drive by comparing two similar tires of the same type.
Returning to the high-performance tires between the two brands, the Ecsta PA51 vs. Zeon RS3 G1, Cooper is ahead in keeping the ride smooth. However, Kumho's design is much quieter than the Zeon tire.
Regarding consistency, Cooper is still leading in vibration suppression when you compare their CS5 Grand Touring tire to Kumho's Solus 4S HA32, which are both all-season models. Most CS5 owner reviews praised Cooper's tires for their smooth rides, while many Solus owners are critical of Kumho tire's comfort.
4. Tread life
The brand's average tread life can be seen in its products' uniform tire quality grade (UTQG) ratings.
A good measuring stick for Kumho vs. Cooper tires on tread life is their all-season line: The Kumho Solus TA11 and the CS5 Grand Touring.
Cooper Tires is in the lead in this case, with their CS5 having an impressive 780AA rating, while the Solus only has a 700AB rating.
Pros and Cons
1. Kumho tires
Pros
Wide range of tire lines
Quiet driving experience
Decent tread life
Cons
Uncomfortable ride
Wet handling can be better.
2. Cooper tires
Pros
Better wed handling
Better UTQG rating
Smooth rides
Cons
Limited tire variety
A bit noisy
Which Tire is Better?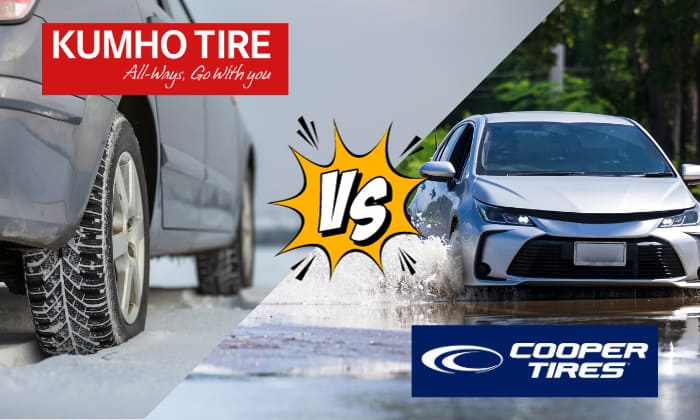 Based on wet performance and tread life, Cooper Tires is the better brand. However, Kumho is still competitive with its wide range of tires and superior winter performance.
Their tires' UTQG rating also makes the brand worth your consideration if no Cooper tires satisfy your requirements.
Conclusion
It's a tie between Kumho vs. Cooper Tires for us. Cooper excels in dry and wet traction and has quality noise cancelling in its products. Meanwhile, Kumho still has the edge with its extensive tire lineup and above-average snow performance.