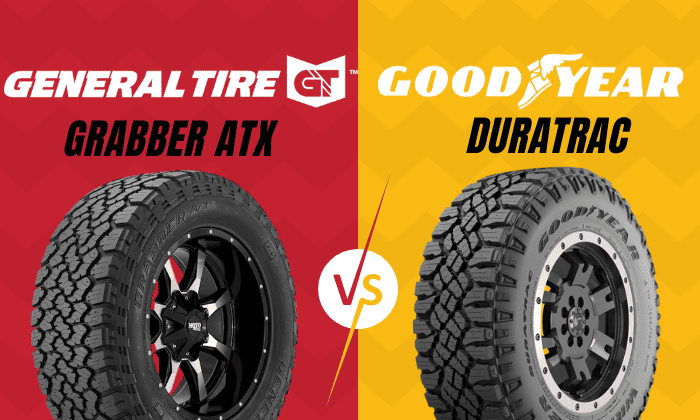 There are plenty of all-terrain tires in the current market today that promise outstanding performance. Among them, the Grabber ATX and the Wrangler Duratrac stand out with their impressive performance.
Is General Grabber ATX a good tire? Can it beat the popular Goodyear Wrangler Duratrac in different categories?
Today, we will be covering a comprehensive comparison between General Grabber ATX vs Goodyear Duratrac.
| | | |
| --- | --- | --- |
| Attributes | Grabber ATX | Duratrac |
| Tire brand | General | Goodyear |
| Tire type | All-terrain | All-terrain |
| Diameter (in.) | 26.9-37 | 28.9-36.5 |
| Width (in.) | 8-13.6 | 8.6-13.6 |
| Rim Range (in.) | 5-11 | 5.5-12 |
| Measured Rim (in.) | 6-11 | 6-11 |
| Tread Depth (in.) | 14/32-16/32 | 14/32-18/32 |
| Load Range | C-E | C-F |
| Max Load (lbs) | 1521-3860 | 1985-4080/3750 |
| Max Inflation Pressure (PSI) | 35-80 | 35-80 |
| Weight (lbs) | 28-75 | 35-68 |
| Revs Per Mile | 561-772 | 572-724 |
An Overview
1. General Grabber ATX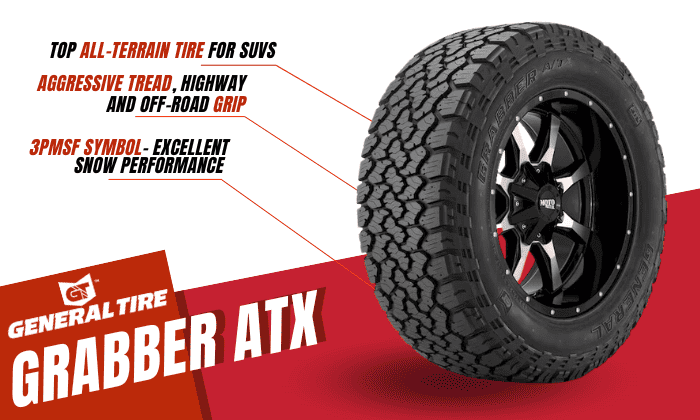 Designed for SUV and light truck drives, the General Grabber ATX is a renowned all-terrain tire that features several innovative technologies, such as the Duragen Technology for durability.
The Grabber ATX is composed of an aggressive tread pattern that contributes to the tire's grip performance on highways and even off-roads. In addition, it features a 3PMSF symbol – an indication of its excellent snow performance.
2. Goodyear Duratrac
The Goodyear Wrangler Duratrac is an all-terrain tire with outstanding technologies, such as Tractive Groove Technology for off-road use and self-cleaning shoulder blocks. It also has a 3PMSF symbol, meaning the tire can be for winter use as well.
Overall, this tire model promotes excellent traction in both on-roads and off-roads. It's best suited for light and full-size trucks.
Differences Between General Grabber ATX and Goodyear Duratrac
In this section, let's have an in-depth Goodyear Duratrac and General Grabber ATX review regarding their performance behavior in different road conditions and areas.
1. Dry performance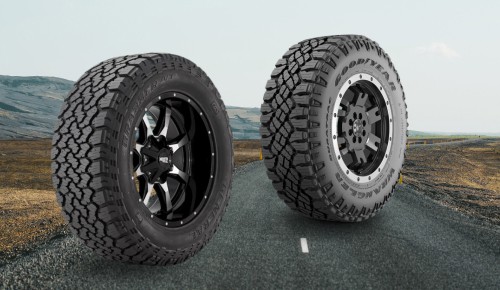 As far as dry performance is concerned, General Grabber ATX outperforms its competitor by a margin. Whereas Duratrac has weak handling, Grabber boasts great handling on linear and twisty road structures. In addition, both have a rather weak steering response.
However, you can trust these tires to feature excellent traction and a stable driving experience. Specifically, Grabber ATX offers decent stability even during high-speed driving and cornering, while Duratrac delivers stable driving capability even with heavy loads or at high speed.
2. Wet performance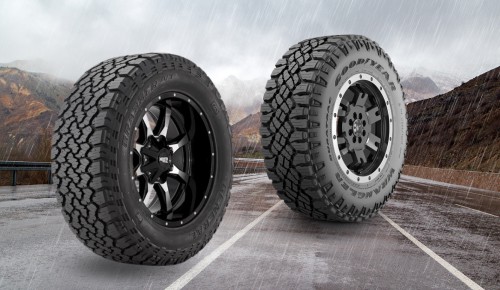 Again, the tire from General is the winner in this category, as it's equipped with tread technologies that ensure water evacuation and wet performance stability. It also performs impressively on wet road surfaces and has a short braking distance. As such, the tire can drive at high speed during rainy days.
In contrast, Goodyear Duratrac's wet braking power is not very good. That said, its aquaplaning resistance is pretty impressive.
3. Winter performance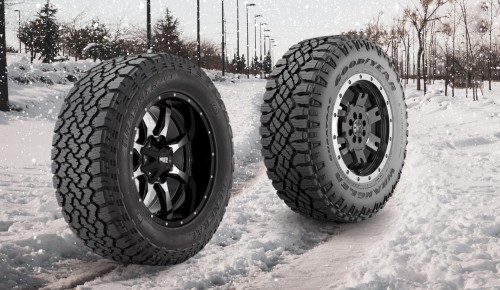 This is where the Duratrac shines—in terms of winter performance, it has no weakness to speak of. Its traction, handling performance, and braking distance are all superb.
Meanwhile, despite its decent stability and short stopping distance on snow, Grabber ATX's ice grip, cornering, and acceleration all need improvement.
4. Off-road performance
For off-road driving, Duratrac would be a better choice, as it can handle sand, mud, and rocks exceptionally well. On these terrains, the tire can ensure excellent digging capabilities. Plus, its self-cleaning shoulder blocks mean that mud and rocks won't get lodged in its tread.
In contrast, Grabber ATX encounters difficulties running on sloppy sand and tends to get lodged in the mud. And although it's tough enough to travel on rocks, its traction on this terrain is not as good as Durtrac's.
5. Ride quality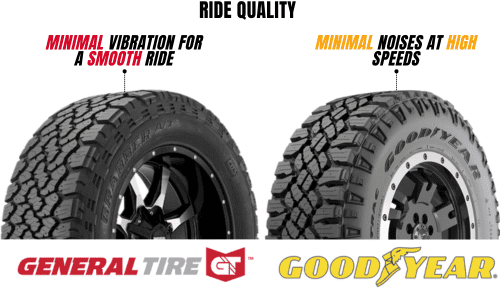 General Grabber ATX and Duratrac both boast minimal vibration for a smooth ride. However, the latter struggle with road noise levels, while the former produces minimal noises, even at high speeds.
6. Warranty
General Grabber ATX and Goodyear Wrangler Duratrac have similar warranty policies. For starters, they both provide a 6-year treadwear warranty and uniformity warranty support of up to 1 year or the first 2/32″ treadwear of the tire.
Other than that, these two tires come with a decent 6-year workmanship warranty, which includes free replacement for the first year or 2/32″ treadwear.
Their only difference is their special trial warranty. The customer satisfaction test drive is 30 days and 45 days for Durtrac and Grabber ATX, respectively.
7. Durability and lifespan
Grabber ATX outshines Duratrac in terms of tread life, being able to last up to 60,000 miles, while the latter can only be used for 50,000 miles.
8. Pricing
For General Grabber ATX, you can purchase one from $152.99 to $549.99.
On the other hand, Goodyear Wrangler Duratrac costs from $210.99 to $578.99 per tire, depending on the chosen tire size.
This means that General Grabber ATX is a cheaper all-terrain tire model, which is a better option for those drivers who are currently on budget.
9. Pros and Cons
1. General Grabber ATX
Pros
Generally cheaper
Comes with decent warranty support
Longer tread life expectancy
Short wet and winter braking distance.
Impressive all-season traction and stability
Smooth and quiet ride quality
Cons
Weak steering response.
Don't handle mud and sand well
Weak ice grip, cornering, and acceleration.
2. Goodyear Duratrac
Pros
Comes with decent warranty support
Great stability (even with heavy loads) and cornering on dry roads
Decent year-round traction and stability
Great high speeds performance on dry and snowy surfaces
Excellent performance on mud, sand, and rocks
Good wintertime and off-road braking distance
Cons
Generally more expensive
Weak wet braking power
Mediocre noise level
Which Tire is Better?
In this section, let's summarize the comparison between Goodyear vs General tires, specifically the General Grabber ATX and Goodyear Wrangler Duratrac.
The General Grabber ATX is better when it comes to affordability, handling, wet and winter braking distance, and low road noise level.
Meanwhile, the Goodyear Wrangler Duratrac has better winter performance, high-speed driving capabilities on snow, and off-road driving.
Conclusion
We hope our comparison of General Grabber ATX vs Goodyear Duratrac has helped you determine the suitable choice for your vehicle. If not, start assessing your current driving priorities and needs. Then use this article as your basis to make your decision.
Thank you for reading! See you in the next post!