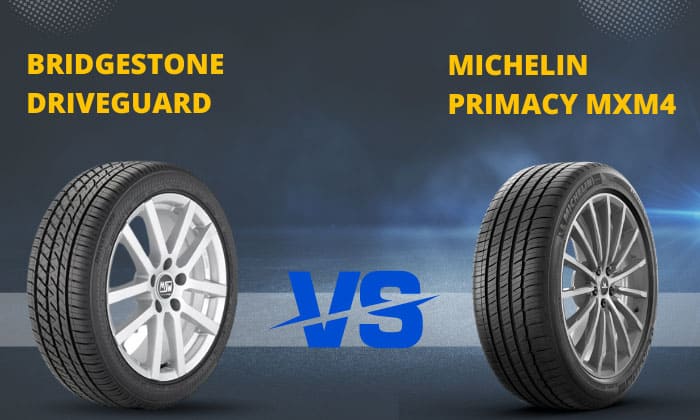 Bridgestone and Michelin are both popular and long-running pioneer tire companies. They raise the bar for providing excellent tires in the industry. No wonder why many vehicle owners around the world prefer tires made by these two world's tire manufacturer giants.
The debate between Michelin vs Bridgestone tires has been going on among drivers for years. In fact, many people are comparing tires with similar features made by these two brands just to find out which tire is better, Michelin or Bridgestone.
In this post, we will be conducting a comparative examination between Bridgestone DriveGuard vs Michelin Primacy MXM4. We will take a close look at these popular all-season tires from both brands.
Let's see how Bridgestone's DriveGuard and Michelin's Primacy MXM4 perform against each other! We'll compare their attributes, features, and costs, as well as compile a pros-and-cons list for you.
Michelin vs. Bridgestone: General Information
| | | |
| --- | --- | --- |
| Attributes | | |
| Car Type | Passenger Car /Crossover | Passenger Car /Crossover |
| Category | Summer Premium Touring tires | All Season Premium Touring tires |
| Country of Origin | Japan | US |
| UTQG | 500 A A | 500 A A |
| Max Load | 1230-1870 lbs | 1202-1870 lbs |
| Max Speed | 130-149 mph | 130-149 mph |
| Max Inflation Pressure | 44 | 25 – 51 | 41 | 44 | 21 – 51 | 30 |
| Tire Weight | 25-41 | 21-30 |
| Rim Width Range | 0-0 – 7-8.5 | 6-7.5 – 9-11 |
| Overall Diameter | 24.21-29.65 | 24.62-29.18 |
| Rev per Mile | 680.19/mi-833.03/mi | 691.17/mi-819.24/mi |
Detailed Comparison
Here's a closer look at two amazing contenders from Bridgestone and Michelin for all-season purposes.
1. Bridgestone DriveGuard
The DriveGuard is One of the most famous models in Bridgestone's run-flat line-up. It's the favorite touring tire among car owners for the ride comfort it provides, which stands out against other typical premium run-flat tires.
The DriveGuard requires little maintenance. Bridgestone even provides:
A 60,000-mile treadwear warranty for the tire, applying to the models:
T-rated (Up to 118 mph)
H-rated (Up to 130 mph)
V-rated (Up to 149 mph)
If you own a W-rated DriveGuard (Up to 168 mph) tires, the company offers a 50,000-mile warranty instead.
Here are more features of the Bridgestone DriveGuard:
Enhanced Safety & Performance: The DriveGuard embraces a special reinforced sidewall technology that supports the weight of the vehicle even after a complete loss of air pressure. Bridgestone says the tires can travel an extra 50 miles at speeds of up to 50 mph after a puncture.
NanoPro-Technology: If the tire experiences sudden slight damage, rubber pads will help sustain the tire's composition and strength safely in the meantime and cancel noise and unwanted shakiness while driving.
Asymmetric Tread Design: Injected with silica compound, its design is perfect for maintaining high steering and control performance, whatever the weather or road condition.
Hydroplaning resistance – This feature reinforces the high-quality grip functionality of the tire, most notably when driven on watery and snowy surfaces.
Tread Wear Indicator (TWI) – A unique feature of this tire is its capability to signal the driver regarding the state of the tire. This little detail within the tire will visually inform the owner if it needs to be replaced immediately.
2. Michelin Primacy MXM4
Let's go to the other all-season tire made by Michelin, Michelin Primacy MXM4 ZP Run Flat. It is designed to provide great traction, especially in wet conditions. In addition, it also has excellent, sensitive steering capabilities during high-speed driving on dry roads.
Reviews claim that the tires don't need a replacement for four to five years. Michelin provides a tread-life warranty of 55,000 miles for this model.
Here are more of its fantastic features:
Eco-friendly technology: Its tread contains organic sunflower oil compound which is responsible for the tire's enhanced grip, braking, and steering performance in different weather conditions.
Maximized tread life: Nylon filaments are responsible for this tire's right contact with the road surface. These compounds preserve the composition of the tire, allowing it to adapt to different road and weather conditions.
Sipe technology: Designed with a sipe tread pattern, the Primacy MXM4 boasts impressive traction, even on harsh road and weather conditions.
Satisfying ride quality: This tire features exclusive technology that assists in giving a smooth ride quality with a low noise level.
W-rated Speed: The Primacy MXM4 allows a maximum speed of 168 mph.
A Related comparison: Michelin Primacy MXV4 vs MXM4
Performance Comparison Differences
Let's see how our contenders perform in different situations.
1. Dry weather
DriveGuard has good dry traction and stability. It also comes with a solid short stopping distance.
Meanwhile, Primacy MXM4 has impressive acceleration and still has great fuel mileage. And just like DriveGuard, it offers short braking distances too.
2. Wet weather
DriveGuard features a technology that is responsible for evacuating water from the tire. So rainy days and watery areas are no longer a problem since it can manage to retain its functional traction even when cornering.
The Primacy MXM4 is also able to achieve an efficient grip on slippery road surfaces.
3. Snow weather
Aside from dry and wet conditions, DriveGuard also has a good grip and traction in snowy conditions. Yes, it can be used during the winter season, but not so often to avoid possible downgrading of its traction capabilities.
Likewise, Primacy MXM4 doesn't perform very well in harsh winter climates.
4. Noise and Comfort
The light compound materials and its soft flat tread texture allow DriveGuard to provide comfort and low noise level to its user.
Similarly, Primacy MXM4 has an advanced feature that prevents road noise sequence and employs comfort within the vehicle through un-triggering possible vibrations that the passengers might encounter on uneven roads.
5. Tire Ratings
According to the recently accumulated database from trusted tire industry rating agencies, Bridgestone Driveguard excels in overall wet and snow ratings compared to Michelin Primacy MXM4. Hence, Michelin Primacy MXM4 garnered higher points when it came to overall dry, comfort, noise, and wear ratings.
6. Cost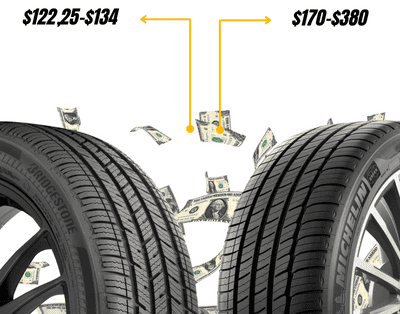 Bridgestone DriveGuard comes at the price of around $122.25-$134. Meanwhile, you can have each Michelin Primacy MXM4 tire for $170-$380.
Note: The cost may vary depending on which store you are going to purchase the tire from. For a more specific price, please inquire at the nearest Michelin and Bridgestone tire shop.
7. Pros and Cons
With all the details and features listed above, here are the pros and cons of the considered tire models.
Bridgestone DriveGuard
With puncture resistance
Long period of tread-life and warranty
Comfortable ride quality
Tread-wear indicator
Low cost than others
Good dry traction and stability in dry and wet conditions.
Short braking distance.
Low noise level
Not so responsive during speed-driving
Cannot replace tires made specifically for snowy weather
More expensive than traditional tires
Michelin Primacy MXM4
Long period of tread-life and warranty
Ideal speed rating
Comfort control technology
Great fuel mileage
Good dry traction and stability in dry and wet conditions.
Impressive acceleration
Short braking distance.
Low noise level
Expensive compared to its competitors
Not preferable in off-roads
Poor winter performance
Which is Better to Run Flat?
Bridgestone DriveGuard and Michelin Primacy MXM4 are both amazing run-flat tires. However, they are designed to meet different functionality.
For drivers who prioritize comfort and handling, the Michelin Primacy MXM4 is a great option. These tires offer a smooth experience and responsiveness thanks to their exclusive design.
On the other hand, the Bridgestone DriveGuard suits drivers who prioritize safety and puncture resistance. The tires' reinforced sidewall technology reduces the risk of blowouts and provides stability and control in emergency situations.
So, deciding which one is better, Bridgestone DriveGuard vs Michelin Primacy MXM4 boils down to your preferences and priorities.
Conclusion
In summary, Bridgestone DriveGuard and Michelin Primacy MXM4 do live up to their respective company's reputations. Whether you prefer the other by just referring to the given information above, it's going to be undeniably a great choice since these two tires offer distinct beneficial features.
Hope you enjoy and learn a lot from our tire comparison post between Bridgestone DriveGuard vs Michelin Primacy MXM4. Take your time to analyze the characteristics of these two amazing tires, and let the decision be solely yours.
Safe travels ahead.