Jiffy Lube has over 2,000 locations across the US, all of which offer automobile servicing. This fact makes them attractive to car owners who need preventive maintenance for their vehicles.
Now, you may wonder "How much is a tire rotation at Jiffy Lube?" The answer is more or less $40. Aside from tire rotations, there are also other services offered at Jiffy Lube that drivers should consider, such as engine and brake inspection.
So, let's look at their business below, starting with their tire rotation.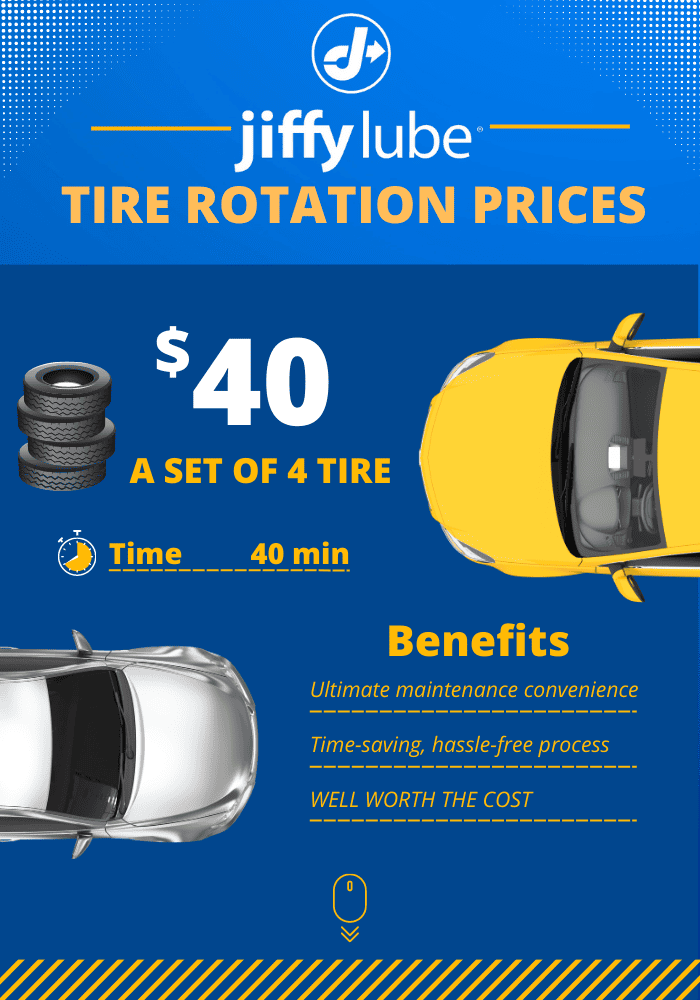 How is the Tire Rotation Service at Jiffy Lube?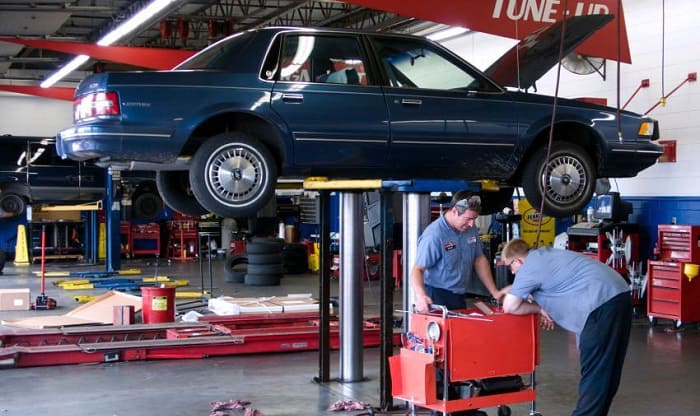 Jiffy Lube begins with a simple pressure check and an inspection to see the distribution of wear on your tires. These steps help determine if a complete tire change is necessary.
A Jiffy Lube tire rotation takes about 40 minutes if you don't plan on availing of their other services.
Consumer reports have mixed feelings towards the company's service. However, it is crucial to consider that the price and level of service vary with each branch, and on average, customers rate their experience 3.9 out of 5 stars.
If you're looking for a cheap tire rotation or wondering what kind of service a branch offers, you can visit other sites like Reddit or start with a Google search of "Jiffy Lube Branches near me."
How Often Should You Rotate Your Tire?
Different tire positions on your vehicle wear differently. Because uneven wear results in braking and steering problems, tire rotation helps the customer avoid premature wheel replacement and ensure pleasant drives.
Tire rotation is helpful for things such as:
Preserving tire tread to avoid accidents
Maintaining balance
Improving gas mileage and stability
Read more: The best way to check tire tread depth.
Getting tire rotations for every 3,000 to 5,000 miles is vital to avoid developing a wear pattern that is too uneven and can't be fixed regardless of tire position.
Why Should You Get Your Tires Rotated at Jiffy Lube?
Jiffy Lube excels at being a one-stop shop for all your maintenance needs and saves you time in caring for your vehicle.
Although you can find cost-effective alternatives elsewhere (Jiffy Lube isn't the cheapest tire rotation service), the hassle-free process is well worth the cost.
You can visit a branch near you and go for an oil change tire rotation while you're waiting, or avail of the other services they offer, which we'll list below.
What Services does Jiffy Lube Offer?
Jiffy Lube offers a wide range of services to ensure your vehicle is reliable and safe, from oil change tire rotation, inspections, to battery tests and more. Below is a list of services that Jiffy Lube offers:
Oil Change
Battery Maintenance and Replacement
Brake Inspection and Replacement
Engine Maintenance and Diagnosis
Vehicle Inspections
Vehicle Alignment
Suspension Services
Tire Rotation, Replacement, and Repair
Fluid Replacement and Exchange
Glass and Lights Inspection, Repair, and Treatment
Filter Replacement
FAQ
Does Jiffy Lube offer free tire rotation with oil change?
No, they do not offer oil change with free tire rotation.
Do they offer discounts?
Yes, Jiffy Lube offers great deals such as a rewards card program to help customers get the cheapest service possible.
They also offer different coupon types, depending on the location.
Does every branch offer every service?
No, not every branch can provide you with every service listed above. However, you can call and inquire ahead of time and see if the branch you're visiting could help you.
Conclusion
It's hard to be specific with the question "How much is a tire rotation at Jiffy Lube?" as Jiffy Lube tire rotation prices vary from time to time.
Whether you like them or not, tire rotations are essential in ensuring your vehicle is safe and reliable. They are a maintenance procedure you can opt not to do, but it is more expensive to buy new tires constantly.
If you're looking to get your tires rotated, Jiffy Lube is a great place to save time on top of fulfilling other maintenance needs.
Before you go, you can refer to some tire rotation options at Valvoline, Discount tire,…