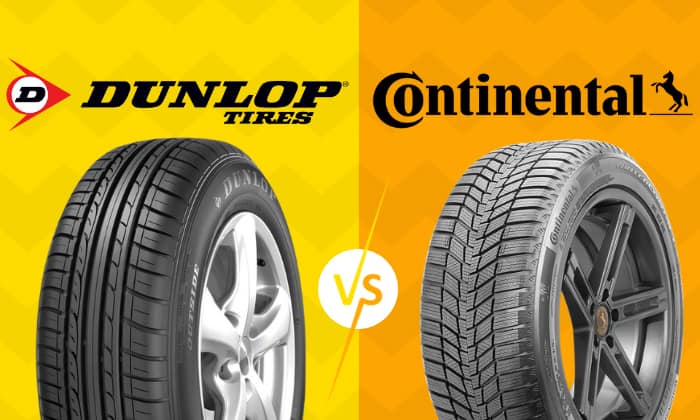 When it comes to choosing tires for your vehicle, the brand you select can significantly impact your driving experience. As consumers, you should consider picking the right tire brand that manufactures suitable tire models for your specific driving needs.
Today, we will be assessing two tire brands that promise the utmost tire features to drivers all around the globe. Between Dunlop vs Continental tires, which one is worthy of your penny?
Is Dunlop tyre good? Can it outperform the popular Continental tires? Let's cover all those things in this post, including a general overview of both companies and their overall tires' quality.
The chart below will give you an insight regarding the brief comparison of Continental tyre vs Dunlop tyre.
| | | |
| --- | --- | --- |
| Characteristics | Dunlop | Continental |
| Year Started | 1890 | 1871 |
| Country of Origin | Ireland | Germany |
| Price | Cheaper | More expensive |
| Max Treadlife Warranty | 60,000 miles | 70,000 miles |
| Tire Variety | Motorcycles, passenger cars, 4×4 vehicles, trucks, buses, and industrial vehicles. | Passenger cars, bicycles, motorcycles, vans, commercial trucks, bus, underground trucks, porter vehicles, and agricultural vehicles |
| Tire Ranking | 12th place | 2nd place |
About the Dunlop Company
Founded in 1888, Dunlop was established in Belfast, Ireland, from an initial idea of producing tires out of canvas bonded with liquid rubber. Never did John Boyd Dunlop know that his attempt to change the tricycle tire for his son would lead him to success in the tire industry.
Then, in 1890, its founder formed the so-called Dunlop Pneumatic Tyre Co. Ltd. to further manufacture tires, with Dublin, Ireland, as its first production site. Later on, Dunlop quickly got its very first main headquarters in mainland Europe in 1893.
This tire company was renamed Dunlop Rubber Company Ltd. only in 1901, then impressed Japan with its commercial tires in 1913, which led to the formation of Sumitomo Rubber, which acquired this company in 1917.
1958 was a memorable year for Dunlop as it finally became a small trading firm, allowing it to distribute tires for retail.
This milestone was followed by permanently changing its name to Dunlop Ltd. and made Dunlop to be significantly recognized in the Philippines up to this date for the creation of high and ultra-high performance-oriented tires for different vehicles.
About the Continental Company
Continental was a German-based tire company that was established on October 8, 1871, as Continental Caoutchouc & Gutta-Percha Company. Interestingly, Continental's first products were really tires for bicycles and carriages.
Later on, its expertise and experience opened the opportunity for the company to venture into automobile tire production in the 1900's. Continental became remarkable for developing different varieties of tires from the invention of detachable rims, cord tires, carbon black, and pneumatic agricultural tires.
In the 1950's, Continental began to manufacture more innovative tires for different driving needs, such as for high-performance, mud, radial, and winter tires. The company became more popular when the Continental Tire North America, Inc. was formed in 1987, allowing it to have a stronger base in different continents.
Throughout the years, Continental absolutely impressed the tire industry by creating outstanding tires that feature road safety, reliability, fuel efficiency, and low rolling resistance.
Comparing Dunlop vs. Continental
1. Dry performance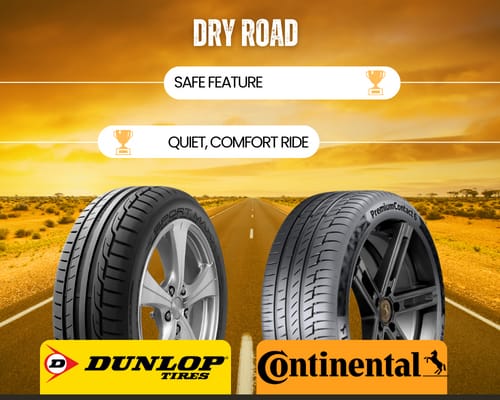 This category will expose how their tire models generally behave in default driving conditions. To assess that, we have their representatives, namely the Dunlop SP Sport MAXX RT2 vs Continental PremiumContact 6.
Dunlop SP Sport MAXX RT2: Scored 92% in dry braking level, which is tied with the Continental. Outperforms Continental in noise category (exterior noise of 75% > 55%; outside noise of 69 dB vs 72 dB).
Continental PremiumContact 6: Quiet, safe, and comfortable to use (with 71 dBs calculated noise compared to Premium Contact 6 which is scored with 73.5 dBs).
Therefore, Continental is the better tire brand option for dry road conditions. Meanwhile, Dunlop is the preferable choice for quiet and road comfort quality.
2. Wet performance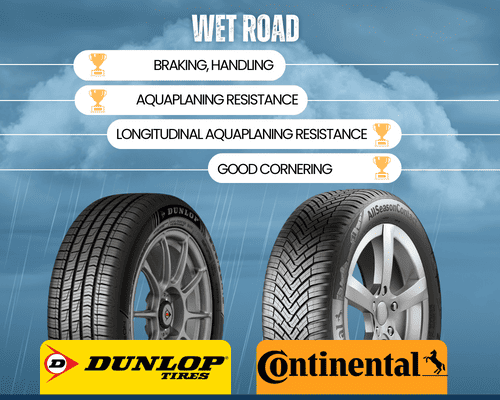 Now, let's see how their tires perform on rainy and wet tarmac days. For Dunlop, it has the Dunlop Sport All Season. Meanwhile, Continental All Season Contact is here to fight for its company's reputation in the wet performance category.
Dunlop Sport All Season: Provides slightly better wet braking (78% > 77%), wet handling (62% > 59%), and cross aquaplaning resistance capabilities (86% > 80%).
Continental All Season Contact: Excels in terms of longitudinal aquaplaning resistance (81% > 80%) and wet circle cornering (89% > 86%).
Safe to say, that the better all-season tire options when talking about the quantity of wet performance it beats its opponent can be found in the Dunlop. However, as per the wet overall rating, Continental wins against Dunlop (80.6% > 75.8%).
3. Winter performance
To compare the wintertime capabilities of each tire brand, we have each of their own remarkable winter tire models: The Dunlop SP Winter Response 2 and Continental WinterContact TS 870 .
Continental WinterContact TS 870: Beats the Dunlop SP Winter Response 2 in all of the wintertime performance subcategories. This includes snow braking (94% > 89%), snow traction (89% > 87%), snow handling (90% > 89%), and ice braking (85% > 84%) performance.
Based on the tests, we can say that Continental is really a better option in wintertime driving conditions.
4. Price
Speaking of practicality, the price tag of the tire plays a significant role in determining if the tire is preferable. This makes sense, for we are all after affordability, right?
Anyway, you can have the cheapest Dunlop tire for only $46. It is pretty affordable compared with other tire brand's offerings currently.
Meanwhile, Continental Tire starting price comes to $76.
This only means that Dunlop wins in the price category!
5. Warranty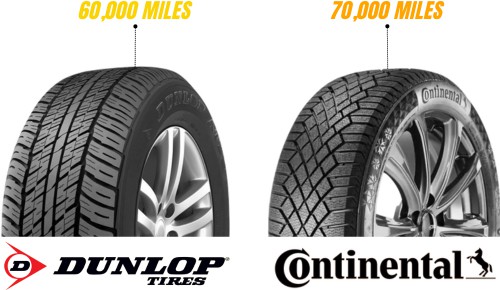 Another important aspect of a tire is its warranty coverage. The longer the warranted mileage it provides, the more you are assured that your tire is backed up with protection.
In our case, Dunlop offers 60,000 miles as its maximum mileage warranty support. Continental, on the other hand, offers up to 70,000 miles.
Therefore, we can conclude that Continental tires are generally better in terms of warranty support. But keep in mind that this varies depending on the tire model you are purchasing.
6. Pros and Cons
Enumerated below are the highlights of both tire's advantages and disadvantages.
1. Dunlop
Pros
Lower price point
Better ride quality and lower road noise level
Slightly better performance in wet braking, wet handling, and cross-aquaplaning resistance
Cons
Slightly shorter warranted mileage offer
2. Continental
Pros
Longer warranted mileage offer
Better overall dry performance
Slightly better longitudinal aquaplaning resistance and wet circle cornering capabilities
Better winter tire options
Which Tires Are Right for You: Dunlop or Continental?
Dunlop is the ideal tire brand for you if you prioritize ride comfort, low road noise input, and affordability. Moreover, Dunlop all-season tires have decent wet braking, wet handling, and cross-aquaplaning resistance qualities.
So if you regularly drive on wet road areas, Dunlop is your better choice.
On the other hand, Continental tires are perfect for those seeking longer tread life as it comes with a longer mileage warranty.
Generally, Continental is an all-rounder tire as it features tire models that can withstand different road conditions, such as on dry, wet, snow, and even ice. Performance-wise, Continental is the right tire manufacturer for your vehicle.
Conclusion
If you choose between Dunlop vs Continental tires, you will not regret your decision at the end.
To get the best vehicle tires, we suggest you read this entire article and consider your driving preferences thoroughly. This way, you will end up with the tire you deserve.
Thank you for reading, and see you in the following article for more tire-related posts upcoming.