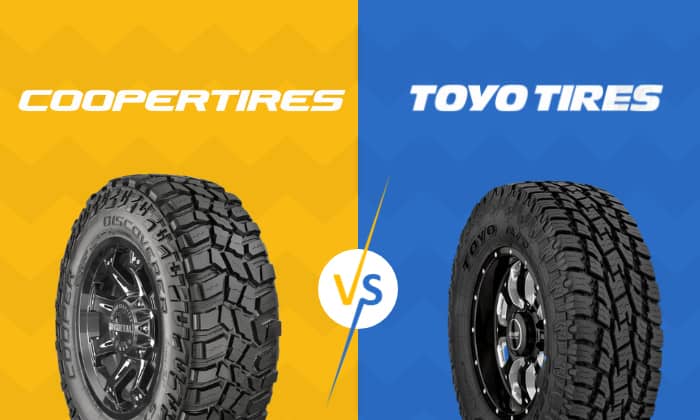 In the Cooper vs. Toyo Tires competition, which brand gives you the driving requirements you need?
Cooper tires win fans with their long-lasting tread life. On the other hand, Toyo is all about impressive performance and higher tire variety.
Here is a quick tire comparison between the two brands.
| | | |
| --- | --- | --- |
| | Cooper Tires | Toyo Tires |
| Performance | Above Average | Superior |
| Tire Variety | Average | Above Average |
| Durability | Superior | Above Average |
| Ride Comfort | Above Average | Poor |
| Tread Life | Superior | Above Average |
| Cost | Budget-friendly | Budget-friendly |
Overview of Toyo and Cooper Tires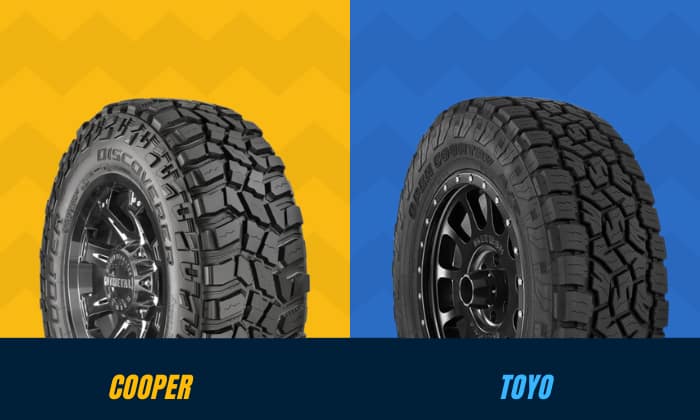 1. Cooper
Cooper Tires has been around since the early 1900s, coming from Ohio. The brand is known for its innovations, such as the Armored Cord tire construction in the 1930s and the centered groove design that became popular during the early 90s.
Cooper is many drivers' go-to choice for off-road tires.
2. Toyo Tires
Toyo Tires is a younger brand from Japan, kicking off in the mid-1940s. The Japan-based company is all about all-terrain and mud tires that provide dependable traction on loose terrain.
They are known for technologies like the Elongated High-strength Rubber for wear resistance and Silent technology for reducing cavity noises.
Differences between Toyo vs. Cooper Tires
1. Performance
Given how Toyo Tires and Cooper have a strong front in the all-terrain market, we can understand their performance difference with off-road tires. Here is a look at the Cooper Rugged Trek vs. Toyo Open Country AT3.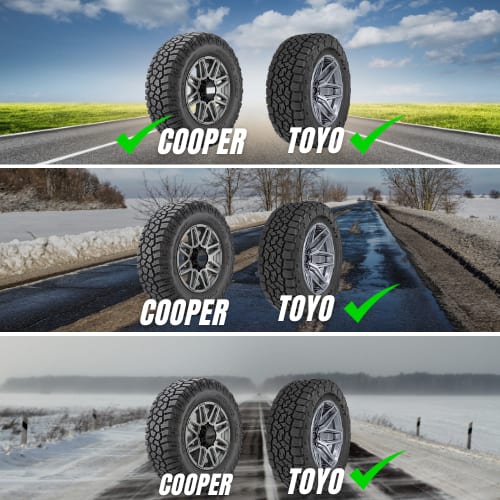 For dry roads, both offer solid traction, making daily driving a breeze.
However, Toyo gains a slight edge in wet conditions with better grip at high speeds and shorter braking distances.
I think both tires perform well in snow and off-road use, but Toyo has a slight advantage in deeper snow and mud.
So, which tire has the edge in performance? It seems like Toyo Open Country nudges ahead, but only slightly.
However, remember that these options are all-season models and therefore not meant for icy roads, only moderate snow.
If you're comparing ice performance, Cooper Discoverer True North and Toyo Observe G3 Ice both offer impressive traction, but Cooper's tire wins in comfort.
2. Tire Variety
Cooper Tires has 23 products for passenger cars, SUVs, trucks, and sports cars. Meanwhile, Toyo Tires has 32 products for both passenger and commercial vehicles, per their websites.
So, Toyo Tires is the clear winner in the tire variety category.
3. Durability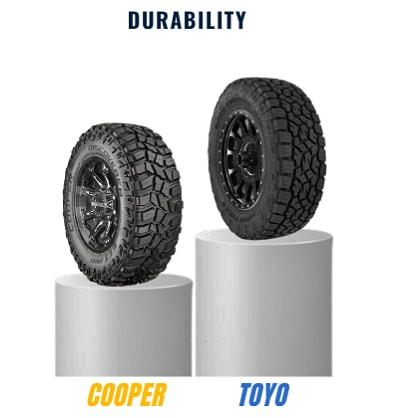 An excellent way to gauge a tire brand's overall durability is its UTQG ratings.
Toyo Tires have product lines with impressive treadwear, traction, and temperature rating. One example is their Ultra Z900 (H-Rated) tire with a rating of 800AA.
Are Cooper Tires Better than Toyo when it comes to durability? Cooper Tires does not skimp on its UTQG score. Its CS5 Grand Touring has an impressive rating of 780AB, which almost matches the Ultra Z900 when talking about long-lasting tires.
Despite Toyo having a better score with their Ultra Z900, Cooper tires still have the edge in the durability category.
The keyword here is consistency, with many Cooper tires having a treadwear score of 600 or higher, such as their Discoverer HTP, CS5 Ultra Touring, and CS4.
Only a handful of Toyo's lines can go beyond 600, like their Versado and Open Country models.
4. Ride Comfort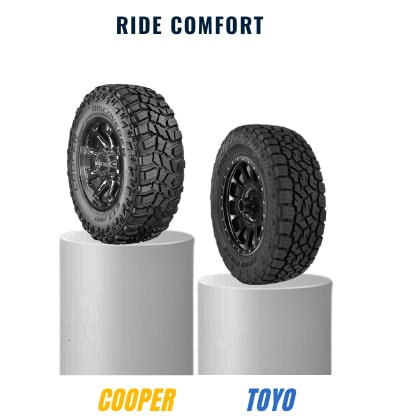 You can gauge the comfort of the two brands with their top off-road products. Off-road tires are built to address road imperfections, so it's vital that they have noise-canceling technology to make rides comfortable.
Here is a review of the Cooper Discoverer AT3 and vs. Toyo Open Country AT3.
The Open Country AT3 utilizes a tread design with ridges that keep the ride smooth while preventing noise generation.
Meanwhile, the Discoverer AT3 XLT uses Whisper Grooves technology to lower noises. It has an all-terrain silica compound, contributing to the absorption of road imperfections.
In this comparison, Cooper is the winner. Its longitudinal grooves and smaller rib gaps make for quieter rides on the road.
5. Tread Warranty
If the UTQG of their tires is any indication, Cooper Tires is highly confident in the tread life of their tires. Their CS5 Grand Touring has a mileage warranty of 80,000 miles, while their Discoverer SRX has 75,000 miles of coverage.
Meanwhile, the highest possible mileage coverage from Toyo is for their Ultra Z900 tires with 75,000 miles.
6. Cost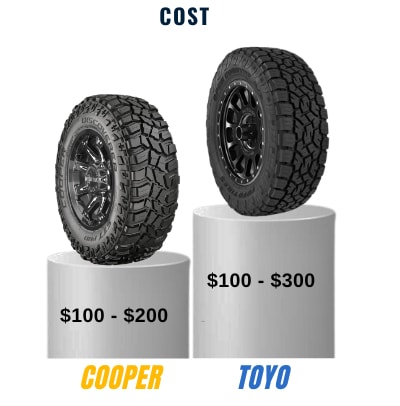 The price range for a Cooper Tire is around $100 to $200 in most retail stores. Toyo Tires has nearly the same price range at $100 to $300 for passenger and light truck vehicles. In this case, it is a tie for both brands regarding tire prices.
7. Pros and Cons
Cooper Tires
Dependable grip and traction on dry roads
Consistently long lifespans
Extensive tread mileage warranty
More comfortable to drive
Limited selection of tires
Toyo Tires
Incredible wet and off-road performance
Better snow performance
Different selection of tires for passenger and commercial vehicles
Good UTQG rating for certain tire lines
Poor ride comfort and noise
Which Tire is Better? Cooper or Toyo Tires?
Based on the comparison here, Toyo tires take a slight lead overall, particularly excelling in wet conditions and offering a more comprehensive range of options.
While Cooper tires put up a strong fight, especially in durability and comfort, Toyo's broader selection and slightly better performance give them the edge.
Conclusion
To conclude our Cooper vs. Toyo Tires comparison, the Japanese-based company takes the lead over the American tire manufacturer.
Toyo Tires' focus on all-terrain models makes them dependable for off-road adventures. On the other hand, Cooper tires prioritizes driving comfort and tread durability.