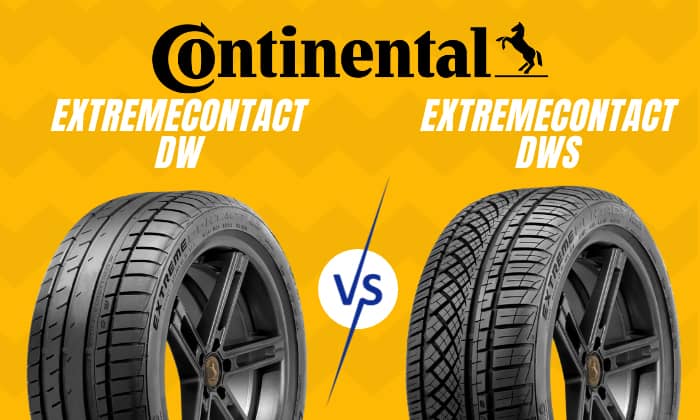 Continental is a brand that is well-known around the world for manufacturing tires with innovative technologies and phenomenal features in different road conditions.
One of the proud offerings of this company is its fantastic performance-oriented lineup. Part of said lineup are the Continental Extremecontact DW and DWS, which are suitable for sporty vehicles.
For more information about the Continental Extremecontact DW vs DWS, we got you covered throughout this article.
We will discuss everything about these two tires, including their performance, price range, warranty coverage, and more.
For now, we have here the short comparison table below to give you some insights into the two models.
Attributes
ExtremeContact DW
ExtremeContact DWS
Tire type
Summer

– Supreme Performance

All-season

-Ultra High Performance

Size
235/45ZR17
235/45R17
Diameter (in.)
25.3
25.3
Rim Range (in.)
7.5-9
7-9
Tread Depth (in.)
10/32
11/32
Load Range
SL
SL
Max Inflation Pressure (PSI)
51
51
About Continental ExtremeContact DW
As its name suggests, the Continental ExtremeContact DW is meant for performance-oriented vehicles on dry and wet road surfaces (DW stands for Dry & Wet). This model promises sensitive steering and high-speed rides, thanks to its asymmetric chamfered tread pattern and nylon plies.
It also comes with intermediary ribs along with exterior grooves which minimize road noise input, improve grip and braking performance, and enhance wet traction capabilities.
About Continental ExtremeContact DWS
The Continental ExtremeContact DWS is a more versatile version compared to its counterpart, the Continental ExtremeContact DW. It is remarkable that the letter "S" is added to this tire model, which signifies Snow. This addition makes the DWS recognizable as an ultra high-performance all-season tire.
Just like the Continental ExtremeContact DW, this model comes with an asymmetrical tread pattern, twin steel belts, and an outboard circumferential rib, which promises decent high speed driving stability and steering reaction.
Its improvement is seen in the center crisscross tread grooves that helps the tire withstand winter conditions by improving its biting capabilities on slippery roads.
In addition, this tire model is engineered with innovative heat distribution dynamics, which reduces the tire's rolling resistance and promotes longer tread life.
Differences Between Continental Extremecontact DW vs DWS
Competitive tire performance is what we really look for in a tire model as consumers. So in this section, let's review how Continental Extremecontact DW and DWS behave in different road conditions.
1. Dry performance
In the dry performance category, Continental Extremecontact DW garnered a 92% score in dry traction, which is better than the Continental Extremecontact DWS, which only scored 84% in dry grip performance.
What made the DW outperforms the DWS is that it specializes in summer performance. Moreover, its cornering grip was better than its competitor, making it a better choice for daily driving.
However, Continental Extremecontact DWS beats the DW in terms of handling and road feedback levels.
2. Wet performance
As far as wet performance is concerned, both tires actually perform pretty well in the rain, thanks to their spectacular tread designs. But surprisingly, the summer tire scored higher in wet grip performance against the all-season tire, though the difference is negligible.
This is due to the fact that the DWS performs better as it wears, while the Continental DW tends to decline a bit quicker.
3. Winter performance
This is a no-brainer comparison. Since Continental Extremecontact DW is not meant for roads covered in snow and ice, this simply means that Continental Extremecontact DWS is the sure winner in wintertime use.
The DWS will never let you down on ice and snow because it does not allow any chance of losing traction and skidding. Plus, it offers great braking performance.
For you to have a better picture of its wintertime properties, let's compare the DWS06 vs DWS.
Both of them offered excellent snow grip. The interesting part is, despite being an older model, the Continental Extremecontact DWS still manages to beat the DWS06 in the ice grip category. It got a score of 90%, which is higher than its opponent that only got an 80% score.
4. Ride quality
When talking about comfort, the Continental Extremecontact DWS gets the victory, with a score of 90%. Meanwhile, the Extremecontact DW garnered a rating of 83% based on test data.
Therefore, both of these tire models provide refinement when driving. The only improvement of the DWS is that it provides a smoother ride, even on rough road patches.
5. Warranty
In terms of warranty coverage, Extremecontact DW beats its competitor as it comes with 90,000 mile treadwear support, while the DWS only has a 50,000 mile treadwear warranty.
This only proves that the Continental Extremecontact DW
6. Pricing
For Continental ExtremeContact DW, you can have it for $291.95 per tire.
Meanwhile, Continental ExtremeContact DWS comes at $134.99 to $459.99 per tire.
This price comparison between Continental DW vs DWS only shows that Continental ExtremeContact DW tires are more affordable than DWS ones.
7. Pros and Cons
1. Continental Extremecontact DW
Pros
Better overall dry grip performance
Better overall wet grip performance
Longer warranted mileage
Generally more affordable
2. Continental Extremecontact DWS
Pros
Better road feedback and handling capabilities
Excellent grip on snow and ice-coated roads
Better ride quality
Withstands wear better
Cons
Shorter warranted mileage support
Higher price range
Which Continental Tire is Right for You?
If you prioritize daily commutes and great driving experience during wet weather, then the Continental Extremecontact DW is the better pick. It is also an obvious better option for drivers whose concern is warranty and affordability.
On the other hand, if you want a performance-oriented tire that can withstand different road conditions, especially snow and ice, while offering a smoother ride and more responsiveness, then the Continental Extremecontact DWS is the right one for your driving needs.
Conclusion
Thanks for reading this article on Continental Extremecontact DW vs DWS.
We hope all the comparison highlights regarding these two tires will point you to the most suitable performance-oriented model you deserve. Rest assured that both of these tires are top-notch, since they came from the same company —Continental.
See you in the next tire reviews! Have a safe drive!