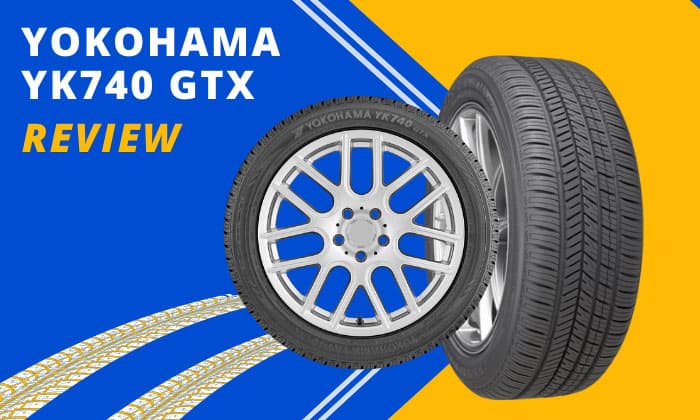 Yokohama is among the top ten largest tire brands today, which proves that their designs are of premium quality. This Yokohama YK740 GTX review will discuss the strengths and weaknesses of this popular all-season touring tire to help you decide whether or not to buy it.
Overall, the YK740 GTX has excellent durability, quietness, and traction. To achieve this, Yokohama equipped this tire with several features. These include the End-locked Silica (ELS) orange oil compound, asymmetric treads, and triple 3D sipes.
To provide a more detailed review, I fitted a size 215/55R17 of this tire on my Toyota Camry and drove a couple miles. I will use different categories such as quality, price, range, and durability to discuss the results.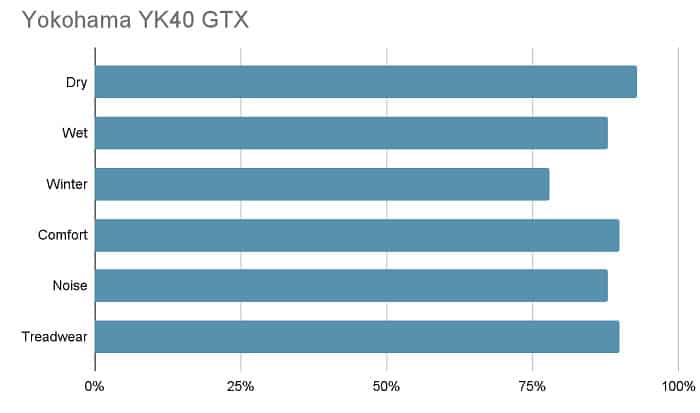 Quality
In terms of quality, I can say that the YK740 GTX is far superior to the cheaper touring tires available in the market. This tire performs in any season and could even compete with the designs of larger brands.
The common elements that touring tires have are durability and comfort. However, this tire has made itself different from the usual touring tires by adding more handling and grip on dry, wet, and snow surfaces.
You don't have to worry much about driving at higher speeds as the tire allows better control and cornering on dry roads. In rain, the deep grooves of the tire help to provide a better grip and resist hydroplaning.
When it comes to reviews snow performance of the YK740 GTX is also good. The orange oil compound helps in keeping the rubber from stiffening when the temperature is low. The wide tread also improves traction, providing better overall control.
However, its performance on snow won't measure up to a winter tire, especially while braking.
And when it comes to road noise, this tire is quite average. At normal speeds, it is impressively quiet, but at higher speeds, you may hear some roars. The noise would not be distractingly loud, so it is still acceptable.
Some people say that the YK740 GTX has similar treads to the Avid Ascend GT. If we compare the Yokohama YK740 GTX vs Avid Ascend GT, both are at an excellent level. However, consumers' rating for the Avid Ascend GT is higher than the YK740 GTX, and it's quieter on the road as well.
Price
The price of Yokohama tires are in the middle of the price spectrum. They are not among the less expensive brands such as Ironman nor are they as expensive as Michelin and Pirelli.
The Yokohama YK740 GTX price starts at about $130, which is an excellent offer, considering the features that it has. Other brands may have lower prices for their all-season tires, but the ride quality will be noticeably different.
To get the best price on this tire, I recommend visiting different tire shops or online retail sites. You may also get a rebate from the Yokohama website, so keep an eye out for that as well.
Range
The Yokohama YK740 GTX is suitable for a wide range of vehicles. Whether you own a passenger car, a crossover/SUV, or a minivan, this tire would greatly fit.
It is available in rim diameters ranging from 15 to 20 inches. If your SUV needs a larger tire with a higher load index, consider the Yokohama YK740 GTX 255/50R20 109V XL.
If you own an electric vehicle, you may also benefit from this tire. The GTX can give a Tesla Model 3 a smooth ride and an elegant overall appearance.
All YK740 GTX tire sizes also come with a 60,000-mile warranty, ensuring that buyers get the best value for their money.
Durability
Durability was one of Yokohama's top priorities when designing the YK740 GTX. This tire's wide tread aids in achieving this goal by allowing even wear.
However, the tread life of the YK740 GTX is slightly shorter than that of other premium brand touring tires. When we compare the Yokohama YK740 GTX vs Michelin Defender 2, the latter will be more durable. The Defender 2 is among the longest-lasting tires today with an estimated tread life of 94,400 miles.
That said, the lifespan of your tires is not solely determined by their design. There are additional important factors to consider, one of which is tire pressure.
Tires that are not properly inflated will wear out faster. The recommended tire pressure is specified in your vehicle's owner's manual.
With proper maintenance, one can expect to get 40,000 to 50,000 miles out of the YK740 GTX, if not more.
Frequently Asked Questions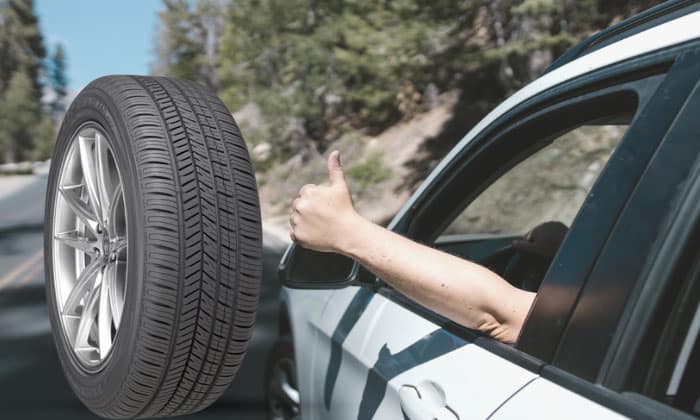 Is Yokohama YK740 good for snow?
Yokohama made an effort to improve the snow performance of the YK740 GTX. The triple 3D sipes act as biting edges, improving road grip, while the orange oil compound makes it more pliable during the winter.
However, it is not the best tire to use in severe snow conditions. On icy surfaces, you may experience some slippage and a longer stopping distance, which is common for all-season tires. This is why having winter tires is still the best option during the winter.
Is the Yokohama YK740 GTX a low rolling resistance tire?
The YK740 GTX is a low rolling resistance tire. Aside from improving the snow performance, the 3D sipes and oil compound also help in lowering this tire's drag, resulting in better mileage.
Are Yokohama tires worth the money?
Yokohama tires are well worth the money because they offer a wide range of high-quality products. Their tires provide long-term dependability in terms of performance, comfort, and durability.
Although their tread life warranties are only average, they still have a lot of advantages considering their price. So, if you're looking for a low-cost alternative to other premium brands, Yokohama is worth considering.
Conclusion
Overall, the YK740 GTX is an excellent all-around tire. It provides excellent comfort, traction, and durability without sacrificing handling characteristics.
I hope this Yokohama YK740 GTX review helped you decide whether or not to purchase this tire. You could also read reviews from online retail sites or Reddit to learn from other customers' experiences.
If you are looking for other Yokohama all-season tires, I recommend checking out the Yokohama YK580, which is another tire with impressive performance features.
Read more: