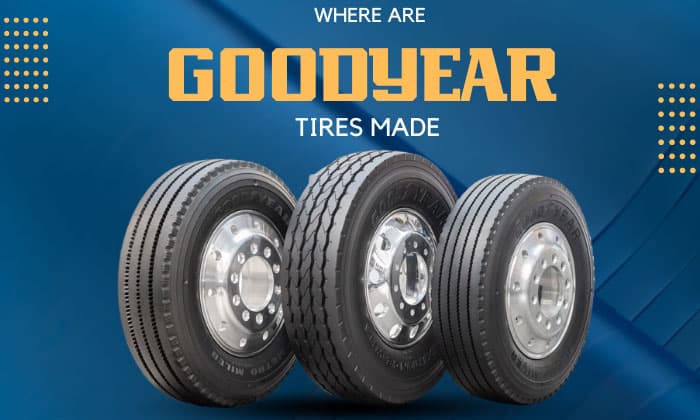 If you've got Goodyear tires, chances are, you already know that they're one of the best tire makers out there. But do you know where are Goodyear tires made?
Well, as the leaders of the tire manufacturers in the USA, we can easily mistake that it's made here. However, Goodyear makes tires across various locations around the world, from the US to Asia.
So, join us as we explore how this tire juggernaut manufactures its superb tires. Let's begin!
History of Goodyear Tires
Before we go deep into the ins and outs of where Goodyear tires are made, let's take a walk down memory lane and dig through Goodyear's history. Ultimately finding out how Goodyear reached its prominence today—in America and the world.
Established in 1898 by Charles and Frank Seiberling as a rubber company, Goodyear started off in an abandoned strawboard factory in Akron, Ohio. However, they only made carriage tires, bicycle tires, horseshoe pads, and rubber sundries at the time.
It was not until 1899 that the company started to make automobile tires. However, after World War I in 1920, the company underwent financial troubles, and the brothers Seiberling were forced to resign.
Under new management, Goodyear eventually bounced back. Years passed, and Goodyear helped the US military in World War II by making equipment and planes in 1942. After the war, Goodyear stepped into the racing track in 1956—winning many awards for years to come.
10 years later, Goodyear announced their first all-season tire, and in 1981, their first high-performance tire, the Goodyear Eagle, was introduced—a tire we've grown to love until now.
When the '90s rolled in, manufacturing started in China, as well as in Malaysia and Indonesia. It was also during this time that Goodyear became the official tire for Nascar up until today.
Before the century ended, Goodyear officially became the largest tire company in the world after a $1 billion-dollar alliance with Sumitomo Rubbers, the owners of Dunlop Tires—a partnership that would last for 15 years.
Today, Goodyear remains as one of the top tire manufacturers in the world, contributing to one of the most iconic tires in the market, like the Goodyear Wrangler, Eagle, and Assurance. All of which are made in their many factories worldwide.
Goodyear Factories
To make all of their superb tires reach countless drivers worldwide, Goodyear has various factories and plants that make them on a multi-national scale. Each factory also has a vital role to play, from tire manufacturing to research and development.
1. Goodyear Factories and Facilities in the US:
Arizona – Aircraft Tire Retreading
Arkansas – Consumer Tires
California – Innovation Lab
Georgia – Aircraft Tire Retreading, Tread Rubber
Florida – Airship Operations
Kansas – Commercial Tires, OTR Tires
Mississippi – Bladders, Mixed Stock, Compounding, Consumer Tires
New York – Chemicals
North Carolina – Consumer Tires, Tire Molds
Ohio – Consumer Tires, Technical Center, Tire Molds, Development Center, headquarters
Oklahoma – Consumer Tires
Texas – Chemicals, Synthetic rubber, Tire Proving Grounds
Virginia – Aircraft tires, Commercial Tires
2. Goodyear Factories around the World
01
Americas
Brazil – Tire proving grounds, Consumer tires, Commercial tires, OTR tires, Retread materials, Aircraft tire retreading
Canada – Mixing centers, Consumer tires
Chile – Consumer tires
Colombia – OTR tires, Commercial tires
Mexico – Consumer tires
02
Asia Pacific
China – Tire test lab, Consumer tires, Development Center, Commercial tires, Asia Pacific Headquarters, and Technical center
India – Commercial tires, Consumer tires, Agricultural tires
Indonesia – Commercial tires, Consumer tires, Agricultural tires, OTR tires
Japan – OTR tires
Malaysia – Consumer tires, Commercial tires, Agricultural tires, OTR tires
Singapore – Natural rubber purchases
Thailand – Consumer tires, Aircraft tires, Aircraft tire retreading, Test fleet center
03
Europe, Middle-East, and Africa
Belgium – Europe, Middle East, and Africa Headquarters
UK – Consumer tires, Motorcycle tires, Racing tires, Technical center
Finland – Tire proving grounds
France – Tire Proving Grounds, Consumer tires, Motorcycle tires, Racing tires, Retreading
Germany – Consumer tires, Tire proving grounds, Development center, Tire test lab, Commercial tires, retreading
Luxembourg – Consumer tires
Netherlands – Aircraft tire retreading
Poland – Commercial tires, Consumer tires
Serbia – Consumer tires
Slovenia – Commercial tires, Consumer tires
South Africa – OTR tires, Consumer tires
Turkey – Commercial tires, Consumer tires
What Goodyear Tires are Made in America?
Although a lot of Goodyear manufacturing means and methods are spread all over the world, Goodyear still has a catalog of tires that are exclusively made in America. Goodyear tires manufactured in America have a "Made in USA" label.
Alternatively, you'll also know if your tires are American-made by looking at your tire's product codes or Tire Identification numbers, usually seen on the tire's sidewall. It's the two letters or a combination of letters and numbers after "DOT."
If you want to check out your tire's plant codes, here is the set of letters you should look out for.
M6 – Lawton, Oklahoma;
MC – Danville, Virginia;
MJ – Topeka, Kansas;
DA – Tonawanda, New York.
PJ – Fayetteville, North Carolina;
MB – Akron, Ohio;
MD – Gadsden, Alabama;
DA – Tonawanda, New York.
If you don't see these plant codes on your tires, there's a good chance that they were made outside the USA.
Goodyear also has a handful of Goodyear tire brands and subsidiaries, some of which are located outside America. So, make sure to check the plant codes on these brands as well.
Goodyear Subsidiaries
Dunlop Tyres
Debica
Douglas Tires
Sava
Fulda
The Kelly Springfield Tire Company
Cooper
However, it's worth noting that although Cooper Tires are owned by Goodyear, they also have their own plant codes as well to let you know if they're manufactured in America.
Cooper Tires Plant Codes
3D – Albany, Georgia
U9 – Tupelo, Mississippi
UP – Findlay, Ohio
UT – Texarkana, Arkansas
How Does Location Affect Tire Quality?
The country where a tire is made can sometimes have an impact on its quality, but it's not necessarily a direct correlation. Some tire manufacturers, like Goodyear, produce tires in multiple countries, and the quality of their products can vary depending on the specific manufacturing plant.
American tire manufacturers prioritize quality by utilizing top-grade materials such as rubber and steel sourced domestically. Moreover, tires made in America are engineered using the latest design and technology to ensure maximum durability and performance.
These American tire companies also take pride in their eco-friendly initiatives by minimizing their carbon footprint and using sustainable resources while maintaining quality. Couple that with excellent customer service to assist with any inquiries.
Lastly, by choosing American-made tires, you can support the domestic economy by creating job availability across the country.
Factors Affecting Goodyear Tire Production
One of the best ways to know the factors that affect Goodyear's tire production is through an analysis method called PESTEL, which means Political, Economic, Social, Technological, Environmental, and Legal factors.
Political – Goodyear must maintain good political relationships within the company and the countries they work with.
Economic – Goodyear uses various economic factors to grow and predict how the economy will affect it.
Social – Culture and social norms in the market affect how Goodyear understands and targets their consumers.
Technological – The brand should continue to improve its technologies to maintain its customers in a world of rapidly evolving innovation.
Environmental – The environment can have a substantial impact on the company and it must continually adapt to the changes for a greener world.
Legal – The company must adhere to the laws of any party they do business with, especially if a Goodyear tire factory is located outside the US.
Distribution of Goodyear Tires
Goodyear Tires circulates its products and services through a wide and complex distribution network. This allows consumers to purchase their tires very efficiently and easily.
Whether it's strategic locations nationwide or through tire experts and professionals to help you with various needs, Goodyear makes sure that every customer gets all the help they can get.
FAQs
Are Goodyear tires made in the USA?
Yes and no. Some of the tires made by Goodyear are made outside the country across many locations worldwide. The best way to know if your Goodyear rubbers are manufactured in the USA is by looking at the tire's plant codes.
How long do Goodyear tires last?
A tire's durability depends on a multitude of factors. This includes the type of tire, the way you use them, and if you perform routine tire maintenance. However, it's worth noting that Goodyear tires have one of the most durable tires on the market.
For instance, their all-season tire, the Goodyear Assurance Maxlife, has one of the best mileage warranties around, with a whopping 85,000 miles—a good indicator of how long a tire lasts.
Conclusion
I hope we've shed some light on where are Goodyear tires made. Amazingly, the sheer size of Goodyear allows it to manufacture tires all over the world. However, they've made sure to always make tires in the US to ensure quality and help the economy.
Nevertheless, with Goodyear's excellent track record and dedication to quality, you won't be disappointed with the tires they offer, regardless of where they were made.
---
Read next: Where are Goodyear Endurance tires made?