Although customized tires are pretty to look at, finding the right balance of looks and performance is incredibly important if you ever decide to get one. Moreover, the question of "are they worth the money" also comes to mind.
As such, one company has dedicated more than a century's worth of experience in making customized tires for luxury vehicles—Vogue tires. So, let's learn more about their tires and see what makes them special in our Vogue Tires Reviews.
History of Vogue Tires
But before we discuss what makes Vogue tires good, let's have a short history lesson first.
Founded in 1914 in Chicago by Harry Hower with the help of the Woodbury family, the chauffeur-turned-businessman rocked the tire industry by introducing the first whitewall tires in 1918.
Then, in 1942 when World War II broke out, a whole host of problems occurred, and production stopped. The company was then bought by Dodson Limited. The same Dodson Limited distributed them during the 1930s.
With Dodson's leadership and business expertise, the Vogue Tires company skyrocketed into the national stage. The company enjoyed continual success through the years with renowned releases, such as the Vogue Gold Streak and the VSS, to the advent of their Custom Radial VIII and Signature V series.
Today, Vogue Tires remained true to its brand's spirit—creating tires that aren't only pretty but are also a powerhouse when it comes to performance. The company's headquarters are in Chicago, while its manufacturing factories—Sailun Tires Co. Ltd—are in Vietnam and China.
Features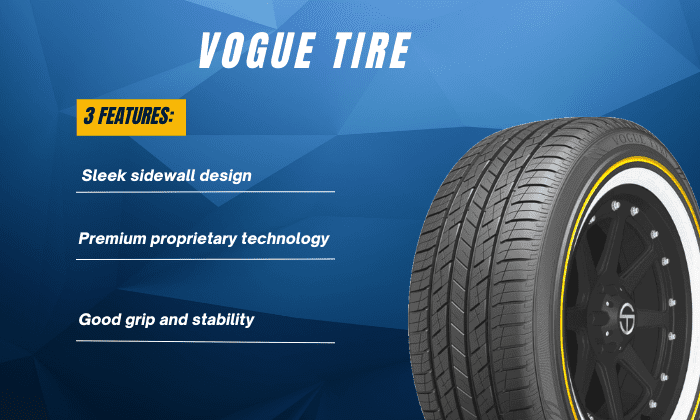 1. Sleek sidewall design
Vogue tires are simply beautiful with their sleek sidewall designs, which are second to none. As such, these tires have become a staple among celebrity car enthusiasts, from musicians to actors and even athletes.
That's because each tire is custom-built for luxury vehicles with the user's specifications in mind. So, it can be a little tricky to compare them with other premium brands in, let's say, a Vogue Tires vs Michelin comparison.
2. Premium proprietary technology
For instance, Vogue Signature V tires come with Whisper Tuning and Comfort Ride, which are dedicated tech for a silky smooth ride.
Meanwhile, their other popular variants, namely the Signature V SCT2 and Custom Radial VIII, have Miracle Tread technology that adapts to all weather conditions for optimized traction.
3. Good grip and stability
One thing that can be said for all Vogue tires is that they can take corners at high speeds. Even on slippery roads, the tires' silica technology and high-ply internal construction provide excellent grips and stability. Not to mention that the 3D-designed treads can ensure a comfortable and quiet ride.
Price
Since you'll also be getting one-of-a-kind tires, Vogue tires are expensive. And because they're mostly custom-built, Vogue tire sizes and costs may vary.
For ballpark numbers, their Signature V and SCT2 can cost $115.25 to $329.71, depending on size.
Meanwhile, their classic Custom Radial VIII can reach as high as $471.92, or even more, depending on customizations.
How Long Do Vogue Tires Last?
Vogue tires should last up to 60,000 miles as per its mileage warranty. But if the treads fall below 2/32" before the expected time period, Vogue offers a pro-rated cost for a new set.
Care and Maintenance
Things like applying incorrect tire pressure, foregoing tire maintenance, or driving on poorly constructed roads play a huge role in contributing to your tire's wear and tear. So always keep these in mind if you want to maintain your tire's integrity.
Moreover, you should also use Vogue's Ultimate White Whitewall Cleaner when cleaning your tires, as other cleaning brands and solutions can affect your whitewall's integrity.
Learn the correct way to clean Vogue tires from this video:
Pros and Cons
One of the most beautiful tires on the market
Excellent all-season performance
Durable
Decent mileage warranty
Custom tires
Things to Consider When Choosing a Vogue Tire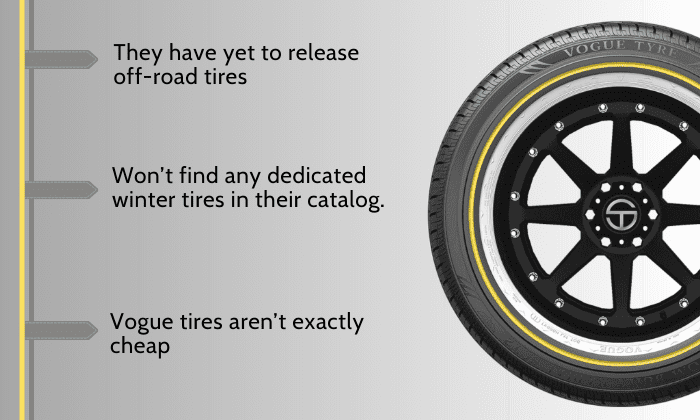 When buying Vogue tires, there are a few considerations that you should keep in mind.
For starters, it's worth noting that although Vogue tires produce mean sets of rubbers for high-end sedans, SUVs, and even hypercars, they have yet to release off-road tires.
Moreover, while they have tires designated as all-season, you won't find any dedicated winter tires in their catalog. As such, you'd still need to invest in proper 3PMSF-rated tires when traversing through areas with heavy snow.
Lastly, Vogue tires aren't exactly cheap, so if you're on a budget, buying used ones on eBay can be a good idea. However, if you want a new tire with a classic whitewall design, a cheaper alternative is the Milestar MS775, which costs only $71.98.
The Best Vogue Tires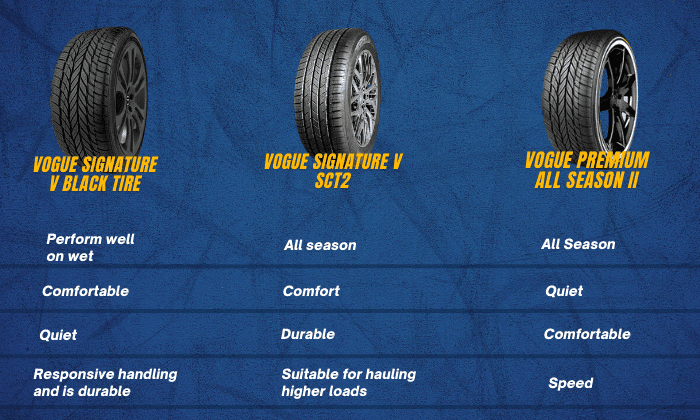 1. Vogue Signature V Black Tire
The Signature V is Vogue's top tire for luxury cars and has a black V sidewall instead of their usual whitewall. Its special straight tread design helps it perform well on wet roads and resist aquaplaning.
The tire is also comfortable and incredibly quiet due to Whisper Tuning and Comfort Ride technology. It has responsive handling and is durable, thanks to two reinforced steel belts.
2. Vogue Signature V SCT2
The Vogue Signature V SC2 is an all-season blackwall tire with Miracle Tread for temperature adjustment, 4 circumferential grooves for water evacuation, and Comfort Ride technology for added comfort.
It's also durable, thanks to its reinforced belt and sidewall, which makes it suitable for hauling higher loads.
3. Vogue Premium All Season II
As indicated in the name, Vogue Premium All Season II is equipped with all-season treads, whose patterns are designed for a quiet and comfortable ride. As a speed-rated tire, this product boasts excellent responsiveness on the road without compromising stability.
FAQs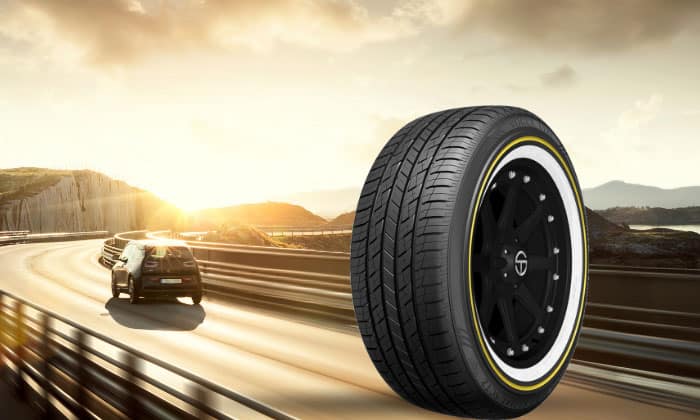 Are Vogue tires quiet?
Yes. Vogue's R&D department developed its very own noise suppression technology for its Signature V tire, called Whisper tuning, along with Comfort Ride technology for a silky smooth driving experience.
Why are Vogue tires so expensive?
One of the most prevalent Vogue tire complaints is definitely its price. Vogue tires are synonymous with luxury, as their tires cater to high-end coupes, sports cars, and other opulent brands.
Not only that, but Vogue tires are very beautiful and are custom-built, so there's a good chance that your set of Vogue tires is one-of-a-kind.
Who makes Vogue tires?
Vogue Tires are made by Sailun Tires Co. Ltd, after the brand broke away from Goodyear a few years back. So, where are Vogue tires made? They're manufactured at a Sailun Tires plant in Qingdao, China, and Tay Ninh Province, Vietnam.
Where can I get Vogue tires?
You can purchase Vogue tires through their website, https://www.voguetyre.com/. The site also lets you choose the specifications you want for your custom tire. You can also buy used ones from shops like "Vogue Tire Kingz" in Portland, Oregon.
Conclusion
I hope our Vogue Tire reviews answered some lingering questions you've had about this luxury brand's tires. And if you ask us, their tires aren't definitely designed for the everyday driver's market.
However, if you've got the cash to splurge, Vogue tires are definitely one of the sexiest tires out there, with outstanding performance to boot. Not only that, but having a Vogue tire is an achievement in itself due to its exclusivity.
Read more: