HISTORY OF THE MARRAKECH PARTNERSHIP FOR GLOBAL CLIMATE ACTION

Inspired by the call to action by Secretary General Ban Ki-moon in September 2014 and followed up by the Lima Paris Action Agenda (LPAA), 15 transport initiatives established by non-state actors in the transport sector were showcased at COP21 in 2015.
COP21 also decided to appoint High Level Champions (HLC) to "facilitate through strengthened high-level engagement in the period 2016–2020 the successful execution of existing efforts and the scaling-up and introduction of new or strengthened voluntary efforts, initiatives and coalitions". Following the appointment of the first two High Level Champions and the COP 22 in Marrakech, the action agenda was renamed as Marrakech Partnership for Global Climate Action (MPGCA) in November 2016.
Since 2017, 10 more transport initiatives have joined the initial core group showcased via the MPGCA. There are now 22 transport initiatives engaging in the UNFCCC via the MPGCA, covering both passenger and freight transport and touch on all transport sectors and modes.
Together, these transport initiatives:
Represent a broad range of multi-stakeholder coalitions;
Reduce transport greenhouse gas emissions and strengthen the resilience of transport infrastructure;
Demonstrate actions on the ground and the considerable sustainability benefits of climate action on transport (e.g. better urban air quality, less road deaths and increased access);
Help increase ambition of NDC´s and the efficiency of their implementation.
GLOBAL CLIMATE ACTION YEARBOOK 20019 AND PATHWAY FOR TRANSPORT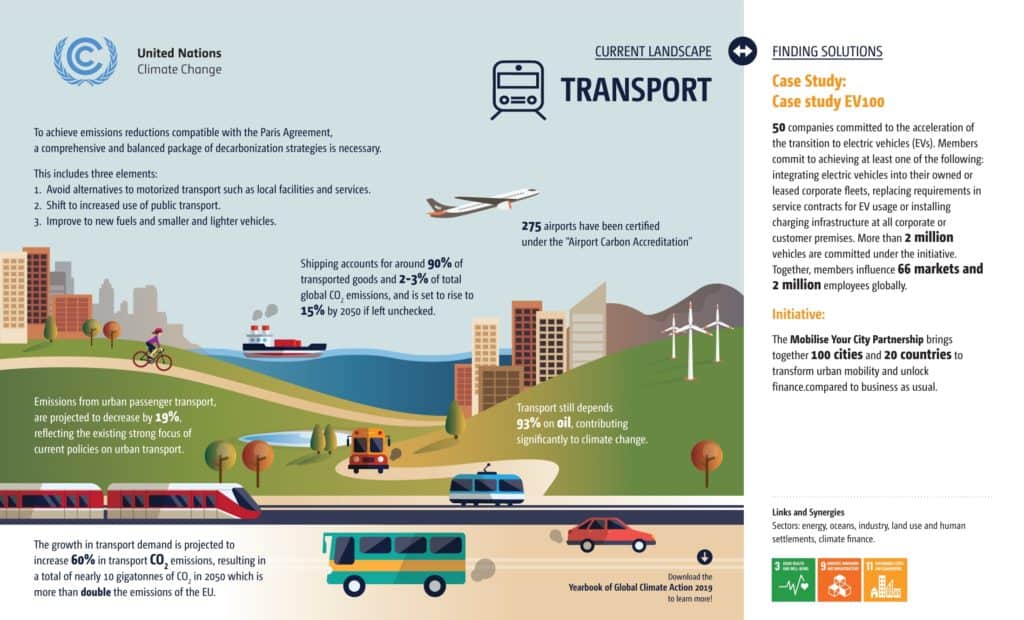 As an outcome for COP25, the MPGCA has released the Global Climate Action Yearbook for 2019 to reflect climate action initiatives and activities that serve to enhance ambition over time and recognises progress made particularly by non-party stakeholders.
The MPGCA also released the Climate Action Pathways for each thematic areas. The pathways include a vision statement of a 1.5‐degree climate‐resilient world and action tables detailing impacts that need to be achieved for the realisation of the vision. The table lays out concrete actions that need to be taken in five areas (policymaking, financing, technology, businesses, and civil society) by 2020, 2030 and 2050 toward each impact.
Climate Action Pathway: Transport (Executive Summary)
Climate Action Pathway: Transport (Action Tables)
Climate Action Pathway: Annex of Transport Initiatives engaged in the UNFCCC Process via the MPGCA
OVERVIEW OF TRANSPORT INITIATIVES ENGAGED VIA THE MPGCA
Action towards Climate Friendly Transport
Airport Carbon Accreditation
Aviation's Climate Action Takes Off
below50
C40 Green and Healthy Streets Declaration
Cycling Delivers on the Global Goals
Decarbonising Transport Initiative
EcoMobility Alliance
Electric Vehicle Initiative
EV100
Global Fuel Economy Initiative
Global Green Freight Action Plan
Global Sidewalk Challenge
Global Strategy for Cleaner Fuels and Vehicles
ITS for Climate
Low Carbon Road and Road Transport Initiative
MobiliseYourCity Partnership
Navigating a Changing Climate
Taxis4SmartCities
Transformative Urban Mobility Initiative
Transport Decarbonisation Alliance
Urban Electric Mobility Initiative
The UIC Low Carbon Sustainable Rail Transport Challenge
UITP Declaration on Climate Change Leadership
ZEV Alliance
An overview of the initiatives with their updates and progress of 2019 is available in the annex to the Climate Action Pathway: Transport.
Previous progress reports from 2018, 2017 and 2016 are available.
City Initiatives on Sustainable, Low Carbon Transport
In addition to the commitments at the global level, it is important to include sub-national and local governments in creating further access to sustainable, low carbon transport. Cities can play a significant role in scaling up sustainable, low carbon transport and facilitating transport's contribution to a low carbon future. Since 2012, there has been a substantial increase in the number of initiatives and commitments from cities and mayors on sustainable, low carbon transport including Compact of Mayors, C40 Cities Clean Bus Declaration of Intent and Covenant of Mayors.