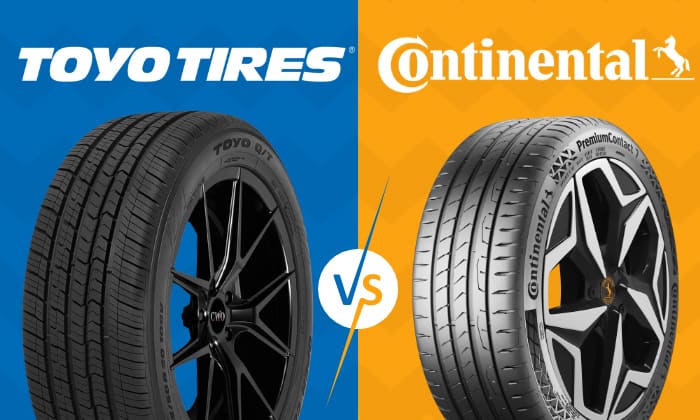 Choosing the best tires for your vehicle may seem a little overwhelming, considering the sheer number of options available. To help you make an informed decision, we're comparing two known brands.
In this Toyo vs Continental Tires showdown, we highlight each brand's unique offerings, pros and cons, and other crucial information you need before buying. Are Toyo tires good? Can they take out the giant that is Continental? Let's find out!
Toyo Tires vs. Continental Tires: Quick Comparison
Below is some information that shows how these tire brands are different.
| | | |
| --- | --- | --- |
| Characteristics | Toyo | Continental |
| Year Started | 1945 | 1871 |
| Country of Origin | Japan | Germany |
| Number of Tire Lineup | 7 | 4 |
| Price | Cheaper | More Expensive |
| Max Treadlife Warranty | 45,000 miles | 80,000 miles |
About the Toyo Company
Toyo Tire & Rubber Co., Ltd. was founded in Osaka, Japan, on August 1, 1945. The company initially focused on manufacturing tires for passenger cars, trucks, and buses. The company introduced Japan's first-ever radial tire in 1953.
In 1966, Toyo Tires expanded its operations internationally by establishing its first overseas subsidiary in the United States. Toyo placed an emphasis on environmental sustainability by developing eco-friendly tire technologies aimed at reducing rolling resistance and improving fuel efficiency.
Over the years, Toyo slowly became known by the worldwide market leading to its development of a wide variety of tires. And the rest is history.
Popular Toyo Tire Lineups:
Toyo Celsius: All-weather touring tires for daily drives.
Toyo Extensa: Durable yet affordable tires.
Toyo H-Line: Only Toyo lineup with just one tire model named HO8+, famous for commercial vehicles.
Toyo M-Line: All-season tires with impressive dry and wintertime performance.
Toyo Observe: This is a group of two winter tires.
Toyo Open Country: Composed of off-road tires that can fit any vehicle with higher ground clearance.
Toyo Proxes: This tire is formed to cater to drivers into performance-oriented tires.
About the Continental Company
Continental was established in 1871 as a local tire and soft rubber business in Hanover, Germany. This tire brand is also the home of the first invented tires with tread patterns and air springs for buses and trucks.
In 2007, the brand achieved a significant milestone in the tire industry after it became part of the top five largest international tire suppliers. Continental is praised for providing premium and innovative tires for different vehicles worldwide.
Popular Continental Tire Lineups
Continental All-Terrain: Tires designed for optimal highway and off-road terrain performance.
Continental Touring and Grand Touring: This lineup guarantees the best possible performance at a reasonable cost.
Continental Winter: As its name suggests, this is populated with competitive, safe winter tires.
Continental Ultra-High-Performance: Displays a group of exceptional tires regarding steering reaction, cornering, and fast-speed performance stability.
Toyo vs. Continental: Detailed Comparison
1. Variety/Tire Selections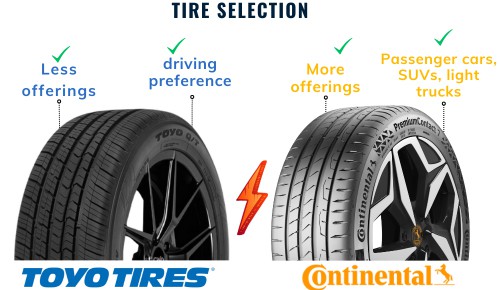 Both companies offer a variety of tires, catering to different vehicle types and driving preferences. However, Continental has a slight edge regarding tire range with various offerings for passenger cars, SUVs, and light trucks.
2. Performance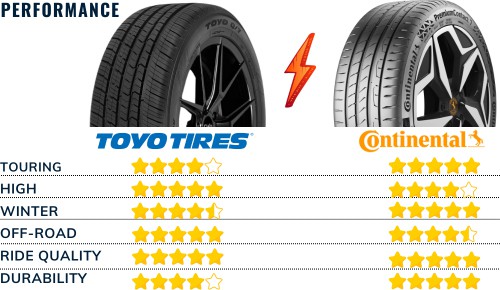 Touring Performance: Continental is the winner in this segment. Toyo touring tires are decent but lag behind in terms of the treadwear score and temperature resistance.
High-Performance: Toyo produces overall better performance-oriented and racing tires under its Proxes tire family compared with Continental's.
Winter Performance: Continental VikingContact tires raise its company's overall ratings in this category since it is one of the best winter tires you can have. Toyo Observe lineup performs pretty well on ice but still cannot match the Continental wintertime capabilities.
Off-road Performance: Toyo Tires offers a range of off-road tires, including highly aggressive mud-terrain options, while Continental provides off-road tires that balance both off-road and on-road performance.
Ride Quality: Continental incorporates more innovations into its tires to guarantee performance and safety. Features like tread wear indicators, noise reduction, and advanced silica compounds ensure ride quality and comfort.
Durability: By comparing the treadwear score of each brand's highly rated tire models while also considering their tire types, we can claim that Continental tires are generally longer-lasting than Toyo tires.
3. Price
Toyo Tires generally falls within the mid-range price bracket, balancing performance and affordability. A single Toyo tire is available for as low as $70.
On the other hand, Continental prices are all over the place. The company thrives in the mid-range and premium segments.
4. Warranty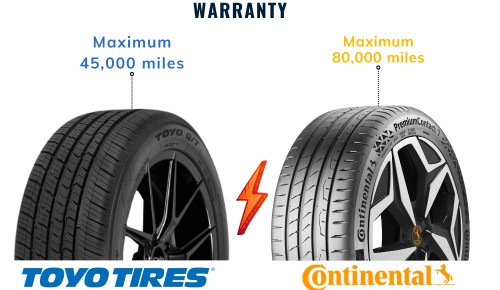 Toyo's maximum warranted mileage coverage with its tires is up to 45,000 miles. This is lower than the 80,000 miles longest warranty support of the Continental tires.
5. Pros and Cons
Listed below are the general good and bad sides of these two brands.
1. Toyo
Pros
Comes at a lower price point
More studded tire options
Better performance-oriented tires
Better off-road performance
Cons
Comes with a shorter warranted mileage
High-performance and off-road tires from Toyo might sacrifice some ride comfort and road noise reduction in favor of performance and traction.
2. Continental
Pros
Comes with a longer warranted mileage
More tire size and type options
Better touring tires
Better wintertime performance
Balanced off-road and on-road performance
Better ride comfort
Longer tread life
Cons
Comes at a slightly higher cost
Which is Better? Continental vs Toyo Tires?
Toyo Tires could be a better fit if you're an enthusiast or have a vehicle requiring high-performance tires. The company also provides great tires for off-road use, like the Open Country series.
However, if your main concern is getting a suitable tire that is smooth, quiet, and comes with a longer tread life and warranty support for your daily drives and wintertime trips. Continental is here to save your day!
Conclusion
If you complete reading this entire article about Toyo vs Continental tires, you should have your personal vote now regarding which tire brand is better. But take your time to weigh your considerations to get the tire you mostly deserve.
Remember that we are always here to provide you with the necessary information for your decision-making in choosing the right tire for your driving needs. So stay tuned, and see you in the next post! Drive safe!