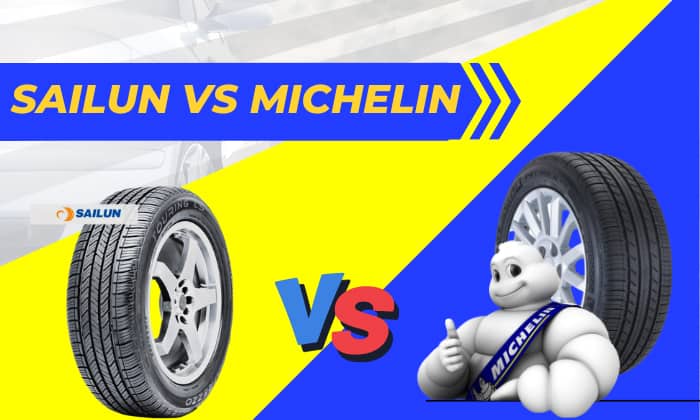 When comparing Sailun Tires vs Michelin, Michelin is a force to be reckoned with. It's a tier-one tire brand and one of the best tire makers in the world regarding product quality. With that said, Michelin is the clear winner on this one.
However, Sailun tires offer an exceptional and significant advantage: the price. They're much cheaper and are an excellent option for drivers on a budget. This makes it a strong contender when it goes head-to-head with Michelin.
So, let's see how Sailun fares when going up against the tire giant that is Michelin. Here's a quick comparison table below to get you up to speed.
| | | |
| --- | --- | --- |
| | Michelin | Sailun |
| Origin | Founded in 1889 | Founded in 2002 |
| Founder | André and Édouard Michelin | Zhongxue Yuane |
| Headquarters | Clermont-Ferrand, France | Qingdao Shibei, Shandong, China |
| Products Manufactured | Makes tire products for many types of transportation from bicycles to airplanes. Still, they're usually known for vehicle tires. | Focusing mainly on vehicle tire products such as sedans, sports cars, light trucks, and SUVs, |
| Parent | Stand-alone | Mesnac Co. Ltd. |
| Annual Revenue | $21.9B | $2.5B (18B CNY) |
| No. of Employees | 127,000 | 13,723+ |
| Tread life | Excellent | Above-average |
| Warranty | Up to 90,000 miles/6 years | Up to 70,000 miles/5 years |
| Price | Expensive ($140 to $875) | Cheaper ($100 to $200) |
As you can see, Michelin eclipses Sailun in many aspects. However, the comparisons don't end there, so let's dive in deeper. But first, let's get to know these two brands.
What Are They?
Sailun Tires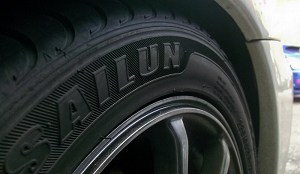 Sailun is a Chinese brand that originated in 2002 that's based in Qingdao, China. They're considered a tier-three tire brand, which makes them much cheaper than premium brands like Michelin or mid-tier brands like Yokohama.
Despite their low price, Sailun tires are quite impressive. For instance, when comparing Sailun tires vs Yokohama, you'll see that the former are not too behind. In fact, their good quality and affordability make Sailun popular among many North American car owners.
Sailun Tire Categories
Atrezzo – A product line consisting of all-season and performance tires with variations for different vehicle types. The Sailun Atrezzo SVA1 tires, for example, have superior wet traction due to their deep, circumferential grooves.
Inspire – The Inspire line is focused on mileage. It has an advanced rubber compound capable of efficiently handling cold and warm conditions.
Terramax – The Sailun Terramax line is specifically designed for harsh terrain. It boasts exceptional durability and traction in dry, wet, or snowy road conditions.
Turismo – The Turismo line is Sailun's premium product, emphasizing performance, handling, and noise reduction.
Commercio – For commercial vehicles like light trucks and vans, the Commercio is Sailun's answer. They are tires that focus on durability, mileage, and load capacity.
Ice Blazer – Ice Blazer tires are Sailun's designated winter tires for passenger vehicles. Thanks to their distinctly specialized grooves and sipe technologies, they have excellent traction in snowy terrains.
Sailun S637 – Sailun trailer tires like the S637 are durable and able to handle heavy loads with relative ease on wet and dry roads due to their all-steel construction. These are the best options when it comes to Sailun RV tires.
Michelin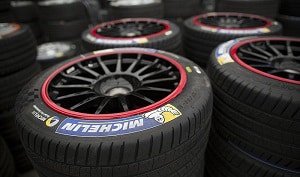 Michelin is the largest and one of the oldest tire brands in existence. It takes pride in its premium tires and state-of-the-art technology. Founded in 1888 by Edouard and Andre Michelin, it has come a long way since, providing excellent tires worldwide.
Being a premium brand, Michelin tires often outperform their competition drastically. However, Michelin tires are very expensive, mainly attributed to their materials, technology, and focus on R&D.
Michelin Tire Categories
Defender – The Defender all-season line is available in three variants, the most notable among which is the Defender T+H – the brand's most durable tires.
Primacy – For touring, the Primacy line is the go-to choice. Designed specifically for smooth rides and optimal fuel efficiency, this product line is suitable for SUVs, sedans, trucks, and electric automobiles.
Premier – The Premier superseded the Primacy MXV4 in 2014. This tire family enhances ride comfort with reduced noise, wet braking, and outstanding traction.
Pilot Sport – Audi, Mercedes, BMW, and Tesla are just a few of the sports car manufacturers who love the Pilot Sport performance tires. These tires perform exceptionally well when used for racing, especially on curvy tracks.
CrossClimate – Similar to the Defender, the CrossClimate is also an all-season tire. However, it performs much better in harsher terrain, especially in snowy weather, due to its 3PMSF rating.
Latitude Alpin – Michelin's designated winter tires for SUVs and CUVs. The line offers exceptional grip and braking, and it can handle the most brutal winter weather situations.
Each of Michelin's product lines performs exceptionally well and boasts excellent mileage, so beating this French company is no easy task. However, let's compare it to Sailun and see if Michelin's expensive tires are worth it.
Related comparison:
Differences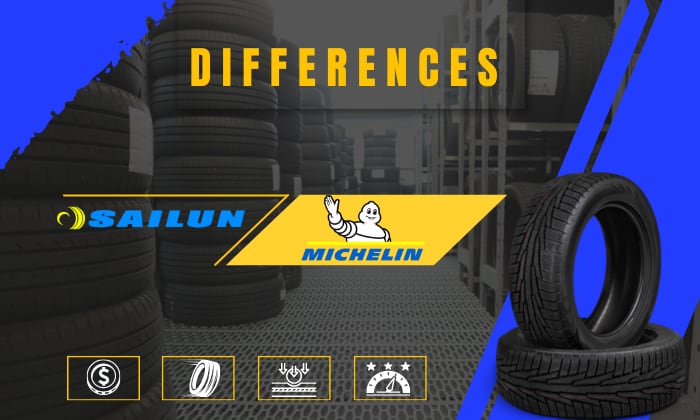 Now, let's try pitting these brands against each other and learn how they differ and by how much.
When talking about performance, it's undeniable that Michelin is a very strong contender. After all, their tires are one of the best in the world.
With the premium quality of Michelin tires and the multiple awards it gets, it's safe to say that when pitting both brands in general, Michelin easily wins. But by how much exactly? And is the premium price point really worth it?
If you're to compare two similar tires from both brands, you'll see that Michelin wins in all performance categories (Dry, Wet, and Handling). As a result, many of its tires are rated AA, the highest score in the UTQG gradings.
In contrast, while Sailun tires offer reliable performance, their high-speed driving is lackluster. Consequently, handling and traction may suffer. Among the brands' product, only the Atrezzo Atrezzo Z4+AS manages to score an AA.
To name an example, you can see a clear difference between the two brand's ultra-high performance tires, the Sailun Attrezzo ZSR and the Michelin Pilot Sport 4S. The disparity only widens on wet roads, where the Michelin boasts superb aquaplaning resistance, as opposed to the other's poor handling.
Winner: Michelin
Once again, Michelin is the clear winner when it comes to the average tread life. Whereas Sailun treadwear's ratings range from 380 to 640, Michelin peaks as high as 820.
Although Michelin tires with lower treadwear also exist, such as the Primacy 3 with a 240 score, the majority of products from the brand have a rating of 400 and above.
Winner: Michelin
When it comes to comfort and overall ride quality. Sailun tires aren't that bad and are fairly decent regarding noise reduction and the ability to handle bumps. For instance, the Sailun SH406 can offer a smooth and quiet ride with its symmetrical grooves and sipe design.
However, multiple Michelin tires are constantly among the top quietest tires around the market, while Sailun tires aren't. This is because of Michelin's Acoustic Technology, capable of minimizing noise by reducing the vibrations caused by the tires when driving.
Winner: Michelin
There's no contest with this one, as Sailun tires are significantly cheaper. Michelin tires can cost about $140 to $875, while Sailun tires only fare within the $100 to $200 mark.
Winner: Sailun
Pros and Cons
Michelin
Various tire families to cater to users' needs
Durable with long mileage
Top-of-the-line performance
State-of-the-art tire technologies
Sailun
Decent and reliable performance
Has a wide variety of products
Comfortable for its price
Affordable
Frequently Asked Questions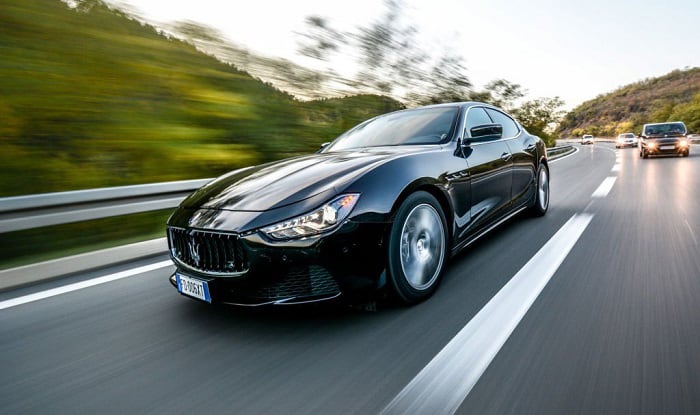 How long do Sailun tires last?
Tires from Sailun are graded for 40,000, 45,000, and 70,000 miles. On the UTQG test, their treadwear ranges from 380 to 640. For a budget tire brand, these numbers are a really good deal.
Some users on Reddit even reported that their Sailun tires were still in good conditions, with the tread remaining at 60% after nearly 50,000 miles.
What is the quality of Sailun tires?
Sailun tires offer decent quality and are fairly reliable tires for an everyday driver. Their tires are designated as a budget option and are thereby very cost-efficient.
While Sailun tires may not be as good as first-tier brands like Michelin, they still stand out among other similar-priced competitors. In fact, given Sailun's decent treading potential, most would deem that they're more reliable than other budget tire brands.
Who are Sailun tires made by?
Sailun tires are from the parent company Mesnac Co. Ltd., which is a Chinese company dedicated to innovation in the rubber industry. You can find its manufacturing plants in Qingdao (China) and Vietnam.
Where are Sailun tires made?
Sailun tires are made in China and Vietnam, which can make some drivers anxious. However, don't let this fool you, as many Sailun tires have a PTPA seal of approval, which is one of the top 3 most recognized awards in the U.S.
Conclusion
If you haven't decided on this automotive tire comparison of Sailun tires vs Michelin, it's perfectly understandable. The Michelin is a powerhouse tire indeed, but it's not cheap, while Sailun offers decent performance for a fraction of the price.
If you're on a budget, Sailun holds up amazingly well in a variety of factors. However, if you've got the cash then don't think twice about going for Michelin.