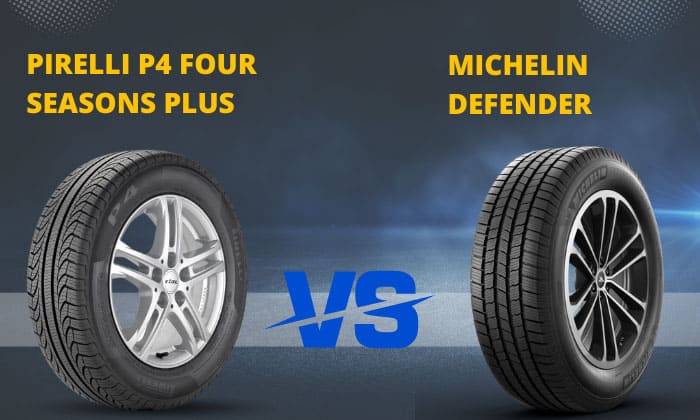 There's no doubt that touring all-season tires are the perfect option for most drivers. Their reliable performance throughout the year is undoubtedly very helpful for drivers who aren't too savvy with the technicalities of tires.
As such, these tires have become very popular, catering to a huge market of drivers and enthusiasts alike. However, if you want to know which one is the best out there, this Pirelli P4 Four Seasons Plus vs Michelin Defender comparison is a great place to start.
For this one, since the Michelin Defender is a family of tires, we'll be selecting the best counterpart for the Pirelli P4 Four Seasons Plus, the Michelin Defender T+H.
So, let's compare two touring tires of arguably the best brands in the industry—Michelin tires vs Pirelli. But before that, let's talk specifics, so check this comparison table out.
| | | |
| --- | --- | --- |
| Tire | | |
| Brand | Pirelli | Michelin |
| Tire Type | Standard Touring All-Season | Standard Touring All-Season |
| 3PMSF | None | None |
| Tested Size | 195/60R15 | 195/60R15 |
| UTQG | 620 A A | 820 A B |
| Tread Depth | 12/32″ | 10/32″ |
| Section Width | 7.7″ | 7.9″ |
| Rim Range | 5.5"-7″ | 5.5"-7″ |
| Max Inflation Pressure | 44 psi | 44 psi |
| Max Load | 1,235 lbs | 1,235 lbs |
| Revs/Mile | 855 | 859 |
| Tire Weight | 19 lbs | 17 lbs |
| Price | $90.76 | $159.99 |
What Are They?
1. Pirelli P4 Four Seasons Plus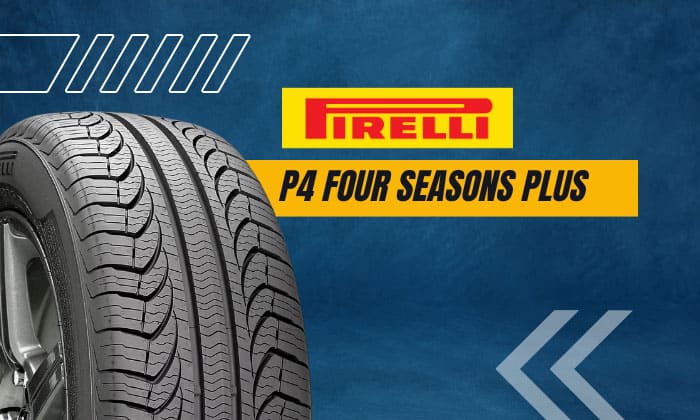 The Italian brand Pirelli has been consistently among the top tire manufacturers in the world, along with the likes of Michelin and Bridgestone. Their tires have great performance and are relatively cheaper than other premium brands.
Their all-season touring tire is the embodiment of this fact. Pirelli ensured that these affordable tires can perform excellently in various weather conditions, from dry, wet to light snow.
And this is mainly due to their technology. For starters, the Pirelli P4 Four Seasons Plus features a computer-designed symmetric tread pattern with a straight center rib to ensure superb grip on snow and water-ridden roads.
Moreover, this pattern is integrated with a special silica-rich compound to not only increase traction but also optimize the tire's rolling resistance. This effectively improves overall fuel consumption and traction in various weather conditions.
And lastly, two circumferential groups give it all the aquaplaning resistance it needs to ensure that your vehicle's maneuverability isn't compromised in inclement weather conditions.
2. Michelin Defender T+H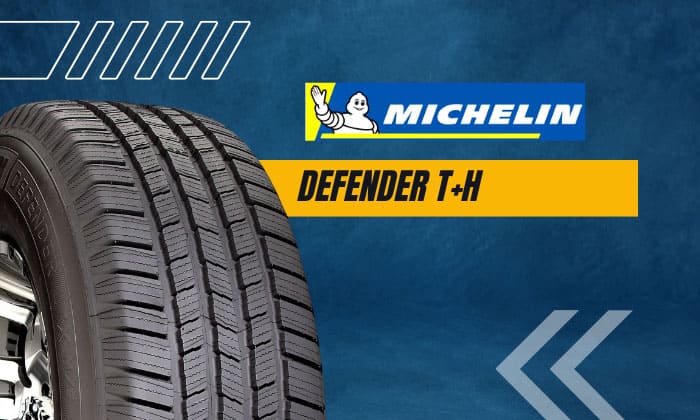 The Michelin Defender T+H is part of Michelin's trio of Defender tires, along with the Defender 2 and the Defender LTX. And Defender tires are known for their excellent durability.
That being said, the Defender T+H is a Michelin tire through and through. And with Michelin, you know that their tires have excellent performance due to their amazing proprietary technology.
Rainy weather won't be a problem for this tire, thanks to specialized rain grooves and Intellisipe technology. This feature from Michelin gives the tire excellent handling by incorporating a well-balanced sipe, rain grooves, and rigidity ratio.
On top of that, the Michelin Defender T+H is fortified with EverTread, which boosts its longevity. It also features belts across the tire tread to ensure even wear, courtesy of the MaxTouch Construction technology.
Lastly, the Michelin Defender is also a very comfortable tire. Through Michelin's Comfort Control Technology, expect less noise and bumps along the way, making for a very smooth driving experience.
With that settled, let's see how these tires compare.
Differences
When it comes to comparing premium tires like the Michelin Defender vs Pirelli P4, challenging is an understatement. However, through rigorous testing, we've found exactly how these tires differ in performance and price.
1. Wet Performance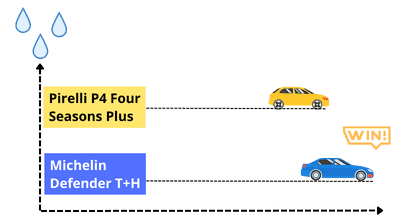 On wet roads, both tires performed very well. Aquaplaning resistance was evident due to their rain grooves, so maneuverability was not compromised. However, the Pirelli P4 Four Seasons was marginally worse when compared to the Michelin Defender T+H.
The wet traction from the Pirelli P4 Four Seasons felt average for my tastes, considering it's from a premium brand. Meanwhile, the Michelin Defender T+H performed superbly across all boards, from traction and handling to aquaplaning resistance.
2. Dry Performance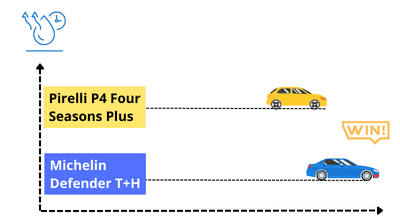 Although touring tires aren't known for their cornering capabilities, as these are more of a performance tire feature, both tires were great at it. However, like our tests from wet performance, the Pirelli P4 Four Seasons was still above-average at best.
Dry traction was also better on the Michelin Defender T+H, as proven by its much shorter braking distances. Surprisingly, both tires were relatively tied when it came to steering response, and driving felt tight and responsive.
3. Snow Performance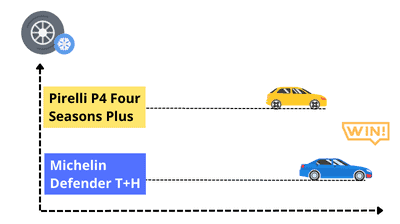 These tires are considered all-season tires, so expect respectable performance on snow. However, since both tires aren't 3PMSF rated, don't expect them to be your new winter tire substitute.
On light snow, both tires were decent at lower and controlled speeds. But, as expected, the two struggled when it came to heavy snow and ice, although the Michelin Defender fared slightly better.
As such, investing in specialized winter tires is still necessary if your regions have heavy snow.
4. Comfort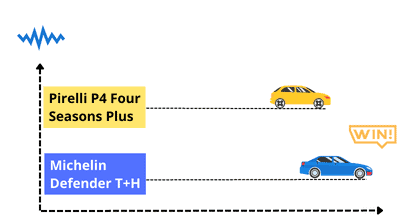 Comfort is a must-have feature on touring tires, and both variants from the Pirelli P4 Four Seasons vs Michelin Defender T+H did not disappoint. But, unsurprisingly, the Comfort Control Technology from Michelin is one step ahead.
Although both tires reduced vibrations from potholes and bumps, noise reduction was still an issue with the Pirelli P4 Four Seasons, as growls were quite apparent, especially when travelling at higher speeds.
5. Price and Warranty
With these results, how can the P4 Four Seasons Plus beat the Defender T+H in this Michelin vs Pirelli tire comparison?
Well, the answer is price and warranty. At a 195/60R15 size, Pirelli's tire costs only $90, while Michelin's is significantly more expensive at $159.99.
As for warranty, the Pirelli P4 Four Season has a whopping 90,000-mileage warranty. Although also great, the Michelin Defender T+H is slightly lower at 80,000.
6. Pros and Cons
Pirelli P4 Four Seasons
Decent wet and dry performance
Significantly cheaper
Better warranty
Snow performance needs improvement
Very noisy
MMichelin Defender T+H
Better wet and dry performance
Above-average snow performance
Quiet and comfortable riding experience
Very expensive
Slightly worse warranty
FAQs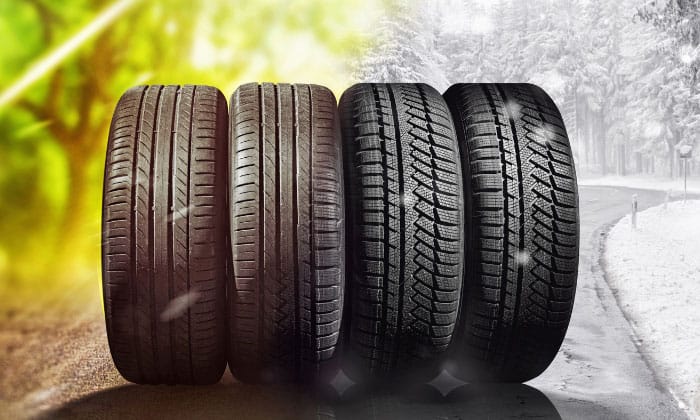 Are Pirelli P4 tires good?
Yes. Pirelli tires have excellent performance on most terrains (except for heavy snow), and it's one of the reasons why hypercars love this Italian brand. Not only that, but they're also slightly more affordable compared to other premium brands.
How long do Pirelli P4 last?
Pirelli P4 tires have a UTQG of 620, which means that it lasts six times longer than your average government-mandated tire. It also has a mileage warranty of 90,000, a number usually linked with how long tires last.
Conclusion
So, are Pirelli tires as good as Michelin? Well, it depends on what you're looking for in a tire. As we've learned from this Pirelli P4 Four Seasons Plus vs Michelin Defender comparison, go for the Michelin Defender T+H if you need performance.
However, if budget is a concern, you can't go wrong with the Pirelli P4 Four Seasons Plus.