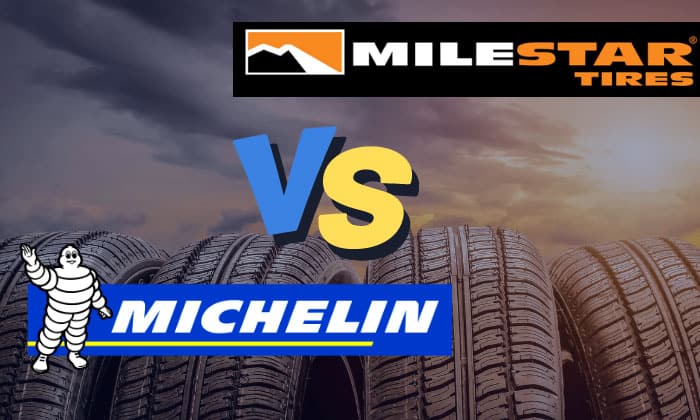 Michelin has been making tires for over a hundred years. This dedication to its craft allowed it to ascend into one of the world's most successful and well-known tire brands.
However, can the relatively new Milestar tires be up to par with this tire titan? Let's see how these tires fare against each other in this Milestar tires vs Michelin comparison.
There's no doubt that Michelin is the better brand. However, we'll try and see if Milestar can hold a candle against Michelin.
Before we begin, let's look at this quick comparison table and see how these brands differ.
Milestar
Michelin
Country of Origin
Taiwan
France
Short description
Founded in 2006, it's a subsidiary of the tire conglomerate Tireco, Inc., a U.S.-based company.
A leading French tire brand founded in 1888; features cutting-edge tire technology and research
Tire Compatibility
– Performance tires
– High-performance
– Passenger cars
– Light truck
– Commercial
– Passenger cars
– Off-road
– Performance
– Motorcycles
– Bicycles
– Commercial, Agricultural, Civil, and Military vehicles
– Heavy trucks
– Trailers
– Aircraft
– Trains
Parent
Tireco Inc.
Stand-alone
Mileage Warranty
40,000 miles (except for the Milestar Weatherguard with an 80,000-mileage warranty)
45,000-85,000 miles
Tier and Price Range
– Mid (Tier 2)
– Relatively affordable
– Premium (Tier 1)
– Expensive
What Are They?
1. Milestar Tires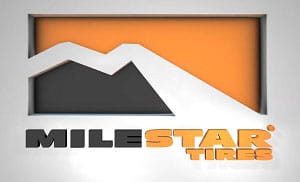 Founded in 2006, Milestar is still a relatively young company focusing on the mid-tier market. It's owned by the tire marketing and distribution company Tireco Inc. A US-based tire company.
This decision to cater to a broader array of people makes Milestar a good tire alternative for those looking for great rubbers on a budget.
In this short Milestar tire review, we'll also include some of their notable tires in the catalog so that you can find the perfect tire for you.
Milestar's high-performance tire division for modern and sports sedans, CUVs, and sports coupes. This family includes the Milestar MS932 Sport radial tire for T, H, and V-rated vehicles and the MS932XP+ for ultra-high performance on W-rated ones.
The premier Milestar all season tires family, Milestar Weatherguard tires are built for performance vehicles like coupes, sedans, and CUVs. The line includes the Weatherguard AS710 touring tire with a mileage warranty as high as 80,000.
The most notable product in the line is the Milestar Weatherguard AW365, the brand's all-weather performance tire. With a 3PMSF rating, it can traverse harsh snowy weather effortlessly.
Milestar StreetSteel and MS775 Touring SLE
The StreetSteel and the MS775 are for classic car lovers like V8 muscle cars, lowriders, and hot rods. They're very aesthetically pleasing tires that are perfect for restorations and modern upgrades. In addition, both tires have all-season capabilities.
The MS775 Touring SLE even sports a white-stripe sidewall, giving it a more retro look.
With its T-speed rating, this tire is perfect for drivers looking for an outstanding balance between performance and affordability for minivans or family sedans.
The Patagonia series is a wide range of tires specializing in the off-road department. It hosts tires for SUVs, light trucks, UTVs, and side-by-sides. It includes a diverse array of tires that have impeccable traction.
For instance, the Patagonia M/T-02 features optimal mud traction. Those who prefer tires that can accommodate general all-terrain rides will find the Patagonia A/T an excellent choice.
2. Michelin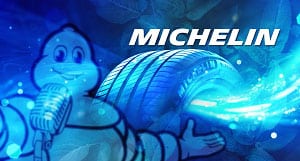 Unlike Milestar, Michelin has a ton of experience under its belt. With more than a hundred years' worth of tire knowledge, Michelin has transcended into one of the top tire brands in the market.
Michelin tires focus primarily on the premium market. Unlike the affordable Milestar tires price points, expect premium costs with Michelin. However, with Michelin tires, you'll definitely see your money's worth as their tires are equipped with state-of-the-art technologies.
Michelin has a whole host of tires for all types of drivers. Michelin has you covered whether you're looking for the perfect commuting tire or superb racing rubbers. So, here are some of Michelin's tire families:
They're standard all-season touring tires with superior wet/dry performance and extensive warranty periods of up to 80,000 miles. In fact, one of its products, the Defender T+H, is Michelin's most durable tire.
Made for luxury and performance, the Premier line consists of the Premier A/S for passenger vehicles and the Premier LTX for light trucks. Both are equipped with EverGrip technology, which gives superior handling abilities.
Michelin's grand touring all-season tires, CrossClimates, are more than capable of handling any weather. Their tires have a 3PMSF rating, allowing them to traverse through heavy snow. Its flagship, the CrossClimate 2, is critically acclaimed by tire magazines like Tire Rack.
The Latitude Sports line is Michelin's tire line dedicated to SUVs/Crossovers. It includes high-performance tires like the Latitude Sports 3 and ones that specialize in mud or snow like the Latitude Alpin 2.
The X-Ice series is Michelin's answer for anyone specifically looking for winter tires. Whether for SUVs or passenger tires, Michelin X-Ice tires are built with supreme snow and ice traction in mind.
The Primacy line is a family of luxury touring tires with all-season and summer capabilities. Some of their tires, like the Primacy 3 and the Primacy HP, are original equipment of luxury car brands like Lexus, Mercedes-Benz, and Audi.
Michelin Energy tires are for drivers who want to limit their carbon footprint, as they're tires explicitly built to maximize fuel efficiency.
They include some of Michelin's off-road and all-terrain tires for light trucks and SUVs, like the LTX Trail and the LTX A/T2.
The Pilot series is Michelin's dedicated ultra-high performance tires for racing and sports cars. They're mostly summer tires that have impeccable dry traction. However, it also includes some all-weather tires like the Pilot Alpin 5, which has a 3PMSF rating, for wintertime.
Differences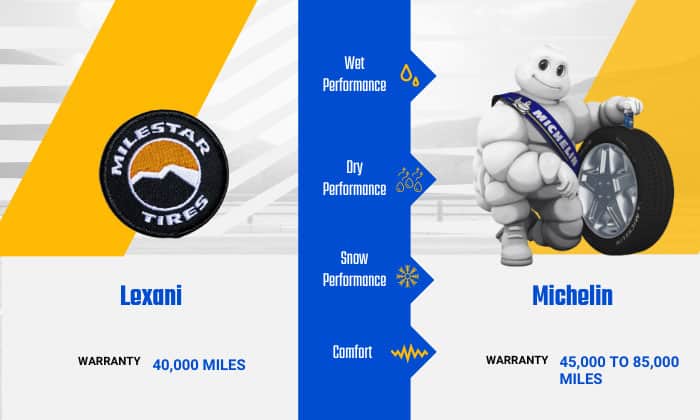 1. Dry Performance
When it comes to dry performance, summer tires reign supreme. So, we compared the Milestar MS932XP+ with the Michelin Pilot Sport 4S. And right off the bat, Michelin shows why premium brands are worth the extra penny.
Its Dynamic Response Technology allowed it to achieve superb braking distances and handling at high velocities. However, the MS932XP+ was reasonably decent, especially regarding tight turns, as it offered excellent steering response.
2. Wet Performance
For wet performance, we compared all-weather tires, the Milestar Weatherguard AW365 and the Michelin CrossClimate 2.
The Milestar Weatherguard performed excellently on wet roads, as its 3D sipes gave it all the traction it needed for braking and maintaining grip. However, as expected, the CrossClimate 2 was better by only a tiny margin.
In short, the CrossClimate 2 showed why it's the king of wet braking with its P-edge technology and 3PMSF rating. That said, the Milestar Weatherguard was not that bad at keeping up, especially regarding aquaplaning resistance.
3. Snow Performance
Milestar doesn't have a dedicated winter tire and only features severe-snow-rated all-season tires. We opted to test the Milestar Weatherguard AW365, a severe-snow-rate product, again with the Michelin CrossClimate 2.
As anticipated, the Michelin CrossClimate 2 was an absolute force on snow and ice, showing impressive braking distances.
In contrast, while the 3D sipes from the AW365 showed some bite, it wasn't enough to compete against the superior traction and slush evacuation from the latter.
4. Comfort
For comfort, we'll go with standard touring tires, the market for everyday drivers. So, we chose the Milestar MS70 All-Season and the Michelin Defender T+H, as both cater to T-rated vehicles.
Everyone knew that the Defender T+H would win this one, but we were surprised by how much. The noise and vibrations reverberating through the cabin from the MS70 all-season were disappointingly apparent, while the Defender T+H was unsurprisingly smoother.
5. Price and Warranty
Milestar tires are far cheaper than Michelin since they mainly cater to the mid-tier market. However, Michelin tires can save you more money in the long run since they have more extensive warranty periods, a good indicator of longevity.
To be specific, whereas most Milestar tires only have a warranty of 40,000 miles, most Michelin products have a mileage warranty of 45,000 to 85,000 miles. As such, you can expect this French brand's tires to last much longer.
Pros and Cons
Milestar
Excellent wet and dry performance
Great snow performance
Cheaper
Standard tires have poor comfort and loud noise
Relatively short warranty
Michelin
Excellent wet, snow, and dry performance
Comfortable
Extensive warranty
Read more: 5 Reasons why Michelin tires are expensive
FAQs
Are Milestar tires any good?
Milestar tires are excellent bang for your buck tires. Their relatively cheap price points and generous warranties show an outstanding balance between performance and longevity, giving Milestar tires ratings like great to excellent.
Who are Milestar tires made by?
Their tires are mainly manufactured in Taiwan, but as for who owns Milestar tires, they're a subsidiary of the U.S. brand Tireco Inc.
Milestar tires life expectancy
Milestar tires usually have a tread wear warranty of 40,000 miles, which is pretty decent given its price. However, some users swear that it can reach as high as 50,000.
Conclusion
It's clear that in this Milestar Tires vs Michelin comparison, Michelin is the better brand. However, it all comes down to preference and budget.
If you want the best, go for Michelin if it's within your means. However, if money is an issue, the more affordable Milestar tires aren't too bad and are a reliable alternative.
Related Comparisons: