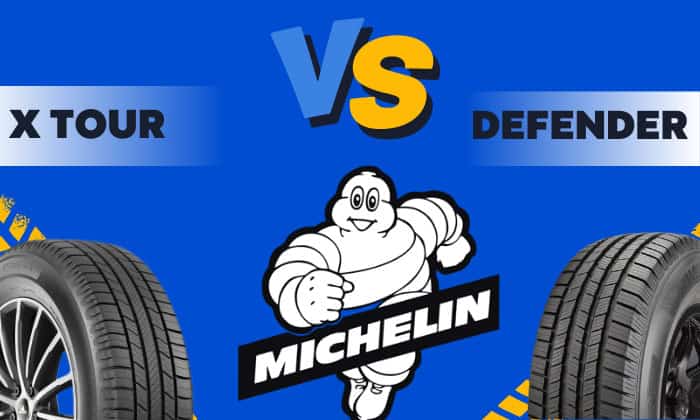 When traversing long roads, you're bound to come across all types of surfaces, and for that, you'll need a reliable all-season tire. That's why we'll compare the Michelin X Tour vs Defender.
Both lines are mainly made for passenger cars and SUVs, so we'll focus on these tire types here. For the purpose of this article, we'll be comparing the Defender T+H vs X Tour A/S T+H, which are all-season models for passenger vehicles.
Both designs are superb at what they do, and that's delivering quality grip, handling, and ride comfort. However, the Defender T+H just slightly edges out the X Tour A/S T+H on this one.
| | | |
| --- | --- | --- |
| Tire | | |
| Brand | Michelin | Michelin |
| Country of Origin | France | France |
| Tire Type | Passenger/Minivan All-Season | Passenger/SUV All-season |
| Tire Sizes | 12 | 18 |
| Tire Size Range | 15-17 inches | 15 – 18 inches |
| Weight | 18 – 25 lbs | 16- 28 lbs |
| 3PMSF | None | None |
| Mud performance | Yes | Yes |
| Warranty | 80,000 miles in the US, 130,000 miles in Canada | 80,000 miles |
| Price | Starts at $120 | Starts at $138 |
Based on our table, there's not a lot of difference between the two tires, aside from the weight and price of the Michelin X Tour A/S T+H. But believe us when we say these tires have more disparities, as we'll see below.
What Are They?
Before we get into the thick of this Defender vs X Tour comparison, let's first discuss what these tires are and what they're capable of.
1. Michelin X Tour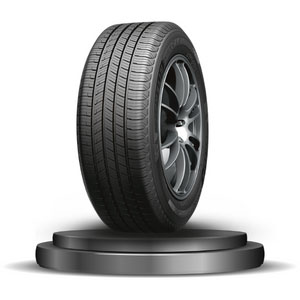 Right off the bat, the Michelin X Tour A/S T+H looks strikingly similar to the Defender T+H. That's because X Tour tires are actually based on Michelin's Defender line.
However, the thing that makes them different is that they're Costco exclusives, which means that you can only get your hands on them at Costco.
Like the Defender, the Michelin X Tour A/S T+H prides itself on tremendous handling, ride quality, and durability. This is mainly attributed to the MaxTouch Construction technology that enables the tire to disperse the force applied to it very evenly.
Because of this, the Michelin X Tour T+H drives superbly well and is very durable. It also operates smoothly at any temperature, wet or dry, thanks to its IntelliSipe technology.
The other tire from the X Tour line is the X Tour A/S 2, which also has MaxTouch Construction. But, instead of Intellisipe, it features Michelin's EverTread technology for outstanding braking distances, regardless of the weather thrown at it.
2. Michelin Defender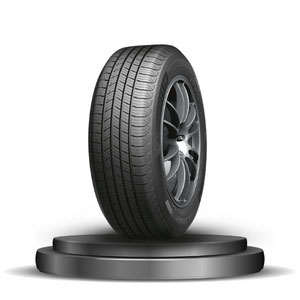 Michelin Defender is a Michelin classic. The line consists of all-weather touring tires that are available in three variants.
The Defender2 is for passenger cars, electric vehicles, and SUVs; the Defender T+H is built for the same vehicles except for electrical ones, and the Defender LTX M/S is exclusively made for light trucks and SUVs.
The Defenders T+H and LTX M/S come equipped with EverTread technology, which gives these tires ultimate durability. Not only that, they also have ComfortControl technology, allowing you to drive very smoothly without noise and bumps.
While they have different purposes, the Defender T+H and the LTX mostly share the same advances and materials. The Defender2, however, has MaxTouch technology instead, though it possesses the Evertread compound as well.
But, regardless, the Defender2 still packs a punch when it comes to braking distances, being on par with, if not rivalling three other top tire brands in the market. Moreover, it's also one of the most durable tires around, outlasting competitors by about 25,000 miles.
And that's it for the Defender line. Now, we'll try comparing two tires from both lines — the Defender T+H and the X Tour A/S T+H – to see if there's a difference. Let's see how they fare against each other.
Differences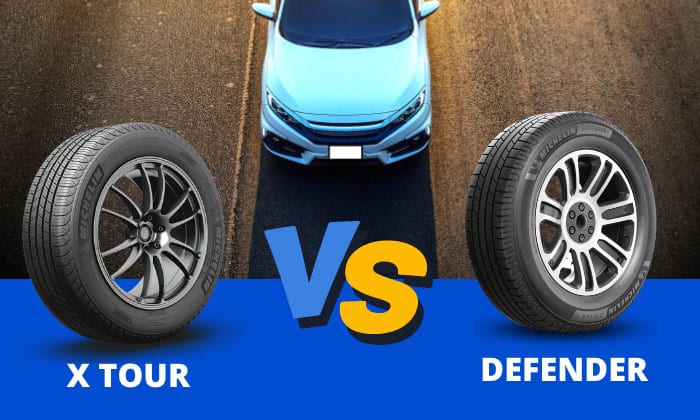 1. Performance
First and foremost is performance – arguably the most important part of this comparison, and rightly so. Performance is an excellent test to see if the Defender T+H matches the X Tour A/S T+H.
We'll be basing performance on our personal experience with the tires and how people perceive them in forums such as Reddit and other consumer reports.
When it comes to dry performance, there's no doubt that they're eerily similar. And since they're both premium tires from a premium company, expect high performance all throughout.
However, we felt that the Michelin Defender T+H just slightly edges out the X Tour A/S T+H when it comes to cornering stability and responsiveness.
Similar to their performance on dry roads, there still wasn't much difference—which is expected in Michelin tires. For me personally, I felt that the Defender T+H had slightly better traction and aquaplaning resistance than the X Tour A/S T+H.
But the difference wasn't that noticeable at all. The Intellisipe Technology that both tires come equipped with is definitely putting in the work—a testament to how the X Tour A/S T+H effectively replicated the Defender T+H down to a tee.
3PMSF ratings are given to tires that can deal with heavy snow and ice, a rating that both of these tires don't have.
But, both models are all-season tires, after all, so they're pretty okay on light snow. However, since the Defender T+H is a much more popular and widely available design, Michelin always makes them.
Nevertheless, the non-existent 3PMSF rating still makes them unreliable in winter. So, to ensure maximum performance and safety, use proper winter tires instead. You'll definitely see the difference, especially when you pit the Michelin X tour vs CrossClimate 2.
2. Ride Quality
When it comes to touring tires, ride quality is a very important factor. Bumps and noise can really take away the experience of having a touring tire. And that's where the Defender T+H shines.
Due to the Defender T+H's ComfortControl technology, which is absent on the X Tour, the Defender rides much more smoothly when driving. Noise levels are ultimately kept to a minimum with the Defender, allowing you to drive without hearing growls and groans in the car.
3. Warranty
One of the best qualities of Michelin tires is their extensive warranties. And both tires are evidence of this. With an 80,000-mile warranty on their belts, you'll definitely feel more secure if these tires pop all of a sudden.
Since both have the same warranty deals, each gets a point here.
4. Price
Price comparison can be really tricky to gauge, since both tires have different available sizes, and as we all know, size can be a determining factor for how cheap (or expensive) tires can get. Nevertheless, both options come from Michelin, so expect premium prices from a premium brand.
But if you want a ballpark price, the X Tour A/S T+H starts at around $120, while the Defender T+H starts at $138.
Pros and Cons
Michelin Defender
Extensive warranty
Excellent ride quality
Durable
Superb dry and wet performance
Michelin X Tour A/S
Extensive warranty
Good ride quality
Durable
Superb dry and wet performance
Expensive
No ComfortControl
Costco exclusive
No 3PMSF
Frequently Asked Questions (FAQs)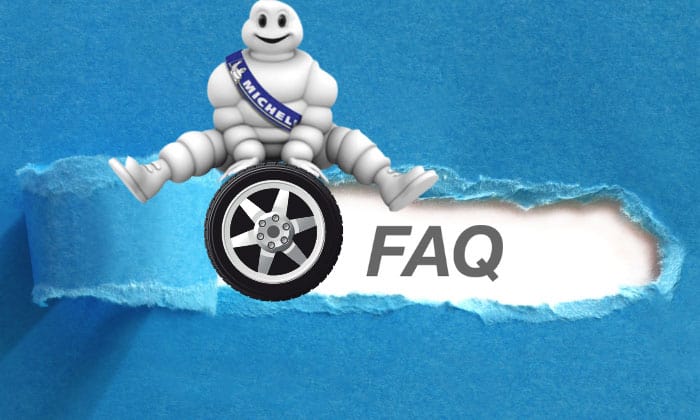 Did Michelin discontinue the Defender?
No, the Defender is still available in your favorite auto shops and on the Michelin website. However, the X-Tour, its twin, seems to have been discontinued because it's very hard to find, mainly due to it being only available at Costco.
Is Michelin X Tour good for snow?
Well, it depends. If you're only dealing with light snow, the X Tour is fairly reliable. However, when it comes to much heavier snow and ice, it's time to replace it with proper winter tires.
Is the Michelin Defender a touring tire?
Yes, similar to the many tire families from Michelin like the Primacy, the Defender is also a touring tire. However, when it comes to a comparison between the Defender vs Primacy, the Defender is much more durable, while the Primacy boasts quality off-road performance and comfort.
What is better? Defender vs Premier
The Premier line was built with luxury driving in mind, while the Defender is excellent for everyday drivers because of its long tread life. Consider what you want to select between the Defender vs Premier.
What is better? Michelin Defender vs Bridgestone Ecopia
Right off the bat, the Defender is a much better tire. When it came to dry, wet, and off-road performance, the Defender edges the Ecopia by a considerable margin. However, when it came to light snow, the Ecopia had a much better grip.
What is better? Defender vs Energy Saver
Both tires are really great for everyday drivers. The Defender has a much better tread life, while the Energy Saver offers excellent fuel efficiency. However, when it comes to performance, the Defender definitely wins by a mile.
Is there a Michelin Primacy Tour A/S Costco version too?
No. One exclusive tire line for Costco is the Michelin X-Tour, which was directly modeled after the Michelin Defender with some differences in technology. Other than that, Michelin's X LT A/S is a club-only model as well.
Conclusion
Both tires are great when it comes to this Michelin X Tour vs Defender comparison. But, it's clear that the Defender T+H is the better tire. While both models may seem similar at first, the technologies that come with the Defender T+H are the things that give it a competitive edge.
Not only that, but the X-Tour A/S T+H is only available at Costco. So, if you don't have a Costco membership, getting your hands on this tire is next to impossible.