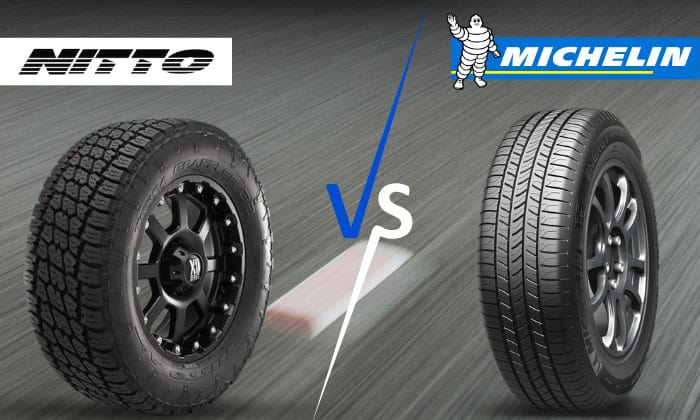 Tire shoppers are wary of lesser-known brands like Nitto, but as I looked into Michelin vs Nitto tires comparison, I discovered interesting models that you might consider for your needs.
Although Michelin obviously outscored Nitto in almost every driving category, Nitto has promising off-roading tires like the Nitto Ridge Grappler and Recon Grappler. Also, it has gained significant traction in circuit and road racing because its performance tires can match the needs of high-powered sports cars.
Let's start our Nitto vs Michelin comparison with a quick roundup of brand features.
| | | |
| --- | --- | --- |
| Factors | | |
| Tire Diversity | Wide selection that covers all season and other tire categories | Basic tire lineup, more tire designs for off road driving |
| Performance | Has a best selling/top-performing tire in every tire family | Captured niche market for road racing |
| Noise/Comfort/ Ride Quality | Quiet and comfortable | Loud but stable ride |
| Price | Expensive | Cheaper |
| Mileage warranty | Higher | Standard |
What Are They?
1. Nitto
Nitto is the sister company of another Japan-based tiremaker, Toyo Tires. The latter acquired Nitto in 1979.
Although Toyo Tires expanded in the United States in 1966, it took decades later before Nitto Tire North America was established as a subsidiary.
Today, Nitto tires are designed to fit coupes, sedans, light trucks, sports utility vehicles, and crossovers.
2. Michelin
Michelin traces its origin to the creation of a removable pneumatic tyre in 1889, which was used in the world's first long distance cycle race in 1891, Paris-Brest-Paris.
From running a farm equipment business, brothers Edouard and Andre Michelin shifted to producing tires. From its first patent of removable pneumatic tires in 1891, followed by the radial tire in 1946, the French tire manufacturer revolutionized the tire industry up to this day.
Now, the 133-year-old multinational company produces tires for aircraft, automobiles, motorcycles, bicycles, and several industry-related equipment and vehicles.
Differences: Nitto tires vs Michelin
Tire Selection
Like Michelin, Nitto caters to passenger cars, SUVs, CUVs and light trucks. However, it has more tire designs for on and off road driving.
Unique to its portfolio are the competition and side by side tires.
The Nitto Mustang tires created through partnership with Steeda in the 1990s made Nitto a go-to tire in road racing.
Fitment
Tire types
Examples
Light trucks
Mud terrain

All-terrain

Highway Terrain

Mud Grappler

Recon Grappler

Dura Grappler

SUVs and CUVs
On/Offroad All-Terrain tire

All Season

Nomad Grappler

NT421Q

Passenger Cars
Max Performance

Summer Ultra-high performance

All Season

Nitto NT05

Nitto NT555 G2

Nitto Neo Gen
Michelin has more tire choices. Tire selection varies according to:
Season – all-season, winter, and summer
Tire categories – luxury performance, performance sport vehicles, passenger cars, SUVs, CUVs, and light truck
Product family – has 9 tire families
Take a look at some sample tire models for each product line.
Product Family
Fitment
Tire types
Sample Models
X Ice
Luxury performance

Passenger Car

SUV/CUV

Snow tire
Michelin X Ice Snow
Crossclimate
Light Truck

Car, SUV/CUV

Highway All Season

Grand touring All Season

Agilis Crossclimate

Crossclimate 2

Defender
SUV/CUV and Light truck

Car, SUV/CUV

Highway All Season

Standard Touring All season

Defender LTX M/S

Defender 2

Defender T+ H

Energy
Luxury performance

Passenger Car

Fuel-efficient summer tire

All Season

Michelin Energy Saver

Michelin Energy LX4

Latitude Sport
SUV/CUV and Light truck

SUV/CUV

Winter tire

UHP Summer tire

All Season

Michelin Latitude Alpin

Michelin Latitude Sport 3

Michelin Latitude Tour

Primacy
Luxury performance

Passenger Car

SUV/SUV

Light Truck

All Season

All Season

Michelin Primacy Tour A/S

Michelin Primacy LTX

Pilot
Performance Sport

Performance Sport

Luxury performance

SUV/CUV

Light Truck

Max Performance Summer

UHP All Season

Performance Winter/Snow

Michelin Pilot Sport 5

Michelin Pilot Sport A/S 3 +

Michelin Pilot Alpin 5 SUV

Premier
Luxury performance

Passenger Car

SUV/CUV

All Season

All Season

Michelin Premier A/S

Michelin Premier LTX

LTX
SUV/CUV

Light truck

All Season
LTX M/S2
Reviews
1. Performance Tires
Nitto's partnership with Steeda paved the way for Nitto to become a well-known brand in circuit and road racing, drift racing, and drag racing.
Among the Nitto performance tires that drivers and racers look for are Nitto NT555 G2, Nitto NT05, Nitto Invo, and Nitto Neo Gen.
Normally, performance tires sacrifice noise and comfort, but these tires emit minimal to low road noise with average comfort, except for the Nitto Invo.
Nitto NT555 G2 performs well on dry roads but slightly less so in wet conditions.
Nitto NT05 received favorable reviews for ease and responsive driving on the highway and track. It can be wiggly or surprisingly good on wet surfaces because this tire needs to be properly warmed up to provide the necessary handling.
Nitto Invo has above-average dry and wet performance, but with terrible loud noise.
Nitto Neo Gen has good dry and wet grip that can deliver a sporty ride in the city and on open roads.
Conversely, Michelin has a century long history in endurance racing, so when it comes to performance tires, the French manufacturer expectedly leads the category through the Michelin Pilot Sport 4S and Michelin Pilot Super Sport.
Both tires deliver superior performance in wet and dry conditions with good noise and comfort. Their top rivals include the Continental ExtremeContract Sport and Bridgestone Potenza Sport.
2. Offroading Capability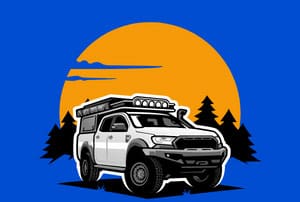 Car enthusiasts choose Nitto tires for off-roading events in Moab and Baja. For instance, some use the Nitto Ridge Grappler because it has a higher mileage and is quiet and aggressive compared to regular mud tires.
When it comes to tackling Baja rocky terrains, Recon Grappler rose as a strong contender because it has an attractive tread block stiffness that can handle the heavy pressure of moving around in severe off-road conditions.
This tire also has better performance than the Nitto Terra Grappler 2 in all aspects, though the gap isn't very huge.
Even though the only all-terrain tire in Michelin's portfolio is the Michelin LTX AT2, it doesn't disappoint. It has excellent wet and dry performance. Its grip on mud, snow, and ice is impressive. The tire also delivers a smooth and quiet ride.
3. Other Tire Designs
Overall, Michelin has a great advantage in offering top performing tires in seasonal and other categories. Some notable examples are:
Snow-certified tires like Michelin X Ice Snow and Michelin Latitude Alpin
Fuel-efficient tires like Michelin Energy Saver A/S and Michelin Premier A/S
Long-lasting all-season tire like Crossclimate 2
4. Warranties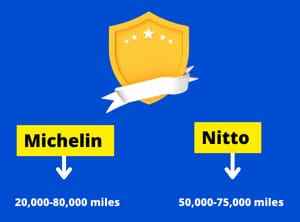 Not all Nitto tires offer brand support, while most Michelin tires promise a mileage warranty of 20,000-80,000 miles.
Latitude Sport, Latitude Sport 3, and Pilot Sport 4 are SUV/CUV tires that have the lowest mileage of 20,000. Michelin's Defender 2 and Defender T+H have the highest mileage of 80,000. They support passenger cars, SUVs and CUVs.
Among Nitto light truck tires, only Recon Grappler and Terra Grappler tires display their mileage warranty. Recon Grappler's warranty is 5,000 miles lower than that of the Michelin LTX AT2, which promises coverage for 60,000 miles. Meanwhile, Nitto's Terra Grappler G2 has 65,000 miles of warranty.
As for SUV/CUV Nitto tires, the NT421Q has the strongest warranty of 75,000 miles, while Motivo is the only passenger tire that offers a mileage warranty of 60,000 miles.
| | | |
| --- | --- | --- |
| Tires | Nitto Mileage Warranty Range | Michelin Mileage Warranty Range |
| Light Truck | 50,000-65,000 | 25,000-70,000 |
| SUV/CUV | 60,000-75,000 | 20,000-80,000 |
| Passenger Cars | 60,000 | 40,000-80,000 |
Availability and Cost
On Tire Rack, there are only three Nitto tires available currently. They are the Ridge Grappler, Nomad Grappler and Neo Gen.
Since there are more Nitto tires on Discount tire, let's compare their starting prices there with Michelin tires prices. We'll focus on popular performance and offroading tires from each brand.
| | |
| --- | --- |
| Tires | Price |
| Nitto NT555 G2 | $150-$362 |
| Nitto NT05 | $125-$399 |
| Nitto Invo | $160-$718 |
| Nitto Neo Gen | $96-$351 |
| Nitto Terra Grappler G2 | $172-$536 |
| Nitto Ridge Grappler | $222-$860 |
| Nitto Recon Grappler A/T | $263-$773 |
| Michelin Pilot Super Sport | $206-$599 |
| Michelin Pilot Sport 4S | $200-$1126 |
| Michelin LTX AT2 | $225-$406 |
As expected, Michelin tires are more expensive than Nitto tires. The cheapest Nitto tire is the Neo Gen, which starts at $96.
Michelin and Nitto tires – Pros and Cons
Michelin tires
More extension tire selection
Top quality tires in every category
Dedicated tires for each season
Superior all-season performance, comfort, and road silence
Long mileage
Accessible worldwide
Nitto Tires
Supported by a niche community of high-performance car enthusiasts
More tire choices in offroading
Budget-friendly
Only few tires offer a competitive mileage warranty
FAQs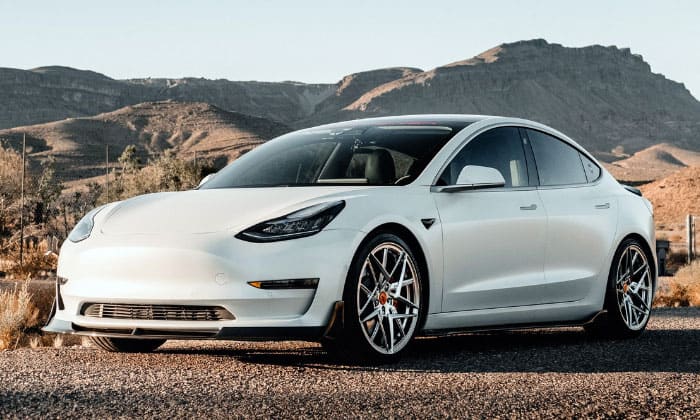 Are Nitto tires a good brand?
Yes. Nitto tires have become a sought-after option by high performance drivers and racers. Although not all Nitto tires offer competitive mileage warranties, their affordable pricing and dependable performance on wet and dry roads make this brand a good alternative.
Who are Nitto tires made by?
In the US, Nitto tires are made by Toyo Tire Holdings of Americas Inc. This is the North American subsidiary of the Osaka-based tire maker, Toyo Tire Corporation.
Read more: What is the difference between Toyo Open Country AT3 and Nitto Ridge Grappler?
Conclusion
Reviews show that Michelin has plenty to offer in this Michelin vs Nitto tires comparison.
Surprisingly, even though Michelin has an impressive racing-inspired lineup, Nitto managed to sustain a community of car enthusiasts through its performance and off-roading tires.
Nitto may not be a top of mind choice today for all-season and winter tires, but with continued innovation, it might catch up with Michelin one day.