The need for tires with an excellent balance of performance and longevity is currently on the rise. Fortunately, big brands like Michelin have successfully produced tires with this characteristic.
In this Michelin Road 6 review, we will determine what this Michelin motorcycle tire brings to the table, and hopefully, in the end, you will be able to decide whether to buy it or not.
As a successor of Road 5, it is expected that Road 6 will be among the best in its class. This tire features a newer version of rubber compound and an improved tread design, resulting in a 15% increase in wet grip and 10% better wear.
Michelin Road 6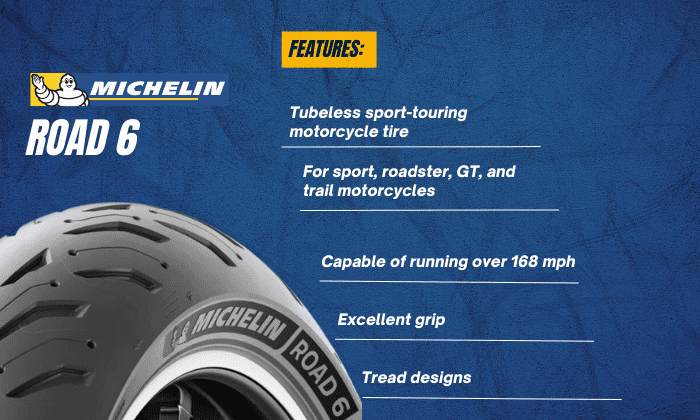 The Michelin Road 6 is a tubeless sport-touring motorcycle tire that promises world-class quality for sport, roadster, GT, and trail motorcycles. It comes from the Michelin Road tire line, which has produced brilliant designs over the years.
Unlike other sport-touring tires with various speed ratings, Michelin Road 6 tires are only available in sizes with a W-speed rating. This makes this design an ideal tire for those riders with a more aggressive driving style, as it is capable of running over 168 mph.
The Michelin Road 6 trail experience is a lot better than most tires as it has adequate softness for unpaved roads. This tire also looks to compete with other popular sport-touring tires like the Pirelli Angel GT 2, as it is also available in the GT version—featuring an extra ply to handle bulkier motorbikes.
The Michelin Road 6 can also be a great complement to power cruiser bikes due to its excellent grip from its proprietary silica compounds and tread designs. So, if you're looking for great Yamaha Road Warrior tires, this tire is an ideal choice.
History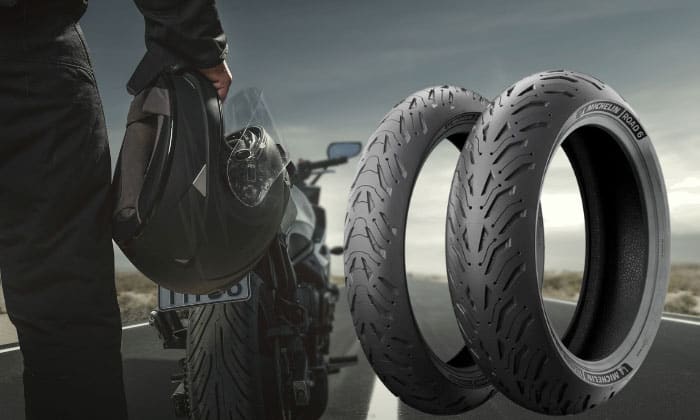 The Michelin Road tire line has introduced many outstanding innovations since it first released the Pilot Road back in 2002. It featured technologies such as the Michelin 2CT dual compounds, continuously improved sipes, and Water Evergrip Technology.
Michelin released the Road 6 in 2022, intending to make their design available to a variety of motorcycles. They also made sure to make some noticeable improvements from its previous version.
In a Michelin Road 5 vs. Road 6 comparison, the latter has a better wet grip, longer tread life, and improved stability. The Road 6's overall appearance has been improved as well, with more texture on the sidewalls, making it more appealing.
Recipe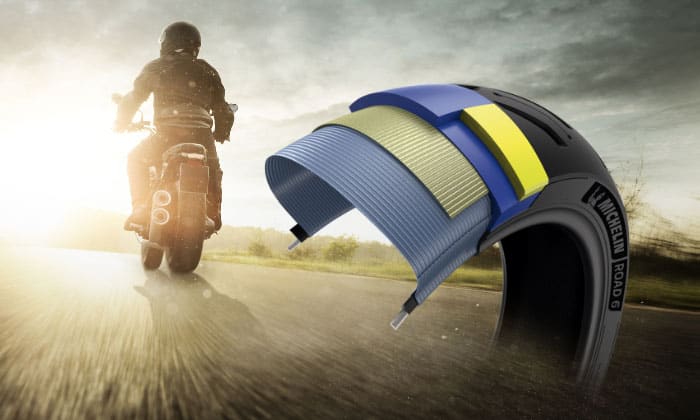 Substantial adjustments are required to outperform a high-quality tire like the Michelin Road 5. Having said that, Michelin made certain changes to its technology when creating the new Road tire type.
Silica compound is excellent in improving the wet performance of tires. However, it falls short when it comes to improving tire durability in dry conditions. As a result, Michelin changed the tread design and the rubber compound, now called Silica Rain Technology.
The front tire is now also equipped with 2CT+ Technology, which is a feature that is only used in the rear tire of the previous model. This provides additional support from the harder compound of the tire, making it more stable.
Based on Michelin testing, there has been a significant disparity between the lap times of Road 5 and Road 6 on wet surfaces. In terms of mileage, external wear testing also shows that Road 6 is better than Road 5 by 10%.
Sizes
Michelin offers a good range of sizes for the Road 6. You can choose from 17" up to 19" rim diameter sizes for the front tires and 17" rim diameter sizes for the rear. Here is a complete list of their sizes:
Front Tires:
110/70ZR17 54W
120/70ZR17 55W
120/70ZR17 58W
120/70ZR18 59W
110/80ZR19 59W
120/70ZR19 60W
Rear Tires:
140/70ZR17 66W
150/60ZR17 66W
150/70ZR17 69W
160/60ZR17 69W
170/60ZR17 72W
180/55ZR17 73W
190/50ZR17 73W
190/55ZR17 75W
Michelin Road 6
Excellent dry and wet traction
Long-lasting tread
Improved overall look
High-speed rating
Better stability
Frequently Asked Questions
When did Michelin Road 6 come out?
The release date of Michelin Road 6, together with the Road 6 GT tires, was on January 1, 2022. It has 6 available sizes for the front tire and 8 for the rear tire, while the GT version has 1 size for the front and 3 for the rear.
Does Michelin make good motorcycle tires?
Michelin is known to produce excellent motorcycle tires. They produce tires that meet the requirements for the MotoGP, which shows that their technologies are among the best in the industry.
If you enjoy having high-performing tires, you must check out Michelin Sport bike tires, as they have some of the best designs today, such as the Michelin Power 5.
Michelin Road 6 and the Road 6 GT: What is the difference?
In comparing Michelin Road 6 vs Road 6 GT, we could notice several identical features like the rubber compound and tread design.
However, the main difference lies in the type of motorcycle that they are best suited for. Thanks to the extra ply, the Road 6 GT can handle better the weight of bigger and heavier sport-touring motorcycles compared to the Pilot Road 6.
Are Michelin Road 6 tires durable?
Even though it is usually a trade-off, Michelin Road 6 tires have improved durability while improving traction. Michelin claims that Road 6 outlasts the previous Pilot Road tire by 10%.
That said, getting more mileage out of your tires doesn't solely rely on its rubber compound and tread design but also tire maintenance. One key factor in extending the life of tires is by maintaining correct tire pressure.
During regular use, the tire needs to be inflated based on manufacturer recommendations. You can also use a device like a Tire Traker to monitor the pressure and temperature of the tire.
Conclusion
Based on what you have read above, it is clear that getting Road 6 will give you a lot of advantages on the road. The only thing that you need to consider is its price, as Michelin tires don't come cheap.
The lowest deal you can get for the front tire is usually around $260, whereas the rear one would cost $290. However, getting premium quality tires can be a good investment, as it will give you great value in the long run.
I hope that you found this Michelin Road 6 review helpful and informative. If you have any questions, feel free to ask in the comments.
---
Other motorcycle tire reviews: