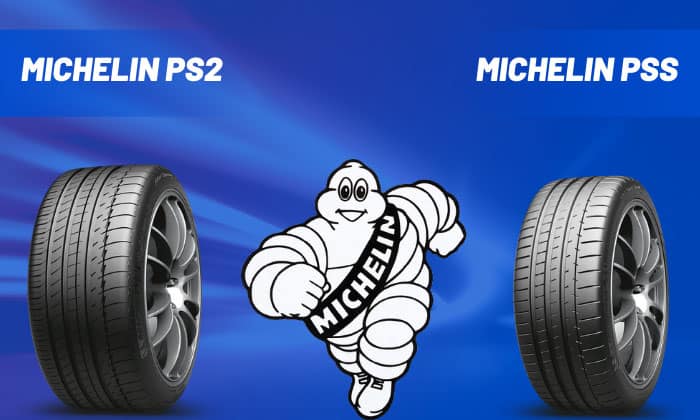 In general, summer tires offer the best grip, cornering, and handling on dry roads. Let's find out what made Michelin summer tires exceptional by comparing the Michelin PS2 vs PSS.
Since Michelin's Pilot Sport PS2 debuted eight years earlier than the Michelin Pilot Super Sport, the features of the PSS are more advanced. The Pilot Super Sport delivers superior grip, braking, handling, and cornering stability on wet and dry roads. It has less road noise, better ride quality, and longer wear life at a more affordable price.
Factors
Dry
Excellent
Winner
Wet
Above Average
Winner
Noise
Noisy
Less Noise
Comfort/Ride Quality
Comfortable
Winner
Price
Either may be more expensive, depending on your chosen size.
Mileage Warranty
Lower
Winner
What is It?
1. Michelin Pilot Sport PS2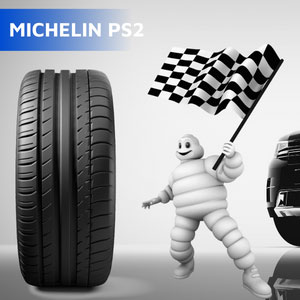 Michelin Pilot Sport PS2 is a max performance summer tire designed to fit sports cars and performance sedans.
It was launched in 2003 as an original fitment for BMW Alpina Z8, Mercedes McLaren SLR, Bugatti Veyron, Chrysler Crossfire, Audi RS6, Porsche Carrera GT, 996 GT2, and GT3 models.
The tire was initially released in 33 sizes and was made to replace the Michelin Pilot Sport.
This high-speed tire features an asymmetric design, where the tire's continuous center rib and outer and inner shoulders are molded with a combination of silica and carbon materials. Because of these two compounds, the tire was best known for incredible dry traction and excellent handling.
Additionally, the tire has aramid and nylon filaments on the inside. They are responsible for providing a precise steering response, cornering stability, and durability.
Lastly, the tire has wide circumferential grooves and lateral notches to expel water on rainy days.
Just like other racing tires by Michelin, this design is manufactured in Michelin's home base, Clermont Ferrand, France.
2. Michelin Pilot Super Sport
Michelin Pilot Super Sport is a max performance summer tire that was released in 2011 as a replacement for Michelin's Pilot Sport PS2.
It kicked off as an original fitment for advanced performance vehicles, including the world's fastest supercar, Ferrari 599 GTO, and vehicles from Mercedes and Porsche.
Today, the tire's potential is enjoyed by drivers of sports cars, sporty coupes, performance sedans, and supercars.
Compared to other endurance race-inspired tires, this tire design is lighter by 10% and has a 25% wear improvement because of its Variable Contact Patch Technology and Twaron belt package.
If you compare PSS with rival tires, it delivers better braking because of the Bi-compound molded in the outer shoulder and inner portion of the tread. Moreover, its handling was upped by 12% as a result of its expertise in winning the Le Mans race 13 times consecutively.
Read more: Michelin Pilot Sport 4s vs Pilot Super Sport: which is better?
Differences: Michelin PSS vs PS2
1. Warranties
The PS2 has a lower treadwear warranty than the PSS.
Michelin's Pilot Super Sport has brand support of 30,000 miles, while the Pilot Sport PS2 has a mileage warranty of 20,000 miles.
On top of the manufacturer's limited and treadwear warranty, both tires are backed by Michelin's Promise Plan which has additional benefits such as:
Free tire replacement within 60 days from date of purchase
3 years worth of flat tire changing assistance
2. Reviews
Based on customer feedback on Tire Rack Michelin Pilot Super Sport beats Pilot Sport PS2 in all categories: wet and dry performance, comfort, ride quality, noise and treadwear.
| | | | | | | | |
| --- | --- | --- | --- | --- | --- | --- | --- |
| Tires | Wet | Dry | Winter | Comfort | Ride Quality | Noise | Tread Wear |
| PS2 | 8.5 | 9.3 | N/A | 8.5 | 8.5 | 8.5 | 7.3 |
| PSS | 9.0 | 9.5 | N/A | 8.7 | 8.8 | 8.7 | 8.1 |
Drivers are more satisfied with the tread life of the PSS than the PS2. They liked the PSS more because it is dependable in the rain and grippier on dry surfaces.
3. Wet
Michelin's Pilot Super Sport has better wet performance than the Pilot Sport PS2. The former excels in aquaplaning support and wet traction. When you drive at a reduced speed from 80 to 10 km/h, the braking distance on the PSS is 3 meters shorter.
4. Dry
Drivers praised the predictability, fine handling, and dry performance of the PS2. However, the PSS has better dry traction, cornering stability, steering response, and handling. Thus, its dry performance is more attractive than that of the PS2.
When you slow down at 100 km/h to a full stop, the braking distance on the PSS is shorter by 1.5 meters.
4. Snow and ice
Since both of these options are summer tires, they are unusable in snowy conditions.
5. Noise/Comfort/Ride Quality
When you compare the noise and comfort levels of the Michelin Pilot Sport PS2 vs Super Sport, the PS2 produces a little discomfort because it is noisier, especially at high speeds and is less sticky on wet roads.
Moreover, the PSS provides a more relaxed ride than the PS2. PS2's comfort level was sacrificed because the rubber compound made the tire firm but inflexible.
6. Cost
If you compare the starting price of Michelin PSS vs PS2, the PSS is cheaper by $4 to $75. The price of the PS2 tire ranges from $213- $531, while the Pilot Super Sport is available at $209-$606 per tire.
Pros and Cons: Michelin Super Sport vs PS2
Michelin Pilot Sport PS2
Excellent dry performance
Fine handling
Firm ride
Slightly worse wet performance
Shorter treadlife
Not fit to be used in snow
Michelin Pilot Super Sport
Outstanding wet and dry performance
Cheaper
Stronger mileage support
Longer wear life
Frequently Asked Question
Is Michelin Pilot Sport PS2 discontinued?
No. The official website of the brand displays 33 sizes available for the Michelin Pilot Sport PS2. They range from 17-22 inches.
Conclusion
In this Michelin PS2 vs PSS comparison, we learned that both tires excel on dry pavements. The main advantage of the PSS is that it successfully combines wet and dry performance with longevity at a good price.
Michelin is known for innovating its latest tires, so if you are wondering how PS4, the summer tire that was launched in 2016, fare against the PSS and PS2, watch out for our next review.