Michelin is known for their excellent car tires. However, they're also one of the best manufacturers when it comes to motorcycle tires. So, we'll pit two of their motorcycle products against each other in this Michelin Power 5 vs Road 5 comparison.
Before we go into details on these two tires, it's worth mentioning that the Michelin Power 5 is a performance motorcycle tire designed for sportbikes, while the Road 5 is a touring motorcycle tire.
That said, we have to say that we prefer the Road 5 more. It has much better features than the Power 5, especially regarding wet surface traction, which we'll explain more down below.
Tire
Brand
Michelin
Michelin
Country of Origin
France
France
Tire Type
Ultra-high Performance Summer
Premium Touring Summer
Speed Index
W
W
Tire Sizes Available
6
7
Diameter
17"
17"
Front Tire Sizes

120/60ZR17 (55W)
120/70ZR17 (58W)

Rear Tire Sizes

160/60ZR17 (69W)
180/55ZR17 (73W)
190/50ZR17 (73W)
190/55ZR17 (75W)
200/55ZR17 (78W)

150/70ZR17 (69W)
160/60ZR17 (69W)
180/55ZR17 (73W)
190/50ZR17 (73W)
190/55ZR17 (75W)

Approved by Manufacturers

BAJAJ: Dominar 400
BMW: R Nine T Scrambler
HONDA: CB500 Naked & Sport
KTM: Duke 125 / Duke 250 / Duke 390 / Duke 790
TRIUMPH: Trident
TVS: Apache 310 RR
YAMAHA: MT07 / XSR 700

Mileage
3,500 to 5,000 miles
4,000 to 12,000 miles
Price
$192.76 – $289.76
$190.36 – $283.89
What Are They?
Before we pit these tires against each other in this Road 5 vs Power 5 debate, let's get to know them first.
1. Michelin Power 5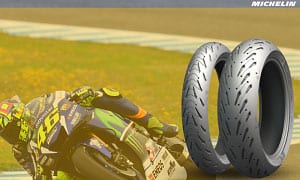 The Power line from Michelin hosts great high-performance tires. Whether you're looking for tires for the open road, like our contender, the Power 5, or the racetrack, such as the Power Slick 2 or Power GP tires, these products are among the best in performance.
The Power 5 Tire improves upon the Michelin Power RS by surpassing its dry performance and wet traction, so much so that Michelin claims the Power 5 can beat competitors in a three-quarter mile or exactly one track race by an average of 3.9 seconds.
The Power 5 comes equipped with Michelin's Adaptive Casing Technology, which reinforces its side walls and improves cornering performance. The front and rear tires, made up of black carbon and silica, have a void ratio of 11%, so expect tremendous stability and durability to withstand abrupt brakes.
Now, on to Road 5.
2. Michelin Road 5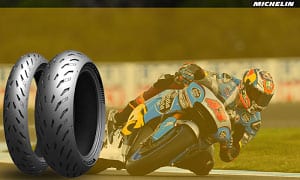 The Road 5 is a premium touring summer tire from Michelin. Unlike the Power 5, touring tires like the Road 5 are much more suited to open roads and riding long distances.
To start, the Road 5 has sophisticated inverted-pyramid sipes called the Michelin XST Evo siping, which helps the tire achieve excellent wet surface performance. It also comes fitted with Water EverGrip technology for more enhanced wet traction.
It's worth noting that as this tire wears down, traction on wet surfaces isn't compromised. That's because the Road 5's tread extends externally toward the tire's focal point, similar to what you'd find on the Michelin's Premier A/S.
Like the Power 5, the Road 5 also has Adaptive Casing Technology along with its specialized tire compounds, the 2CT at the front and the 2CT+ for the rear. So, it's safe to say that cornering and leaning also feel great on this tire.
That's about it for these two tires. Let's see how they fare against each other.
Differences
1. Dry Performance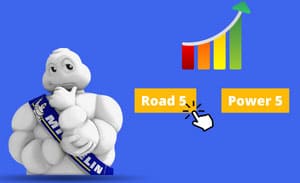 As expected, Michelin tires do not disappoint. Both of these models performed exceedingly well. However, we felt that the Road 5 had more grip compared to the Power 5, but only by a very small margin.
But if you're after tires with much better dry traction, you'd be better off with the Metzeler M9RR, which blows these Michelins out of the competition.
2. Wet Performance
The difference is now a little more noticeable — the Road 5 is better in this area than the Power 5. The fitted EverGrip technology really did wonders for this tire as we felt the intense grip it had on the road's surface.
But, make no mistake, the Power 5 still performed quite well. We just felt that its wet traction still has room for improvement.
3. Handling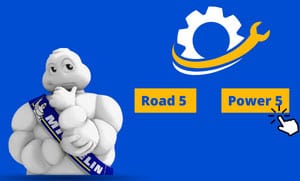 When it comes to maneuverability, both tires did pretty well. But if we must choose, we felt that we had a little more control with the Power 5. However, the handling could still be improved in future iterations of these two tires.
4. Ride Quality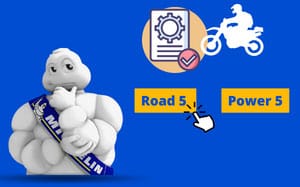 For ride quality, nothing beats a touring tire. While both models provided decent road feedback, it was clear that the Road 5 gave a much more comfortable ride than the Power 5.
5. Mileage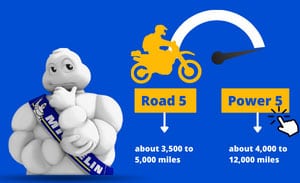 The difference in mileage between these two tires is staggering. The Power 5 had a decent mileage of about 3,500 to 5,000 miles, while the Road 5 has been reported to last for 4,000 to a whopping 12,000 miles.
To be honest, the Power 5's mileage was a bit disappointing. While 3,500 to 5,000 is already quite decent, it didn't give much of an improvement compared to its predecessor.
For instance, the Power 5 mileage is practically the same as the Power 3 mileage, lasting at about over 4,000 miles, according to user feedback on a motorcycle forum.
6. Price
Both tires cost practically the same. The Power 5 was a little bit more expensive, costing around $192.76 – $289.76, while the Road 5 is priced at about $190.36 – $283.89.
Read more: Reasons why michelin tires so expensive.
Pros and Cons
Michelin Power 5
Excellent cornering
Good maneuverability
Great dry performance
Good road feedback
More expensive
Water traction can still be improved
Lower mileage
Michelin Road 5
Decent cornering
Better dry performance
Good road feedback
Excellent ride quality and comfort
A little cheaper than the Power 5 but still expensive
Handling needs a bit of improvement
Frequently Asked Questions (FAQs)
Is the Pirelli Diablo Rosso 4 a good motorcycle tire?
Superseding the Pirelli Diablo Rosso 3, the Pirelli Diablo Rosso 4 is one of the best tires in the motorcycle market, on par with, if not better, than the Michelin Road 5 and the Bridgestone S22.
It's an all-weather sports street tire that has near-perfect traction and handling, which are key factors to consider when choosing high-performance tires.
Is there a Pilot Power 5?
No. The Pilot name is typically given in the Road series of Michelin's catalog, such as the Pilot Road 4 or Pilot Road 4 GT.
Conclusion
As we've seen, the Road 5 was the better tire. Even motorcycle manufacturers recommended it more. Nevertheless, the Power 5 is still an amazing option, especially on the race track where it shines.
So, when choosing between the Michelin Power 5 vs Road 5, you should think about what you need. If you're hungry for speed on the racetrack, go with the Power 5. If you like cruising through the country's open roads, go for Road 5.