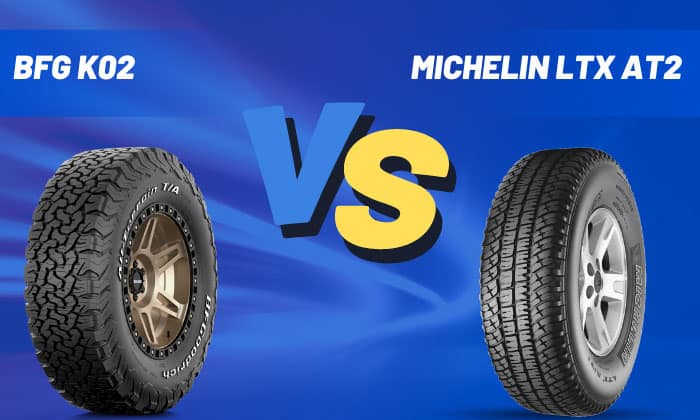 As more people spend their free time away from city life, there's growing interest in buying vehicles that tackle challenging on- and off-road conditions. People need adventure-ready tires, and choosing between BF Goodrich vs Michelin is a tough call.
That's why we compared the Michelin LTX AT2 vs BFG KO2 to help you out.
BFGoodrich KO2 is a budget-friendly on and off-road tire that can provide excellent performance in wet, dry, and snowy conditions with competitive tread life, while Michelin's LTX AT2 has a slight advantage in offering driving comfort and road silence.
| | | |
| --- | --- | --- |
| Factors | | |
| Off-road | Capable | Winner |
| Dry | Capable | Winner |
| Wet | Capable | Winner |
| Noise | Quiet | Low to Loud Noise |
| Ride Quality/Comfort | Winner | Competitive |
| Snow and Ice | Capable | Winner, snow-certified |
| Price | Expensive | Cheaper |
| Mileage warranty | Higher | Lower |
What Are They?
1. Michelin LTX AT2
Michelin LTX AT2 is the only Michelin-branded all-terrain tire designed to deliver year-long traction and fuel efficiency without compromising on-road comfort.
The tire features the following technologies:
Michelin Biting Edges – jagged blocks in the tread pattern which aim to deliver increased traction on dirt, gravel, mud, and snow
Advanced Max Touch Construction – promises longer tread life, better fuel economy, and reduced CO2 emission through a unique footprint shape and lowered rolling resistance.
Comfort Control Technology – lessen road feedback to yield an excellent ride.
2. BFGoodrich All-Terrain T/A KO2
BF Goodrich KO2 is an all-terrain tire, where KO stands for Key benefit On and Off road and 2 means second generation.
BFG KO2 delivers proficient on-road handling and off-road durability through a racing-inspired tread pattern of interlocking tread blocks, debris ejection features, and modern siping. Its thick sidewall with CoreGuard technology also boosts resistance to punctures.
The BFG AT2 promises twice the wear life of its predecessor on gravel roads. It has a 3-ply sidewall and a serrated shoulder design. As a result, drivers won't have to worry about snow, mud, or gravel making their cars unstable.
The KO2 can go pretty much anywhere because its year-round traction promise is supported by the 3PMSF symbol.
Currently, the tire leads the all-terrain category, defeating the Goodyear Wrangler Duratrac, Toyo Open Country AT2, and Toyo AT2 Extreme. It also has better off-road traction than the Kumho AT51.
The award-winning tire has been receiving rave reviews on Reddit.
Similarities and Differences
1. Specifications
Both tires have the same maximum carrying capacity and recommended tire pressure, but the BFG KO2 is heavier than the LTX AT2.
Although they both don't display their UTQG rating, Michelin's LTX AT2 offers longer wear life because it has a mileage warranty 10,000 miles higher than the BFGKO2. According to Michelin's internal testing, its mileage is 35% higher on gravel roads than leading competitors.
| | | |
| --- | --- | --- |
| Specifications | BF Goodrich KO2 | Michelin LTX AT2 |
| Brand | BF Goodrich | Michelin |
| Tire Type | on/off road, all-terrain | on/off road, all terrain |
| Tire Size Inspected | LT245/75R16 | LT 245/75R16 |
| Max PSI | 80 psi | 80 psi |
| Tire Weight | 48 pounds | 44 pounds |
| Max Load | 3042 pounds | 3042 pounds |
| UTQG | None | None |
| Tread Depth | 15/32 in. | 17/32 in. |
| Price | $257.99 | $277.96 |
| Mileage Warranty | 50,000 | 60,000 |
2. Consumer feedback
Based on consumer feedback, the BFG KO2 outscored Michelin's LTX AT2 in off-road driving, wet, dry and snowy conditions.
Michelin's LTX AT2 has a slight edge in comfort. Reviews revealed that users praised the tire's exceptional road silence and long lasting tread life.
| | | | | | | |
| --- | --- | --- | --- | --- | --- | --- |
| Tires | Off-road | Wet | Dry | Snow/ Winter | Comfort | Treadwear |
| BFG KO2 | 9.1 | 8.8 | 9.1 | 8.7 | 8.4 | 8.5 |
| Michelin LTX AT2 | 7.6 | 8.6 | 8.8 | 7.7 | 8.6 | 8.4 |
3. Performance (Wet, Dry, On-road and Off-road)
In general, the BFG KO2 is more impressive on dry roads than on wet surfaces. And this performance is superior to what the LTX AT2 can offer. The BFG tire has no issues with hydroplaning at freeway speeds and has great braking response on wet and dry roads.
It has a big and bulky design that is great for regular mud and rough road conditions. All-terrain tires are aired down for off-road driving, so to make BFG KO2 run better on the highway, increase air according to the recommended PSI or use a tire with a low aspect ratio, for example, 28560R17, for ease in cornering.
On the other hand, the LTX AT2 is not as aggressive as the KO2 on hill climbs and rocky terrains, but it can get through rainy conditions and has impressive stability on the highway, even at higher speeds or when unloaded.
Whether you attach a trailer to it or not, Michelin's LTX AT2 has great steering control that keeps your truck in the lane or confidently attacks the corner whenever you need to.
4. Noise/comfort/ride quality
In general, the LTX AT2 provides a smooth, quiet ride, even when it's got 80,000 miles of usage on its belt. Some reviews revealed that it produces faint growls and hums, but they are not distracting while driving on the highway.
On the other hand, there are conflicting reviews on the BFG KO2 regarding road noise. Some attest that the BFG tire is quiet, while some complained about its loud noise.
Most users expect off-road tires to be noisy because their treads are heavier, bulkier, and deeper than ordinary tires, and in this case, the KO2 compensates for that through satisfactory performance on sand dunes, deep mud, rock, and deep snow.
It can effortlessly pass through rugged terrains with no signs of wear.
5. Snow and Ice
BFG KO2 is a severe snow-rated tire. It carries the snowflake symbol, signifying its ability to handle harsh winter conditions.
On the other hand, Michelin's LTX AT2 is not snow-rated but reviews show that it can pass through ice. Nonetheless, it was not developed to handle challenging winter conditions.
6. Cost
The BFG KO2 is more affordable than Michelin's LTX AT2 with a price difference of around $20-$50.
For instance, Michelin LTX AT2 265 70R18 tires can be bought at $355.84 while the BFG tire with the same tire size is sold at $305.99.
Pros and Cons
BFG KO2
Snow-certified
Excellent all-season performance
Competitive mileage warranty
Budget-friendly
Noisy
Lower mileage promise
Michelin LTX AT2
Quiet and comfortable ride
Higher mileage warranty
Very good on dry and wet roads
Expensive
Not for heavy snow
Conclusion
Since Michelin is the parent company of BFGoodrich, you can always be assured that BFG tires are up to standard.
Thus, comparing Michelin LTX AT2 vs BFG KO2 meant looking for distinct features, such as fuel efficiency for the Michelin LTX AT2 and outstanding off-roading capability for the BFG KO2.
Although the Michelin tire is fully equipped with technologies that can guarantee all-season versatility, durability, and low road noise, BFG's KO2 won the matchup because its tread design performed as needed, and it has more affordable pricing.
Other comparisons you may be interested in: