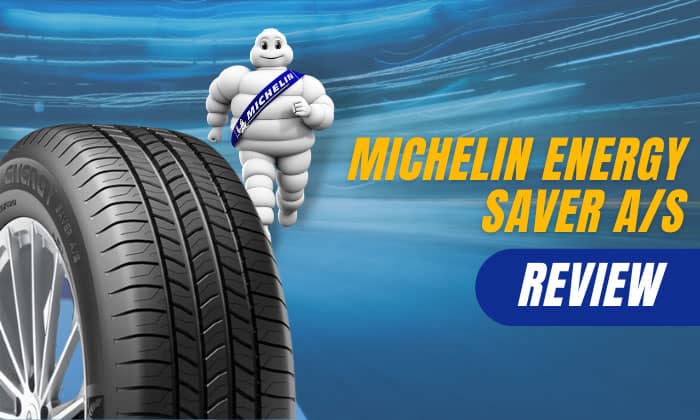 Aside from getting performance features like excellent handling, braking, and traction, it is also ideal to get a tire that can save some fuel. Fortunately, Michelin fuel efficient tires are available in the market. If you're looking for tires like these, Michelin Energy Saver A/S tire reviews will come in handy.
The Michelin Energy Saver A/S is an excellent investment for any driver. It saves up to 8% more fuel than other tires. More than that, this tire also has an improved all-season performance and tread life, ensuring a safe ride for a long time.
Tire Ratings
1. Dry Performance
Let us begin this Michelin Energy Saver review by seeing how this tire performs on dry roads. Michelin equipped this tire with an asymmetric tread design and silica-based compound to ensure excellent traction on dry surfaces.
This tire's braking distance will also impress drivers. Compared to other popular tires in the same category, this tire could give buyers shorter stops by a few inches, so pushing it hard will not be a problem.
Its dry performance ratings are good in all categories, with dry traction receiving a score of 81 out of 100. This just goes to show how dependable its grip on dry roads is.
2. Wet Performance
Another important factor to consider when selecting tires is their wet performance. No one wants to experience skids while driving. Fortunately, the Energy Saver A/S includes a few features that prevent this from happening.
This tire features siped independent tread blocks, which improves all-season traction. It also has circumferential and lateral grooves to effectively disperse water and prevent hydroplaning.
And these technologies appear to be successful, as this tire received a hydroplaning resistance rating of 73 in our review.
Just like on dry pavements, this tire's braking on wet surfaces is also above-average. That being said, it is not the best option for speedy rides; other rain tires will handle acceleration in wet conditions better.
3. Snow Performance
Most all-season tires struggle in the snow, and the Energy Saver A/S is no exception. Although it may provide a good level of traction in light snow, there will be a couple of problems in driving it on heavy snow.
If the snow is three inches or thicker, it will be unable to provide the necessary traction. So, if you live in an area with harsher winter weather, investing in a set of winter tires is a good idea.
4. Road Feedback
Road feedback isn't the strongest quality of the Energy Saver A/S. The good thing is that Michelin still did an amazing job to give this tire a desirable level of ride comfort and noise.
The tire absorbs road bumps well, reducing vibrations in the cabin. However, one thing that may bother you is the noise it makes when driving on rougher roads, as this tire becomes quite noisy in those conditions.
Michelin has a substantial number of designs that are quiet and comfortable. If you are looking for a better option, you can take a look at the Michelin Defender 2.
When comparing the road feedback of Michelin Energy Saver vs Defender 2, the latter will win due to its Piano Acoustic Tuning, which reduces airborne noise while driving.
5. Handling
Another feature of the Energy Saver A/S that many will appreciate is its handling. Its responsiveness and grip allow us to drive at higher speeds in dry conditions while maintaining good control in turns.
However, it is not a tire that will perform well on a racetrack. Its performance characteristics are still not on par with those of other sportier tires.
6. Fuel Efficiency
The Energy Saver A/S tire, as one of Michelin Green X tires, aims to reduce its environmental impact by improving fuel efficiency and lowering carbon dioxide emissions.
Michelin was able to reduce the rolling resistance of this tire by using their EnergySaver Construction that works with a distinct tread pattern. The silica-based rubber also helped to keep the tire cooler, which improved the engine's fuel efficiency.
Overall, it is widely regarded as one of the best power saver tires available today with Michelin claiming that it can save up to $400 of gas over its life.
Michelin Energy Saver A/S
Pros:
Excellent braking on dry and wet pavements
Good hydroplaning resistance
Impressive handling characteristics
One of the most fuel-efficient tires in the market
Cons:
Limited traction on snow and ice-covered roads
It can be a little noisy on rough roads.
Available Sizes
I once purchased the Michelin Energy Saver A/S 225/50R17 tires for my Honda Accord, and it was a perfect fit. This tire comes in a variety of sizes, so you should have little trouble finding one that fits your vehicle.
Here is a complete list of Michelin Energy Saver sizes available on Tire Rack:
15-inch diameter:
16-inch diameter:
205/55R16
205/60R16
P205/65R16
215/55R16
17-inch diameter:
215/50R17
215/55R17
P215/55R17
P225/50R17
225/50R17
P225/65R17
235/50R17
LT235/80R17
18-inch diameter:
The tire sizes available may differ depending on the dealer or retailer. If the size you need is not on this list, you can look at other sellers' offers.
Frequently Asked Questions
How long do Michelin Energy Saver tires last?
Based on the tests made by Consumer Reports, the Michelin Energy Saver A/S got an excellent overall score, with its tread life getting a good rating, indicating that it is just average in this category.
Michelin, however, guarantees their customers a good amount of mileage from their tires through mileage warranties. The R-speed rated Energy Saver A/S tire has a 50,000-mile warranty, while the V-speed rated tire has a 55,000-mile warranty, and the T- and H-speed rated tires have a 65,000-mile warranty.
Are Michelin Energy Saver tires quiet?
The Energy Saver A/S will not make a lot of noise in normal road conditions. The issue arises when driving it on rougher roads, where it becomes much noisier.
What replaced the Michelin Energy Saver?
When the Michelin Energy Saver was discontinued, it was succeeded by the Michelin Energy Saver plus. The Saver plus is a touring summer tire that promises up to 60 liters of fuel savings.
Conclusion
Our Michelin Energy Saver A/S tire reviews highlighted several benefits of this tire, including excellent all-season traction and low rolling resistance. With this, I could say that customers looking for fuel-efficient tires should put this design at the top of their list.
I hope this guide has assisted you in determining which tire to purchase next. It may also be beneficial to read reviews from online communities such as Reddit to see what other drivers think of different products.