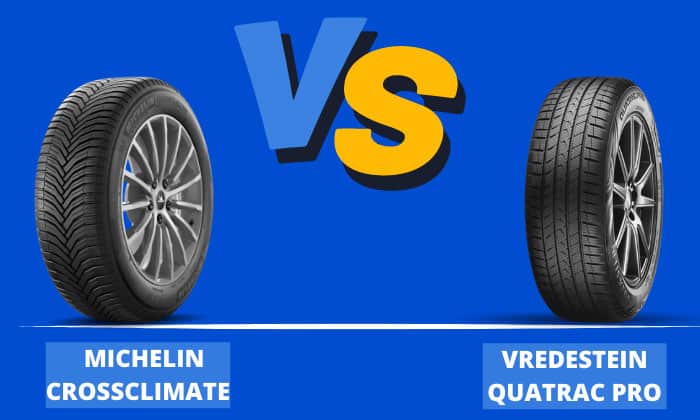 Premium brands can vary, as some are more successful than others. However, as we know, popularity doesn't always automatically mean better.
Can the lesser-known Vredestein compete against the wildly popular Michelin? Find out in this Michelin CrossClimate vs Vredestein Quatrac Pro comparison.
On the whole, the Michelin CrossClimate edges out Vredestein Quatrac Pro tires. However, it was a tough decision, as the Vredestein Quatrac Pro is for a specific type of driver, which we'll learn more about below.
But first, let's check out this quick comparison table to see how these tires fare against each other on the surface.
| | | |
| --- | --- | --- |
| Tire | | |
| Brand | Michelin | Vredestein |
| Tire Type | Grand Touring All-season | Grand Touring All-season |
| Tire Sizes | 133 | 88 |
| 3PMSF | Yes | Yes |
| Tested Size | 225/45R18 | 225/45R18 |
| Tread Depth | 10/32" | 10/32" |
| Section Width | 8.8" | 8.9" |
| Rim Range | 7-8.5" | 7-8.5" |
| Max Inflation Pressure | 50 psi | 51 psi |
| Max Load | 1,521 lbs | 1,521 lbs |
| Tire Weight | 24 lbs | 23 lbs |
| Price | $225.99 | $194.50 |
What Are They?
1. Michelin CrossClimate
When it comes to premium all-season performance from Michelin, look no further than the CrossClimate family, which includes the CrossClimate 2, the CrossClimate SUV for SUVs and Crossovers, and the Agilis CrossClimate for commercial vehicles.
This famous set of tires is Michelin's premier all-season offerings, guaranteed to handle any climate that comes their way, including severe snow conditions, with its coveted 3PMSF rating.
Since the CrossClimate is a family of tires, we'll set our sights on its flagship model, the Michelin CrossClimate 2, in this Vredestein Quatrac Pro vs Michelin CrossClimate contest.
Overall, the Michelin CrossClimate 2 is a superb tire, garnering praise from critics and consumer reports alike, mainly because of its state-of-the-art technologies, which give it more well-rounded capabilities, essentially making it a one-tire solution for all drivers.
To start, it comes equipped with a thermal adaptive compound that allows it to adjust to all sorts of environments, from scorching heat to freezing cold. Couple that with P-edge technology, and you've got a competent tire capable of gripping snow effortlessly.
Moreover, a V-directional tread pattern ensures that hydroplaning is kept to a minimum, effectively expelling water for optimal grip on wet surfaces.
Meanwhile, V-shaped chamfers and MaxTouch Construction allow the tire to evenly make ground contact, which not only enhances efficiency but traction, maneuverability, and durability as well.
Now, on to the Vredestein Quatrac Pro.
Related comparisons:
2. Vredestein Quatrac Pro
There's no doubt that Michelin is more widely recognized when it comes to a Vredestein vs Michelin popularity contest.
However, the Dutch powerhouse Vredestein is just as impeccable, with more than a century's worth of experience in the tire industry—expect premium quality all-season rubbers. The Vredestein Quatrac 5 and the Quatrac Pro are both prime examples.
While the Vredestein Quatrac 5 all season is a great tire, we'll go all out and push it one step further with the Quatrac Pro's ultra-high performance in this CrossClimate vs Quatrac comparison.
First things first, let's talk technology—and the Vredestein Quatrac Pro is packed with it. Starting with a high-resin, high-silica tread compound integrated into its asymmetrical treads, it ensures excellent performance, rain or shine, and even snow.
Naturally, as an all-season tire, the Quatrac Pro also comes with wide, circumferential grooves and lateral notches for expelling water and slush, providing maximized grip by effectively mitigating aquaplaning or rolling.
But the factor that makes this Vredestein tire so good is — as mentioned earlier — its asymmetric zig-zag pattern which allows it to traverse through heavy snow with ease, even earning it a 3PMSF rating.
Let's now move on to the differences and see how these tires compare.
Differences
For the sake of this comparison, we'll base the results on our personal tests and forums like Reddit.
1. Dry Performance
Dry performance is the benchmark of all tires, especially for all-season ones. And we were somewhat disappointed with the Vredestein Quatrac Pro, especially when it came to braking distance.
The V-ramps and adaptive tread compound from the Michelin CrossClimate 2 showed just how capable they were. The tire has one of the best braking distances in the market, stopping far earlier than the Vredestein Quatrac Pro (about 13 feet).
However, all of our testers confirmed that both tires performed impeccably when it came to handling, with all reporting no noticeable differences.
2. Wet Performance
For wet performance, we were expecting the same results. But we were glad when the Vredestein Quantrac came through with its apparent advantage on wet surfaces—mainly braking distance and maneuverability.
While the Michelin CrossClimate 2 is a capable tire in wet conditions, it was eclipsed by the Vredestein Quatrac Pro's superb wet braking distance, stopping far shorter with a gap as far as 10 feet.
However, when it came to aquaplaning resistance, the CrossClimate 2's V-shaped grooves allowed it to evacuate water more effectively compared to the straight grooves from the Quatrac Pro.
3. Snow Performance
Both tires have a 3PMSF rating, but the Michelin CrossClimate 2 was the better tire. This is mainly attributed to its P-edge Technology and thermal adaptive compound, which improved snow handling and traction.
While the differences weren't too great, with the CrossClimate 2's quicker lap times and shorter braking distance (2.8 feet), it was definitely noticeable enough to edge the Quatrac Pro out.
4. Noise
The noise reduction from both tires was decent enough, as we only noticed minimal growls and grumbles. However, some of our testers attested that the Vredestein Quatrac Pro was slightly quieter.
5. Rolling Resistance
When it came to rolling resistance, the difference was astounding in favor of the Michelin CrossClimate 2's B rating, compared to the Vredestein Quatrac Pro's D.
Rolling resistance equals better fuel efficiency, which means less carbon footprint. This essentially makes the Michelin CrossClimate 2 the more eco-friendly choice due to its MaxTouch Construction technology.
6. Durability
Michelin tires are known to be some of the most long-lasting tires in the market, and the brand definitely showcased this quality in our durability test.
The tread wear from the CrossClimate 2 wasn't bad, but the Quatrac Pro fared much worse according to our measurements.
We estimated the CrossClimate 2 to have at least 80,000 miles of life, while the Quatrac Pro was nearer to 60,000 miles.
7. Price and Warranty
For the price, it was no surprise that Michelin's tire was the more expensive one at $225.99 for a 225/45R18 size, while the Vredestein Quantrac Pro runs cheaper at around $194.50.
However, when it came to warranty, the CrossClimate 2 fared better with a 60,000-mileage warranty against the Quantrac Pro's 50,000.
Pros and Cons
Michelin CrossClimate 2
Excellent dry performance
Excellent snow performance
More fuel-efficient
More durable
Better mileage warranty
More expensive
Wet performance needs improvement
Vredestein Quatrac Pro
Excellent wet performance
Decent snow and dry performance
Slightly quieter
Cheaper
Wears out faster
Rolling resistance needs improvement
Shorter mileage warranty
FAQs
Are Vredestein tires good?
Yes. Vredestein tires are a premium brand with around 110 years of experience up its belt. It's also hailed by the German magazine Auto Bild for its proficiency in manufacturing excellent all-season tires.
Conclusion
While we chose Michelin for this Michelin CrossClimate vs Vredestein Quatrac Pro comparison, the final decision is actually up to you.
Depending on your needs, the Vredestein Quatrac Pro can be an excellent tire if you live in places where rain is a constant issue. Moreover, it's also cheaper than the Michelin CrossClimate 2.
However, by being more well-rounded across all boards, Michelin grabs another win once again. Thanks for tuning in! Until next time!