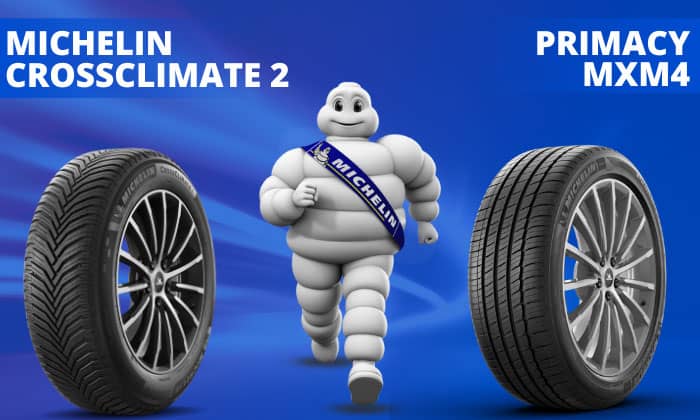 Since its inception, Michelin has dedicated itself to producing arguably the best tires in the world. One of the brand's best lineups to date is its grand touring all-season tires.
We'll be looking at a Michelin CrossClimate 2 vs Primacy MXM4 face-off and determining the better choice between the two. And right off the bat, the Michelin CrossClimate 2 is our winner.
With excellent performance on all fronts, from weather performance to warranty, the CrossClimate 2 is the better tire. However, the Primacy ain't no slouch either, as it's also a high-quality option. Let's see how they compare.
But before we get into the details, let's see how these tires differ on the surface.
Tire Line
Brand
Michelin
Michelin
Tire Type
Grand Touring All-Season
Grand Touring All-Season
Compatible vehicles

Luxury performance
Passenger cars
SUV/Crossover
Electric vehicles

Luxury performance
Passenger cars
Electric vehicles

Tire Sizes Available
89
62
Tire Diameter Range
16 to 22"
16 to 20"
Tread Depth Range
10/32"
10/32"

9.5/32''

9/32''

8.5/32''

8/32''

Weight Range
21-36 lbs
21-34.8 lbs
Max Load Range
1356-2601 lbs
1201-1984 lbs
3PMSF
Yes
No
Mud performance
Yes
Yes
Warranty
60,000 miles

55,000 miles (H-/V-Rated Sizes)
45,000 miles for (W-Rated Sizes)

Price
Starts at $171.96/tire
Starts at $210.96/tire
What Are These Tires?
1. Michelin CrossClimate 2
Like its predecessor, the CrossClimate+, the CrossClimate 2 is a tire for driving in harsh weather. It comes equipped with a thermal adaptive compound, allowing it to adjust to sudden temperature and weather changes, fully living up to its name as an all-season tire.
V-Ramp tread blocks and V-shape grooves allow for excellent dry and wet braking, so drivers can stay safe on the road. Couple these with a MaxTouch construction, and you'll have a durable tire.
And as a bonus, the CrossClimate2 possesses enhanced snow traction with a 3PMSF certification due to its steps found on the tire block and P-edge technology. Because of these features, the CrossClimate 2 can also be a viable winter tire alternative.
As for noise issues, the tire has Michelin's proprietary PIANO noise reduction technology, so expect a quiet ride throughout.
With more advanced technologies on its belt than its predecessor, expect better mileage and all-weather performance.
2. Michelin Primacy MXM4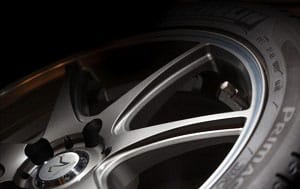 Like the CrossClimate 2, the Primacy MXM4 also came after a previously successful tire, the MXV4. And, like its predecessor, the MXM4 is an equally great tire.
However, both models are a little dated, especially compared to the CrossClimate 2, which was just recently released two years ago (2020).
Nevertheless, as a grand all-season tire, the MXM4 boasts excellent wet braking, superb maneuverability, and a quiet and comfortable ride. It has a mileage warranty of 55,000 miles for H-/V-Rated sizes and a modest 45,000 miles for W-Rated ones.
The MXM4's tread compound is mixed with sunflower oil, significantly boosting its response on wet and snowy roads. This allows the MXM4 to beat competitor tires with lower stopping distances by as much as 29 feet.
Differences Between These Two Tires
When it comes to differences, comparing these Michelin Primacy vs CrossClimate tires leads to results favoring the latter. Regardless, let's see and test how these tires do in performance, comfort, durability, price, and warranty.
Results
1. Wet Performance
We measured aquaplaning resistance and wet traction for wet performance. While the older Primacy MXM4 was still quite decent in rainy weather, the CrossClimate 2 was the better tire, especially at expelling water from its V-shaped grooves.
2. Dry Performance
When it comes to Michelin tires, expect premium dry performance throughout—this time was no exception. As grand touring tires go, both tires did exceptionally well in handling and traction. But, like in wet performance, the CrossClimate 2 edges out the MXM4 in cornering.
3. Snow Performance
While wet and dry performance was great for both tires, there was a drastic difference in snow. Stamped with its certified 3PMSF rating, the CrossClimate 2 traversed relatively easily through ice and snow, while the Primacy MXM4 struggled.
Honestly, while the Primacy MXM4 is above-average in snow for a touring all-season tire, its cousin from the Michelin Defender line, the Defender T+H, or the Michelin Premier A/S from the Premier catalog do better in this area.
4. Ride Quality and Noise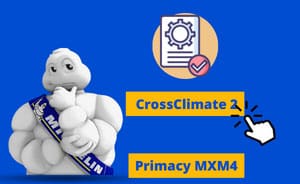 When traversing through the same road, bumps were less evident on the CrossClimate 2 compared to the Primacy MXM4. However, when it came to noise, both tires did magnificently to suppress it.
5. Durability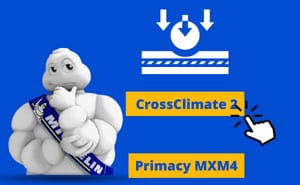 After repeated tests, wear and tear were more apparent on the Primacy MXM4, while the CrossClimate2's was less noticeable. The MaxTouch Construction definitely gave the latter some much-needed reinforcement.
6. Price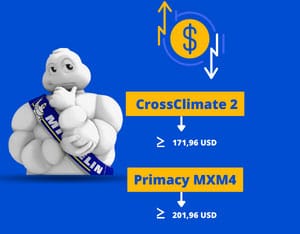 Price can be tricky, since different tire sizes can have different price points. But, for reference, the CrossClimate 2 starts at $171.96 per tire, while the Primacy MXM4 begins at $201.96 per tire.
7. Warranty
Depending on the tire size, the Primacy MXM4 has two mileage warranties available– 55,000 miles for H-/V-Rated sizes and a modest 45,000 miles for W-Rated ones. The CrossClimate eclipses both with a staggering 60,000 miles regardless of tire size.
Pros and Cons
Michelin CrossClimate 2
Excellent performance in all weather conditions
3PMSF rating
PIANO noise reduction
MaxTouch Construction for durability
Cheaper than the MXM4
60,000 miles warranty
Michelin Primacy MXM4
Decent on dry and wet roads
Quiet and comfortable
Decent warranty
Expensive for an older model
Struggles in snowy weather
Durability is good but needs improvement
Frequently Asked Questions
How long do Michelin MXM4 tires last?
Tread life can differ for tires, as it can vary depending on usage. When tires are subjected more to harsh weather, tread life can rapidly decrease. Many consumers reported replacing the MXM4 at 31,000 to 45,000 miles, while fewer users were able to get 60,000 miles out of it.
Is there a Pilot MXM4?
Yes. Michelin Pilot MXM4 is Michelin's luxury touring tire. It has better wet and snow performance and fuel efficiency, while the Primacy MXM4 has better dry performance and durability.
Is there a CrossClimate SUV?
Yes. However, the Michelin CrossClimate SUV and CrossClimate 2 SUV variants are only available in Europe, so finding them in America can be challenging.
Is the Primacy Tour A/S a good tire?
Definitely. The Primacy Tour A/S has unparalleled traction on wet roads while providing superb maneuverability. However, wet handling can be a little muddy at times.
Conclusion
As far as Michelin's grand touring all-season tires are concerned, the CrossClimate 2 takes the cake in this Michelin CrossClimate 2 vs Primacy MXM4 comparison, hands down. It boasts a better performance, price, and even warranty.
However, the Primacy MXM4 is still a fairly decent choice. If you already have it, there's no need to upgrade immediately, as the tire can still serve you well—provided you're not driving through snow.
Read next: