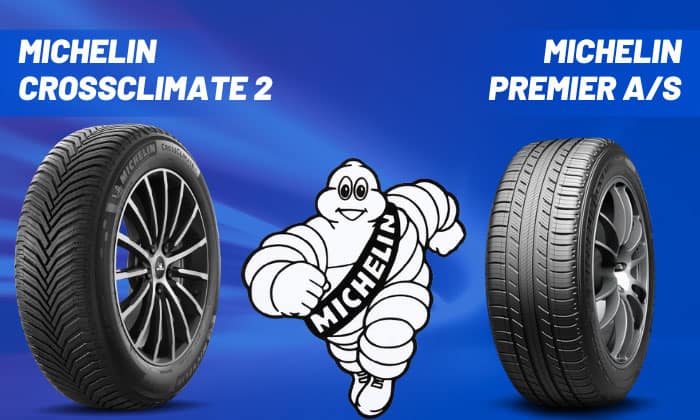 Michelin's ultimate strength is innovation. So we thought of comparing two of its grand touring tires that were touted as revolutionary on their release date. I'm talking about the Michelin Crossclimate 2 vs Premier A/S.
Let's dive in and see how they perform.
Michelin's Crossclimate 2 surpassed the Premier A/S's incredible wet and dry performance with a higher level of comfort and durability. It is more attractive than the Premier A/S because it is more affordable, quiet, and usable in wintry conditions.
| | | |
| --- | --- | --- |
| Factors | | |
| Dry | Winner | Above average |
| Wet | Winner | Above average |
| Snow and Ice | Winner, snow-certified | Average in light snow |
| Noise | Quiet | Low noise |
| Ride quality/ Comfort | Winner | Firm |
| Price | Winner | Expensive |
| Durability | Winner | Average |
What Are They?
1. Michelin Crossclimate 2
Michelin Crossclimate 2 is a grand touring all-season tire that replaced the Michelin Crossclimate Plus in 2021.
This tire is exclusively produced in seven manufacturing plants located in France, Germany, Italy, and Spain. It is available in 105 sizes ranging from 15-20 inch wheels.
To ensure that this tire stays true to its promise of "performance made to last", Michelin integrated the following features:
Tread compound made of a thermal adaptive component, which is responsible for enhancing snow traction
The tread was shaped in a V formation to sustain traction in dry, wet, and light snow conditions.
V ramp chamfers to increase braking grip and road contact when loaded
3D Sipelock technology to enhance stability when the tire edges lock together.
Piano Noise Reduction Tuning – noise cancellation technology embedded in the tread pattern
Read more: Michelin crossclimate 2 vs crossclimate plus: Which is better?
2. Michelin Premier A/S
Despite talks about Michelin Premier A/S replacement, this grand touring all-season tire is still available but in fewer sizes.
When it was introduced in 2014, this tire was highly celebrated for its innovative features such as:
Rubber compound molded with EverGrip technology (a combination of silica and sunflower oil, which is responsible for increased traction in wet conditions at lower temperatures)
Rain grooves for effective water dispersal and hydroplaning resistance
150 hidden grooves on the tire's shoulder that appear when the tire is worn
Similarities and Differences: Premier A/S vs Michelin Crossclimate 2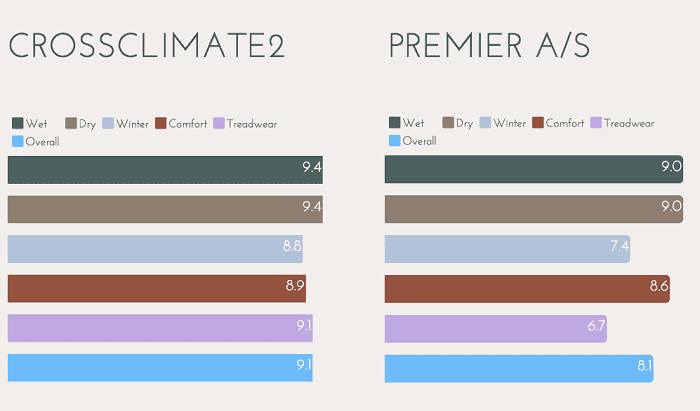 1. Specifications
Michelin's Premier A/S is heavier than the Crossclimate 2, but the latter can accommodate a bigger load. They have the same rating in treadwear and heat tolerance (640 A), but the Premier A/S has a superior traction rating (A) to the Crossclimate 2 (B).
| | | |
| --- | --- | --- |
| Specifications | Michelin Crossclimate 2 | Michelin Premier A/S |
| Tire category | Grand Touring All Season | Grand Touring All season |
| Tire Size inspected | 235/60R18 | 235/60R18 |
| Max Load | 2149 pounds | 1929 pounds |
| Max PSI | 50 psi | 44 psi |
| Tread Depth | 10/32 in. | 8.5/32 in. |
| Tire Weight | 29 pounds | 31 pounds |
| UTQG | 640 B A | 640 A A |
| Mileage Warranty | 60,000 | 60,000 |
2. Warranties
Both tires can cover 60,000 miles. They are also supported with the Michelin Promise Plan, which includes a 60-day road test and flat tire changing assistance for 3 years.
3. Reviews
Based on consumer feedback, Michelin's Crossclimate 2 beats the Premier A/S in all categories: wet, dry, winter, comfort, and treadwear.
Out of 59 Michelin Crossclimate 2 competitors on a tire-selling platform, the Crossclimate 2 ranked number 2 with a 99% approval rating.
However, some users raised their concerns about its poor gas mileage. They experienced spending more money on fuel with a reduction of 2 to 6 mpg.
4. Wet
The Crossclimate 2 has better wet performance than the Premier A/S. It has superb wet traction and stopping power under heavy rain or on cold damp roads.
Though both tires are in the excellent range, the Premier A/S has a tendency to decrease traction on wet roads, but it is predictable, so you can confidently drive in rainy conditions.
5. Dry
The Premier A/S used to be the tire to beat on dry roads because of its excellent short braking distances, responsive steering, and cornering ability. Even when this tire loses grip, drivers can easily regain control and maintain safety, though its performance is not as impressive as a summer tire.
On the other hand, the dry grip of the Crossclimate 2 is comparable to a summer tire. Based on dry road tests, this tire came out with high-level results in stopping distances and acceleration traction.
6. Noise/Comfort/Ride Quality
Michelin Premier A/S noise is not distracting but a lot more audible than that of the Crossclimate 2. It produces faint tread growls on uneven roads and highways.
The Premier A/S can pass through small and large bumps without resounding road feedback. The tire has sufficient stiffness to reduce road noise.
Meanwhile, Michelin's Crossclimate 2 offers a noiseless, more comfortable, and stable ride than the Premier A/S. I feel safer with the Crossclimate 2 because it doesn't wear out as fast as the Premier A/S.
Some customers reported the A/S lasting only 30,000 miles, while the Crossclimate 2 can run for 40,000 miles or longer.
7. Snow and Ice
Michelin's Crossclimate 2 passed the severe snow certification, so this 3PMSF-branded tire can be used in light to moderate snow with ease. Its traction, handling, and braking are outstanding both on ice and snow.
The Premier A/S can handle light snow but has trouble sustaining grip on ice. It is unusable in thick snow.
8. Cost
Using the same tire size, 235/60R18, Michelin's Crossclimate 2 is cheaper by almost $40 dollars. It can be bought at $248.99 while the Premier A/S is sold at $287.99.
Pros and Cons
Michelin Crossclimate 2 5
More budget-friendly
Snow-certified
Superior wet and dry performance
Longer tread life
Michelin Premier A/S
Reliable wet and dry performance
Reasonably quiet
Expensive
Shorter tread life
Conclusion
After comparing the Michelin Crossclimate 2 vs Premier A/S, it can be concluded that Michelin's innovation is always anchored on addressing the shortcoming of their best tire in the market.
The Premier A/S was almost perfect during its launch, with its expensive price tag as its main flaw, but now, Michelin can deliver excellent wet-stopping power, enhanced dry drip, more reliable snow performance, and longevity at a more affordable cost through the Michelin Crossclimate 2.
No wonder Michelin Crossclimate 2 comparison is always a hot topic, including the Michelin Crossclimate 2 vs Premier LTX.