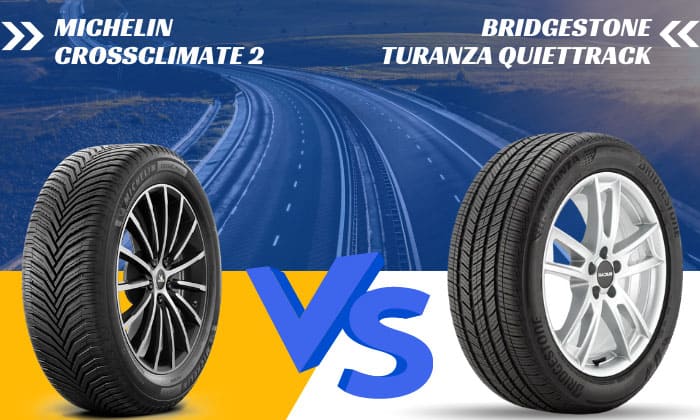 When talking about the best tires, chances are, two brands come to mind, Michelin and Bridgestone. So today, let's see how their all-season tires compare in this Michelin CrossClimate 2 vs Bridgestone Turanza Quiettrack matchup.
For us, the Michelin CrossClimate 2 is the far better tire, edging out the Bridgestone Quiettrack in all aspects, from performance to price. If you're wondering how we compared both tires, read on to find out.
But first, here's a quick comparison chart to get you started.
What Are They?
1. Michelin CrossClimate 2
Also called the Michelin CrossClimate 2 A/W for "all-weather," this tire is the successor of the CrossClimate Plus. Both tires come from a line of all-season models, similar to the Michelin Defender family.
However, unlike the Defender, the CrossClimate 2's most defining feature is its 3PMSF rating, which allows it to handle heavy snow and ice, making it an alternative to a winter tire. It gains this designation through multiple steps on its block and P-edge technology, which ensure stability on snow.
Moreover, for dry traction, V-ramp tread blocks increase the contact patch of the tires, enhancing the tire's grip. Meanwhile, V-shape grooves allow the tire to effectively expel water, mitigating hydroplaning and increasing grip in the process.
It also features Michelin's MaxTouch Construction, which maximizes ground contact, allowing better traction, maneuverability, and tread life by balancing the forces brought upon by acceleration.
Lastly, a Cool Running Sidewall and LEV Lamella sipe help the Crossclimate2 conserve more energy, which means less fuel consumption or electricity.
2. Bridgestone Turanza Quiettrack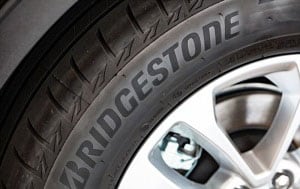 The Turanza line from Bridgestone is its luxury passenger tire family. It has great models in its lineup, like the Bridgestone Turanza Serenity Plus or the Europe-exclusive Bridgestone Turanza T005.
As the name suggests, the Bridgestone Turanza Quiettrack excels in mitigating road noise. This is done through the tire's in-groove ridges and Bridgestone's proprietary Quiettrack technology package, effectively reducing noise from resonating in the vehicle's cabin.
Moreover, 3D full-depth sipes and the previously mentioned in-groove ridges enhance the tire's grip on wet and snowy surfaces. At the same time, open shoulder slots help it reduce hydroplaning by expelling water going into the tires.
However, these aren't enough to score a 3PMSF certification, which definitely is the glaring factor that separates it from the Michelin CrossClimate 2.
Now, on to the differences.
Differences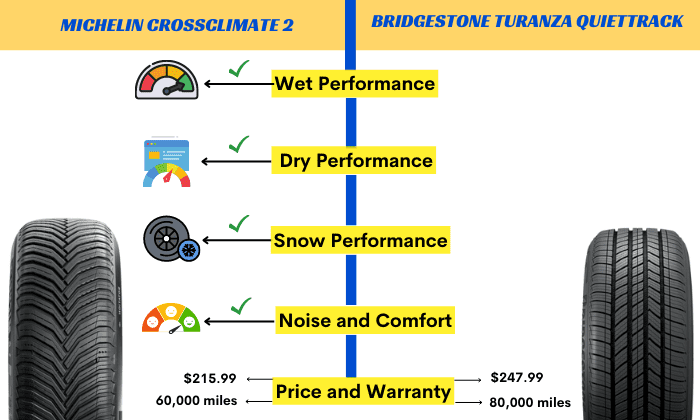 It's hard to compare Bridgestone tires with Michelin, since both manufacturers are at the top of their game, and disparities can be very minimal to non-existent.
However, for this Michelin Tires vs Bridgestone Tires comparison, the French brand's CrossClimate 2 is definitely the clear winner, as you'll see below.
1. Wet Performance
After testing both tires, we didn't see much of a difference, especially when it came to wet braking. However, some testers from our team and some Reddit users preferred the Michelin CrossClimate 2 when it came to handling, since it was slightly quicker in lap time and the braking distance was superior (142 vs. 216 feet).
2. Dry Performance
Better grip equals better safety, and the CrossClimate 2 was the better tire, in our opinion. It had much shorter braking distances than the Bridgestone Turanza Quiettrack (around 13 feet lower), while dry handling is a little more subjective.
3. Snow Performance
Right off the bat, the Michelin CrossClimate 2 wins by a landslide. The 3PMSF certification gave it much better ratings in snow and ice traction, acceleration, and handling.
While the Bridgestone Turanza Quiettrack is fairly decent, it was simply outclassed in this category.
In fact, the Michelin CrossClimate 2's 3PMSF certification even outperforms other popular grand touring all-season tires on snow, like the time-tested Michelin Primacy MXM4, or the newer Michelin Primacy Tour A/S.
Read now a quick comparison between Michelin CrossClimate 2 and Primacy MXM4.
4. Noise and Comfort
As expected from premium tires, road noise was kept to a minimum. Moreover, ride quality was also superb as we didn't feel any vibrations throughout the cabin. Some testers from our team say that the CrossClimate 2 was quieter, so we'll go with a tie on this one.
5. Price and Warranty
As with all tires, the price can depend on tire size. So, we used a 225/50R17 size for this comparison and looked at each tire's cost.
With more bells and whistles, we expected the Michelin CrossClimate 2 to be the more expensive tire at $215.99. But, to our surprise, the Bridgestone Turanza Quiettrack fetched a steeper price tag at $247.99.
However, mileage warranty might be the Bridgestone Turanza Quiettrack's redeeming factor, as it boasts 80,000 miles of brand support compared to the Michelin CrossClimate 2's 60,000 miles.
Pros and Cons
Michelin CrossClimate 2
Excellent wet and dry performance
3PMSF-rated
Quiet and comfortable
Cheaper than the Bridgestone Turanza Quiettrack
Warranty could be improved
Bridgestone Turanza Quiettrack
Excellent wet and dry performance
Decent on light snow
Quiet and comfortable
Superb mileage warranty
More expensive than the Michelin CrossClimate 2
No 3PMSF rating
Frequently Asked Questions
Michelin Pilot Sport All Season 4 vs CrossClimate 2, which one is better?
Well, it depends on what you're looking for in a tire. The Michelin Pilot Sport All Season 4 fares better on wet and dry roads, while the CrossClimate 2 is more comfortable and more suited to snow.
Conclusion
It's clear that the Michelin CrossClimate 2 comes out on top in this Michelin CrossClimate 2 vs Bridgestone Turanza Quiettrack comparison. From performance to price, Michelin is the far better choice when looking for grand all-season touring tires.
For more information on other tires in this category, take a look at other reviews on this site.
Related comparisons you may be interested in: